What Cookware Do Professional Chefs Use?
Chefs are always looking for cookware that is durable, affordable, and high-quality. Carbon steel and stainless steel cookware are a favorite choice for many chefs due to the durable nature of the material, even heat distribution, and ease of cleaning and drying.
Whether you're looking to expand your cooking skills in your home kitchen or are a seasoned home chef, it's likely you'll take great pride in the cookware you use in the kitchen. Chefs of all skill levels often find a favorite cookware range that includes staples such as saucepans, frying pans, pots, and skillets. Let's look at what cookware they actually use at work and at home.
Disclaimer: I earn from qualifying purchases on my website as an Amazon Associate. If you purchase through links from this website, I may get a small share of the sale from Amazon and other similar affiliate programs.
What Cookware Do Professional Chefs Use?
Top chefs use a wide variety of cookware in their commercial kitchens with the most important factors being reliability and durability along with the ability of the material to withstand the knocks that come from daily use and high temperatures. For this reason, chefs prefer to use stainless steel pans, aluminum, carbon steel, ceramic, and cast-iron pans and rarely use expensive non-stick cookware.
The most common cookware found in traditional chef kitchens includes frying pans, saucepans, sauté pans, skillets, brazier pans, and griddle pans. For those cooking Asian cuisine, the cookware will include woks in a few different sizes too.
Chefs will usually use the same type or brand of cookware in their kitchen at home as they do in their restaurants. This is simply because they want a certain desired result and know how to achieve it best with a certain type of cookware. Let's narrow this down by the type of cookware.
Saucepan
Saucepans and the sauté pan are a staple in every home cook's kitchen mainly due to their versatility when cooking. Most chefs prefer to use a carbon steel or stainless steel sauce pan as they are durable, affordable, and transfer heat quickly and evenly.
Saucepans come in a variety of sizes ranging from 4 inches all the way up to 15 inches and will usually have a stainless steel lid or one made of the same material as the saucepan. Many domestic saucepans will offer glass lids for ease of cooking, however, it's quite rare to see any glass cookware used by chefs in commercial kitchens.
The most common saucepan size used by chefs is between 10 to 12 inches (25-30cm). The larger-sized saucepans usually have a high rim of around 4-10 inches and are perfect for frying or sautéing foods with a lot of sauce. They're also used for simmering, boiling, or stewing foods.
Fry Pan
Frying pans have a flat base and slightly raised sides that are around 1-2 inches high. Most chefs will have a few dedicated frying pans in their kitchen and will use them to do far more than just frying. Frying pans are tolerant of high heat and disperse heat evenly around the base of the frying pan.
Aluminum or carbon steel frying pans are most commonly used by chefs for searing, frying, shallow frying, roasting, and deep-frying foods. Some chefs do use cast-iron frying pans as they offer even cooking once heated correctly. For those kitchens that require a lot of frying of foods, a large skillet plate is used in this case.
Skillet
Skillets, like frying pans, come in a range of sizes and some also feature a small sauce lip in the middle of the rim. A cast-iron skillet is commonly found in large kitchens and is said to be some of the best cookware for versatility.
Cast-iron skillets are preferred as they maintain heat longer and once hot, evenly distribute heat around the skillet allowing for more uniform cooking. 5 Cast Iron Skillet Substitutes
Oversized Pot
A large commercial kitchen will have various stock pots and oversized pots. Stainless steel pots are preferred as they are lightweight, durable, and easier to clean.
Large pots can reach over 3 feet in diameter and 2 feet deep and will have 2 strong metal handles on each side and are intended to be maneuvered by two people. These huge pots are commonly used to prepare large batches of food that require long cooking durations such as slow-cooking, simmering, or stewing.
What Type of Cookware Materials do Chefs Prefer
Let's break down the types of cookware chefs prefer even further into the cookware materials they choose.
Stainless Steel Pan
Professional chefs love to use stainless steel cookware as it is a solid and sturdy material that doesn't dent or scratch easily.
Clad cookware has a responsive aluminum core bonded with layers of stainless steel. Also known as 3-ply or 5-ply clad, depending upon how many layers of steel coat the aluminum.
Stainless steel is also non-reactive, meaning it won't alter the flavor of the food being cooked. The only downside to using stainless steel is that it can be a little difficult to clean if not cared for correctly.
Carbon Steel
Carbon steel is a great material for chefs as it is durable, affordable, and heats up quickly and evenly. However, carbon steel can rust if not taken care of properly, so it's important to season the cookware before use and to keep it dry when not in use. Cast Iron vs Carbon Steel: Cookware Comparison
Cast Iron Pan
A cast iron pan is a material that professional cooks love to use in professional kitchens as it has a heavy base and stores heat well, meaning it cooks food evenly. Many chefs will sear their food on an extremely hot cast-iron skillet and then let it 'finish' in an oven.
The only downside to cast iron cookware for a chef is that it takes a long time to heat up, although they will have Dutch ovens on hand for some recipes.
Aluminum Pans
Chefs use aluminum pans as they are a lightweight material that heats up quickly, and evenly, and has a smoother surface than say cast iron. The only downside to aluminum is that it is soft so will get knocked around very easily, but they are very affordable and therefore replaceable.
Learn more about the differences between these two types of cookware: Aluminum vs Cast Iron Cookware – What Is the Difference?
Copper
Copper cookware is a favorite among professional chefs as it conducts heat extremely well, meaning food can be cooked evenly. Copper also has a natural patina that gives it a beautiful finish. However, copper cookware can be quite expensive and is also a reactive metal, so it's important to avoid using acidic ingredients when cooking with it.
Ceramic
Ceramic cookware is becoming increasingly popular among professional chefs as it is a non-reactive material that is easy to clean. Ceramic cookware is also oven-safe and can be used for a variety of cooking methods. The only downside to ceramic cookware is that it is breakable and can be quite expensive.
Do Chefs Use Non-Stick Pans?
Chefs prefer cookware made of cast iron, copper, or carbon steel pans. Chefs do not usually use non-stick pans as they cannot withstand the daily use required by chefs.
Cookware usually has a short lifespan when used in restaurant kitchens, and a non-stick pan tends to be more expensive than carbon steel pans.
Chefs prominently use metal utensils and will frequently transfer cookware from a gas hob to the oven so pans with non-stick coating are not suitable in these situations either. Pans that have rubber or wooden handles are also not ideal as they cannot be used in the oven.
Find out more about what professional chefs think about cast iron cookware.
The Difference Between Domestic and Commercial Cookware
Professional cookware that is made for commercial kitchens is made to be more durable and withstand constant use. The scale of cookware for commercial cooking is also much larger than cookware for domestic kitchens.
Chefs require high-quality cookware that can take the knocks and impacts of daily use, sometimes cooking thousands of meals in one day.
Commercial cookware must also be far more versatile in use, with pans being used on gas stoves and inside ovens.
For this reason, stainless steel cookware or cookware that doesn't have wooden, rubber, or plastic handles is preferred by chefs all around the world.
Carbon Steel or Cast-Iron Cookware?
Most chefs prefer to use carbon steel cookware as it is far more durable and affordable compared to cast-iron cookware. Cast iron cookware cooking surface also takes longer to heat up which isn't ideal in the fast-paced cooking environment of commercial kitchens.
Carbon steel cookware is also lighter and easier to use, making it a preferred choice over its heavy-cast iron pot counterparts.
Cleaning and drying cast-iron pots are also more time-consuming (and heavy) and not ideal for many busy commercial kitchens.
In some instances, chefs will use cast iron when cooking requires high heat over extended periods. Of course, cast iron grills are also very common in large commercial kitchens. As a home cook, I don't face the same challenges that a commercial operation does!
What Cookware is Manufactured in the USA?
Want to support local manufacturers by purchasing cookware and kitchen products made in the USA? These articles I have written and keep up to date will help you find the brands and products made in America.
FAQ's
Quick answers to some frequently asked questions about professional chefs and their cookware preferences.
What cookware does Gordon Ramsay use?
Gordon Ramsay uses stainless steel cookware in his restaurants. He has stated that he prefers pans with awesome heat conduction and a thick base as they heat up more evenly and prevent food from sticking.
Stainless steel is also a durable material that can withstand high-heat cooking, making it the perfect choice for busy kitchens. Brands Gordon Ramsay uses include ScanPan, All-Clad, and HexClad.
Do chefs use Le Creuset?
Absolutely chefs use the Le Creuset a brand of cast-iron cookware. The pots and pans are enameled with a colorful finish, and many chefs swear by the durability and even cooking temperatures that Le Creuset provides.
Why does everything stick to my stainless steel pan?
The problem with stainless steel pans is that foods will stick if the pan has a sticky residue left on the surface. The pan has too much or too little heat and you do not use enough oil when cooking certain foods.
Where are Le Creuset outlet stores?
You will find a Le Creuset outlet somewhere close to you in the world. This quality premium cookware has been handmade and hand-finished for nearly a century.
The brand continues to produce not only cast iron cookware but versatile stoneware and innovative accessories that complement its signature enamel cookware range.
Best Le Creuset Prices: Outlet Store Locations
Wrapping it Up – What Pans Do Professional Chefs Use
While there's no one-size-fits-all choice for chef-preferred cookware. The cookware materials chefs choose like stainless steel and carbon steel cookware are always popular choices.
Cookware sets made from these materials are often high-quality, very durable, and offer even heat transfer, making cooking easy and consistent. Consider your cooking needs but if you already prefer stainless steel or a carbon steel pan you are among the elite.
Challenge! All you home chefs throw away your old saute pan and fry pans with a nonstick coating like Teflon coating and try a wonderful high-quality nonstick pan with a non-stick surface like stainless steel.
One-Pot Cooking Rocks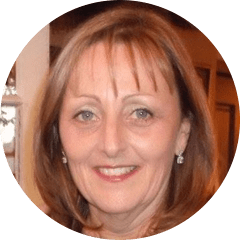 Michelle
Hi, I'm Michelle, the founder, owner, author, and editor of OvenSpot. My passion for one-pot cooking commenced when I was working to prepare cafeteria lunches for school students. I am now on a mission to assist you in choosing the cooking pot or appliance you will use daily. As well as in-depth information to assist you in using and caring for your cookware and appliances.
Questions? Reach out to Michelle at [email protected]