Ceramic vs Enameled Cookware: Differences Explained
When it comes to choosing between ceramic and enamel cookware it can be a difficult decision. Both materials have their own unique benefits and drawbacks that should be considered before making the purchase.
Ceramic is known for its non-stick properties while enameled cookware offers heat retention and durability.
In this article, we'll compare these two types of cooking surfaces. We will look at their uses, heat tolerance & retention, performance, durability, ease of cleaning, and price comparison. So you can make an informed decision about which type best suits your needs.
Disclaimer: As an Amazon Associate I earn from qualifying purchases on my website. If you make a purchase through links from this website, I may get a small share of the sale from Amazon and other similar affiliate programs.
Non-Stick
Ceramic
100% Ceramic Cookware
Enameled
Cookware
Materials
Aluminum, hard anodized aluminum
Clay, minerals, oxides, and water
Predominately cast iron, some enamel-coated steel is available
Design
Round Dutch ovens and oval Dutch ovens, French ovens, Cocotte, skillets, griddles, Braisers, and bakeware. A wide choice of sizes and shapes in all types of enameled cast iron cookware
Clay pots, Dutch ovens, bean pots, casseroles, tagine, baking, and roasting pan
Round Dutch ovens and oval Dutch ovens, French ovens, Cocotte, skillets, griddles, Braisers, and bakeware. A large choice of sizes and shapes in all types of enameled cast iron cookware
Uses
Pancakes, eggs, frittata, fish, chicken
Slow cooking, roasting, and baking
Slow cooking, braising, stewing, browning, and searing
Finish
All colors and textures available
The core is coated in bright or earth-tone colors
Exterior shiny in a wide variety of colors, interior light or dark
Heat
Source
Cooktops – All
Oven-safe – YES
Broiler safe – NO
Induction ready – the base plate must have the steel to be induction ready
Can be used on all heat sources, in the oven, under the broiler, and on the grill. Not suitable for induction
No open fires, naturally induction ready, ceramic, glass stovetop, gas, electric.
Oven-safe – YES
Broiler safe – YES
Oven
Temperature
Will withstand temperatures in excess of 600 °F
Will withstand temperatures in excess of 2000 °F
Withstands high temperatures of over 500°F
Heat
Conduction
Heats up quickly
Heats up slowly
Heats up slowly – thermal conductivity is lower than seasoned cast iron – takes longer to heat up
Heat
Retention
Is heat reactive, so not great
High
High
Performance
Heat reactive so perfect for delicate types of dishes
Retains heat well, and performs best at continuous heat for stewing and baking
Although it heats up slower than other cookware nothing compares to the browning, searing, and stewing capabilities
Durability
Hand wash required and has a maximum lifetime of about 3 years
Similar durability to enamel cast iron, with the caveat, that it is very fragile, drop them and they will break
With care, high-end enamel can last a lifetime. Affordable pieces approximately 10 years
Clean Up
No dishwasher, no soaking, no soap, scourers & hot water, dry immediately
Hand washing is recommended to protect enamel
Hand wash is recommended to protect enamel
Maintenance
No maintenance is required just care not to scratch its interior surface
Keep clean and dry, and take extreme care with storage
Seasoning the enamel is not required, you can season bare cast iron rims on pots and lids to prevent rusting
Safety
Safe providing nonstick coating is intact.
100% safe
The enamel stops iron from leaching into food. Safer than ceramic coatings and PTFE non-stick coatings
Lifespan
Maximum 3 years
Unlimited
High quality – 10 years or more
Price
Less expensive
Not cheap due to its scarcity
More expensive – brand recognition determines the price
What Is Ceramic Cookware?
First up it is important to recognize that there are two types of ceramic cookware.
100% Pure Ceramic Cookware
This type of cookware core is made entirely from clay that's been fired at high temperatures until it becomes hard and durable. The clay used in these pieces can vary from white stoneware to red earthenware depending on the manufacturer's preference.
Generally speaking, 100% ceramic cookware is known for its even heating capabilities and heat retention that makes slow cooking easy. The cookware does not contain any toxins or chemicals like some other materials may have. So it's safe for food contact without fear of contamination or toxins leaching into your food.
Non-Stick Ceramic Cookware
Non-stick ceramic cookware features an aluminum metal core (other metals can be used). It's coated with a non-stick ceramic coating made from materials such as silicone resin or fluoropolymer-based coatings (Teflon).
This layer prevents foods from sticking making cleanup easier than traditional pots and pans.
The heat sources you can use may be limited depending on the brand, its handles and rivets, and lids.
Non-stick ceramics are typically lighter than their all-ceramic counterparts but still offer excellent heat conduction properties for evenly cooked meals every time you use them.
The shapes and sizes available are large and varied from the single saucepan, skillet, frying pans, and grill pans to full cookware sets.
Both types of ceramics come in a large range of hues and designs to fit any kitchen style.
What is Enamel Cookware
Enameled cookware is constructed of cast iron or steel and is coated with a non-porous enamel coating that is resistant to cracks, scrapes, and discoloration.
The enamel coating is a hard and glossy material created through the process of fusing glass to metal at extremely high temperatures.
The porcelain enamel coating is typically made of a mixture of powdered glass, pigments, and binders.
It is melted onto the cookware's surface and then cooled to create a smooth, durable coating.
The pigments are added to create a range of colors, while the binders help the enamel adhere to the surface of the cookware.
The most common types of enameled cookware have either a core of cast iron or steel with an enamel coating.
Shapes available vary from the Dutch oven, saute use pans, Woks, saucepans, skillets, grill pans, stock pots, and pans even rice pots.
Cast iron is known for its excellent heat retention while steel core alternative provides quicker heat conduction than a cast iron core. The glass-like porcelain layer helps to safeguard the surface from damage like scratches, cracks, chips, and rusting.
Before purchasing any cookware you should learn how to identify how safe it is for you and your family. In my find out how safe enameled cast iron cookware is.
Compare prices in each category of the brands of cookware I use and recommend every day.
Uses
Cookware with ceramic coating is suitable for everyday cooking methods from searing meats to sautéing vegetables and simmering sauces.
100% ceramic cookware is perfect for slow cooking, simmering, stewing, baking cakes, and other desserts. It distributes heat evenly and won't cause any hot spots that could lead to burnt edges or unevenly cooked items.
Enamel-coated cookware is great for simmering stews, braising meats, and more due to its capacity to retain heat better than many other materials. The non-porous surface makes it easy to clean up after each meal while also preventing bacteria from growing on the surface.
Enamel-coated cast iron pans are an excellent choice when searing steaks because they can handle high temperatures without cracking or warping over time as some ceramics may do if not properly cared for.
Oven use is standard this cookware works best with heat from all sides. This makes them extremely adaptable compared to their ceramic counterparts that should just ever be employed on stoves or in traditional ovens at low heat levels.
Ceramic and enamel cookware can each provide its own benefits depending on the cooking needs of the user. Those looking for a more durable option that can handle higher temperatures, heat tolerance, and retention should be taken into consideration when deciding between ceramic and enamel cookware.
Heat Sources
| | Electric | Ceramic | Induction | Gas | Broiler | Oven |
| --- | --- | --- | --- | --- | --- | --- |
| 100% Pure Ceramic | Yes | Yes | No | Yes | No | Yes |
| Non-Stick Ceramic | Yes | Yes | Yes | Yes | No | Yes |
| Enamel Coated Cookware | Yes | Yes | Yes | Yes | Yes | Yes |
| Enamel Coated Metal | Yes | Yes | Yes | Yes | Yes | Yes |
Heat Tolerance and Retention
When it comes to heat tolerance and retention, ceramic-coated cookware has some key differences from both 100% pure ceramic and enameled cookware which have similar features.
Nonstick cookware responds quicker than 100% ceramic cookware and enamel cast iron cookware. Thanks to its metal core and lightweight structure. Although it heats up quickly it cools down just as quickly once the heat is removed.
100% ceramic cookware and enameled cast iron cookware heat up more slowly and will withstand high temperatures. For optimum performance when stovetop cooking low to medium heat should be used. When used this way the non-stick cooking surface stops food from sticking and heat retention is second to none.
What temperatures can ceramic and porcelain enameled cookware withstand?
The following temperature range is a guide only. Why? The type and quality of materials that the cookware piece is made of. Always refer to the manufacturer's instructions before purchasing cookware to ensure it suits your cooking methods.
100% Pure Ceramic cookware – up to 2,500°F

Ceramic nonstick cookware – up to 550°F

Enamel-coated cast iron cookware – up to 550°F

Enamel coating on stainless steel – up to 550°F
Performance
100% ceramic cookware is formed from clay which has been heated to a high temperature, yielding a tough exterior that can endure heating well. It's non-porous so it won't absorb flavors or odors from food, making it ideal for preparing delicate dishes like fish or eggs.
Ceramic pans with a non-stick coating are lightweight and easy to maneuver around the kitchen. The downside is that they heat up quickly and heat retention is poor.
Porcelain enamel cookware heats up slowly and boasts excellent heat retention properties. Ideal for slow-cooked meals like stews and braises, enameled cookware is also great for high-heat cooking such as searing steaks or sautéing vegetables without burning them.
Enamel cookware may seem robust compared to other metal pots and pans especially when its core is cast iron. Caution does need to be exercised when handling it. It's hot and heavy.
Avoiding the use of metal utensils on porcelain pans is a great way to preserve the nonstick surface from scratching. Then in turn eventual rust spots appear on the pan itself.
Ceramic cookware is a great option for home cooks due to its even heat distribution and non-stick capabilities.
Enameled kitchenware offers enhanced longevity and could be the more suitable selection if you're seeking something that can endure in your cooking area
TIP: After 45 years of using nonstick pans and enamel-coated cookware, I have learned that if you are after quicker cooking methods stick use a nonstick pan. If you have the time and want to use traditional cooking methods you cannot go wrong with enamel-coated cast iron cookware.
Durability and Lifespan
Ceramic coatings have a limited lifetime of around 3 years if the surface has not been damaged. You will know if your cooking surface is damaged when your food starts to stick to the surface.
Your food safety will be compromised and the pan may start to release toxic gasses you should throw that pan away. Learn how to discard pans or repurpose them.
Clay enamel lasts longer providing care is taken while cooking not to damage the surface. These pots and pans do become a little heavier when fully laden. Extreme care should be taken not to drop, knock, or bang them on cooktops, benchtops, or when cleaning as they can become damaged or break easily.
Enamel-coated iron cookware is extremely durable when used with care. It is prone to thermal shock, meaning you cannot submerge a hot pan in cold water or heat up very cold pans over high heat.
The metal core and porcelain enamel will expand and contract causing the enamel surface of the cookware to chip, crack, or break.
Enamel coating, if it is light in color, can also discolor. Avoiding acidic foods like lemon juice and tomato sauce will help reduce staining. Don't use steel wool when cleaning and using a thin layer of oil every time you cook will keep your inner coating intact.
High-end enamel cookware manufacturers like Staub and Le Creuset offer great warranties. Cheaper versions of porcelain enamel cookware use inferior materials and production methods.
If they become damaged throw them away before their iron base starts to release toxic fumes. Learn when it is time to replace your cast iron pan.
Cleaning & Maintenance
Cleaning ceramic cookware is relatively easy. All that's needed is warm, soapy water and a soft cloth or sponge. Ceramic cookware does not scratch easily and can be washed in the dishwasher as well.
It's essential to be aware that abrasive cleansers must never be employed on ceramic cookware, as they can harm the pan's exterior.
Enameled cookware requires more care when cleaning due to its delicate enamel coating. Although most manufacturers say they are dishwasher safe, in the fine print, they always advise handwashing is best.
The best way to clean enameled cookware is by hand with a soft cloth and warm, soapy water followed by rinsing with clear water and drying immediately afterward with a dry towel.
It should never be cleaned with abrasive cleaners or pads because these products will damage the enamel finish over time.
PRO TIP: Always rinse or soak your pan in water after your dish is cooked. After eating clean your pan before food sticks and stains its surface. This will help with the cleaning process and reduce scrubbing. Stains can be reduced, with care, using a baking soda mixture.
Price Comparison
Prices for these types of cookware vary from brand to brand. You will find a price to suit everyone in all categories from affordable to expensive.
In general ceramic nonstick cookware is the cheapest and most affordable, again depending upon the brand.
100% ceramic cookware is expensive and hard to come by usually because it is handmade.
Enameled cast iron has a large range of affordable cookware up to some of the most expensive cookware you can purchase. Find out why cast iron cookware can be so expensive.
Cons of Ceramic and Enameled Cookware
As with all cookware ceramic enamel cookware, 100% pure ceramic cookware, enameled cast iron cookware, and metal enamel cookware have their downsides.
CONS: Nonstick Ceramic
Limited Uses
This cookware is great for simple everyday skillet cooking of eggs, bacon, and pancakes due to its poor heat-retaining properties. These pans work to cook soups, stews, and casseroles over low heat with a lid in place rather than fast cooking like a metal saucepan.
Heat Source limitations
Generally cannot be used under a broiler, direct gas heat, and in the oven at high temperatures. Handles may limit use.
Limited Lifespan
Cheaper cookware will have its surface breakdown quite quickly.
CONS: 100% Ceramic
Fragile
Usually hand-made from non-toxic materials this cookware is delicate and should be used with care.
Range & Availability
This cookware has limited shapes and sizes. Its general purpose is low and slow cooking so a pot base with a fitted lid is the shape you can expect.
Expensive
As the cookware is difficult to obtain and is generally handmade it is in the higher price range.
CONS: Enameled Cast Iron
Weight
Often underestimated but the weight of enamel cookware should be a deal breaker. If you cannot comfortably lift full-laden pots and pans avoid this cookware. Learn more about the weight of coated cast iron pots and pans in this article.
Heating
Heats up slowly, but when hot can cook quickly if searing and browning are required.
Care Required
Extra care is required when using this cookware. With the weight, the need to protect the surface from scratching, chipping, cracks, and thermal shock. Damaged enamel cast iron cookware should be disposed of before rust and corrosion occur. Enamel cookware cannot be restored: learn more.
Expensive
Good quality is expensive – affordable options are available. Find out why Staub and Le Creuset cookware is so expensive.
Find out what cookware is the best for your needs. In my article, I compare lightweight cast iron cookware to traditional heavy cast iron cookware.
FAQs
What is the healthiest cookware to use?
The best cookware for your health is ceramic clay pots that are made using toxic-free natural materials. Cast iron coated in glass enamel, stainless steel, glass, and seasoned cast iron.
What should you not use in enameled cast iron?
You should not use metal utensils, abrasive scrubbers, or harsh detergents in enameled cast iron cookware. To preserve its cooking surface hand wash with soap and water then enamel cookware conditioner.
Is enameled cast iron better than ceramic?
Overall enameled cast iron is better than nonstick ceramic cookware. Enamel cast iron and 100% pure ceramic cookware are on par as far as performance. Enamel cast iron wins for the versatility of heat sources it can be used upon.
Wrapping Up: Ceramic vs Enameled Cookware
When it comes to selecting cookware for domestic chefs, ceramic and enameled pots and pans are two of the most favored alternatives. Both have their own unique advantages and disadvantages that should be considered when making a purchase.
Ceramic cookware is relatively inexpensive, non-stick, and easy to clean, but not as durable or heat tolerant as enameled cookware. Enameled cast iron or steel pots and pans are heavier than ceramic but they retain heat better and last longer with proper care. Enameled cookware, with its array of colors, can be more visually appealing than unadorned metal or ceramic pieces.
Performance both materials perform well but ceramic tends to stick less while cooking due to its non-stick surface so food doesn't burn easily on it as it does on uncoated metal surfaces.
On the other hand, enameled pots and pans provide even heating across the entire surface which allows you to evenly brown foods without having hot spots where food sticks more easily resulting in burning or sticking issues with some dishes.
When it comes to durability, both materials can withstand high temperatures of up to 500 degrees Fahrenheit (260 Celsius), but enameled cookware tends to stand the test of time better than ceramic.
Price comparison is one final area worth considering when selecting either type; while both are generally affordable options for home cooks depending on your budget there may be variations between brands so shopping around could save you money in the long run if cost matters most to you.
Ultimately, choosing between these two types really depends on what your needs are.
If you're looking for something lightweight and healthy cooking is your thing and you don't mind that will break down quicker then go with ceramic.
If durability and longevity matter more then opt for an enameled option instead.
Just remember, whichever way you decide, all good quality pieces require regular maintenance and cleaning regardless so keep this in mind before purchasing either set.
One-Pot Cooking Rocks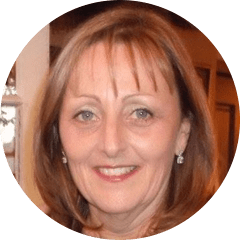 Michelle – Author
Hi, I'm Michelle the founder, owner, author, and editor of OvenSpot. My passion for one-pot cooking commenced when I was working to prepare cafeteria lunches for school students. I am now on a mission to assist you in choosing the cooking pot or appliance you will use every day. As well as in-depth information to assist you in using and caring for your cookware and appliances.
Questions? Reach out to Michelle at [email protected]