How to Protect Glass Top Stove from Cast Iron: 12 Easy Ways
Glass top stoves are a popular choice for many kitchens due to their sleek design and easy-to-clean surface. Using cast iron cookware is a favorite of many but combined with these stoves can pose some challenges. So how can we protect a glass cooktop?
To protect a glass top stove from cast iron, use a heat diffuser for even heat distribution. Ensure cast iron pot bottoms are smooth and clean. Always lift, don't drag, cookware to prevent scratches. Be mindful of the weight to avoid cracks. Choose enameled cast iron for a gentler touch on the stove surface.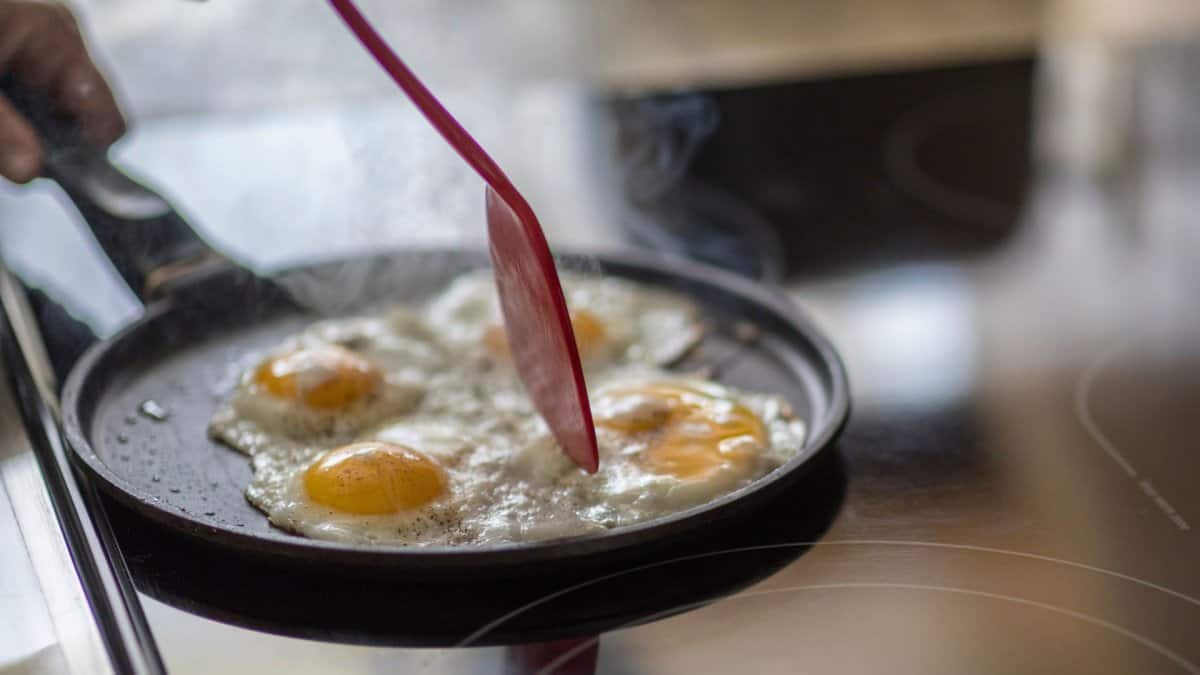 Understanding the unique properties of both glass top stoves and cast iron cookware is crucial for preserving the condition of your stove. By taking certain precautions and learning the most effective methods of protection, you can continue to enjoy the benefits of cast iron cooking without compromising the beauty and functionality of your glass top stove.
12 Ways to Protect Glass Top Stove From a Cast Iron Pan
Glass top stoves, with their sleek and modern appearance, have become a popular choice in many kitchens. Their delicate nature poses challenges when using certain cookware, particularly cast iron, known for its weight and rugged surface.
To use cast iron glass top stoves, here are 12 essential tips to ensure longevity, safety, and optimal cooking performance.
1. Lifting Over Sliding
When you use a cast iron skillet always lift carefully and place your cast iron cookware when moving it, instead of sliding or dragging the cookware on the glass surface. This practice prevents unwanted scratches and prolongs the stove's pristine surface.
2. Mind the Weight
Be cautious of the weight of the cast iron cookware. Avoid dropping heavy pots or placing them too forcefully on the stove, as they can lead to cracks in both the cooktop and the cookware.
3. Gradual Heating
Cast iron heats up slowly but retains heat effectively. Start with low-medium heat before adding oil to prevent sudden temperature changes.
4. Gradual Temperature Changes
Avoid subjecting the stove to rapid temperature changes by moving a hot cast iron pan directly to a cold surface or vice versa.
Start with low heat and allow your cookware to undergo temperature changes slowly. Rapid shifts can be detrimental to the stove's surface. Let the pan cool down gradually.
5. Avoid Rapid Temperature Changes
Cast iron retains heat exceptionally well, and when subjected to sudden temperature shifts, it can experience thermal shock, which might lead to warping or even cracking.
Allowing the cookware to cool down gradually ensures that it adjusts to temperature changes at a more consistent rate, preventing structural damage.
When transitioning from a hot surface to a cold one instantly, there's a risk of cracking not only the cookware but also the surface it's placed on. Especially if it's a delicate material like glass.
6. Don't Overheat
Not overheating, especially when the cast iron pan is empty, is a fundamental safety and maintenance guideline for several reasons.
Cast iron is an excellent heat retainer. When it's overheated, especially without any food to absorb the heat, it can reach temperatures that could damage or even crack the glass stove surface.
An overheated empty pan can cause the iron to warp, compromising its flat base and making it less stable and efficient in future uses.
Extreme temperatures can also degrade the seasoning on the cast iron, which is vital for its non-stick properties and rust prevention. Thus, to protect both your cast iron cookware and glass stove, it's essential to avoid overheating.
7. Maintain a Patient Approach
Adopting a patient and cautious approach when using cast iron on a glass-top stove is paramount for multiple reasons including safety and longevity of both cookware and cooktop.
8. Clean the Bottom of Cookware
Keep the bottom of your cast iron cookware clean to avoid scratches on the glass-top stove.
Focus on the bottom of the pan. Wash with a sponge or scrubber and a bit of dish soap, focusing on removing built-up carbonization or black marks that could potentially harm the stove's surface.
9. Maintain Seasoning
A well-seasoned pan can have a smoother cooking surface, which might mean fewer sharp edges or rough spots on the pan's bottom over time as layers of seasoning build up. In turn, it will help to protect a glass top stove.
10. Use Suitable Cast Iron Variants
Enameled cast iron comes with a smooth, glazed surface that's less abrasive. It offers the benefits of traditional cast iron but is gentler on the stove. Choosing enameled cast iron or cookware with smooth bottoms, ceramic or stainless steel, to reduce the risk of scratching or damaging the stove.
11. Use Appropriate Size Burners
When the burner size matches the pan's base, it ensures that heat is distributed evenly across the cooking surface, promoting consistent cooking results and preventing potential hotspots or undercooked areas. This not only enhances the cooking process but also maintains the pan's longevity by preventing warping or damage from uneven heat exposure.
12. Utilize a Heat Diffuser
This serves as a protective barrier between the stove and cookware from direct contact. Position it on the stove and then set your cast iron cookware on top. It helps distribute heat evenly and avoids hot spots.
13. Check for Rough Spots Periodically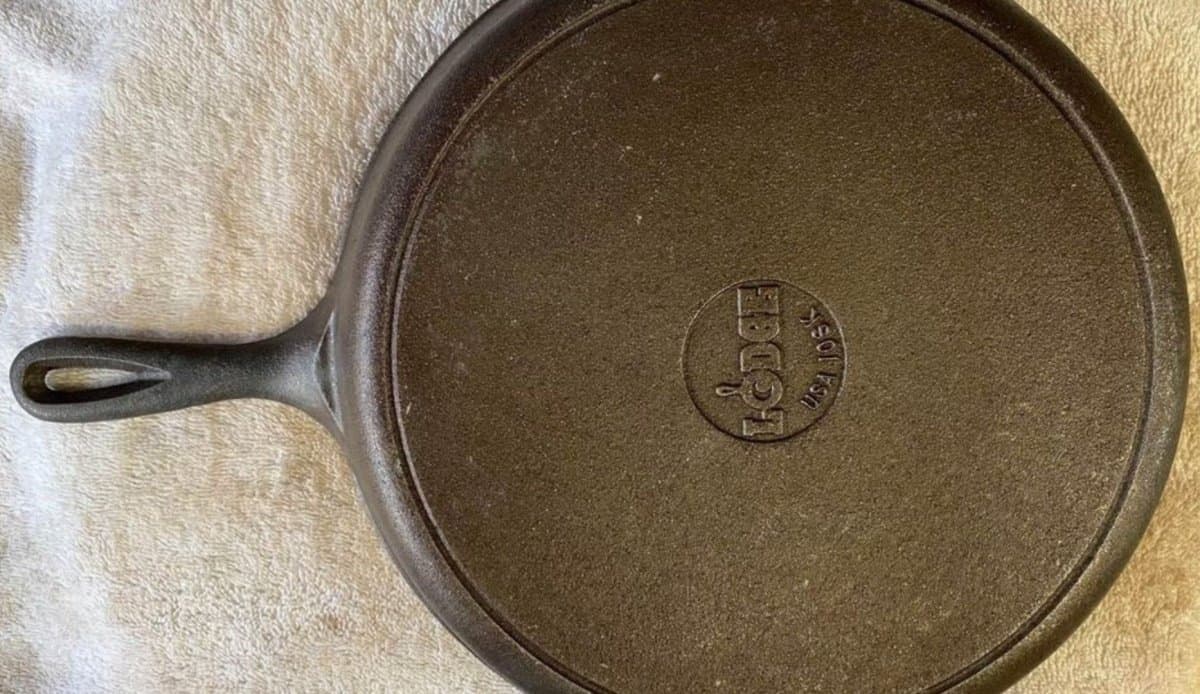 Regularly checking for and addressing rough spots on your cookware is crucial. Over time, as cookware undergoes wear and tear, rough areas can develop.
These can compromise the cooking performance by causing uneven heat distribution. More importantly, if used on delicate surfaces like a glass top stove, these rough patches can scratch or damage the surface.
Why Use Cast Iron Cookware
Using cast iron on a glass top offers even heat distribution, superb heat retention, and a naturally non-stick surface, but caution is essential on glass top stoves to prevent damage. Opt for enameled cast iron skillets for a smoother surface that's less likely to scratch the glass stovetop.
Always lift cast iron pieces, such as pans and Dutch ovens, to avoid sliding and causing scratches. A heat diffuser can shield the stove by evenly distributing heat and preventing hot spots when using cast iron.
Heat diffusers will also give you slightly longer cooking times without extreme heat between the cookware and the cooker. Remember, cast iron holds heat well; hence, avoid high temperatures and allow a gradual heat-up.
Understanding Glass Top Stoves
Glass top stoves, prized for their sleek design and ease of cleaning, demand careful cookware selection. Unlike traditional stoves, their smooth surfaces are more prone to scratches and cracks. While cast iron offers consistent heat retention, it can damage these stovetops.
For optimal safety and performance, choose pots and pans with flat, smooth bottoms and prioritize materials like stainless steel or aluminum over abrasive ones like cast iron.
Importance of Protecting Your Glass Top Stove
A modern glass cooktop marries style with function, making it a favorite in contemporary kitchens. But its delicate surface is at risk when using cast iron cookware, known for its weight and rough base.
To maintain the stove's aesthetic and prevent costly damages, several measures can be adopted. Using a heat diffuser can spread heat evenly and serve as a protective barrier. Always lift cast iron pans instead of dragging them to avoid scratches or cracks.
Regular cleaning after use ensures the glass stove tops always remain free from grease and residue, maintaining their efficiency and appearance. In short, safeguarding your glass stove top from cast iron wear is essential to retain its value and functionality.
Choosing the Right Cookware for Glass Top Stoves
Glass top stoves, with their sleek and modern appearance, are increasingly becoming popular in contemporary kitchens. Their flat, easy-to-clean surface makes them a preferred choice for many homeowners. However, to maintain their aesthetic appeal and functionality, selecting the right cookware is essential. Here's a guide to help you make an informed choice:
Flat-Bottomed Pans: The most crucial feature of any cookware for glass cooktops is a flat bottom. This ensures even heat distribution and prevents any potential scratches or damage to the stove.
Weight: Lightweight pans are generally preferable as heavy cookware, like cast iron, can scratch or even crack the glass if dropped. If you're a fan of cast iron, why not investigate carbon steel skillets?
Material: Stainless steel cookware and titanium are excellent choices due to their durability and even heat distribution. Copper and aluminum pans can also be used, but they should have a stainless-steel bottom to prevent them from leaving residues.
Non-Stick Cookware: While non-stick pans are suitable for glass top stoves, it's essential to avoid using metal utensils that can scratch their surface. Once the non-stick surface is damaged, it's best to replace the pan.
Avoid Rounded or Wok-style Pans: The curved bottom of these pans doesn't sit well on the flat surface of a glass top stove, leading to uneven cooking.
Enamel Cast Iron: If you're a fan of cast iron, consider enameled cast iron. It combines the heat retention of cast iron with a smoother bottom, reducing the risk of scratches.
Ceramic Cookware: Ceramic pans are safe for glass top stoves as long as they're free from decorative rough patterns or textures on the bottom.
Check for Induction Compatibility: If you have an induction glass top stove, ensure your cookware is magnetic or marked as induction-compatible.
Size: Ensure the pan size corresponds to the burner size. Using a pan larger than the burner can cause uneven heating, while a smaller pan might not receive adequate heat.
What Pan Should Not Be Used on Glass Cooktop
Certain pans can potentially damage or reduce the efficiency of glass top stoves. Here are pans you should avoid or use with caution on glass top stoves:
Cast Iron: While they can be used with caution, traditional cast iron pans have a rough texture that can scratch the surface. Additionally, their weight might cause cracks if dropped.
Stoneware: Rough-textured stoneware can easily scratch glass tops.
Glass or Ceramic Cookware: These might not offer even heat distribution. They can also fuse to the cooktop if overheated.
Cookware with Rounded or Warped Bottoms: These don't make full contact with the flat stove surface, leading to inefficient cooking and potential hotspots that might damage the stove.
Aluminum Cookware: While they can be used, some aluminum pans can leave residues or marks on the cooktop. Anodized aluminum or pans with a stainless-steel base are more suitable.
Cookware with Ridges or Rough Patterns: Any pan with a textured bottom can scratch the glass surface.
How to Clean and Maintain Your Glass Top Stove
Cleaning and maintaining your glass-top stove can be a breeze if you follow these simple steps. A well-maintained stove will not only perform better but also have a low risk of getting damaged by cast iron pots and pans.
Clean your glass top stove regularly. This will prevent the buildup of food particles and residue leftover food, which can cause scratches on the stove's surface.
To clean the stove, a mixture of equal parts white vinegar and water is best to use on a glass top.
When the cooker is completely cool use a spray bottle to spray the solution onto the stove. Wipe it down with a soft damp cloth, non-abrasive cleaning pad, or microfiber cloth.
Avoid using steel wool, abrasive cleaners, or harsh chemicals on your glass-top stove. These can cause damage to the surface and make it more susceptible to scratches.
Instead, you can use a gentle cleaner like baking soda to remove stubborn stains or spills.
Pro Tip: A damaged glass top stove can be caused by many other objects! Use a cooktop protector mat when not cooking!
By following these steps, you can protect your glass stove surface from getting damaged by cast iron cookware and keep your glass top stove in good condition for years to come.
Glass-Top Stove Cleaners
Here are some reputable brands that produce cleaners specifically designed to help protect the glass cooking surface:
Weiman
Cerama Bryte
Bar Keepers Friend
Affresh
Carbona
Scotch-Brite
Magic
TriNova
Siege Glass and Ceramic Stove Cleaner
Hope's Perfect Cooktop Cleaner
Although a glass cleaner may seem like an easy way to protect your glass always be sure to read and follow the manufacturer's directions when using any cleaning product!
Check the cooker manufacturer's instructions and or test on a small inconspicuous area first if you're unsure about its suitability and avoid scratching your glass top.
Common Mistakes and How to Avoid Them
When you want to use a cast iron pan on a glass cooktop it may seem intimidating, but with some care and attention, you can avoid common mistakes that can damage your stove.
One of the most common mistakes when using cast iron on glass is not keeping both the stove and the bottom of the pan clean. Dirty surfaces can cause scratches, which can eventually lead to more severe damage.
To avoid this, always ensure your glass stove and the bottom of your cast iron pan are free from debris before cooking.
Protective cooking pads and heat diffusers create a barrier between the pan and the stove, further preventing potential harm.
Do not drag or slide your cast iron pans on the glass surface since doing so may cause scratches or other damage to the glass. Instead, gently lift the cookware when you want to move it. This action prevents any accidental contact between the rougher surface of the pan and the delicate glass of the stove.
Avoid using cast iron cookware with uneven or warped bottoms. These pans should not be used on a glass-top stove, as they can create hot spots that may damage the glass. Opt for pans with flat bottoms that evenly distribute heat, such as enameled smooth-bottomed cast iron cookware, which is more suitable for this purpose.
Lastly, avoid using excessive heat when cooking with cast iron on a glass-top stove. Extremely high temperatures can cause the glass to crack or become discolored. It's best to stick to medium or medium-high heat settings, as they're more compatible with the heat tolerance of glass stovetops.
Learn more about cooking a glass cooktop in this article Can You Use Cast Iron on a Glass Top Stove (Glass Cooktop)
Wrapping Up: How to Protect Glass Top Stove from Cast Iron
Maintaining your glass top stove when using cast iron is vital. Employ a heat diffuser to avoid hot spots and scratches.
Lift your cookware, rather than dragging it, to prevent surface damage. Regularly clean and season your cast iron to enhance its performance and safeguard the stove.
Control the heat to sidestep potential glass stress or cracks. By following these easy steps, you can relish the perks of both your stove and cast iron cookware for the long haul.
One-Pot Cooking Rocks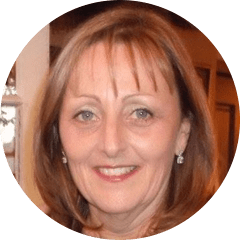 Michelle – Author
Hi, I'm Michelle the founder, owner, author, and editor of OvenSpot. My passion for one-pot cooking commenced when I was working to prepare cafeteria lunches for school students. I am now on a mission to assist you in choosing the cooking pot or appliance you will use every day. As well as in-depth information to assist you in using and caring for your cookware and appliances.
Questions? Reach out to Michelle at [email protected]