100% Ceramic Cookware (Best Non-Toxic for 2023)
Various materials are utilized in the production of cookware, each having multiple advantages and disadvantages. One popular material used in high-quality cookware is 100% ceramic. However, why has 100% Ceramic cookware recently become so popular?
Pure or 100% Ceramic cookware is manufactured from natural compounds such as sand, clay, and minerals. It heats much better than traditional kitchenware, is oven and microwave-safe, releases no harmful chemicals, unlike Teflon, and is eco-friendly.
This article will discuss 100% Ceramic cookware, its popularity, and its advantages and disadvantages. So keep reading! We have everything you need to know about pure or 100% ceramic cookware.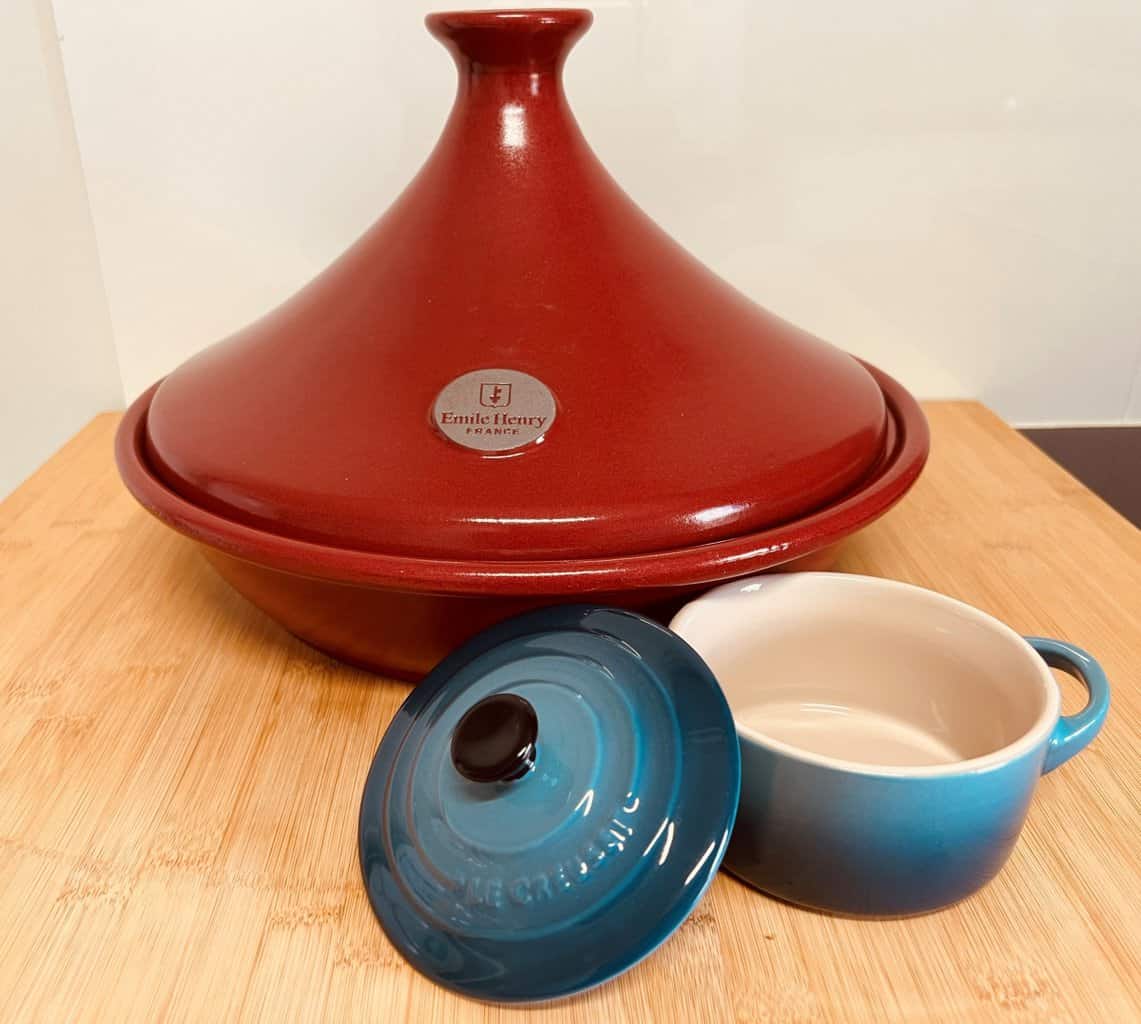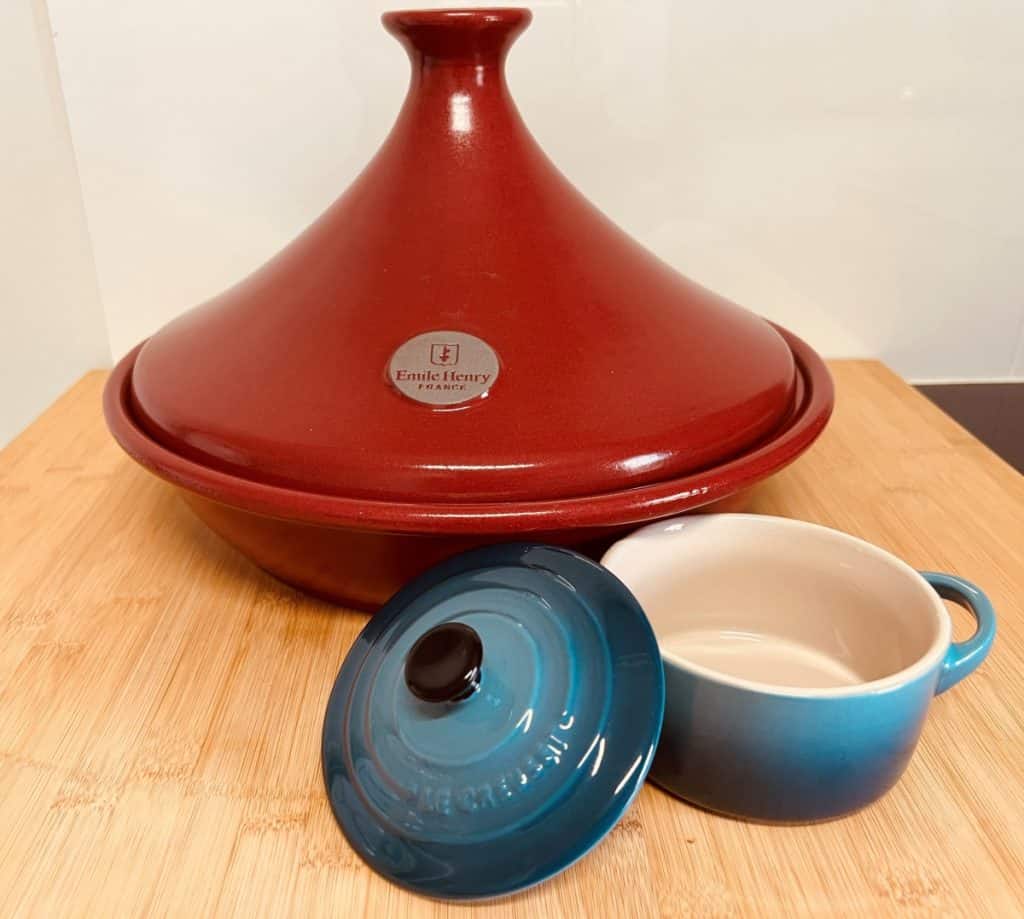 Disclaimer: As an Amazon Associate I earn from qualifying purchases on my website. If you make a purchase through links from this website, I may get a small share of the sale from Amazon and other similar affiliate programs.
Best 100% Ceramic Cookware Brands in 2023
If you have landed on this page and you are shopping for a natural product and you want to know what type of ceramic cookware is best here are my top choices of the best ceramic cookware brands.
| | Glazed, Semi Glazed & Unglazed Clay Pots for Cooking | See More |
| --- | --- | --- |
| 1. | Romertopf Clay Pot Bakeware | Roasting, fat-free, low-calorie cooking |
| 2. | Reston Lloyd Natural Clay Dutch Oven | Natural clay baker, roasts, braises & bread |
| 3. | Clay Dutch Oven Casserole | Clay casserole/Dutch oven for slow cooking |
| 4. | Ancient Cookware Mexican Traditional Clay Bean Pot | Glazed terracotta stews, roasts, and grills |
| 5. | Earthen Clay Cooking Pot | All dishes gas, wood fire, oven |
| 6. | Traditional Clay Terracotta Casserole | Glazed terracotta Casserole, slow cooker |
| 7. | Ancient Cookware, Oval Chamba Casserole | All dishes microwave, gas, electric, glass, grill, oven |
| 8. | Raphael Rozen Tagine Cooking Pot | Glazed clay, meat, seafood, vegetarian, vegan |
| 9. | Korean Earthenware Clay Hot Pot | Stews, soups, braises, rice, fermentation, storing |
| 10 | Emile Henry Artisan Bread Baker | Oval, meat on the bone, poultry, stews, braises |
| 11. | Clay Multi-Crocks N' Stock Pot | Slow cooker, steamer, fast slow cooker, yogurt |
Best 100% Ceramic Cookware Brands 2023
What Is 100% Ceramic Cookware?
Solid ceramic cookware is an excellent choice for any home kitchen as it comes with a plethora of advantages, but what exactly is it? We've all heard of ceramics, and you'd imagine that pure or 100% ceramic entails that it's made solely from clay, but how is this achieved?
Pure, solid, or 100% ceramic refers to any piece of kitchen cookware or utensils which are manufactured from a combination of natural compounds such as clay, sand, and minerals. The materials are mixed together and molded into the shape of various pieces of kitchen equipment, such as pans, pots, braziers, and smaller pieces of cookware.
Once the mold has been completed, they are set to the side to dry. Once this is achieved, the next step is to fire the clay inside a scorching hot oven known as a kiln. This results in a piece of ceramic cookware that is yet to be decorated.
At this point, its technically considered to be a piece of ceramic cookware; however, to add a beautiful look to the various items, they are typically glazed and decorated with different designs, which take away their clay or brick color.
Once the glaze and decoration phases are complete, the ceramic cookware is then placed in the kiln once more, and once it comes out this time, it is ready to be used; thus, there distributed to various retailers around the world.
You may assume that because 100% Ceramic cookware is made from clay, it may be brittle and break easily. However, this is not true, as the firing process which takes place within the kiln ensures that they are durable and strong.
Deep dive with me into the 11 best clay pots for cooking and where to buy them.
Why Is 100% Ceramic Cookware So Popular?
Ceramic cookware has been around for thousands of years, and evidence has suggested that it was used during the Ice Age in China and Japan. So while it's not a new thing, recent advancements surrounding 100% ceramic cookware and an understanding of its advantages have turned it into one of the most popular items found in the kitchen.
There are various advantages to using 100% pure ceramic cookware, and while some aspects of this design are new, they are every bit as popular when compared to other leading items on the market such as a Dutch oven. Various advantages of 100% ceramic are as follows:
If you are looking for a luxury cookware collection made from nontoxic materials my article Le Creuset Stoneware: Ceramic Cookware you Will Love covers a brand that can supply you with the complete set. Everything from cookware to bakeware and decor accessories for your kitchen and home.
Non-Stick Coating
All ceramic cookware, whether 100% pure or simply a coating placed over the top of a metal pan, utilizes a sol-gel layer made from silicon oil, a natural alternative to a nonstick surface such as Teflon.
The silicone oil or sol-gel is released on the surface of your pan every time you cook, providing you with a nonstick cooking surface that mimics non-stick properties. On a new 100% ceramic pan, this non-stick surface eliminates the need for butter, fats, oil, or sprays, which generally prevents your food from sticking.
However, while this silicone layer can degrade over time, much like all the other non-stick coatings on the cookware market, it's best to use a little butter or oil from time to time, as this will ensure the longevity of your ceramic cookware, as well as your ceramic-coated cookware.
Ceramic Cookware Is Great At Retaining Heat
Pure or 100% ceramic pots and skillets retain heat much better than other traditional materials. It will even keep your food warm for an extended period even if the pot or pan is taken off the high heat. Ceramic cookware is known for its efficiency in this regard and for providing a good level of overall heat distribution.
100% Ceramic cookware is also known for its ability to withstand extreme temperatures when compared to other materials. It can ensure heat that reaches up to 450 degrees Fahrenheit, making it perfect for searing various foods such as meats and vegetables.
They are an excellent choice in this regard as they do not give off toxic fumes, unlike other traditional non-stick pots and pans, such as Teflon, when they reach a higher temperature of 450 degrees Fahrenheit.
It can withstand such high temperatures thanks to the process it goes through in the production phase; the clay mold endures two high-temperature fires in the kiln' resulting in a very heat-resistant piece of cookware.
They Do Not React To Acidic Food
Anyone who's ever cooked on a cast-iron skillet or pot will surely have been told that highly acidic foods such as tomato sauces and various kinds of vinegar should not be used within the pan. If you cook with acidic foods in a cast iron pan, food can leach various pieces of metal and other chemicals into the food.
Whereas, with ceramic cookware, this is not a problem, as acidic foods do not react with the ceramic nonstick coating of the cookware. Thus, you can cook with tomatoes, vinegar, and citrus foods in your ceramic skillet without the worry of leaching toxic chemicals into your food.
Ceramic Cookware Is Lightweight
Ceramic cookware is much lighter and easier to maneuver than various other materials utilized for cookware, such as the heavy metals in cast iron and other metals. Cast-iron braisers and Dutch ovens can be a difficult and dangerous task to move when cooking, whereas ceramic cookware weighs slightly more than the food contained within.
An average-sized twelve-inch ceramic frying pan may weigh anywhere from two to two-and-a-half pounds, whereas a cast-iron skillet of the same size may weigh up to nine pounds. The same goes for ceramic lids when compared to glass lids.
Ceramic Cookware Is Easy To Clean
Ceramic cookware, thanks to their sol-gel or silicone non-stick surface, makes them conveniently easy to clean. This ceramic coating is an excellent non-stick surface that ensures everything rinses off with ease when it's time to clean it.
For best results, when cleaning a ceramic pot or pan, hand washing is advised as they have a slight tendency to chip and become dull in the dishwasher. They can be cleaned with little effort using mild dish soap, warm water, and drying off with a cloth or paper towel.
Ceramic Cookware Is Eco-Friendly
Ceramic cookware is seen as an eco-friendly alternative to various pots and pans on the market. As the main compound utilized for ceramic cookware is natural clay, there are no toxic chemicals released into the environment when they are being molded.
The production method of using a kiln and drying the clay is where most of the energy is spent. However, this is much less when compared to various other materials, such as metals, and you end up with a product that is easy to recycle.
Is 100% Ceramic Cookware Safe To Use?
Many people love using non-stick cookware as it makes the whole cooking experience much more enjoyable. Ceramic cookware has become popular in recent years, as it doesn't use toxic chemicals in its non-stick formula and is generally considered a safe option when compared to various other pans, such as Teflon.
When it comes to various cookware brands, the major concern is whether or not the leaching of metals and other hazardous compounds occurs. This is especially common with Teflon, and over the years, people have decided that they want to opt for a safer alternative to cookware that releases toxic chemicals.
100% ceramic cookware is often viewed as a somewhat safer alternative to other cookware, which utilizes a coating known as Teflon. This non-stick coating is the result of a synthetic chemical which is also known as polytetrafluoroethylene.
This chemical contains perfluorooctanoic acid, which has been linked to numerous health concerns and is even now considered a carcinogen. Thus, when cooking with Teflon and similar non-stick coatings, you run the risk of ingesting small particles each and every time you cook.
100% Ceramic cookware is considered safe to use, especially when you purchase products from reputable companies such as Caraway. They specifically ensure that their products are free from various toxins and chemicals such as Teflon, polytetrafluoroethylene, lead, cadmium, and various other toxic metals.
Various groups will argue, however, that the silicone oil used in the non-stick coating of ceramic pans has not had enough testing and may also cause small health concerns; however, this is yet to be proven.
Just like the toxic non-stick surfaces, the sol-gel non-stick coating made from silicone that covers the surface of a ceramic pan will release a small amount of the substance every time it is used.
However, various health experts would no doubt agree that this non-stick coating will not come close to the health concerns that surround Teflon pots and pans.
Are There Any Disadvantages To 100% Ceramic Cookware?
While 100% Ceramic cookware is known for its numerous advantages, there are also a few small disadvantages which we will list below.
More Fragile Than Cast Iron
We acknowledged that due to the firing process, your ceramic cookware would be much more durable than various clay items; however, it is still fragile when compared to cookware made from cast iron.
The handles may not be considered are durable as stainless steel handles, but are certainly not brittle. So you should ensure that you take care of the pan and try not to drop it from the stovetop onto the floor, as in this case, the durability won't be able to save it.
It can also be susceptible to chipping, much like most pans, so it's best to use wooden and plastic utensils when you have to move the food around.
Takes Longer To Heat Up
While 100% ceramic cookware is excellent at retaining heat, it is not a great conductor of heat. This means that it will typically take much longer than various metal pots and pans to receive a sufficient cooking temperature.
However, if you are someone who is patient and doesn't mind waiting a few extra minutes, then it's not so much of a disadvantage as it is a choice for choosing an eco-friendly alternative to Teflon and other toxic leaching cookware.
Loses Non-Stick Much Quicker Than Teflon
One of the small disadvantages is that the non-stick silicon oil layer will disintegrate much quicker than various other non-stick surfaces like Teflon. This is one of the major complaints about ceramic cookware.
However, it's been acknowledged that during the initial stages of using your ceramic pan, it actually has the best non-stick surface, which has even been concluded by Orion Industries, one of the leading applicators of Teflon.
Thus, while it may lose its non-stick qualities much quicker than a Teflon pan, you're not running the risk of leaching toxic and health concerning particles into your food every time you use the ceramic pan.
Bottom Line Concerning 100% Ceramic Cookware
So, the bottom line is that 100% ceramic cookware is certainly affordable, provides you with low-maintenance cookware that doesn't react to acidic food, and can perform well at high temperatures. They are lightweight, somewhat eco-friendly, and typically come in impressive colors and glazes and are considered one of the best options.
It will initially allow you to cook without any additional fats, such as butter and oil, and can easily be cleaned without extensive work. While there are a few downsides, such as being more fragile when compared to cast iron or how long it takes to heat up, it comes with numerous benefits, but without the toxic chemical non-stick coating.
There are arguments to suggest that while the materials that make up a 100% ceramic pan or pot are certainly more eco-friendly and better for human health when compared to Teflon pans, due to their low life expectancy, you'll buy numerous ceramic pans.
So, if you need to purchase two or three ceramic pans to last as long as a Teflon pan, is that really better for the environment? People may have various opinions on this matter, however, we should consider that yes, as ceramic pans are much easier to recycle as they are made mostly from clay.
Read about the differences between ceramic and stainless cookware in Ceramic vs Stainless Steel.
FAQs
Quick answers to some common questions asked about ceramic cookware.
What is the healthiest cookware in the world?
When it comes to what is the safest cookware, there are a few materials that stand out above the rest.
The best cookware is cast iron, stainless steel, 100% nontoxic ceramic, glass, and enamel-coated cast iron, which lasts a long time, these are also great choices when it comes to safe cookware.
A high-quality ceramic glaze that has a non-toxic ceramic coating also has the advantage of healthy cooking.
What cookware is 100% ceramic?
Cookware that is made from clay, oxides, minerals, and water.
Is pure ceramic cookware nonstick?
The coating on ceramic cookware can be nonstick, you will still have to use oil and not have the pot too hot when you first add your ingredients.
Learn the differences between Hard Anodized and Ceramic Cookware in my complete guide.
Key Takeaways: What is 100% Ceramic Cookware?
So, now that you know all about pure or 100% ceramic cookware, will you be replacing the Teflon cookware in your home with ceramic cookware? There are various benefits to consider, and none more prominent than your health.
Just remember, you should do your own research into the various ceramic cookware brands and ensure that you're actually getting 100% ceramic. You do not a want mixture of various other compounds; this will ensure that you get the best option and all the benefits mentioned in this article.
Looking for cookware made in the United States these articles will assist you in finding the cookware you require.
Want to support local manufacturers by purchasing cookware and kitchen products that are made in the USA? These articles I have written, and keep up to date, will help you find the brands and products that are made in America.
One-Pot Cooking Rocks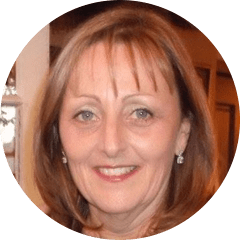 Michelle – Author
Hi, I'm Michelle the founder, owner, author, and editor of OvenSpot. My passion for one-pot cooking commenced when I was working to prepare cafeteria lunches for school students. I am now on a mission to assist you in choosing the cooking pot or appliance you will use every day. As well as in-depth information to assist you in using and caring for your cookware and appliances.
Questions? Reach out to Michelle at michelle@ovenspot.com