How to Season an Aluminum Pan
Seasoning is an important step before using your pan. If you don't season it properly, the food will stick to its surface and it will be hard to clean. It can also react with certain foods to produce harmful chemicals. This article explains how to season an aluminum pan so that food doesn't stick or react with it in an unwanted way.
What is Seasoning an Aluminum Pan
Seasoning an aluminum pan is a process that creates a natural layer of stick-resistant non-stick material for your pan. Seasoning will make cooking easier and make food taste better, just like when cast iron cookware is seasoned.
Tip: Always check manufacturers' instructions before using, cleaning, and seasoning any cookware; if unsure telephone the brands' customer service.
Seasoning Aluminum Pans Before First Use
Why it is important to season your aluminum pan before you use it? Although aluminum looks like a smooth shiny non-porous surface it isn't. There are small microscopic holes on the surface of most cooking surfaces that will in time collect food particles, germs, and possibly chemicals from cleaning products.
Seasoning a pan helps create a layer of protection for the pan to prevent the food from sticking to the surface. It also prevents the metal from corroding and developing a metallic taste. Seasoning also happens during the cooking process and may be slower because it takes time for the oil to soak into the aluminum. So it is worth carrying out an initial seasoning.
Cleaning an Aluminum Pan
Clean as soon as possible do not let food dry onto the surface as soaking aluminum pots and pans is not recommended.
Warm soapy water and a soft cloth are all that are needed when cleaning aluminum pans. A light scrubbing with a scourer that will not damage the surface or seasoning of your pan might be needed for tough surface marks.
Are Aluminum Pans Dishwasher Safe
No, aluminum reacts to the hot water in dishwashers and can stain the surface. Secondly, harsh dishwasher detergents can strip or dull the finish.
Tip: Avoid using your cookware on glass-ceramic stovetops unless the manufacturer's instructions say your aluminum is safe to use. Aluminum cookware can permanently discolor the glass, or even fuse to it.
How to Season Aluminum Pans
Before commencing consider your wooden handles. Ensure that the handle/s of your pan is oven safe up to 250 degrees, check manufacturers' instructions, or Google the brand and model. If you are able you can also remove the handles before seasoning especially if it is a wooden handle.
Do not use too much oil or the surface of the pan will become tacky! Tacky is not non-stick, so you will have to clean the surface and commence again. Check out the best oil for seasoning…
Gear required for seasoning
Aluminum pan
Oven
Paper towel
Vegetable oil
Dish soap
Dishrag
Clean towel
1. Pre-heat conventional oven to 250 degrees
2. Wash the pan with a soft cloth in hot soapy water, DO NOT leave the pan to soak
3. Gently scrub the inside of the pan with a dishcloth or sponge. For stubborn particles, non-abrasive cleaners or baking soda and water paste along with a synthetic scourer.
4. Thoroughly towel dry the inside of the pan after washing it.
5. Coat the pan's surface with vegetable oil. Do this by pouring the oil onto a paper towel or clean soft cloth and working it well on all cooking surfaces.
6. Place the aluminum pan in the oven for 2 hours
7. When done allow the pan to cool completely
8. Wash the pan with a soft cloth and dry thoroughly
Now your aluminum pan is ready to be used!
Tip: All our cookware is different, the brands, the materials they are made of (not all aluminum is equal), and the way we use them! If your pan does not have a shiny nonstick-looking surface you can repeat the oil and baking steps above before its use.
How Often Should I Season my Aluminum Pans
Although oil season pans naturally while cooking scraping and cleaning wear the seasoning away.
You will know when to season your pots and pans because your dishes will start to stick even when using oil to cook
The cooking surface will not look as smooth or shiny
Benefits of Seasoning a Pan With Oil and Heat
Seasoning a pan isn't too difficult. The benefits of seasoning your pan with oil and heat, include:
it will make food more flavorful by not taking impurities from the surface
the pan will be non-stick
it will have a longer shelf life
Disadvantages of Not Seasoning Your Pans
The disadvantages of not seasoning your pans are that it might be difficult to cook, for instance, if you're cooking a dish that requires searing or browning. Another disadvantage is the food will have a more metallic taste. The surface of the cookware will not cook well if there are cooked or baked-on-type substances, like oils or sauces on its surface.
Use, Care, and Maintenance of Aluminum Cookware
A kitchen is typically a busy place where pots and pans are often used for cooking. So getting into the habit of using, cleaning, and maintaining your cookware as you use it saves time in the long run.
Use this checklist to keep your cookware in top shape to allow you to make the perfect meals every time…
Being a quick conductor of heat an aluminum pan over your stovetop's lowest setting can make the pan extremely hot, so heat up low and slow
Make sure there is liquid or oil in the pan while heating it up
Do not let the oil smoke because it will burn, remove the pan from the heat until it cools down or add the first ingredients quickly
If the oil does burn let it cool down remove the oil then clean the pan if necessary before starting again
If your pan is very hot, even at a low heat setting stir the ingredients so they don't stick or burn, you can also add a little more liquid or oil to cool it down
So there you have it! Seasoning an aluminum pan isn't too difficult. The benefits of seasoning your pan with oil and heat, include: it will make food more flavorful by not taking impurities from the surface; the pan will be non-stick; it will have a longer shelf life.
If you haven't been seasoning aluminum pans as often as you should or they're looking less than shiny, have a go at seasoning your pan!
One-Pot Cooking Rocks
---
Recommended Reading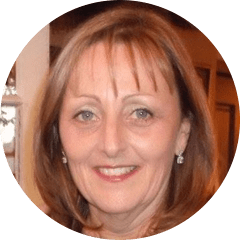 Michelle – Author
Hi, I'm Michelle the founder, owner, author, and editor of OvenSpot. My passion for one-pot cooking commenced when I was working to prepare cafeteria lunches for school students. I am now on a mission to assist you in choosing the cooking pot or appliance you will use every day. As well as in-depth information to assist you in using and caring for your cookware and appliances.
Questions? Reach out to Michelle at [email protected]