Why Do Cast Iron Pans Smoke: How to Prevent It
Cast iron pans are one of the most popular types in the kitchen. They come with a variety of advantages, but there can be some drawbacks to consider before using them.
One disadvantage would be smoke rising when cooking with cast iron. It's common, and the reason why is pretty simple.
A seasoned cast-iron pan can smoke because the heat is too high with either no oil or too much oil on the surface. This does not cause permanent harm to the pan in most cases if it's only for short periods like while cooking eggs or bacon. It will stop smoking when the pan cools down.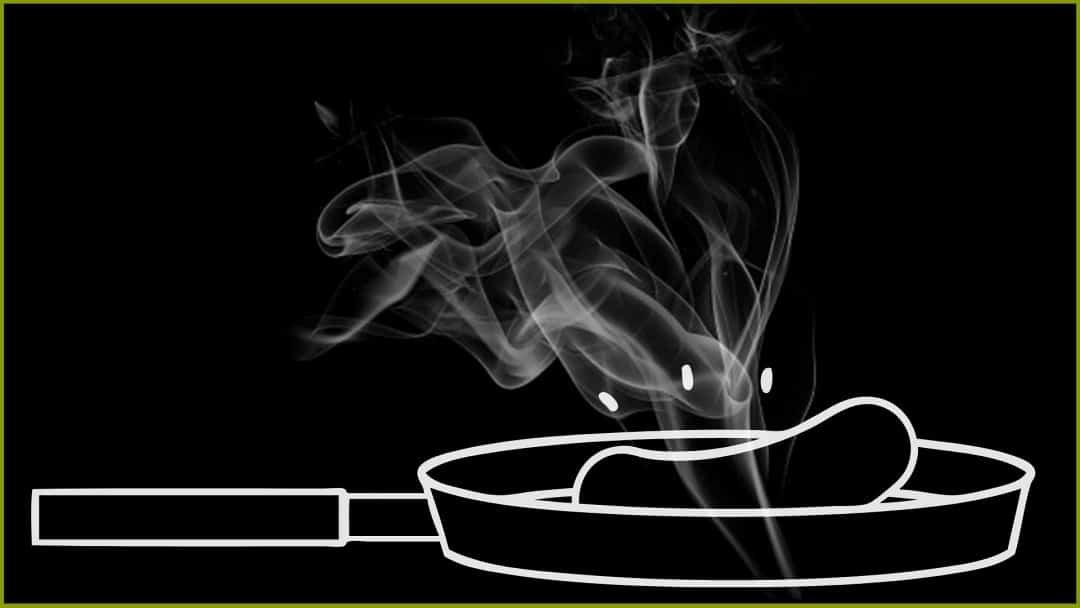 This can be a very frustrating experience for many people, but with the right knowledge and care you can make your cast iron pan stop smoking. We'll cover different ways to clean your pan of any unwanted residue that is making it smoke as well as how to season it correctly so you're not wasting time scrubbing off all the seasoning every time you cook something new!
Disclaimer: I earn from qualifying purchases on my website as an Amazon Associate. If you purchase through links from this website, I may get a small share of the sale from Amazon and other similar affiliate programs.
What Makes Cast-Iron Pans Smoke?
Cast iron pans have a high smoking point, meaning they can withstand very high temperatures. This is why cast iron skillets are often used for searing meat or cooking things that you want to brown with intense heat such as fried eggs.
However, the smoke from these items making contact with your pan will cause your pan to start smoldering too! After time without cleaning, this residue builds up and captures more moisture in the air.
This causes a reaction similar to what happens when you burn wood on the fire – hot enough that it turns into soot which starts emitting smoke! Let's talk about a few other instances when cast iron could start smoking.
Cast Iron Materials
Cast iron pans are made of a combination of sand, clay, carbon, and metal, that can withstand extremely high temperatures. Its surface is porous and soaks up oil that even after cleaning is ready to be burnt off when used next time.
When the pan is at this high temperature, and it starts to smoke it is likely to be one of these causing the smoking –
New cast iron cookware can also smoke because as you heat the pan the protective coating that the manufacturer has coated it with to protect it creates an oxide layer on its surface as it heats up. It is known as polymerization gives iron its non-stick surface to prevent food from sticking, makes for easy cleaning, and protects the iron from rust.
The heat causes molecules in the food to react with oxygen in the air and create smoke.
Smoke can be a sign that your pan needs more time on the stove to burn off any excess oils or food particles.
You need to turn down the heat.
If you're cooking something like bacon and eggs, which have a lot of fat, it will release some liquid as well as smoke when it's cooking.
How to Prevent Cast-Iron Pans From Smoking
If your cast-iron skillet starts smoking while cooking on the stovetop, don't panic! Check out the following to decrease the smoke a little.
Cleaning and Seasoning
Washing and maintaining your skillet is key to cutting down on future smoking occurrences because if any food particles happen to be stuck onto your pan they'll get burned onto the surface and cause more smoking.
Step 1 – All food particles and rust need to be removed from the surface of the iron. Do this by using water and a scourer, steel wool, or a scrubbing brush. Don't tell anyone but I have heard some people lightly go over the surface with sandpaper.
Clean with water and dry thoroughly. If you can place the iron on a grill, cooktop, or in a conventional oven at very low heat to dry it out.
Step 2 – Once dry and cool enough to handle use your seasoning oil of choice and rub a light coating over every part of the pan including its underside and handle.
Remember we are not only trying to achieve a shiny non-stick surface we want to protect the pan from the elements of water, moisture, and humidity.
Check out this article about oils, their properties, the temperatures they can withstand, and what oil is the best to use for seasoning cast-iron cookware.
Step 3 – Invert the pan into an oven preheated to 400 degrees Fahrenheit. The pan will smoke – when the smoking stops, cool the pan enough to handle and repeat the oiling process.
TIP – Do not apply too much oil at one time because the surface will become tacky – LESS IS MORE.
Step 4 – Repeat with a light coating of oil and back into heat if the pan is not shiny and smooth.
Keep your cast-iron pans clean, dry, and seasoned. A well-seasoned cast-iron skillet is not only nonstick but also provides an even heating surface. The pan should have a black shiny surface that is known as its "Patina."
Learn why and how to season your cast iron pan before its first use.
Avoid High Temperatures
If the pan is heated to high temperatures to a high temperature then the oil or food that is added will smoke and quite possibly stick to the surface of the pan.
An easy fix is to heat the pan over medium heat add oil, or fat, let it heat through then add any ingredients. Sticking should be avoided with this method add more oil if needed. In the long run, it helps your pan become even more non-stick.
Read this article about how hot cast-iron cookware can get and some very important tips for using cast-iron cookware.
Ingredients
Oil, water, and ingredients will sometimes release moisture which can cause smoke. This happens because the water vaporizes, creating a layer of steam on top of the hot oil, butter, or water in the pan.
If this happens, you should lower your heat to avoid smoking and burning your food.
In severe cases use oven mitts and remove the pan from the heat. Let the pan cool a little before adding more cooking fat or oil if there's not enough liquid left in your pan for it to evaporate properly during cooking.
Oil's Matter
If you're still having problems with smoking, try using a different type of cooking oil like olive oil instead of butter or vegetable oils. This will help keep food moist and prevent sticking as well! You can also try using butter or bacon grease instead of vegetable oils like olive or peanut oils. These fats have a higher smoke point than other oils which means they won't burn as easily.
Always make sure there's enough oil in your pan so that nothing sticks and burns onto the surface of the iron.
What Type of Pan Can I Use if I Don't Want Smoky Cast-Iron
If you don't want to deal with this issue, I recommend using stainless steel cookware instead! It won't produce any smoke at all! You'll also find that these pots and pans will heat up faster than cast-iron ones do too – so if speed is an issue for you then this might be the best choice for your kitchen needs!
What Makes Cast-Iron Cooking Pots so Great?
One reason people love using these cookware pieces is that they last for years and can go from stovetop to oven without any issues at all, unlike other materials that need separate pots and pans depending on their purpose.
Cast iron pots don't get too hot in the base due to concentrated heat like aluminum-based, copper, and stainless steel cookware. Cast-iron cookware absorbs the heat and it spreads throughout the entire pot – this is why it is best to heat a cast-iron pan over slow to medium heat. The pot will become hot enough all over to cook any dish you choose.
Check out some of my favorite cast-iron one-pot recipes
Final Thoughts – Why Do Cast Iron Pans Smoke?
There are a few reasons why cast iron pans can start to smoke, but the most common one is that they've been heated too quickly. If you want your pan to cook evenly and avoid any smoking at all, make sure you preheat it slowly before adding anything else to the surface.
You should also wait until it cools down before washing so as not to introduce excess moisture into the metal which will cause rusting or corrosion of the material. It may seem like an extra step in the cooking process but these simple steps will prevent a lot of frustration when trying to clean up afterward!
Sometimes a cast-iron pan could be beyond saving if it has been unseasoned and has become rusty. If this is the case check out some of the best quality cast-iron cookware at the best prices around.
One-Pot Cooking Rocks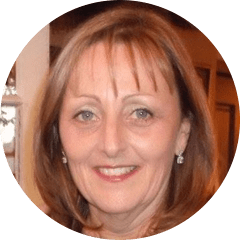 Michelle
Hi, I'm Michelle, the founder, owner, author, and editor of OvenSpot. My passion for one-pot cooking commenced when I was working to prepare cafeteria lunches for school students. I am now on a mission to assist you in choosing the cooking pot or appliance you will use daily. As well as in-depth information to assist you in using and caring for your cookware and appliances.
Questions? Reach out to Michelle at [email protected]