What Are Dutch Ovens Made Of? 7 Materials Popular Today!
Dutch ovens also are known as cooking pots, cooking cauldrons, black pots, casseroles, stewing pots and the Dutch called them Braadpan's.
What are Dutch ovens made of? The original Dutch oven that has been in use for hundreds of years is made of cast iron, which is seasoned. There are now available in other materials including enameled cast iron, ceramic, stainless steel, glass, aluminum, and cast aluminum Dutch ovens.
Disclaimer: As an Amazon Associate I earn from qualifying purchases on my website. If you make a purchase through links from this website, I may get a small share of the sale from Amazon and other similar affiliate programs.
What Is a Dutch Oven Made Of?
The seven I have listed below are made of seasoned cast iron, enameled cast iron, ceramic, stainless steel, glass, aluminum, and cast aluminum.
All come with their own pros and cons heavy, light, care, maintenance, convenience even durability. The choice of a Dutch oven is dependent upon the needs of the cook.
It is my aim to give you all the information you need so you can choose the right Dutch oven to suit your food preparation needs.
If you have landed here and you already know you want to purchase a Dutch oven. CLICK HERE and the range at Amazon.
What Are Dutch Ovens?
Traditional Dutch ovens were forged from cast iron. They are a pot that was and still are used over open flames and in hot coals.
They have a handle on either side of the pot, and a tight-fitting lid with a loop handle in the center for easy lifting.
Some ovens have legs to sit amongst the coals while others had a flat bottom.
The bottom of the oven and the walls are thick and the lid is thick and heavy to form a tight seal that keeps in the moisture and nutrients and allows the dishes to self-baste.
How Are Dutch Ovens Made?
Traditional Dutch ovens have been produced from molten cast iron for hundreds of years. Through the years various methods have been tested to improve upon the original molten cast iron mixture.
A process called "Slagging" is undertaken for impurity removal as well as bonding agents being added to the molten cast iron to assist in removing any further impurities that may exist in the molten metal.
Molds are then lined with sand to create the shape required. The iron mixture is poured into the mold after setting the sand is shaken gently away by moving along a conveyor belt.
The cast-iron products are the "Finished". This "finishing process" includes grinding, shaping, polishing, cleaning, drying, and seasoning.
Of course, every foundry throughout the world has its own process in place but the basic production principles are the same.
Lodge Cast Iron Foundry Tour
What Are Dutch Ovens Made of – The Materials
When purchasing a Dutch oven today the biggest consideration should be "where are you going to use your Dutch oven?"
If you want your Dutch oven for camping you will require a seasoned cast iron oven.
Want to use it primarily in your kitchen an enameled option is probably the best. This is because they are easier to clean and maintain but have all the cooking benefits of seasoned cast iron.
I have a detailed breakdown below of six different materials that Dutch ovens can easily be found today.
1. Cast Iron Dutch Ovens
The traditional cast iron Dutch oven is a heavy rugged cooking pot that has been used for centuries. They still are used the world over as they were originally used, over open flames, and sitting in hot coals.
Whether in backyards or on camping trips they are still revered and durability never comes into question.
If you purchase a great quality cast iron cooking appliance it will be handed down through generations if cared for correctly.
Even if these pots are not cared for correctly they can be bought back to their former glory with a little elbow grease.
Cast iron can take time to heat up but with the heavy lid with its self-basting ability, the heat is retained unlike some of its counterparts.
The Cons to Cast Iron
It needs to be seasoned to prevent corrosion, rust, and to stop food from adhering to the inside surface.
Even though cast iron has a rugged appearance because of the seasoned layers which are in place to provide the non-stick surface you still need to be gentle when caring for the iron.
Stuck food will need to be removed with water boiling and gentle removal of food particles. Then washing in water only using an appropriate scourer. The cast iron must then be dried immediately to prevent rusting.
They also require reseasoning when the shiny non-stick surface is compromised or has broken down due to use and time.
My all-time favorite camp dutch oven is the Lodge camp Dutch oven – read more about this camp oven here.
2. Enameled Cast Iron Dutch Ovens
The enameled cast iron in the image above has a coating of light enamel on the inside of the oven and a porcelain enamel exterior.
The enamel coating does not require seasoning.
The enamel coating provides a more even heat distribution than a preseasoned cast iron Dutch oven.
Apart from the everyday dishes, you prepare in these types of Dutch ovens they are good for baking.
Clean up is easier as food particles do not tend to stick to enamel as much as in a preseasoned Dutch oven. You can use a Dutch oven in the refrigerator.
The Dutch oven should be washed in warm soapy water and not in a dishwasher for a longer-lasting shiny enamel…
3. Ceramic Dutch Ovens
This type of aluminum cookware has an aluminum exterior and a ceramic non-stick interior. This composition keeps them a relatively lightweight cooking appliance.
They heat quickly, evenly, and distribute and retain heat due to the heat retention properties in the ceramic.
It can be cleaned in the dishwasher, but I would suggest handing washing and drying to protect the oven.
The product above is made from volcanic minerals, the extra-hard ceramic coating resists scratches and repels liquids. It has an oven-safe lid and is made in Italy.
4. Stainless Steel Dutch Ovens
Some stainless steel Dutch ovens have aluminum bonded bases for the pot to heat up quickly and they will also distribute heat more evenly.
They are a lot thinner in makeup than either aluminum or cast iron.
Caring for stainless steel is a lot easier than some of the other types of ovens.
This is because they do not need any special cleaning instructions to be followed and these ovens will not rust.
More about Dutch ovens and stainless steel – here
5. Aluminum Dutch Ovens
This Dutch oven is constructed of hard-anodized aluminum. It is a substantial cooking appliance although lighter than cast iron. Although these Dutch ovens heat up quickly they do not have the same heat retention as cast iron.
Depending upon the oven these aluminum ovens (the one pictured above is not) are usually coated with a non-stick cooking surface this assists with food not sticking to the interior.
This nonstick interior leads to an easier cleanup. But unlike stainless steel, you will have to take extra care with the cleaning and/or scrubbing process if the food does adhere to the interior.
Non-abrasive scourers with soap, water, and gentle rubbing are required also no dishwasher for this oven either.
The surface of this type of Dutch oven can very easily be compromised if gentle care is not taken. This would also include any utensils that are to be used inside the oven. Plastic, silicone, bamboo, or wood only.
6. Cast Aluminum Dutch Oven
This oven looks like a traditional cast-iron Dutch oven, in fact, it is aluminum in structure with a non-stick coating. Making it the perfect choice for those who cannot lift heavy cast iron.
Performs like a traditionally shaped Dutch oven, is lighter than its cast-iron cousin, and can be cleaned in a dishwasher, but hand washing is recommended.
More about aluminum cookware and Dutch ovens – here
7. Glass Dutch Oven
This glass Dutch oven is non-porous so it repels stains and food odor. Lighter than cast iron.
This cooking pot is stovetop, gas, electric, and broiler safe. Also is safe to put in a pre-heated conventional oven as well as a microwave.
It is also safe for the dishwasher and freezer.
What Is the Best Material for a Dutch Oven?
The best material for a Dutch oven is cast iron if it is to be used as it was originally designed. When heated correctly cast iron retains heat and heats the stews and braises evenly. The self-basting heavy lid holds in the nutrients, and flavors and can reduce the liquid into a sauce if required.
Dutch ovens are also great for baking cakes, biscuits, and desserts.
Let's not forget how a Dutch oven acts as a baker's oven when baking bread.
What Dutch Oven Should I Buy?
When choosing a Dutch oven making a decision is easy when the question is broken down into the three main considerations below.
Dutch Oven Use
Will you be using your Dutch oven over open flames or in hot coals? Camping or in your own backyard or somewhere similar.
Open flames and coals would require a preseasoned cast iron camp Dutch oven, with legs are the best for flames. A flat bottom Dutch oven is a great option for barbeques and backyard fires but is also suitable for camping.
Dutch Oven Material
A Dutch Oven for Camping
You will require a seasoned cast-iron Dutch oven.
A Dutch Oven for the Kitchen
You can absolutely use a seasoned cast-iron oven on all your cooking surfaces and ovens in your kitchen, but much care needs to be taken with the heavy Dutch oven so that cooktops do not become damaged.
The trend these days is the enameled cast-iron options. There are many decore colors available to suit everyone's taste.
Due to the ease of clean-up that enameled cast iron offers they are a very popular choice.
Especially if the Dutch oven is not required to be used over flames or coals.
What Size Dutch Oven Do I Need
The size Dutch oven I would purchase to feed a family of 4 would 7-quart Dutch oven.
This size may seem to be overkill. But this size allows you to prepare many kinds of dishes including legs of meat, roasts, shanks as well as all your soups, stews, and baking.
For your personal needs see the size chart below.
Want to know more about buying a Dutch oven go see my article by clicking here or you may want to know about what you can use a Dutch oven for I have another article here.
Dutch Oven Size Chart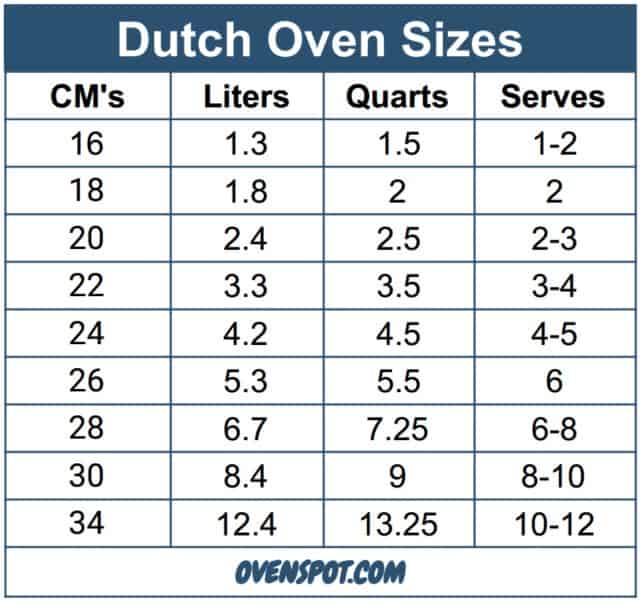 Camp Dutch Oven Size Chart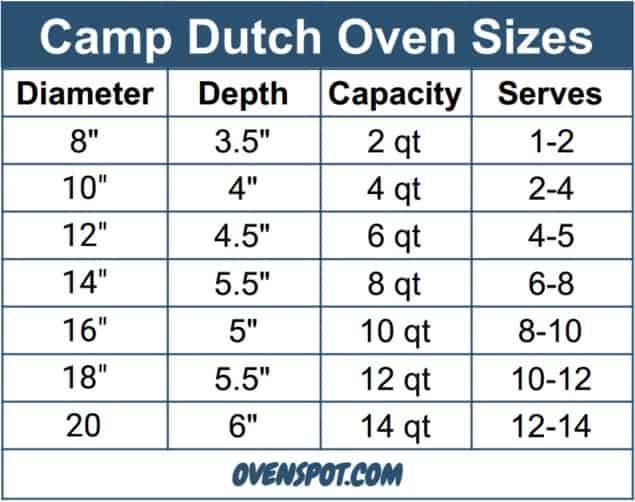 How To Use A Dutch Oven
The Dutch oven is literally a one-stop cooking pot. Used under the correct heat application you can:
Braise
Saute
Fry
Simmer
Boil
Steam
Roast
Bake
Serve various foods and liquids hot and cold
Store Food
Learn more about Dutch oven uses in my article here.
Frequently Asked Questions
As always there are more questions – hope these answers help.
Why Are Dutch Ovens So Expensive?
Dutch ovens can be expensive when high-quality materials are used to manufacture them. Dutch ovens are made thick for optimum heat absorption, retention, and distribution.
See more about why Dutch ovens can be expensive in my article here.
Dutch Oven Substitute
Are there any substitutes for Dutch ovens? Yes, there are in my article here I actually have more than 11 alternatives for a Dutch oven.
What Is The Best Dutch Oven?
I would have to say the best Dutch oven is the one you use the most.
Secondly, the Dutch oven you dream (Staub) about the most and here (Le Creuset) Dutch ovens.
Final Say – What Are Dutch Ovens Made Of?
When choosing a Dutch oven as with any other appliances we purchase in our busy lives consideration needs to be taken:-
What we will use it for?
Where will we use it?
How often will we be using it?
Convenience.
Care and maintenance.
From one of the seven Dutch oven options above I am sure you will have a clear idea of which of these cooking appliances will suit your needs the best.
I also hope that I have given you an understanding of how a Dutch oven is made, what they are made of, and a little history as well.
One-Pot Cooking Rocks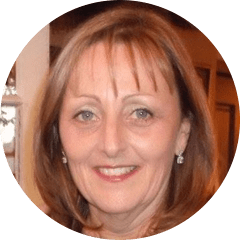 Michelle – Author
Hi, I'm Michelle the founder, owner, author, and editor of OvenSpot. My passion for one-pot cooking commenced when I was working to prepare cafeteria lunches for school students. I am now on a mission to assist you in choosing the cooking pot or appliance you will use every day. As well as in-depth information to assist you in using and caring for your cookware and appliances.
Questions? Reach out to Michelle at [email protected]