What Kind of Dutch Oven Should I Buy? 5 Top Picks
"What kind of Dutch oven should I buy? A Dutch oven made from quality materials with a heavy lid to seal the cooking pot and keep the steam in. This will give you the tenderest meat and vegetables as well as produce sauces infused with the goodness from the ingredients that no other cooking pot can equal. A 6-quart oven will feed a family comfortably.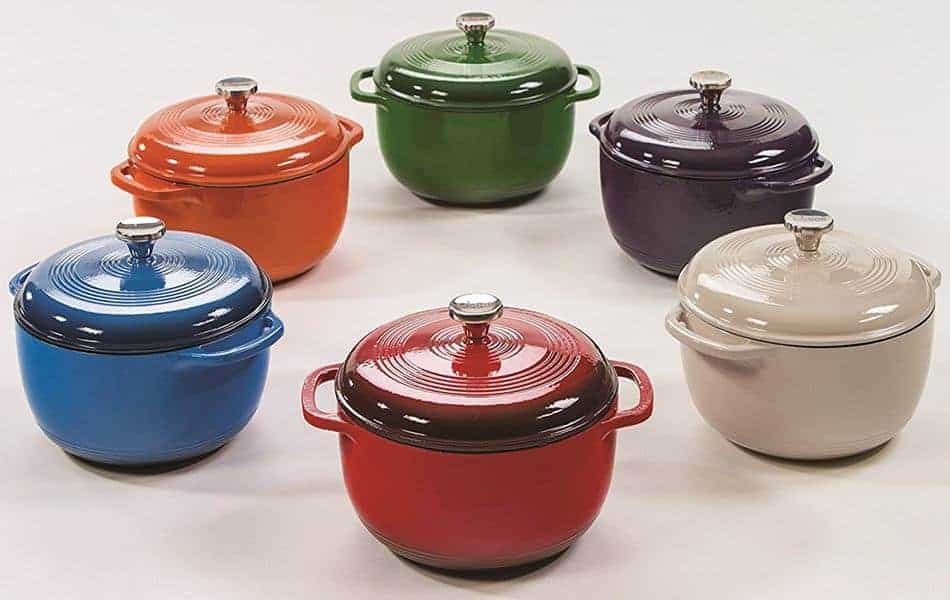 Disclaimer: As an Amazon Associate I earn from qualifying purchases on my website. If you make a purchase through links from this website, I may get a small share of the sale from Amazon and other similar affiliate programs.
Straight up my top 5 picks are –
Camp Dutch Ovens
If you are looking for an affordable well made Dutch oven you cannot go past a Lodge
Close second and offering many types of camp ovens are Camp Chef
Enamel Dutch Ovens
A well-made and affordable choice is Lodge
Want something a little better – I love what Staub offers
If you want the absolute best you cannot go past Le Creuset
If you are new to Dutch ovens I encourage you to read on and learn what you really need in a Dutch oven.
What Are Cast Iron Dutch Ovens?
Well, cast iron Dutch ovens have been around for thousands of years in one form or another. They are a piece of cooking equipment that can be used for multiple purposes.
They were often described as large pots with tight-fitting lids. Dutch ovens hold food at a steady temperature while cooking and keep the meal warm when cooking is complete.
You can bake, stew, boil, roast, fry, and much more in Dutch ovens.
The traditional Dutch ovens used by our ancestors were forged out of cast iron and were used for all their cooking needs indoors and out.
Today we are able to enjoy cooking in our modern kitchens with a modern version of the traditional Dutch oven. They are still cast iron and are covered with a colored enamel finish.
There are also other types of cast-iron Dutch ovens available made of aluminum and other forms of non-stick materials that man has invented since the traditional oven was invented.
If you have landed on this page and already know you want to purchase a Dutch oven. Check out the Dutch oven range at Amazon.
How Do I Choose a Dutch Oven?
There are two basic types of Dutch ovens.
Seasoned cast-iron Dutch ovens that are used for outdoor food preparation predominately use campfires as their heat source. But these can also be used in a kitchen – with care – on the heat source available.
Enameled Cast Iron these Dutch ovens are cast-iron coated in enamel and are used in kitchens – they are not suitable for campfires.
Identifying how you will use your Dutch oven is the most important requirement before you purchase.
This includes the number of people you are preparing meals for regularly
Will you be preparing large cuts of meat (oval Dutch oven) or stews, casserole, soups, baking (round Dutch oven)
If you will be using the oven in your kitchen you may want to consider an enamel cast iron Dutch oven
If you are after a shorter quick read check out the article 3 things to look for in a good Dutch oven!
How Are You Going to Use Your New Dutch Oven?
The first question you must ask yourself is what do I intend to use my Dutch oven for?
Before you buy, you need to figure out how much you want to spend on your oven because prices do vary greatly. You will need to consider how you're going to use your new Dutch oven.
For example, will you be using it at home on your stovetop and in your oven? Or do you intend to use your new Dutch oven camping over an open flame or hot coals?
Another consideration is how many people you need to feed. There are so many sizes available in Dutch ovens you want to make sure you don't purchase one very large and heavy that is only regularly going to be used for two people.
Lastly what sort of meals will you be wanting to make? Let's explore these questions in more detail.
Choosing a Seasoned Cast Iron Dutch Oven
When purchasing a cast-iron Dutch oven there are a number of factors to take into consideration.
The thickness of the oven should be even as this allows for consistent heat when cooking. If the thickness of the cast iron is uneven you will get cold spots when cooking in the oven.
Cracks, fractures, or any other deformities in the cast iron will make the Dutch oven unstable and could crack while at high temperatures or when carrying the oven.
The same goes for the legs of the Dutch oven they should be sturdy and strong. Also free of any cracks or deformities. You should also check to make sure the legs are a least 1 inch long. This is the traditional length and is long enough to keep the oven steady on the hot coals or briquettes.
You should also look for a lip around the edge of the lid of your Dutch oven just in case you have to place coals on top of the Dutch oven when cooking.
This is the traditional type of lid, it also assists in stopping ash from falling into your food when lifting the lid off to stir your meal while cooking.
The pot should have a handle on the lid in the center. You should test that the handle is attached firmly and it will safely be lifted with a lid lifter.
Your cast-iron Dutch oven for use on an open fire should have a firm fitting bail.
A bail is a loop made of thick, heavy wire on both sides of the Dutch oven that is used to lift it into and out of a fire.
It is also extremely important that the bail of the Dutch oven you want to buy can withstand you lifting the Dutch oven when it is filled with your hot food.
These days for convenience there are Dutch ovens on the market that have been pre-seasoned. It is convenient to buy one of these as they need to be seasoned less regularly.
Personal choice really, as it is not difficult to season a Dutch oven yourself. You will have to keep the seasoning up to stop the food from sticking and protect your oven.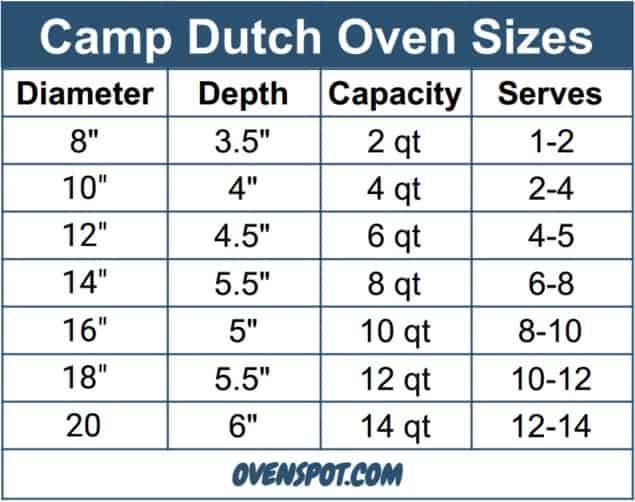 What Size Dutch Oven Should I Buy for Camping?
The two main uses of Dutch ovens are those for camping on an open fire or hot coals or briquettes. The most common materials for Dutch ovens that are used in these ways are cast iron, anodized aluminum, or stainless steel.
Cast iron Dutch ovens have the ability to maintain very high cooking temperatures. They can heat up to 500 degrees Fahrenheit and are a great choice for searing and frying.
Cast iron's ability to retain heat makes stews, soups, and braised dishes a breeze because when used correctly distributes heat evenly.
As cast iron is seasoned it is a lot easier to clean and care for than either aluminum or stainless steel.
But cast iron is heavy so when using outdoors or camping you would not want to be carrying this too far in your packing.
Anodized aluminum does not rust and is much lighter than its cast-iron cousin weighing in at just a 3rd of the weight of cast iron. So if you are into hiking this would be the perfect choice to carry in your backpack.
Best Dutch Oven For Camping
I have an in-depth article that will give you a heap of information about great Dutch ovens for camping see it for yourself.
Using a Dutch Oven Indoors
The second is using a Dutch oven on your electric stovetop, induction, gas hob, or your conventional electric oven.
Cast iron is still my number one option when cooking at home. But with all the wonderful enameled options on the market today it is an entertainer's dream come true.
By this, we mean that you can cook your meal in one piece of cooking equipment. Then you can keep the meal warm until you are ready to serve to guests.
And depending on your choice this oven can match the décor of your home. So serving your guests, family, or friends straight from the Dutch oven at your table is wonderful.
Some Dutch ovens are on the market today as well as saving time and are so easy to clean and are a real statement piece. Awesome to use when entertaining!
A couple of things to consider when purchasing an enamel Dutch oven. Make sure that handles and knobs are ovenproof. Equal thickness around the sides and bottom of the Dutch oven ensures that your cooking is even – no hot or cold spots.
The handles should be safe to use, and large enough to be able to lift the Dutch oven with oven mitts while you are carrying the oven.
Your lid should fit securely then moisture will not escape, making your Dutch oven more efficient and your food will not dry out.
It can also be extremely dangerous to have steam escaping from under the lid around your Dutch oven's handles.
What size Dutch oven do I need?
How Many Do You Need to Feed?
What size Dutch oven for a family of 4? the 10-inch Dutch oven is the average size. It has a 4-quart capacity and will feed between 4 to 7 people. It depends upon portion sizes but there would probably be leftovers.
I would choose a 6-quart Dutch oven this size will do it all for you comfortably.
The 12-inch deep Dutch ovens would easily feed 10 hungry mouths. These Dutch ovens have an 8-quart capacity and will feed 16-20 people.
What Do You Want to Make?
When choosing your Dutch oven what you are wanting to cook is a huge consideration. 12" to 16" regular Dutch ovens can bake pies, cakes, cobblers, bread, cornbread, rolls, and biscuits.
You may also need to consider a round or oval Dutch oven. There are benefits for both, but an oval Dutch oven will give the extra size for those large pieces of meat or lamb shanks.
What about baking your very own homemade gourmet pizza?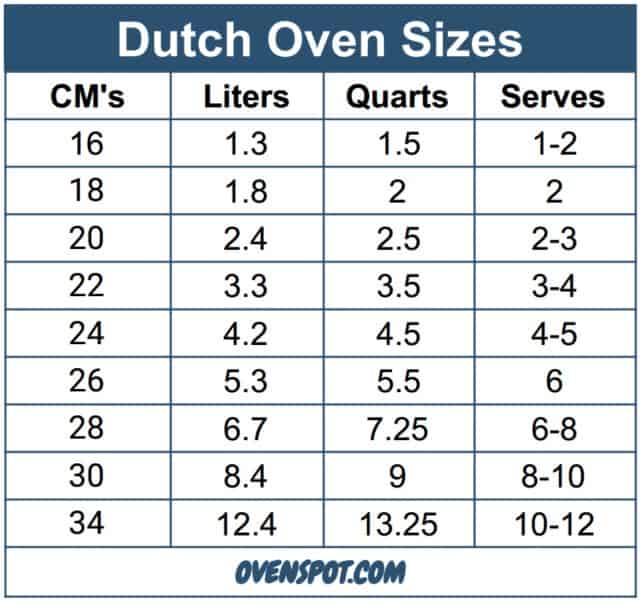 Listed here in this "Dutch oven size chart" are just some of the meals and accompaniments you might want to prepare and the approximate size of the Dutch oven you would require.
Diameter: 6.625" – Capacity: 1 Quart – Depth: 3"
Sauces, Chutneys, Relishes, and Side Dishes
Diameter: 8" – Capacity: 2 Quart – Depth: 3"
Beans, Side Dishes, and Casseroles
Diameter: 10" – Capacity: 4 Quart – Depth: 3.5"
Bread, Desserts, Stews, Casseroles, Beans, Potatoes, and Small Roasts
Diameter: 12" – Capacity: 6 Quart – Depth: 3.75"
Bread, Stews, Whole Chickens, and Large Roasts
Diameter: 14" – Capacity: 8 Quart – Depth: 5"
Stews, Casseroles, Beans, Large Roasts, and Bread
Diameter: 14" – Capacity: 10 Quart – Depth: 5"
Standing Rib, Pork Shoulder, Hams, and Whole Chickens
Diameter: 16" – Capacity: 12 Quart – Depth: 4.25"
Preparing Meals for a lot of people and Large Roasts
Something to keep in mind before your purchase is that a Dutch oven with smaller sides of about 4 inches is designed for baking, and bread excreta, and does go by the name bread ovens.
On the other side, the deeper-sided oven will be what you need for your larger meal preparations, like large pieces of meat or stews that need to feed more people.
In saying that you can still prepare your baked goods in the deeper-sided ovens.
Want more information about Dutch oven sizes I have articles that cover different brands.
Dutch Oven Prices – Top Picks
It all depends upon your narrowed-down requirements and your budget. There are many brands on the market today and you would definitely be able to find a good quality Dutch oven for a reasonable price.
I've listed below some of the Brands that I have used and that I can attest to their quality. Hopefully, you can find something to suit you from one of these quality cookware makers.
Camp Chef is an American brand and has been making Dutch ovens and skillets since 1990. Their products are rugged in design and are made with quality materials which make Camp Chef a reliable brand to choose from. The price point of Camp Chef products is slightly less than Lodge which we will look at now.
Lodge Dutch Ovens (GOOD)
Let's talk about Lodge, for over 100 years old this is the oldest family-owned cookware in the United States. Their foundry in Tennessee has been casting premium cookware since, 1896.
They are the only company in America that still casts quality iron products here and not offshore. The highest quality raw materials and quality standards are still the same today as they were when Joseph Lodge founded the company in 1896.
I have the Lodge L8D03 5 Quart pre-seasoned cast-iron Dutch oven, this oven I use on my gas cooktop and hot briquettes when camping. Check out this review on this Lodge Dutch oven.
For use in my conventional oven, I use the Lodge EC6D93 enameled cast iron Dutch oven. I have this in white and poppy because I love serving straight from the Dutch oven at the dining table. As well as being so easy to clean it's a good evening when I use this Dutch oven. Check out the in-depth article on this Dutch oven.
You can purchase a Lodge Dutch oven from as little as around $30.00 all the way up to around $250.00. I believe for the quality you receive from these products the prices are very reasonable.
Staub Dutch Ovens (BETTER)
The brand Staub is made in France and is a premier brand with a price tag to match. Prices start at around $150.00 and can go up to about $350.00.
This brand does come with the added feature of having a self-basting system under its lid. It claims that due to this feature, it retains 10% more moisture than its counterparts, by ensuring a continuous circulation of moisture for natural basting.
Those who have purchased this type of Dutch oven from Staub love them and would purchase the same product again.
Le Creuset Dutch Ovens (BEST)
There are so many brands to consider some of the quality brands like Le Creuset (pictured above), Cuisinart, Stansport, Tramontina, Guro, and last but not least Crock-pot. Check out these brands plus quite a few more at Amazon.
Frequently Asked Questions
Why are Dutch ovens so expensive?
Dutch ovens with a high price tag are made from high-quality cast iron and are handmade and hand-finished. The brand is also a factor such as the quality brand outlined above Le Creuset.
Learn why some Dutch ovens are expensive.
What is the best material for a Dutch oven?
Dutch ovens are available in many materials including aluminum, steel, and other man-made materials. Cast iron due to its weight allows the pot to be sealed by its heavy lid keeping steam and all-important nutrients inside the pot. Providing healthy hearty meals.
Who makes the best Dutch ovens?
Of course, for Dutch oven lovers, the answer to this question is going to be personal.
I am a Dutch oven owner and lover, my favorite enamel cast-iron Dutch oven is my Le Creuset and I believe they are the best. Cuisinart Dutch oven is a reasonably priced well made Dutch oven. I also have a small Crofton Dutch oven I use for sides and desserts.
My seasoned cast-iron collection consists of a Lodge double Dutch oven and a massive Grand Canyon commemorative Camp Chef campfire Dutch oven.
Are cast iron Dutch ovens any good?
Yes, they provide one-pot cooking, can be used on numerous heat sources, and prepare almost any dish. Seasoned cast iron will last many lifetimes with care. Enameled cast iron is an asset to any home chef and again with care will outlast any other type of cooking pot.
Are Dutch ovens worth it?
I am asked constantly if it is worth buying a Dutch oven and the answer for me is always yes, but once again that would be a matter of opinion.
These cooking pots can prepare any meal and will absolutely, with care, outlast any other pot you might have access to.
Best Dutch oven for bread
Any cast-iron Dutch oven will make you a great loaf of bread due to the steam a Dutch oven keeps inside. The steam acts like a baker's oven. It gives the dough a final rise inside the oven before cooking the inside of the loaf and finally sealing the outer crust of the loaf.
Final Thoughts – What Kind of Dutch Oven Should I Buy?
So if you have ever asked yourself "What type of Dutch oven should I buy" you now have the following tips to assist you…
You can now identify what you want to use your Dutch oven for so you can then select the size and brand of a Dutch oven. It is wise to select the one right for you as they can be quite expensive.
So if you have identified what and how you will be using your Dutch oven. You will then be more than happy with your purchase.
A good quality Dutch oven if well cared for will become a family heirloom. So the chances are you may need to purchase more than one in the future.
One-Pot Cooking Rocks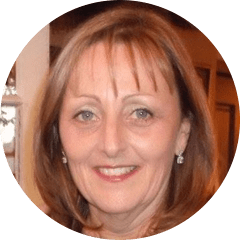 Michelle – Author
Hi, I'm Michelle the founder, owner, author, and editor of OvenSpot. My passion for one-pot cooking commenced when I was working to prepare cafeteria lunches for school students. I am now on a mission to assist you in choosing the cooking pot or appliance you will use every day. As well as in-depth information to assist you in using and caring for your cookware and appliances.
Questions? Reach out to Michelle at [email protected]