What Is the Best Size Dutch Oven for a Whole Chicken?
I often get asked the question "what is the best size Dutch oven is for a whole chicken"? Unfortunately, there is no quick or straightforward answer. This is because it really depends upon the size of the chicken and whether other items will be added to the Dutch oven to make a complete one-pot meal.
What Is the Best Size Dutch Oven for a Whole Chicken? A round Dutch oven that is 5 quarts in size will fit a whole chicken that weighs around 4 pounds (1.5 kilograms) – there will not be a lot of room for vegetables. A round 7-quart Dutch oven will hold a whole 4-pound chicken as well as vegetables placed around it.
My 7-quart oven is the size I regularly use for most of my Dutch oven cooking and the one I would recommend for a 4-pound chicken accompanied by plenty of vegetables.
If you are confused about what size Dutch oven is best for a whole chicken please read on as I have done the homework for you.
Disclaimer: As an Amazon Associate I earn from qualifying purchases on my website. If you make a purchase through links from this website, I may get a small share of the sale from Amazon and other similar affiliate programs.
Chicken Size and Dutch Oven Size
When preparing a chicken or any poultry in a Dutch oven the chicken needs to be supported while cooking. If the chicken is allowed to spread out too much the chicken will overcook in places, such as the breast.
If you have a larger oven the chicken can be supported with vegetables surrounding it this will allow the air to circulate and cook the meal evenly.
If you like your roasts to brown on top all you have to do is remove the lid towards the end of your cook time and keep an eye on it. You don't want to burn it or dry the meal out.
The Dutch oven sizes below allow for the chicken only – no extras like vegetables.
| | |
| --- | --- |
| 4 pound or 1.5-kilo chicken | 5 quart round Dutch oven |
| 6 pound or 2.2-kilo chicken | 7 quart round Dutch oven |
| 2/3 pound or 1.2-kilo chicken | 10.5 inches or 27cm oval Dutch oven |
What Is the Best Size Dutch Oven?
One-pot cooking is I feel the absolute easiest, most nutritious, and best way to prepare meals.
When researching to purchase your first Dutch oven there are a number of things to consider including meal preparation, how many you want to feed, and the heat source you intend to use.
Meal Preparation
The types of dishes you will be preparing will play a large part in the decision. If you are preparing roasts and large cuts of meat an oval Dutch oven lends itself to this type of meal preparation.
You can prepare stews, casseroles, and all other dishes in an oval Dutch oven. I would suggest that a round Dutch oven would be easier and more convenient to use if you are not going to be cooking larger cuts of meat regularly.
Feeding – How Many?
The number of people you wish to feed also ties in with the meals you will prepare. Stews, casseroles, and soups go further with accompaniments than say a pot roast.
Heat Source
How will you be cooking with your Dutch oven? If you will be using it on cooktops or in the oven an enamel Dutch oven will be perfect.
If you want your Dutch oven for outdoor use or camping using an open flame the traditional uncoated cast iron Dutch oven will work better for you.
Related Article – My article here will help you decide which Dutch oven is best for you.
If you are searching for your first Dutch oven or you are downsizing your cooking appliances and want to know the most practical size Dutch oven to buy I recommend a 6-quart to 7-quart Dutch oven.
An oven this size will allow you to prepare your chickens and roasts (depending upon the size). While still being able to cook bread, casseroles, stews, soups, oats, and more.
If you are looking to feed a family of 4 or more I would be looking for a 7-quart oven – being just that bit larger – while still not being too heavy – it gives you more flexibility to feed a larger number of people comfortably.
Best Dutch Oven Shape
Once again it comes back to personal requirements but you should consider the following either a round Dutch or an Oval Dutch oven. Which one will you use the most for all your Dutch oven meal preparation?
Round Dutch Oven
No escaping it round Dutch ovens sit better on burners which equals even heat distribution. If you purchase one large enough you can fit large cuts of meat as well as poultry in it. All be it will be a little heavier than an oval oven.
Round ovens also leave plenty of room on the cooktop for other pots and pans, an oval one will intrude on cooktop space.
Oval Dutch Oven
The shape of an oval oven is perfect for cuts of meat and poultry. Because you are able to lay to meat out to its full length it will cook evenly and you will still have room for vegetables – providing the oven is large enough.
Do not forget our old favorite Dutch oven lasagne and any number of desserts that suit an oval oven perfectly.
When considering an oval Dutch oven remember the size of it – you need a heat source that will give you even coverage and a traditional oven that will be large enough to hold an oval oven.
Related Article – I have an article that talks all about using Dutch ovens in a conventional oven. You can see it here…
You can see the enamel cast-iron Dutch oven I use for roasting CLICK HERE at Amazon. I have the color "Marine" but there are fourteen amazing colors for you to choose from.
What Size Dutch Oven Do I Need to Roast a Chicken
As roasting, a chicken is just a cooking style you can apply all the above information when choosing a Dutch oven size for roasting chicken. I would choose a 6.5-quart this would give room for vegetables.
Frequently Asked Questions
Dutch Oven Size for Family of 4
The perfect oven size for a family of 4 is a 7-quart, it will prepare all the meals you will require.
Read my article here about what size Dutch oven is required to feed a family of 4.
Dutch Oven Size Chart
I have prepared these Dutch oven size charts earlier. You can see them by following the highlighted links below!
Check out a Dutch Oven Size Chart – here…
Le Creuset Dutch Oven Sizes
In-depth articles can be found by following the links below
What Size Dutch Oven Should I Buy for Camping?
A 12-inch oven with 4.5-inch high walls holds 6 quarts and will feed up to 6 hungry mouths comfortably.
My article here gives you a good look at what camping and Dutch ovens are all about as well as more information regarding sizes you may require.
Final Thoughts – What Is the Best Size Dutch Oven for a Whole Chicken?
Purchasing a Dutch oven is always going to depend upon our individual needs.
Just remember to choose a dutch oven size or shape depending upon how you will be using your oven regularly.
If you are only going to feed a large number of people occasionally it does not make sense to have a large oven taking up space in your kitchen.
Further, because it is so large and heavy you will not use it for everyday meal preparation.
My personal choice would be a 5-quart for meals on the smaller side, with a 7-quart Dutch oven as a great all-rounder.
Recommended Reading
The 4 articles that I wrote below cover in-depth information on each of these different brands and their different shapes.
Le Creuset Oval French Dutch Oven
One-Pot Cooking Rocks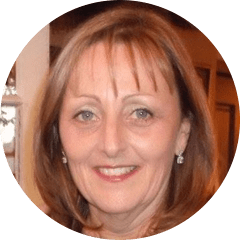 Michelle – Author
Hi, I'm Michelle the founder, owner, author, and editor of OvenSpot. My passion for one-pot cooking commenced when I was working to prepare cafeteria lunches for school students. I am now on a mission to assist you in choosing the cooking pot or appliance you will use every day. As well as in-depth information to assist you in using and caring for your cookware and appliances.
Questions? Reach out to Michelle at michelle@ovenspot.com