Star Wars Le Creuset Cookware Collection
Well, it is official the world has gone crazy for the Star Wars by Le Creuset Cookware Collection which was released to the world on November 1st, 2019!
Pre-orders were piling in! Every fan of Star Wars and Le Creuset wants a piece of this awesome cookware.
Disclaimer: As an Amazon Associate I earn from qualifying purchases on my website. If you make a purchase through links from this website, I may get a small share of the sale from Amazon and other similar affiliate programs.
Le Creuset Star Wars Collection
This 1-minute video reveals it all! Enjoy…
The Collection Consists Of
A Darth Vader™ Round French (Dutch) Oven

Set of 3 Mini Cocottes (R2-D2™, C-3P0™, and BB-8™)

A Han Solo™ – Carbonite Roaster

Le Creuset Stoneware Star Wars Porg™ Pie Bird

8″ Silicone Trivet – Star Wars Millennium Falcon™

Star Wars x Le Creuset: Tatooine Round Dutch Oven
Star Wars Collection Le Creuset – Darth Vadar Round Dutch Oven
You will not be disappointed if you purchase one of these Dutch ovens. You are purchasing a piece of cookware made of the highest quality that with care will last you a lifetime and beyond.
Features
A signature black gloss Le Creuset cast-iron oven
Embossed with Vaders mask
Embossed inside the lid, Le Creuset has used the Star Wars alphabet to spell out France – no letters on this Dutch oven
Le Creuset's highest quality enameled cast-iron
No seasoning, wide handles, black stainless steel knob oven safe to 500 degrees Fahrenheit
Size 5 1/2 quart capacity
26 cm x 35.3 cm x 17.2 cm x 27.4 cm
Heat – Oven, electric, gas, halogen, induction, ceramic, broiler
Dishwasher safe (not me always by hand)
Made in France
---
Related Article
Le Creuset Signature Enameled 5 1/2-Quart Round Dutch Oven
---
Set of 3 Mini Cocottes (R2-D2™, C-3P0™, and BB-8™)
The mini cocotte can produce meals or desserts for individuals, don't forget the ability to store leftovers. These pots will be coveted by Le Creuset and Star Wars fans alike.
These 3 mini round cocotte Star Wars Droids are made from high-fired stoneware and covered with porcelain enamel. They are made to the exceptionally high standard that goes into every piece of Le Creuset cookware.
Features
Set of 3 mini stoneware and porcelain pots
8-ounce capacity – each
Size 9 cm in diameter – 8.1 cm high
Use in oven, broiler, microwave, and freezer
Easy to clean by hand or in a dishwasher
Made in China
Han Solo™ – Carbonite Roaster
This is a cast iron that is enameled and is a great design for roasting in the oven. The generous wide handles mean you can lift the roaster easily and safely with mitts.
You will be serving casserole and roasts directly from this beautifully finished grey pot.
Features
Rectangle enameled cast-iron roasting pot
8-ounce capacity – each
41.4 cam x 10.6 cm x 26.7 cm
Cast irons heat retention and distribution qualities
Use in oven, electric, gas, halogen, induction, ceramic, broiler
Made in France
Le Creuset Stoneware Star Wars Porg™ Pie Bird
This little Porg pie bird is used to release steam from a pie so the crusts do not become soggy. Cute and helps you prepare the perfect pie crusts.
Features
Made from thick stoneware covered in enamel
Easy clean enamel exterior, dishwasher safe
3 1/4 inches high
China made
Le Creuset 8″ Star Wars Millennium Falcon™ & Death Star™ Silicone Trivets
You can protect your surfaces from your new Le Creuset cast-iron cookware with an awesome Millennium Falcon™ or Death Star™ silicone trivet.
Features
Heat resistant to 482 degrees Fahrenheit high-quality silicon
Stain resistance, BPA-free, dishwasher safe
Hang to store
Dimensions 8″ x 8 3/4″ x 1/4
China made
Star Wars x Le Creuset: Tatooine Round Dutch Oven
This round Le Creuset Dutch oven is a hand-painted limited edition – the color was inspired by a double sunset over Tatooine featured in the 9-part Skywalker Saga.
Wait for it there will only be 9 of these gorgeous Dutch ovens released. You have to sign up for the chance to purchase one.
Le Creuset has been producing colorful exteriors on its products since 1925 and this Dutch oven fits into the collection beautifully. This Dutch oven will perform as well as any other product in the range as it is designed to produce moist meals every time.
Features
Made from quality cast iron then coated in shock resistance enamel
3 1/2 Quart capacity
Dimensions 9 inch x 6 inch x 11 3/4 inches
Use on electric, gas, halogen, ceramic, induction, and inside an oven
Dishwasher safe
Made in France
Lifetime warranty
Final Thoughts
I can say with all honesty that I cannot remember my life without "Stars Wars" in it. I thought I had seen all the clever memorabilia that could be derived from this awesome franchise.
Everything from the Halloween costumes, and Princess Laya's wig to the huge Leggo Millenium Falcon – which I own.
But Le Creuset and Stars Wars together are out of this world – pardon the pun…
Also, I extend my apologies for the short videos as opposed to the standard images. But I just love everything about this collaboration…
This is not Le Creuset's first collaboration they have a very successful partnership with Disney. You can preview some of that here.
Michelle
---
Watch this 15-second video as another quick reminder of these beautiful pieces of Le Creuset cookware
One-Pot Cooking Rocks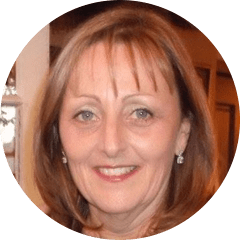 Michelle – Author
Hi, I'm Michelle the founder, owner, author, and editor of OvenSpot. My passion for one-pot cooking commenced when I was working to prepare cafeteria lunches for school students. I am now on a mission to assist you in choosing the cooking pot or appliance you will use every day. As well as in-depth information to assist you in using and caring for your cookware and appliances.
Questions? Reach out to Michelle at [email protected]