Le Creuset Signature Enameled Cast-Iron 5.5 Quart Round Dutch Oven
If you know nothing at all about enameled cast iron Dutch ovens the first thing you will learn is that this Brand "Le Creuset" is the "Rolls Royce" of enamel cookware.
The Le Creuset Signature Enameled Cast Iron 5.5 Quart Round French Dutch Oven is enamel coated cast iron and is available in a number decor of colors. It is manufactured in France and is large enough to feed a couple or a small family. This Dutch oven will not disappoint.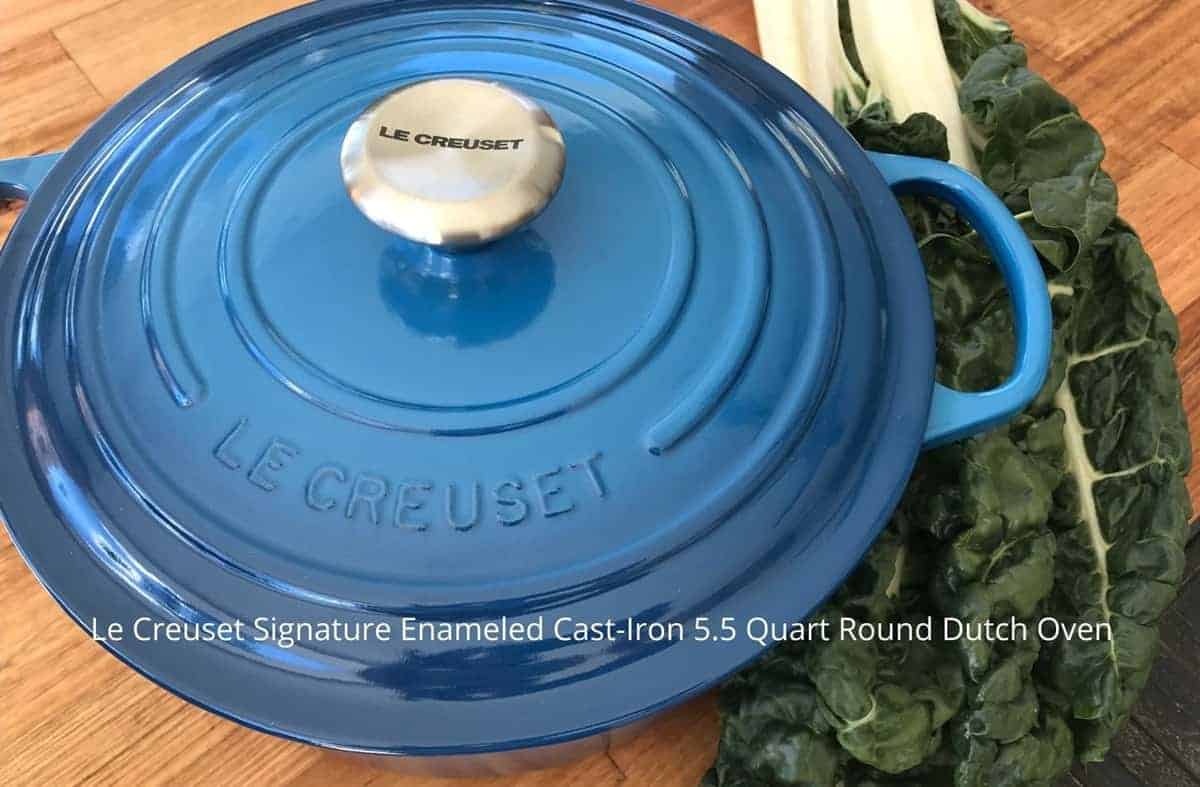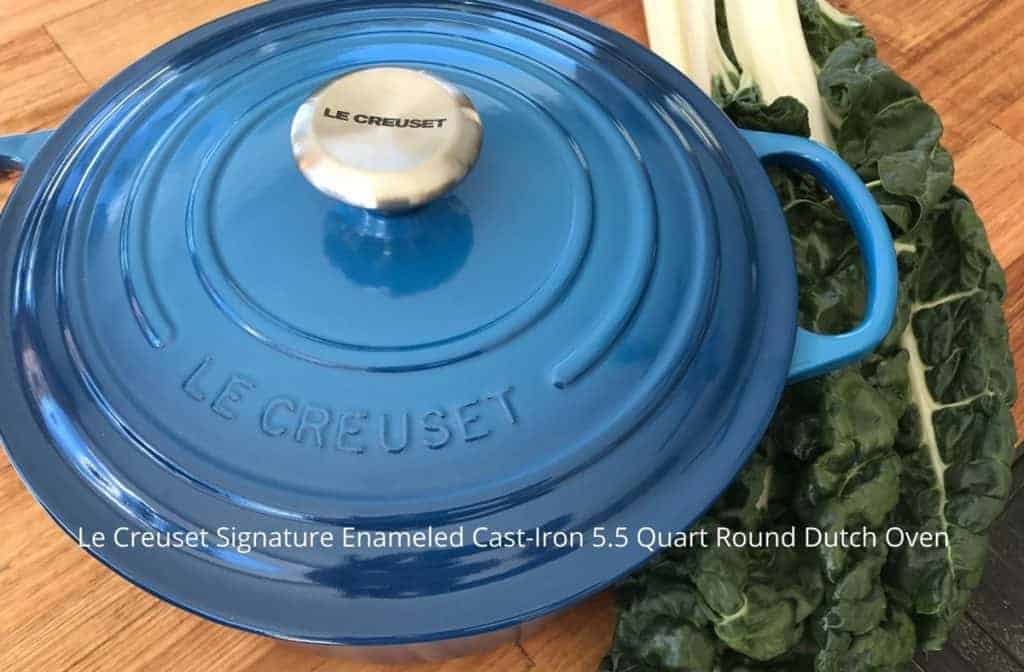 You will see for yourself in this Le Creuset Signature Dutch Oven review that it's the label of an extremely high-quality product rings true.
The fact that this 5.5-quart round Le Creuset Dutch oven falls into the category of the most popular size round Le Creuset Dutch oven is a testament to how happy people are to purchase this Dutch oven.
Disclaimer: As an Amazon Associate I earn from qualifying purchases made on my website. If you make a purchase through links from this website, I may get a small share of the sale from Amazon and other similar affiliate programs.
Some say the price tag is hefty. This brand could be above the budget for some. If you would like to see an affordable option click here for my review of a fantastic new product well within the budget of most.
We will take a good look at this oven's great features then you can more easily decide for yourself if this Dutch oven is the one for you.
As well as looking into the many features of this Dutch oven we will share the pros and cons of the Le Creuset Signature Enameled Cast-Iron 5.5 Quart Round French Dutch Oven.
We will cover some of the "Frequently Asked Questions" regarding Le Creuset products.
Lastly, my final thoughts are to see if this product is as good as the asking price.
If you landed on this page by accident and you already know you want to purchase a Le Creuset Dutch Oven CLICK HERE to check them and their prices out at Amazon.
Let's go…
Review – Le Creuset Signature Enameled Cast-Iron 5.5 Quart Round Dutch Oven
Features
45% larger handles than the previous model for a safe grip
Second to none heat distribution and retention
This Dutch oven has advanced sand-colored interior enamel that resists wear and chipping
Can be used in temperatures up to 500 degrees Fahrenheit
The Dutch oven is proudly made in France
The lid is built with lid stabilizers for a snug, non-slip fit
Lightweight enameled cast iron cookware
It can be cleaned in a dishwasher
Enameled finish will not let even the most acidic foods harm the cooking surface
5.5 Quart Round Dutch Oven Dimensions
Measures 13 3/4 inches x 10 1/4 inches x 7 inches
Weighs 11.2 pounds
Le Creuset 5.5-Qt Dutch Oven – What I Like
This Le Creuset Signature Enameled Dutch Oven is feature-rich. This is what you would expect from an appliance with a high price tag.
The handles offered are 45% larger than previous models. These larger handles give you the secure grip required when moving a very hot appliance.
Sporting a slip-resistant lid. Which gives allows the moisture to be retained inside the oven when cooking. As well as when carrying the Dutch oven from cooktop to oven to table for serving.
While there are many Le Creuset Dutch oven sizes, this 5.5-quart Dutch oven is perfect for 2-3 people depending upon the portion sizes required.
Number
Letter
Quarts
Liters
Weight
Best For
Servings
Latest
Price
14
–
1 qt
0.09
3.8 lbs
Pie, dessert
1
PRICE
16
A
1.5 qt
1.3 ltr
6 lbs
Pie, dessert
1-2
PRICE
18
B
2 qt
1.8 ltr
7.25 lbs
Desserts, sides
2-2
PRICE
20
C
2.5 qt
2.4 ltr
7.8 lbs
Sides, stews
2-3
PRICE
22
D
3.5 qt
3.3 ltr
8.75 lbs
Soup, stews
3-4
PRICE
24
E
4.5 qt
4.2 ltr
9.5 lbs
Soup, stews
3-4
PRICE
26
F
5.5 qt
5.3 ltr
10.5 lbs
Lasagne
5-6
PRICE
28
G
7.25 qt
6.7 ltr
11 lbs
Whole meat
7-8
PRICE
30
H
9 qt
8.5 ltr
12.25 lbs
Entertaining
9 plus
PRICE
34
I
13.25 qt
12.5 ltr
16.5 lbs
Entertaining
9 plus
PRICE
Le Creuset Round Dutch Oven Sizes by Letter, Number, Capacity, Weight & Servings
Preparing soups, stews, curries, and many more recipes will allow you to feed maybe 4-6 people. If you also prepare other accompaniments such as mash potatoes, rice, pasta, or bread.
Serving from this beautiful oven to your family or guests will put a smile on your face and theirs.
This oven heats evenly and has wonderful heat retention as it is made from the highest-quality cast iron which has been coated in sand-based color enamel.
The finish on this oven has the same outstanding quality as all Le Creuset Products. Chip and crack resistant and also repels food from staining its enamel coating. This enamel coating also attributes to this cookware being a lot lighter than normal pieces of the same size.
There are fourteen colors in this range, so finding one to suit any decor or table setting should be easy.
*Please note that color choices vary from country to country – check out the up to date Le Creuset Colors
They include Black, Caribbean, Cherry, Hibiscus, Dune, Flame, Marine, Marseille, Midnight Grey, Oyster, Palm, Truffle, Soliel, and White.
Last but not least this Le Creuset round Dutch oven will withstand temperatures of up to 500 degrees Fahrenheit. Which by the way is perfect for your Artisan Dutch oven bread. It will turn out perfect every time.
This signature Le Creuset piece of cookware is really in a league of its own when it comes to quality, design, and versatility.
Ready to see this Dutch oven for yourself at Amazon just go HERE to be taken over to see everything this awesome Dutch oven has to offer.
Cooking With This Dutch Oven
You will not be disappointed if you decide to purchase and cook with this Dutch oven.
The heat distribution and retention are perfect. The ease of using utensils due to the shape of the oven is great. No food sticks or becomes lodged in an uneven or rough enamel coating.
Preparing your favorite dishes from the searing and sauteing process. Then add your other ingredients. Finally serving and then cleaning up is awesome.
You really should check out the user reviews over at Amazon.
Le Creuset 5.5-Qt Dutch Oven – Pros and Cons
| PROS | CONS |
| --- | --- |
| Constructed of high-quality enamel coated cast iron | Rolls Royce price tag |
| The heavy and tight-fitting matching lid is built with a non-slide fit suitable for use up to 500 degrees Fahrenheit. Use on ceramic, gas, and electric cooktops with large handles for safe transport Creuset Stainless Steel Replacement Knobs are available | Heavy but not as heavy as other brands |
| Lifetime Warranty | |
Check out this article: Le Creuset's – Best Prices, Sales (when they are held), Outlets (where to buy Le Creuset for the best prices)
Frequently Asked Questions
Quick answers to some Le Creuset FAQs.
Are Le Creuset Dutch Ovens dishwasher safe
Yes, these ovens can be put into a dishwasher? But honestly, why would you? I handle my Le Creuset Dutch ovens as though they are my babies.
Nothing sticks to them so the clean-up is easy. I can dry them straight away to avoid rusting. Then place them up on display away from any impending accidents.
If you are as fascinated with the Le Creuset brand as I am you might like to view some of my other articles highlighted below.
Do I need a Le Creuset oval Dutch oven?
An oval Dutch oven gives you the extra advantage of preparing large cuts of meat complete with the bone. To which you can also add vegetables if required.
For more information on a Le Creuset Signature Enameled Cast-Iron 6.75 Quart Oval French Dutch Oven head over to my article by clicking here.
What Le Creuset Dutch oven sizes are available?
With so many Le Creuset products and sizes available a dedicated article was required. Don't be confused about what size Dutch oven you need! Check out the two articles highlighted below.
You can see my article all about Le Creuset Dutch oven sizes by clicking here.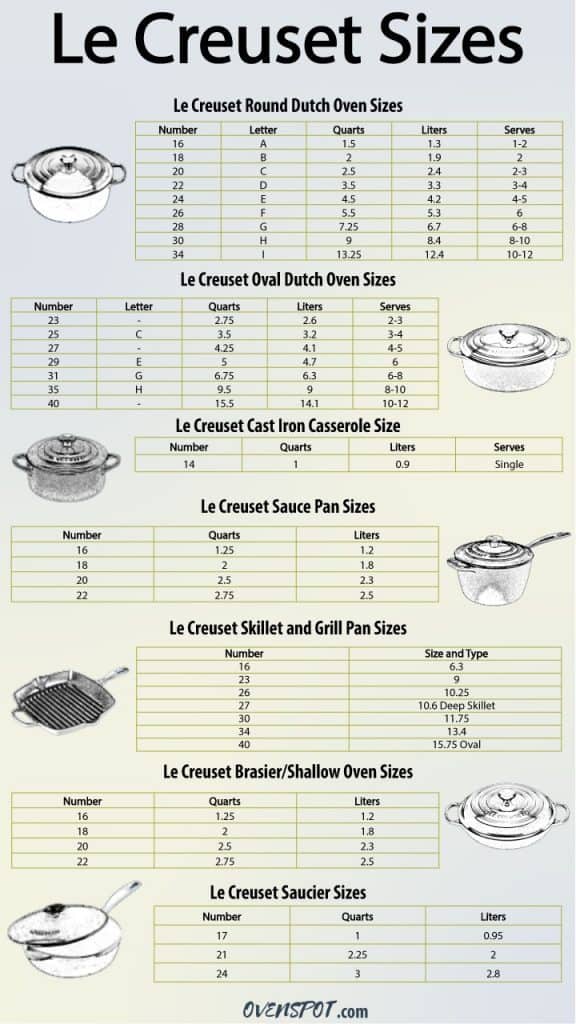 Le Creuset sizes by letter – What does that mean?
During the manufacturing process, Le Creuset embedded a letter on the cookware so you are able to match the correct lid to the right cooking pot, pan, braiser, skillet, or Dutch oven.
The idea is to be able to match your cookware with a letter on each corresponding piece of cookware and its lid of the same shape and size was effective.
You can see my article explaining this and more click here to view Le Creuset sizes by letter.
Le Creuset Alternatives
If you are looking for an enameled Dutch oven but the price of this Le Creuset Signature Oval Dutch Oven is not in your budget then I would recommend taking a closer look at Alternatives to Le Creuset: Good, Better, Best. My article covers the 3 top Le Creuset alternatives that I use every day.
You can also check out this guide with some notable mentions of cast iron manufacturing brands that are honing their skills. All inspired by Le Creuset and Staub I am sure.
Alternative Brands to Le Creuset
(Comparative Sizes)
Approximate Prices
(Prices vary in sales and from
store to store)


CHECK OUT THE LATEST PRICES

Le Creuset 7.25-Quart Round Dutch Oven
$400.00
Staub 7-Quart Round Dutch Oven
$300.00
Tramontina 7 Quart Oven Dutch Oven
$170.00
Misen Dutch Oven 7 Quart Round
$165.00
Cuisinart 7-Quart Round Casserole
$150.00
Lodge Dutch oven 7-Quart Oval
$110.00
Crock-Pot 7-Quart Round Dutch Oven
$60.00
Amazon Basics 7.3-Quart Round Dutch Oven
$60.00
Alternatives to Le Creuset Brand Price Comparison Chart
Final Thoughts – Le Creuset Signature Enameled Cast-Iron 5.5 Quart Round Dutch Oven
To conclude what you will have if you purchase the Le Creuset Signature Enameled Cast-Iron 5.5 Quart Round French Dutch Oven is a highly superior Dutch oven.
If you are looking for something special in a Dutch oven you will not be disappointed with this enameled oven.
Unfortunately with this superiority comes a hefty price tag which you will have to consider when deciding on whether to purchase this Dutch oven or not.
Before purchasing this Dutch oven you should consider the following points:
This Dutch oven's features, quality workmanship, ease of use, and cleaning far out-way other brands offering a similar product with a smaller price tag.
The features and usability are of the utmost priority, it is definitely a fashion statement with its good looks. A large range of colors would match any decor.
The versatility of being able to prepare the meal on your stovetop, continue into the oven then serve straight from the Dutch oven to guests. A Le Creuset appliance is pretty as well as practical.
Thanks to the enamel coating repelling food and stains clean-up are always quick and easy. Check out the correct way to clean and care for Le Creuset Cookware.
The colors are fade and stain-resistant. This is reinforced by the fact that reported issues for this Dutch oven are minimal.
If there is any chance that you can purchase this Dutch oven you will use it and have it for a lifetime with care. It will then be a huge decision as to who inherits this wonderful cooking appliance.
Need some more inspiration? Then you really should check out the user reviews over at Amazon.
I dreamed for a long time, after many years of using moderately priced Dutch ovens, of purchasing a Le Creuset oven for myself.
When I did I purchased the Dutch oven in the feature image above. My color choices were limited so I went for Marseille and I could not be happier.
The dilemma now is that I want more Le Creuset cookware in different colors.
If you are ready to see for yourself the very best price for this Le Creuset Dutch Signature Dutch Oven at Amazon click here.
Want to check out the latest information about Dutch ovens and their brands? Go HERE for the best Dutch ovens available in 2022…
One-Pot Cooking Rocks