Why Are Dutch Ovens so Expensive?
I get asked this question all the time by home cooks, so I thought it was the time that an easy explanation was presented in an easy-to-digest format.
Why are Dutch ovens so expensive? Good quality materials and craftsmanship are required to give Dutch ovens mechanical strength. Dutch oven walls and bases are thick to withstand the extreme temperatures that are required to heat up the pot and then distribute the heat evenly to cook the perfect dish. This combination can produce an expensive Dutch oven.
To better understand what other factors go into producing a cast iron Dutch oven read on. I have also given you an example of 4 similar-sized Dutch ovens. These are from three brands that are household names in the world of Dutch ovens.
Here we go!
Disclaimer: As an Amazon Associate I earn from qualifying purchases on my website. If you make a purchase through links from this website, I may get a small share of the sale from Amazon and other similar affiliate programs.
What Is a Dutch Oven?
A Dutch oven is known by many names in different countries around the world. A cooking pot, oven, casserole dish, Cocottes, Tetsunabe, sac, potjiekos, Bedourie, and Casuela.
A good Dutch oven is a heavy pot made from bare cast iron it is usually cast as a single piece of cookware during the production process.
A high-quality heavy cast iron pot with straight sides and a heavy lid will maintain a constant temperature and avoids hot spots that are perfect for beef stew is a home cook's dream.
Find a heap more information in an article I have written about what Dutch ovens are.
Why Are Dutch Ovens so Expensive?
1. Country of Manufacture
Cookware made in the USA, France, or Europe uses local labor that is more costly than products made in China.
2.
Materials Used
The quality of the raw materials that Dutch ovens are made from and how much is required for each piece contributes heavily toward the cost of various types of Dutch ovens.
3. Cast Iron Dutch Ovens
Traditional cast-iron Dutch ovens are made from a mixture of iron materials that are melted and poured into casting and then fired.
They do require maintenance in the form of seasoning to keep the iron non-stick and in top condition. But this is a small chore for a good quality cooking appliance that will indefinitely with care and maintenance.
4. Cast Iron Enameled Dutch Ovens
Along with the iron used to produce these thick and heavy cooking pots in the original fashion today, they are also available in cast iron enamel coating. This treatment commenced so there was a non-stick, easier-to-care-for alternative to an exposed iron pot.
As well as the benefit of a non-stick traditional Dutch oven heat control is a little easier with this type of pot.
5. Aluminum Or Ceramic Non-Stick Dutch Ovens
Dutch ovens are also available in lighter materials such as cast aluminum or other enameled products.
The coated and lighter products are great for everyday use in the kitchen. Especially with some of the heat sources available today such as ceramic, electric, and induction cooktops.
6. Stainless Steel or Clad Dutch Ovens
A stainless steel Dutch oven can carry out many tasks than an iron Dutch oven can. The caveat is that stainless steel is costly, and the design and heat control make it difficult to achieve the best outcome.
7.
Size of the Dutch Oven
The size of the Dutch oven when comparing costs plays a large part due to the amount of iron required, or stainless steel as outlined above.
8. Manufacturing & Productivity
Iconic products that are hand-made and finished by brands such as Lodge Manufacturing, Le Creuset, and Staub, are produced in factories and foundries. And have been honing their manufacturing and production skills for many many decades.
Some brands' craftsmanship involves pouring, inspecting, and finishing by hand, not on a production line.
9. Design
Design is very important for a Dutch oven to function correctly. These include sturdy bases and sides and a tight-fitting lid to retain steam for optimum flavor and moisture.
The best handles would be large enough for large hand and oven mitts and integrated with the oven, meaning that they are part of the Dutch oven mold and not attached by rivets.
10. Dutch Oven Uses
Another consideration when weighing up the cost of a Dutch oven is how you going to use it when preparing food. How many people will you be preparing food for and how often will you use the oven?
This one cooking pot can do it all. I would argue that you could possibly do away with all other cooking appliances in your kitchen and be able to survive with this one-pot only.
Read more about this handy cooking pot and its uses in my article Dutch oven uses.
11. Versatility
Cast iron Dutch ovens can be used on all heat sources including open fire, hot coals, grills, stovetops gas, electric, ceramic, glass, induction, and conventional oven.
Dutch ovens made from other materials are limited to kitchen stovetops and for heat, conductive and aesthetic reasons should not be used on campfires.
12. Optimum Performance
The best Dutch oven is one that absorbs and retains heat to prepare the dishes that they are designed for. Stews, casseroles, soups, and chilis thrive on low and slow cooking for optimum results.
Cast iron Dutch ovens are the only ones that do this perfectly. Dutch ovens made from other materials can achieve a similar meal but they need to be monitored to control the heat and prevent sticking.
13. Durability
An iron cooking pot made from the best materials will last infinitely with the proper care and when maintained correctly. Lighter metals, ceramics, and even enamel-coated iron have a limited lifetime.
14.
Brand Awareness of Dutch Ovens
Brand plays a part in the cost of Dutch ovens largely due to the best quality materials that are sourced. But also the longevity and the quality craftsmanship which goes into each piece of cookware. Le Creuset and Lodge produce their cookware in this way and have both been learning, growing, and improving their products for over 100 years.
15. Price
The good news is that not all Dutch ovens are expensive you can find a cheaper alternative that will do the job. Also, the high-end brand does go on sale regularly check out where and when to find the Best Prices for Le Creuset Dutch ovens.
Le Creuset

Dutch Ovens

Le Creuset cast iron enameled Dutch ovens are considered a high-quality premium product that attracts a high price tag.

Le Creuset Dutch oven cookware is covered by enamel. This needs to be taken into account if you want to use your Dutch oven in coals or open fire. You really need uncoated cast iron for these methods of meal preparation.

Although these high-end Dutch ovens cannot be used outdoors they can withstand high temperatures. Along with their stainless steel knobs, they can be used in the oven and their lifetime guarantee ensures you will have this cookware for a long time.

Le Creuset products are made under strict quality control conditions they come in various shapes including a versatile oval shape to cook large cuts of meat. Like the classic Dutch oven they can withstand high heat.

With lifetime guarantees, rich exterior signature colors, and a sand-colored interior to monitor your cooking progress, there is not much to dislike if you own a Le Creuset pot.
Lodge Cookware – Pre-Seasoned Cast Iron and Enameled Cast Iron
Lodge produces exposed cast iron products in the United States. Exposed cast iron is ideal for exposed heat sources. It does take a little time to intermittently season the iron to protect it. Seasoning protects the iron from rusting and also builds up over the surface to give you a non-stick surface to cook on.
The Lodge Company has been casting iron since 1896 in their own foundry in South Pittsburg, Tennessee.
Why Is Lodge Enamel Made in China?
Due to the high demand for enameled cast iron cookware lovers of Lodge cast iron products looked to them for an alternative to the European brands available like Le Creuset which are expensive.
The customers wanted Americans to make dependable cookware at a reasonable price. Lodge has come up with that very product but was unable to source a plant in the United States that would enamel the bright colors required.
Lodge, is working with partners in China after an exhaustive search for the right company. The regulations for high-quality products meet Lodge's high standards. As well as all those involved in the manufacturing process comply with employment laws and regulations.
It should be noted that Lodge still manufactures 80 percent of its products in the U.S.A.
Where to Buy a Lodge Dutch Oven
Buying a Lodge Dutch oven is easy at Amazon check out the huge range they have available. You can also order and receive it the following day if you need it as soon as possible.
You will also see reviews from all the satisfied customers that have already bought their Lodge Dutch oven.
You can read an in-depth article about Lodge Dutch Ovens and the best camp Dutch ovens.
Calphalon – Hard Anodised Aluminum
These Dutch ovens are manufactured from non-stick hard-anodized aluminum which is a medium gauge. They are finished off nicely with a brushed exterior. They have their place in the Dutch oven cooking because they are so lightweight.
For those who cannot lift a traditional iron oven, this is a great alternative. The handles are covered in silicone for easy lifting and do not get too hot.
Care needs to be taken not to damage the cooking surface with sharp tools, so using wood, plastic or silicon will assist with that. It does need to be washed by hand, but if cared for it will last you. This particular oven comes with a full 10-year warranty.
Pros and Cons
Pre-Seasoned Cast Iron Dutch Ovens
Pros
can be used on barbeques, outdoor open fires, and camping
with extreme care, these ovens can be used in a traditional kitchen – cooktops, and ovens
easy cleaning as you do not have to worry about damaging delicate enamel, stainless steel, or aluminum
a natural non-stick cooking surface if the oven is seasoned regularly
Cons
occasional seasoning to protect the oven and build up a non-stick cooking surface
Enameled Cast Iron Cast Iron Dutch Ovens
These can be made from various materials including cast iron – which is seasoned, cast iron coated in enamel, aluminum, ceramic and stainless steel.
The traditional cast iron Dutch oven is made from iron that has a flat base with or without legs for campfires.
Ever wondered by cast iron is heavier than say stainless steel? Because cast iron is a brittle metal and any products made from this iron need to be thick so they can gain mechanical strength.
The thick base is to assist in even heat distribution along with the thick walls. To complete the picture there is a heavy lid that if fits properly will keep the moisture of the meal inside and allow for a self-basting feature using the condensation from inside the pot.
Cast iron Dutch ovens are cast from iron ore whose melting point is 1,535 Degrees Celsius. The iron would be heated a few hundred degrees higher so there is time to pour the iron into the mold before the iron cools and solidifies.
Learn about what Dutch ovens are made of in this OvenSpot article.
Pros
enamel surface assists with food not sticking and food particles being burnt onto the inside of the oven
can prepare dishes with acidic ingredients
prepare dishes at lower heat settings for slow cooking
Cons
if food sticks or food particles get burnt and adhere to the inside of the oven extreme care must be taken not to damage the enamel
enamel will stain and fade over time inside and out
you will replace an enameled Dutch oven more regularly than seasoned cast iron – discoloration and cracking can occur
Aluminum Or Ceramic Non-Stick Dutch Ovens
Pros
lightweight Dutch oven
use on all cooking surfaces in the kitchen
use in the conventional oven
10-year full warranty
Cons
no open flames can be used on this Dutch oven
the manufacturer says to wash by hand, not in the dishwasher, or by using abrasive cleaners or pads
Best Dutch Ovens
Here are my top 5 all-time favorite enamel cast-iron Dutch ovens…(Click through and check them out at Amazon)
FAQs
Why Are Dutch Ovens Good?
Dutch ovens are good because they can slow cook or fast cook just about any dish you wish to prepare.
How Much Does a Dutch Oven Cost?
A well-crafted Dutch oven made from the best quality materials can cost around $300. Affordable well-made Dutch ovens can be picked for around $60. Cheaper Dutch ovens that will do the job can be found for as little as $20.
Why not hit some yard sale or thrift shops – you never know you could get lucky and find a real bargain.
Ovenspot's article How much does a Dutch oven cost deep dives into the materials, workmanship, and brands in an extensive comparison.
Are Expensive Dutch Ovens Worth It?
If you love Dutch oven cooking and use your Dutch oven regularly the YES an expensive Dutch oven is worth it.
Why Is Le Creuset So Expensive?
Le Creuset is expensive because it is made of the finest materials and hand-finished in the factory. It also comes with a lifetime guarantee. It is definitely worth a look if you are after something beyond special.
Learn more in OvenSpot's article about why Le Creuset Cookware is so expensive and more importantly why Le Creuset is worth the money.
Best Dutch Oven for Making Bread
You can make Dutch oven bread in either a traditional cast iron camp Dutch oven or an enameled Dutch oven.
The best size oven is between a 5 to 6.5-quart oven. This size oven will give you the best shape for your loaf once cooked.
My best picks for the camp Dutch oven are:-
See my review Lodge L8DD3 Cast Iron Double Dutch Oven – which is a pre-seasoned 5-quart very versatile Dutch oven.
For something a little larger but at a fantastic price, you won't go wrong with the AmazonBasics Pre-Seasoned Cast Iron Camp Dutch Oven 6-Quart.
The best picks for enameled Dutch ovens are:-
See a full review of the Lodge EC6D93 Enameled Cast Iron Dutch Oven – which is available in 3,6 and 7.5-quart sizes.
Another full review of the Le Creuset Signature Enameled 5 1/2-Quart Round Dutch Oven is a must-read before purchasing a Le Creuset.
What to Look for in a Dutch Oven
If you are just starting out with Dutch oven purchasing and meal preparation I have prepared this quick reference guide to get started. It outlines what you should look for in a Dutch oven check it out.
What Size Dutch Oven Should I Buy?
The size of a Dutch you should buy depends upon what dishes you want to prepare and how many people you want to feed. The quick reference Dutch oven size chart below can assist you with a size choice.
If you want a heap more information about Dutch ovens to help you make a decision check out this OvenSpot article.
Quick Reference Dutch Oven Size Guide
| Centimeters | Quarts | Liters | Servings |
| --- | --- | --- | --- |
| 16 | 1.5 qt | 1.3 ltr | 1-2 |
| 18 | 2 qt | 1.8 ltr | 2 |
| 20 | 2.5 qt | 2.4 ltr | 2-3 |
| 22 | 3.5 qt | 3.3 ltr | 3-4 |
| 24 | 4.5 qt | 4.2 ltr | 4-5 |
| 26 | 5.5 qt | 5.3 ltr | 6 |
| 28 | 7.25 qt | 6.7 ltr | 6-8 |
| 30 | 9 qt | 8.4 ltr | 8-10 |
| 34 | 13.25 qt | 12.4 ltr | 10-12 |
Dutch Oven Size Chart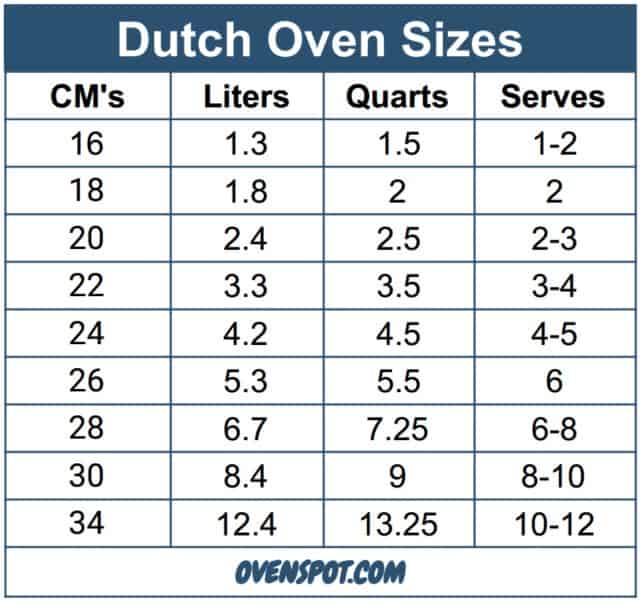 To Finish – Why Are Dutch Ovens so Expensive?
When purchasing a Dutch oven and price is a factor you need to keep in mind that generally, you will get what you pay for.
A premium product that has been manufactured with high-quality materials from a reputable manufacturer will come with peace of mind. As there will be in place some sort of guarantees.
As well as the knowledge that you will be using this product safely for some time.
One-Pot Cooking Rocks
---
Sources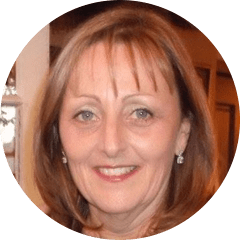 Michelle – Author
Hi, I'm Michelle the founder, owner, author, and editor of OvenSpot. My passion for one-pot cooking commenced when I was working to prepare cafeteria lunches for school students. I am now on a mission to assist you in choosing the cooking pot or appliance you will use every day. As well as in-depth information to assist you in using and caring for your cookware and appliances.
Questions? Reach out to Michelle at [email protected]