What Can You Do With a Dutch Oven: 7 Rules to Follow
You would be surprised how many people ask me, "What can you do with a Dutch oven?"
You can fry, simmer, stew, roast, bake, serve, and store. Some of the dishes you can prepare inside a Dutch oven are fried bacon and eggs, slow-cooking casseroles and stews, roast sides of meat along with vegetables, risotto, ethnic recipes, desserts, and, of course, bake.
These are just a few ways to use a Dutch oven; read on to get the complete picture of what these underrated cooking pots can do for you…
Disclaimer: I earn from qualifying purchases on my website as an Amazon Associate. If you purchase through links from this website, I may get a small share of the sale from Amazon and other similar affiliate programs.
What Can You Do With A Dutch Oven
A Dutch oven can replace any or all cooking appliances one would purchase for the kitchen, including crock pots, air fryers, and even your conventional oven.
It is probably campers' and outdoor enthusiasts' favorite cooking pot to use because you can throw everything in turn on the heat and have a delicious, hearty meal every time.
We now have enameled cast-iron Dutch ovens available for use inside the home. These ovens not only perform the same tasks as their centuries-old outdoor coal cooking pot cousin, but they also look fantastic.
Don't forget two types of Dutch ovens available to produce excellent, healthy meals today.
The enameled ones are for cooking indoors, and the traditional seasoned cast-iron Dutch oven, which has been used outdoors for centuries but with care, can also be used in your kitchen.
When most of us think of Dutch ovens we automatically think of hearty, slow-cooked dishes where the meat falls apart as soon as the fork hits it. But there are so many other types of recipes you can cook in a Dutch oven.
Just for fun, let's break it down into mealtimes…
Breakfast – Oats, yogurt, scrambled eggs, omelet, fried bacon, sausages, hash, breakfast pizza, cinnamon rolls, pancakes, breakfast burritos
Morning or Afternoon Tea – Morning coffee cake, carrot cake, pumpkin pie cake
Lunch – Risotto, nachos, sloppy joes, soup, frittata, quiche, jambalaya
Dinner – Roasts, ribs, chicken, beef mushroom and red wine stew, Irish lamb stew, chili, lasagna, pizza, enchilada, seared salmon, meatloaf
Desserts – Cobblers, lava cake, pineapple upsidedown cake
Bread – Buttermilk, cornbread, dumplings, fry bread, no-knead bread, biscuits, scones, raisin bread
Snacks – Brownies, smores bars, angel food candy, cookies
7 Rules to Follow When Using a Dutch Oven
1. Inspect Your Dutch Oven
Whether you will be using a seasoned cast-iron Dutch oven or an enamel Dutch oven, you need to ensure that it is in good condition.
You can do this by checking the condition of the oven itself, its handle, the lid, and the lid's loop handle. You are looking for cracks, chipping, warping, and the condition of the seasoning or enamel.
The weight of the lid is what holds the steam inside your Dutch oven, so it should fit correctly. It will not do so if it or the oven is warped.
Checking the condition of your oven not only upon purchase of the oven but regularly will keep you safe and the Dutch oven in excellent working condition.
2. Seasoning and Cleaning Your Dutch Oven
When unboxing a new Dutch oven, it should be treated the same as anything new. Clean it before its first use and season it if necessary.
Cast Iron Dutch Oven
Even though most cast-iron Dutch ovens are pre-seasoned by manufacturers these days, this usually is only a light protective coating. This protects the item from moisture which in turn could cause corrosion and rust while in transit and storage, so when you open the box, it looks shiny, new, and ready to use.
If you want more information about seasoning a new Dutch oven or cast iron before its first use, check out my article.
Enamel Dutch Oven
Sometimes, our purchases are not perfect when we buy them. Ensure the enamel is not compromised by this, meaning no chips, splinters, or cracks. As with the seasoned cast-iron oven, look for warping, and the lid fits tightly to keep the steam inside the oven.
Wash with warm, soapy water and dry thoroughly.
Compromised Dutch Oven
New
If you find a fault, it is totally up to you, of course, but if you find anything wrong with your new Dutch oven, I would consider returning it for a new one.
Used
Suppose you have been given a pre-loved Dutch oven lucky you. As with new, check it out so you know what you are using. Remember, these little workhorses get hot.
3. Utensils
Using the correct utensils when cooking food with Dutch ovens is very important. You need to consider the following for both seasoned cast-iron ovens and enamel ovens:-
Safety
Safety is always at the forefront for me. Dutch ovens get HOT. It does not matter whether you are cooking outdoors or indoors. These pots retain heat. They also become heavy when they are laden with food.
You also need to consider the handles sometimes; depending on the Dutch oven, the handles can make it very difficult to carry with bare hands.
You will need a good quality pair of oven mitts, lid lifter, Trivett, or outdoor camp table.
Damaging The Dutch Oven
Utensils to be used inside a Dutch oven vary between seasoned cast iron and enamel. Utensils that are wooden or bamboo are the best for enamel.
Seasoned cast iron is a little more forgiving, and you could use metal utensils with care. When choosing something different, make sure that it can withstand the extreme heat from the cast iron. As they will stick and melt.
When cleaning, you should stick to nylon pads, scourers, and brushes. When used carefully, you will not damage your Dutch oven.
Before you go crazy and buy every "Dutch Oven Accessory" known to man I have an article listing the utensils and accessories that you actually need when using a Dutch oven.
Also, cruise around this site for cleaning, reseasoning, and storage methods to protect your oven.
4. Choosing the Correct Heat Source
To determine which heat source is the right one for your Dutch oven and recipe, you first need to identify what type of oven you will use.
Enamel cast-iron Dutch oven
Enamel cast-iron Dutch ovens are for use inside the house. The enamel would not wear well if exposed to briquettes or campfire flame. Secondly, it would probably melt, chip, crack, and warp due to exposure to the extreme temperature it would be exposed to.
So, use your enamel oven on the appropriate heat source as instructed by the manufacturer. Generally, you can use it on most stoves or cooktops and in your conventional oven.
Get the most out of your cookware and learn about using a Dutch oven in a conventional oven.
Traditional cast-iron Dutch oven
These are raw iron cooking pots that need to be seasoned. Firstly, to protect the oven from the elements that induce rust. Secondly, this seasoning builds up a natural barrier between the iron and the food to stop it from sticking to the inside of the oven while cooking.
You can use This Dutch oven for outdoor and camp cooking. Using a formula, you place the required amount of briquettes or coals underneath the oven and on the inverted lid to achieve the required temperature for cooking various meals.
5. Choose the Right Recipe
We all have our favorite recipes or recipes that the family wants over and over again.
These are the meals you can prepare in your sleep. Whenever I try "a new way of eating" (Diet), one of the first things I look at is converting this recipe for my Dutch oven so the family will eat it.
If you approach cooking with a new appliance similarly, you are more inclined to stick with it. After you achieve success with your favorite dishes, you can move on to using the Dutch oven in the many ways possible.
When you are ready to really experiment with Dutch oven cooking I have written an article about the cookbooks I use.

There are over thirty to choose from and they cover every dish you can imagine – even your family favorites…
6. Preparation Before Cooking
Cooking in a Dutch oven is pretty much a one-pot experience. Some recipes could require you to saute ingredients like onions or garlic or brown the meat before adding other ingredients.
I always, without exception, have every ingredient cut, chopped, and measured out, ready to go. Preparing in this way lets you start the whole cooking process without heating the oven a little. Or turning the heat off or moving the oven away from the heat source to go off and prepare the next addition.
So, it is always as easy as the five steps below…
Cut, chop, dice, and measure
Saute, brown, or simmer
Add other ingredients
Add liquid
Cook dish as per recipe requirements, either stovetop, oven, or stovetop, then oven
7. The Clean Up
My pro tip for cleaning your Dutch oven after cooking is to tackle it immediately.
The reason is simple the food will not have time to dry out and adhere to the pot.
Seasoned Dutch Oven
After every use, I simply use water cold, warm, or hot, whatever is required. A nylon pad, scourer, or brush again, whatever is required – elbow grease. If food is stuck, you can fill it, boil water, and use an appropriate tool to assist the particles in separating from the iron.
Dry the oven immediately with a towel, and you can lightly season if required, then store away from humidity.
Enameled Dutch Oven
It's much like a seasoned oven, but you can use soapy water. Just remember that the (usually light) enamel requires you to be delicate. It is the same as seasoned cast iron. It needs to be treated with care to perform at its best for a very long time.
Click on the articles below for more assistance with general cleaning and stubborn cleaning of your Dutch oven.
I have two articles that are bound to assist you with cleaning your Dutch ovens. Seasoned Dutch oven and enamel Dutch oven.
My Favorite Recipes
Of course, I have the go-to easy recipes I can make in my sleep, just like everyone else.
The two recipes below are the ones that I use regularly to accompany almost all the dishes I prepare.
How to cook rice in a Dutch oven – you can see the way I make my no-fail fluffy Dutch oven rice.

Dutch oven bread – the recipe I use.

You can also find an in-depth article about why bread is great when prepared in a cast-iron Dutch oven.
My Two Favorite Dutch Ovens
When sharing my love of Dutch ovens, I am often asked what my favorite Dutch oven is and why. Both of these fabulous cooking pots offer different ways to prepare meals.
Seasoned Cast-Iron Dutch Oven
The seasoned Dutch oven is rustic and brings images of the outdoors relaxing – wanting food to fill the hungry hole induced by fresh air and exercise. So here is my favorite Lodge deep camp oven with legs.
The image above of the Lodge Deep Camp Dutch Oven is an 8-quart version of mine. I have a well-used and loved 12-quart camp oven.
I also have an article covering the Lodge camp Dutch oven with legs – lots of great information about camp ovens.
Enamel Cast-Iron Dutch Oven
For me, an enamel Dutch oven conjures up images of home – comfort, routine, regular meals, experimenting with new recipes, and entertaining family and friends.
This Le Creuset of America Signature Oval Dutch Oven in this fantastic Indigo color is one of my all-time favorites.
It fits all the classic stews, soups, and casseroles and also handles significant cuts of meat as the meat on the bone can sit comfortably in the full-length oval shape. You can even do a large chicken or turkey if the oven is big enough.
You can see a full review of a similar oval oven or the round version.
FAQs
Dutch Oven Uses?
I am constantly answering this question, so I prepared an article that covers the uses of a Dutch oven.
How to Use a Dutch Oven
I have covered how to use a Dutch oven in this article, which explains all you need to know about using a Dutch oven on your campfire.
Related read can you use a Dutch oven as a slow cooker
Final Thoughts: What Can You Do With a Dutch Oven: 7 Rules to Follow
I am confident when you choose your recipe and apply "the 7 rules to follow," you will be eating delicious meals prepared by this excellent cooking pot in no time.
One-Pot Cooking Rocks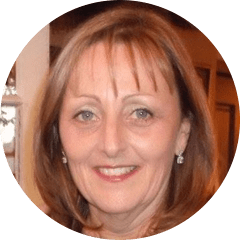 Michelle
Hi, I'm Michelle, the founder, owner, author, and editor of OvenSpot. My passion for one-pot cooking commenced when I was working to prepare cafeteria lunches for school students. I am now on a mission to assist you in choosing the cooking pot or appliance you will use daily. As well as in-depth information to assist you in using and caring for your cookware and appliances.
Questions? Reach out to Michelle at [email protected]