Difference Between Dutch Oven and French Oven
Dutch ovens and French ovens are often at the top of the list of most versatile pieces of cookware. You may wonder about the differences between these two popular cooking pots, as their names suggest a distinction.
The two differences between a Dutch oven and a French oven are that a Dutch oven is uncoated cast iron. While a French oven is cast iron that has a baked-on enamel coating.
Dutch ovens and French ovens, also known as enameled cast iron Dutch ovens are both heavy-duty pots made from raw cast iron or enameled cast iron material, perfect for cooking a variety of dishes.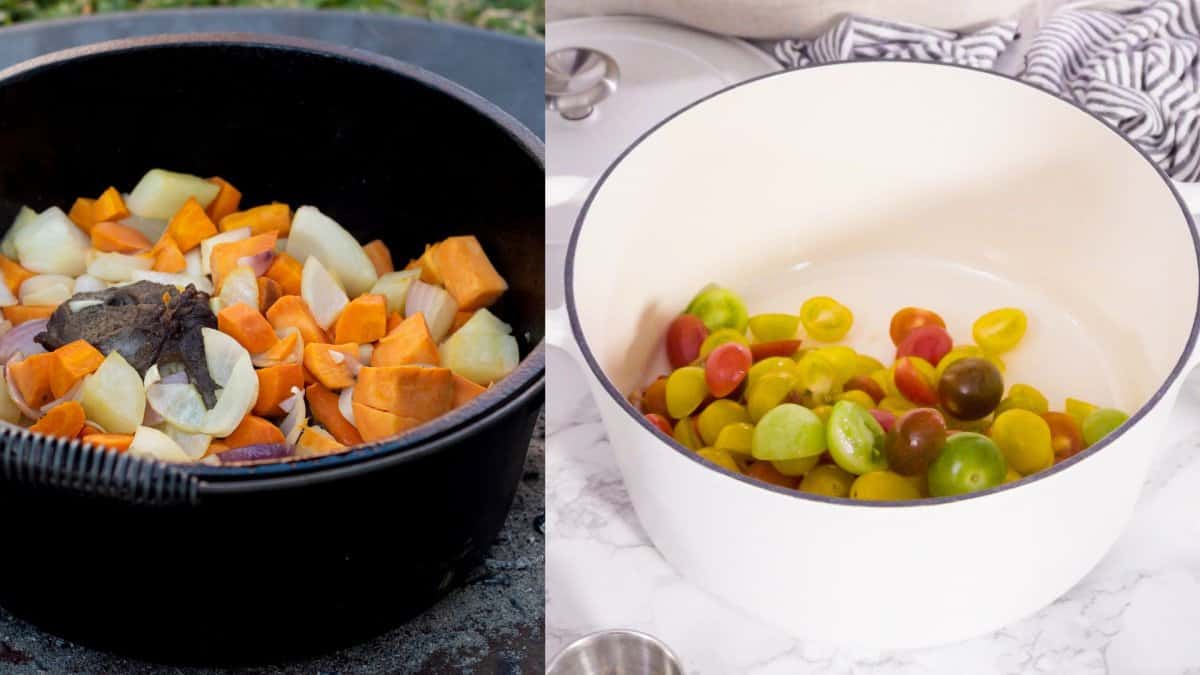 Disclaimer: As an Amazon Associate I earn from qualifying purchases on my website. If you make a purchase through links from this website, I may get a small share of the sale from Amazon and other similar affiliate programs.
Many people use the terms interchangeably, the primary difference between them is the coating and maintenance. A French oven typically features an enameled finish, which eliminates the need for seasoning and simplifies the cleaning process.
Understanding the only difference between these two types of ovens can help you select the perfect addition to your kitchen arsenal.
They are both excellent choices for slow cooking, baking, and even frying. But knowing the key distinctions in their design will allow you to make an informed decision. Based on your cooking preferences and maintenance requirements.
Dutch Oven vs French Oven Comparison Chart
Use this reference table to identify the differences between these two great cookware pieces.
| Aspect | Dutch Oven | French Oven |
| --- | --- | --- |
| Origin | Developed in the Netherlands (Holland) | Often associated with French cookware traditions |
| Material | Typically made of cast iron, but can be enameled | Traditionally made of enameled cast iron or ceramic |
| Shape | Features thick walls and a tight-fitting lid | Often has a round or oval shape with a lid |
| Handles | Equipped with sturdy loop handles on the sides | May have smaller, more decorative handles |
| Lid Design | Usually has a flat, heavy lid for heat retention | Often features a dome-shaped lid for even cooking |
| Heat Distribution | Excellent heat retention and distribution | Provides even heating due to its thick walls |
| Versatility | Ideal for slow-cooking, braising, and frying | Suited for slow cooking, baking, and roasting |
| Interior Coating | Some are uncoated cast iron, requiring seasoning | Typically coated with enamel for easy cleaning |
| Maintenance | Requires regular seasoning to prevent rust | Easier to clean due to the enamel coating |
| Appearance | Often has a rustic, utilitarian look | Known for its elegant and colorful design options |
| Price Range | Prices vary based on size and brand | Tends to be more expensive due to enamel coating |
What is a Dutch Oven
A Dutch oven is a versatile and essential piece of cookware in your kitchen. It's perfect for both stovetop and oven use, making it ideal for various types of cooking.
Historically, the ovens were made of raw cast iron, which develops a nonstick surface when seasoned properly. They tend to be heavy and come with tight-fitting lids to retain heat and moisture during cooking time.
The origin of the Dutch oven can be traced back to the 17th century when the Dutch created a technique that involved casting metal in sand molds instead of clay.
This new method was later adapted and improved by Abraham Darby, an Englishman who patented the process in the early 18th century, resulting in an even more durable and efficient design.
Today, you'll find that this style of cookware comes in various materials, including enameled cast iron.
Companies such as Le Creuset and Staub have popularized French ovens, a type of Dutch oven that features a porcelain enamel coating. This coating provides some additional benefits, like preventing rust and making it easier to clean.
Using a Dutch oven allows for even heat distribution, which means your dishes will cook more consistently. Whether you're simmering a hearty stew, roasting a whole chicken, or even baking a loaf of bread.
The heavy lid also helps trap heat and moisture, keeping your food tender, flavorful and delicious.
Learn more about the history in this OvenSpot article Dutch Oven History: Where Did It All Begin?
What is a French Oven
Abraham Darby
In the 18th century, Englishman Abraham Darby invented a new casting method that allowed for large, heavy iron pots.
This innovation led to the creation of the Dutch oven, a versatile and durable cooking vessel with a tight-fitting lid, perfect for slow cooking and baking.
Over time, this design made its way to France, where it was adapted and became known as the French oven.
French Companies
While Dutch ovens are typically made of raw cast iron, the French oven features a porcelain enamel coating that gives it a smooth surface.
This coating eliminates the need for seasoning, as is required with traditional cast-iron Dutch ovens.
French manufacturers, like Le Creuset, have gained popularity for their enameled cast iron cookware, including the French oven, which is also known as a "cocotte.
When you use a French oven, you'll enjoy the same benefits of slow cooking and even heat distribution that a Dutch oven offers. With the added convenience and aesthetics of the enamel coating.
These versatile cooking vessels can be used both on the stovetop and in the oven, making them an essential addition to your kitchen.
Key Differences Between a Dutch Oven and a French Oven
Design Differences
When comparing a Dutch oven and a French oven, the other main difference in design difference lies in the coating.
A traditional Dutch oven is made of cast iron, while a French oven, also known as a cocotte, features an enameled finish on its surface. This enameled coating is fused with cast iron during the manufacturing process.
In terms of construction, both Dutch and French ovens are made from sturdy cast iron, making them both durable and long-lasting.
The enameled coating on French ovens provides additional benefits, like preventing the absorption of flavors and making cleaning easier.
Usage and Functionality Differences
Both types of ovens excel at moist cooking methods, such as braising, stewing, and soup-making. They are versatile pots that can even be used for baking bread or deep-frying. However, there are a few key differences in their functionality.
The enameled coating on a French oven prevents it from absorbing flavors, allowing you to cook a wider range of foods without worrying about flavor transfer.
French ovens require oiling their surface before cooking to prevent sticking. Traditional Dutch ovens develop a natural non-stick seasoning over time with regular use and maintenance.
Composition and Materials
Pure Cast Iron
Both Dutch ovens and French ovens are primarily made from cast iron, which is known for its durability and excellent heat retention.
This quality makes them perfect for slow cooking methods, like braising or making soups and stews.
When using pure cast iron cookware, you'll need to season the surface to maintain its nonstick properties and prevent rust.
Enamel Coating
French ovens differ from traditional Dutch ovens in that they come with an enamel finish.
The enameled cast iron doesn't require a seasoning process as pure cast iron does. This coating makes for easy cleaning and maintenance.
Thanks to the enamel coating, French ovens feature an excellent non-stick surface that doesn't need to be seasoned like raw cast iron Dutch ovens.
Porcelain Enamel
The enameled finish on French ovens typically consists of a porcelain enamel coating, which is fused to the cast iron at high temperatures. This creates a strong, durable, and non-reactive surface that is less prone to chipping and scratching than traditional enamel.
Porcelain enamel also prevents your cookware from reacting with acidic or alkaline ingredients, so you can cook a wide variety of dishes without any worries about flavor transfer or damage to the cookware.
In summary, Dutch and French ovens are both made from durable cast iron materials, but French ovens have an added advantage with their enamel coating, specifically, porcelain enamel. This improves the non-stick properties, simplifies cleaning and maintenance, and provides a non-reactive cooking surface.
Design and Structure
Handles and Lids
When it comes to the design of Dutch ovens and French ovens, both types of cookware sport handles on either side to facilitate carrying.
They offer a tight-fitting lid to seal in moisture and flavors when cooking. This feature ensures your dishes come out delectable and full of the original ingredients' taste.
Shape and Size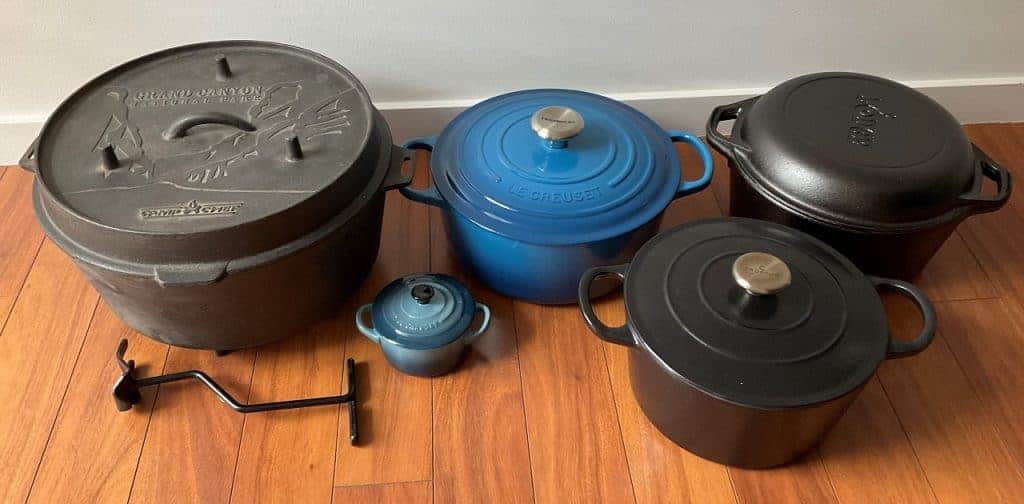 Dutch ovens and French ovens can be found in a variety of shapes, most commonly round or oval. While their sizes might vary, they generally hold anywhere from 3 to 9 quarts of liquid.
This range allows you to choose an oven that suits your specific cooking needs. The main structure of both these iron pots consists of cast iron, ensuring durability and excellent heat retention.
Cooking Techniques
When you cook with a Dutch oven or a French oven, the variety of techniques available is quite similar.
Braising
Braising is a method that combines both dry and moist heat. It is perfect for transforming tougher cuts of meat into tender and flavorful dishes.
Both ovens are perfect for braising, thanks to their heavy construction, thick walls, and tight-fitting lids which keep the moisture in.
To braise in your Dutch or French oven, first, sear the meat over high heat on the stovetop.
Then, add a small amount of liquid, reduce the heat, and let it simmer with the lid on.
This process allows your dish to cook slowly, helping to tenderize the meat and infuse it with flavor.
Stewing
Stewing is another moist cooking method where ingredients are slow-cooked in liquid for an extended period. Both ovens are ideal for making stews, soups, and broths.
Their excellent heat retention and distribution ensure that your ingredients are cooked evenly and at a consistent temperature.
Simply combine your choice of meat, vegetables, and liquid in your oven, then place it over low heat on the stovetop.
Cook for several hours with the lid on, allowing the flavors to meld together for a delicious and hearty result.
Baking Bread
Surprisingly, Dutch and French ovens can also be used to bake bread. Their ability to retain and distribute heat evenly makes them a great substitute for traditional bread ovens.
To bake bread in your Dutch or French oven, preheat it inside your regular oven.
Then carefully transfer your dough into the hot oven. The tight-fitting lid will help create steam, resulting in a crispy crust and tender interior.
Outdoor Cooking
Dutch ovens are particularly well-suited for outdoor cooking, such as camping or cookouts. With a durable cast iron construction, they can handle various types of heat sources, including campfires and coal beds.
While French ovens may also work outdoors, their enameled finish may not be as resistant to wear and tear in outdoor conditions.
To cook food outdoors with your Dutch oven, place it on a heat source like an open fire or a portable stove, adjusting the heat as needed throughout the cooking process.
Remember to keep an eye on your one-pot dishes to ensure it doesn't burn or overcook.
Clean and Maintain Cast Iron
Seasoning the Cast Iron
To maintain the quality of your cast iron Dutch oven, you should season it regularly. Seasoning not only protects the surface of the cast iron pot but also keeps it non-stick and imparts a wonderful flavor over time.
To season your Dutch oven, preheat your oven to 375°F. Apply a thin layer of oil to the entire surface of the pot, including the lid. Then, place the pot in the oven for around an hour. Once done, allow the pot to cool down and store it for future use.
Cleaning Enamel and Porcelain
Enameled Dutch ovens, also known as French ovens, are easier to clean compared to traditional cast iron ovens. As the enamel coating prevents food from sticking, cleaning up is a breeze.
To clean your enameled Dutch oven, you can use warm water and a soft sponge to gently scrub away any food residue.
Avoid using abrasive cleaners or metallic scrubbing pads, as these may damage the enamel coating.
For stubborn stains or burnt food, you can fill the pot with hot water, and heat it on the stovetop until the debris softens, making it easier to remove with a soft sponge.
Learn how to clean an enameled cast iron Dutch oven with easy-to-follow steps and no harsh chemicals.
Dishwasher Safe
Modern Dutch and French ovens often come with dishwasher-safe features, making cleaning even more convenient. Before washing your Dutch oven in the dishwasher, be sure to read the manufacturer's instructions to confirm if it is dishwasher-safe.
Remember to remove any food residue with a paper towel or soft sponge to prevent clogging your dishwasher's filter.
Maintaining and cleaning your Dutch and French ovens involves seasoning the cast iron surfaces, cleaning enameled surfaces gently, and availing of dishwasher-safe options when appropriate.
Brands and Types
Dutch ovens and French ovens, two top brands stand out in the market: Le Creuset and Staub. Each offers high-quality, enameled cast iron cookware that is ideal for various cooking methods.
Le Creuset
Le Creuset is a popular French brand, known for its colorful and durable enameled cast-iron Dutch oven and enameled French oven. They offer a wide range of sizes and colors, which makes them a popular choice in many kitchens.
A key feature of the Le Creuset French oven is its enamel coating, which helps to prevent sticking and makes cleaning a breeze.
In terms of functionality, both Le Creuset's enameled Dutch ovens and French ovens perform very similarly, allowing you to braise, stew, and deep fry anything, and even bake bread.
Key Features:
Enameled cast iron construction
Light sand-colored interior
Wide range of sizes and colors
Superior heat distribution and retention
Suitable for various cooking techniques
Lighter than most cast iron Dutch ovens
Made in France
Staub
Staub is another reputable French brand, well-known for its high-quality enameled cast-iron cookware, including Dutch ovens and French ovens, or "cocottes" as they are known in France.
With a slightly different design from Le Creuset, Staub's cocottes feature a dark interior enamel that is exceptionally efficient at browning and caramelizing food.
The lids of Staub's Cocottes are also unique, with a self-basting system that keeps food moist and tender during slow cooking.
Key Features:
Enameled cast iron construction
Dark interior enamel for better browning
Rich earthy colors
Self-basting lids for improved moisture retention
Suitable for various cooking techniques
Made in France
When selecting between a Dutch oven from Le Creuset or Staub, it ultimately comes down to your personal preference and cooking style.
Both brands offer high-quality, enameled cast-iron cookware that provides excellent heat distribution, durability, and versatility for your culinary adventures.
Benefits and Drawbacks of a Cast Iron Dutch Oven
Versatility and Durability
A Dutch oven is a versatile cast iron pot that allows you to cook a wide range of dishes, from soups and stews to bread and desserts.
French ovens, on the other hand, are quite similar but come with an additional enamel coating. This enamel is responsible for its enhanced durability and resistance to chipping or cracking, leading to a longer-lasting pot.
Both Dutch ovens and French ovens can be used on the stovetop, on induction cooktops, as well as in the oven, providing an impressive level of versatility in your cooking. Plus, they're both perfect for one-pot meals, saving you time and effort in the kitchen.
Heat Distribution and Retention
One of the key aspects of both the Dutch and French ovens is their excellent heat distribution and retention.
The heavy cast iron construction enables even heating throughout the pot, preventing hot spots that can cause food to burn. This attribute ensures consistently well-cooked meals, which is especially useful for slow-cooked dishes that require a steady heat source for hours.
French ovens, in particular, have an enamel that further promotes heat retention and distribution. This makes them slightly more efficient at cooking, keeping your food warm long after it's taken off the heat source.
Ease of Use
Dutch ovens require proper care and regular seasoning, to maintain their non-stick properties and prevent rusting. While this isn't particularly difficult or time-consuming, it does demand some attention and commitment on your part.
On the other hand, French ovens come with an enameled surface which makes them easier to clean and maintain. This non-stick coating eliminates the need for seasoning. You should use silicone or wooden utensil to avoid scratching or damaging the pot.
Wrapping Up: Difference Between Dutch Oven and French Oven
To sum up, when it comes to choosing between a Dutch oven and a French oven, it's important to consider your cooking needs and preferences.
While both ovens offer similar functionality and design, the primary difference lies in their construction and coating.
Dutch ovens are typically made of cast iron and require more maintenance, while French ovens tend to have an enamel coating that makes them more low maintenance.
Dutch ovens are often used for outdoor cooking and baking, while French ovens are more commonly used for stovetop and oven cooking.
Ultimately, both types of ovens are versatile and durable and can be valuable additions to any kitchen.
Whether you choose a Dutch oven or a French oven, you can be sure that you'll have a reliable and high-quality piece of cookware that will last for years to come.
One-Pot Cooking Rocks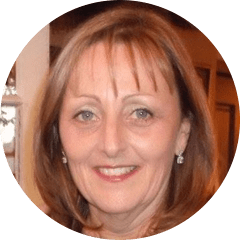 Michelle – Author
Hi, I'm Michelle the founder, owner, author, and editor of OvenSpot. My passion for one-pot cooking commenced when I was working to prepare cafeteria lunches for school students. I am now on a mission to assist you in choosing the cooking pot or appliance you will use every day. As well as in-depth information to assist you in using and caring for your cookware and appliances.
Questions? Reach out to Michelle at [email protected]