Is Your Dutch Oven Bread Sticking? 3 Tips to Avoid It
Due to the various types of bread that can be baked sometimes there is no avoiding baked food sticking to the inside of a cooking pot.
A wet dough would be the perfect example of this.
I have compiled through trial and error a few tips you can use to help avoid your beautiful Dutch oven bread sticking to the inside of your oven.
Disclaimer: As an Amazon Associate I earn from qualifying purchases on my website. If you make a purchase through links from this website, I may get a small share of the sale from Amazon and other similar affiliate programs.
How to Remove Bread Stuck to a Dutch Oven
TIP – Remember not to damage the inside of your enamel Dutch oven with utensils when trying to release that bread. Appropriate utensils are non-metal – try silicon, plastic, or wood.
Firstly, take a deep breath and let the bread and the Dutch oven cool down completely. With a little luck, you might just be able to lift the loaf out with a little twisting and turning – but intact.
You could try this – cover the bread with the lid again and any steam still trapped inside the oven may help to release the bread. Or at least help you pry it loose.
Another way that could loosen the loaf is to place a wire cooling rack over the top of the Dutch oven. Invert and place back inside your conventional oven for approximately ten minutes.
Any excess steam will raise back on the loaf and help to release the bread. If it does not come totally lose you should be able to help it out with gentle prying
If all else fails get out the butter and any other favorite toppings and just scrape or dig that bread out and enjoy…
Tip for Moist Crust

If the crust of the bread is moist from the extended time in the steam just place it on a wire rack inside your still warm/hot conventional oven for a couple of minutes and it will dry out again.
3 Tips to Stop Bread From Sticking to Your Dutch Oven
1. Dutch Oven Size
Is your Dutch oven large enough for the loaf you will be baking?
When baking bread in a Dutch oven it is essential that the loaf does not touch the sides of the oven or the top (lid) of the oven.
There will be a final rise of the dough inside the oven before the steam and airflow inside the Dutch oven cook the inside of the loaf.
Then there will be the sealing of the loaf's crust. Lastly, finish the loaf with a crisp outer crust.
If you are an avid bread maker I would use or purchase the largest Dutch oven you can safely handle.
There will be plenty of room for loaves to rise and cook with plenty of steam and airflow without the bread sticking to the oven.
2. Line, Oil, or flour the Dutch Oven
Line
Line the oven with parchment paper – use with or without light oiling.
Oil
Rubbing oil over the inside of your Dutch oven will prevent Dutch oven bread from sticking.
A light oil rubbed over the inside of your Dutch oven will stop other baked goods from sticking as well.
Flour
Sprinkling rice flour or semolina on the bottom of a Dutch oven will assist with sticking issues.
3. Use a Double Dutch Oven
A double Double Dutch oven is an oven without a handle or loop on the top of the Dutch oven lid. Its handles are at the sides and meet up with the Dutch oven pot.
The image above is the perfect example of a double Dutch oven and it is the one that I myself own.
The lid is flat and deeper than a normal Dutch oven lid. It can double as a skillet or can be inverted and food can be cooked in the lid while a meal is being prepared in the Dutch oven pot below.
Using this type of Dutch oven is also safer because you are not reaching inside a hot Dutch oven to place your dough for baking. Then hands inside again to remove or unstick a load while the cast iron is still hot.
It also makes scoring the loaf easier by not reaching in a preheated oven.
To bake bread in a double Dutch oven you place the dough inside the inverted lid and place the Dutch oven pot over it.
You can use mitts to lift the Dutch oven on and off the skillet lid.
You still require enough space so the bread does not touch the sides and bottom of the inverted pot.
If the double Dutch oven you use is seasoned and not enamel coated it could be a little porous if not seasoned well.
For optimum baking results, I would follow these steps.
Rub or lightly spray oil over the inside of the oven and its lid.
Also, use parchment paper to line the lid.
BONUS TIP
When your loaf is in the rising period after you have floured it. Do not allow the dough to sweat because it will not start to form an outside crust.
After flouring or dusting your loaf sit it in a basket or on a wooden board and at all times of the "rising" cover it with a breathable cloth.
Your load will then start to form a crust. When lifting the loaf to be placed into your Dutch oven it should not stick to the board. If it doesn't you are 50% of the way to not having your bread sticking to the inside of your Dutch oven.
Quick Dutch Oven Bread Recipe
Check out my favorite Dutch oven bread recipe that I make over and over it turns out perfect every time.
Best Bread Dutch Ovens
In this article, I go into great detail and break down for you the 7 best Dutch ovens on the market today for baking bread.
To Finish – Is Your Dutch Oven Bread Sticking? 3 Tips to Avoid It
Next time you bake Dutch oven bread trying one or more of the tips above will help you make Dutch oven bread that does not stick to the inside of your Dutch oven.
Also, do not underestimate the old saying practice makes perfect.
Perfect your Dutch oven breadmaking skills and you will be saying who gets bread stuck to the inside of a Dutch oven? 🙂
F.A.Q's
Can you bake bread in a Dutch oven without parchment Paper?
If you do not have parchment paper rub or lightly spray oil onto the inside of the Dutch oven before placing the dough gently into the oven so you do not lose your "rise".
Do not let the lack of available parchment paper stop you from baking bread in a Dutch oven.
Do I really need a Dutch oven?
No, you do not need a Dutch oven you can bake bread with many different methods and cooking pots including electric options.
Dutch ovens are special as they have the ability to produce bread as the artisans make it. This is because the steam that they are able to generate inside replicates a baker's oven.
What can I use in place of a Dutch oven?
There are many appliances and other types of cookware that you can use in place of a Dutch oven.
A couple that comes immediately to mind is a pressure cooker and a slow cooker these can both replace the main functions of a Dutch oven.
These appliances will prepare similar meals with adjustments to liquid, temperature, and cooking time requirements.
The one thing they will not achieve is the intense flavors and the reduction that a cast-iron Dutch oven will deliver every time.
One-Pot Cooking Rocks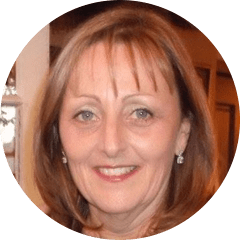 Michelle – Author
Hi, I'm Michelle the founder, owner, author, and editor of OvenSpot. My passion for one-pot cooking commenced when I was working to prepare cafeteria lunches for school students. I am now on a mission to assist you in choosing the cooking pot or appliance you will use every day. As well as in-depth information to assist you in using and caring for your cookware and appliances.
Questions? Reach out to Michelle at michelle@ovenspot.com