This article was last updated on July 24th, 2020
Homemade bread! Is there anything better? The warmth, the smell, the crispness, and soft center, not to mention the melted butter…
So can you make bread in an oval Dutch oven? After making bread in an oval Dutch oven for years the answer is absolutely you can bake bread in an oval Dutch oven. It does not matter what kind of Dutch oven you do use for bread it is the way the dough is shaped and placed inside the Dutch oven.
The process of baking bread is easy in a round or oval enamel cast-iron Dutch oven. The only real difference is in the shaping of the dough.
Baking Bread Enameled Cast Iron
Oval Dutch ovens are probably not purchased as often as their popular round Dutch oven cousin due to the heat source the oven has to sit on to prepare a meal.
Round Dutch ovens fit on a round cooktop whereas oval Dutch ovens do not fit as well. There are ways around this so you can still use them on a cooktop but they fit perfectly into a conventional oven.
I am certain an oval Dutch oven was made for baking bread. Its beautiful oval shape allows the Dutch oven to absorb the heat from all sides of the conventional oven.
This then allows the Dutch oven to do its work by producing the all-important steam to give your loaf its final rise. The steam cooks the inside of the bread while it has risen to its capacity then goes on the seal the outside and form the crust.
Any home chef can produce a loaf of bread, with some practice, that any artisan bread maker would be proud of.
How to Make Bread in an Oval Dutch Oven
To make your bread dough fit in an oval Dutch oven you need to follow the same principles of rolling the dough into a round shape to fit inside a round Dutch oven.
The loaf should not touch the sides of the Dutch oven at any time during the cooking process.
So size up your oval Dutch oven before you roll out the dough because it needs plenty of room to rise.
Firstly to fit inside the oven to allow room for more rising before the loaf is sealed and becomes crispy.
Secondly, roll the dough into an oval shape that will fit inside the oven. Place on parchment paper, cover and allow to rise.
When the dough has risen lift the parchment paper and place inside the oven, cover, and cook as per your recipe instructions.
I have a great guide here that gives you 3 tips to ensure you make the perfect Dutch oven bread every time.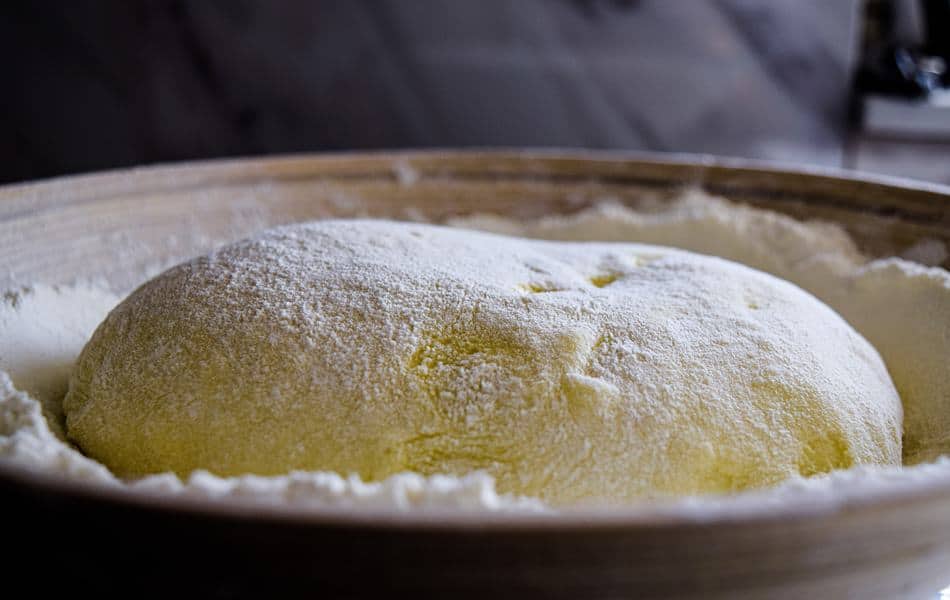 Dutch Oven Bread, No-Knead
Here is one of the many Dutch oven bread recipes I use. Enjoy…
Ingredients
3 cups all-purpose flour
2 teaspoons sea salt
3/4 teaspoon instant yeast
1 1/2 cups warm water
Instructions
Using a large bowl, glass, or stainless steels, combine flour, salt, and yeast until well mixed.
Add the warm water and stir until your dough comes together.
Your dough should be wet and sticky – this is normal.
Use plastic wrap to cover the bowl – I also cover the bowl with a towel.
Place in a warm place for at least 8 hours up to 18 hours. The dough rises and appears to have air holes through it (or bubbles).
The longer you leave the dough the bread when cooked will have more flavor.
Heat oven to 450 degrees Fahrenheit.
This is optional – you can place your Dutch oven including its lid into the oven for around 30 minutes before baking.
Turn the dough out into a floured sheet of parchment paper, give it a couple of good punches.
Using floured hands, shape the dough into your required oval or round shape.
Cover the dough again with plastic wrap and let rest 30 for around minutes.
When your 30 minutes are up carefully transfer the dough to Dutch oven using oven mitts to avoid burning yourself.
Place lid on the Dutch oven and return to the oven.
Bake bread for 45 minutes.
For a crispy crust remove the lid of the Dutch oven and bake uncovered until the top is golden (or how you like it)
Let the bread cool for at least 20 minutes before slicing.
Bread In An Oval Dutch Oven
How To Make "No-Knead" Bread at Home? Enjoy this three-minute video of Jim Lahey making a quick and easy no-knead bread in an oval Dutch oven…
How Do I Make Bread in a Hot Dutch Oven?
If your Dutch oven has been preheated you will be required to place your bread dough in carefully.
If you are using a banneton for raising your loaf carefully pick up the parchment paper or Dutch oven liner. Ensure you are using oven mitts so you can lower the dought into the oven without burning your hands or arms.
Place the lid and place the Dutch oven into the conventional oven.
Tips to Keep Bread From Sticking to the Dutch Oven
Rubbing oil onto the bottom of the Dutch oven before inserting the dough, with or without parchment paper, will help prevent sticking.
A sprinkling of rice flour on the bottom of the Dutch oven will also help prevent sticking.
What Can You Use Instead of a Dutch Oven for Bread?
If you do not have a Dutch oven and you do not just want to purchase one just to make bread there are many other Dutch oven substitutes.
All you really need is an oven-safe pan to start.
Without a lid use parchment paper under the dough, place the pan in the middle of the oven. On the shelf directly underneath place a ceramic pan or stone cutting board. These thick boards heat up and help your bread rise a little.
With a lid – make sure the pan is deep enough for the bread to rise and cook without hitting the cover. The cover can be tin foil or a tray to sit on top of the pan. This helps with "the rise" by allowing some steam to be trapped inside the pot.
What Size Dutch Oven for No-Knead Bread
You can make no-knead bread in any size Dutch oven. The only requirement is that the dough does not touch the sides or top of the oven at any time during baking.
The most popular size Dutch ovens are between 5 and 7 quarts. This because this is the size that feeds a family of 4 comfortably.
Frequently Asked Questions
Can I Bake Bread in a Le Creuset?
Yes, you can bake bread in a Le Creuset the same way you would use any other brand of a Dutch oven.
Can You Bake Bread in Enameled Cast Iron?
Yes, you can bake bread in enameled cast-iron. Ensure you have a Dutch oven with a tightly fitting lid to keep the all-important steam inside the oven while cooking.
This is beneficial for not only baking bread but for preparing any meals in a Dutch oven.
What Kind of Dutch Oven Do You Use for Bread?
I get asked this question all the time. I will use any cast-iron Dutch oven to make bread.
The perfect Dutch oven for bread baking must have a heavy tight-fitting lid. It is required to keep the steam inside. This gives a loaf of Dutch oven bread the shiny appearance on the crust.
Towards the end of the bread baking time, you can remove the lid of the Dutch oven and allow the crust to crisp up.
Dutch Ovens – Top Picks
ENAMELED CAST-IRON DUTCH OVENS
(Click On Image To Check Them Out)

Le Creuset Enameled Cast Iron Round French (Dutch) Oven, Cerise

Staub Cast Iron Round Cocotte, Black Matte

Lodge 7.5 Quart Enameled Cast Iron Dutch Oven, Caribbean Blue
To Finish – Can You Make Bread in an Oval Dutch Oven?
So as you can see you absolutely can make bread in an oval Dutch oven. It is all in the shaping of the dough, so pull your oval Dutch oven out and bake yourself a loaf of bread.
Recommended Reading
One-Pot Cooking Rocks