Dutch Oven Size Chart: What Size Dutch Oven to Buy
In our busy lives if we cannot achieve outcomes easily we seem to get very stressed and give up. I'm here to break down with easy steps which Dutch oven to buy by giving you an easy Dutch oven size guide to help you with your Dutch oven choice. Along with a few extra tips along the way to assist you with your choice.
When choosing a Dutch oven size use this equation to work out the size you need. Each quart equals one portion serve. Five to seven serves equals approximately a 7-quart Dutch oven. If you are feeding large eaters you should increase the size of the Dutch oven you use.
Let's work out what size Dutch oven is right for your needs. I will also refer you to a couple of other articles regarding Dutch oven sizes. They are Lodge Dutch Oven Sizes, Le Creuset Dutch Oven Sizes, and Le Creuset Sizes by Letter.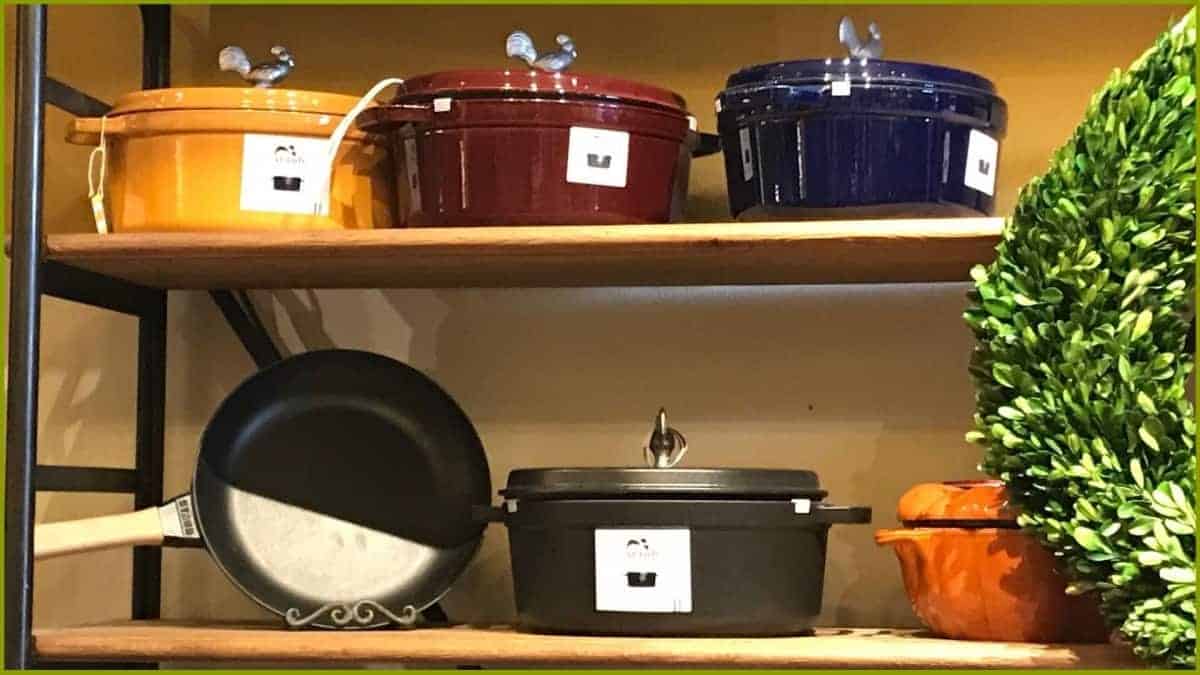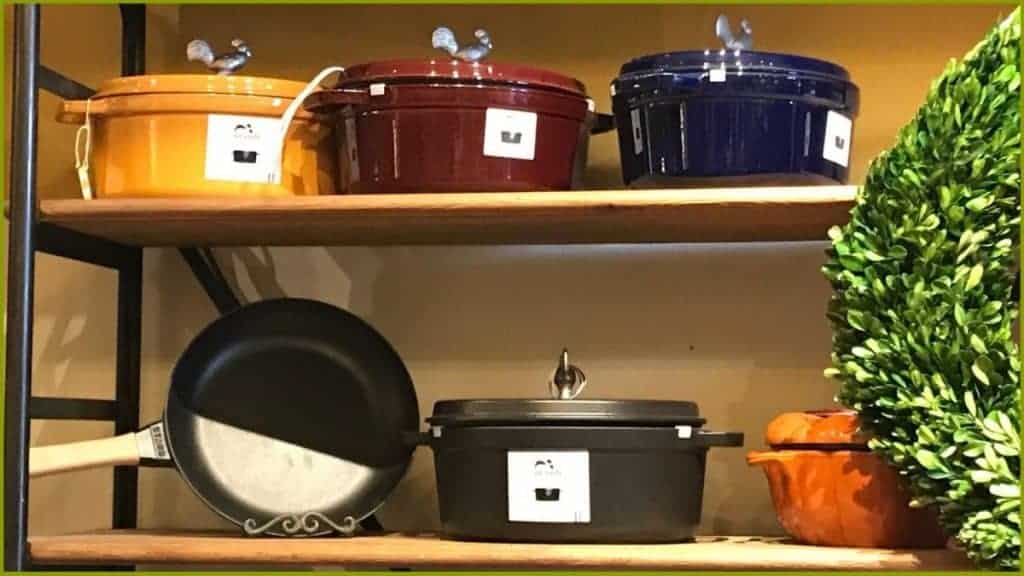 Purchasing a Dutch oven does not need to be a stressful experience and I'm here to help! Because you really do need to get on board with this wonderfully easy way of preparing healthy, hearty meals.
Disclaimer: As an Amazon Associate I earn from qualifying purchases made on my website. If you make a purchase through links from this website, I may get a small share of the sale from Amazon and other similar affiliate programs.
QUICK NOTE: If you have landed on this page and you already know you want to buy a Dutch Oven. At Amazon, you will be able to choose one of the many Dutch ovens available for purchase. As well as check out reviews from those satisfied customers who have already made their purchase – CLICK HERE
Dutch Oven Sizes
When purchasing a Dutch oven you need to establish what your needs are – then you can decide which oven will be right for you.
What Is the Standard Size for a Dutch Oven?
Le Creuset tells us that the standard size Dutch oven is 5 1/2 quarts. A 5 or 7-quart Dutch oven will comfortably feed up to a family of 4!
Main Factors to Consider When Deciding Which Dutch Oven to Buy
Dutch Oven (Capacity)
The number of mouths you will be feeding is first and foremost the number one factor when choosing your new Dutch oven.
If you purchase a Dutch oven that is too large for the number of people you intend to feed you will be wasting money. A large-capacity Dutch is just not economical as you would be heating a large oven with a small amount of food at the bottom.
On the other hand, you cannot overfill a smaller Dutch oven to feed a large number of people.
Work Out Your Dutch Oven Capacity
The easiest way to work out the capacity you need is to follow this general rule of thumb.
One serving of food generally equals 1-quart. So the Dutch oven size for a family of 4 people you would need a 4-quart Dutch oven.
But because everyone eats different amounts of food you would, in this case, add a couple of extra quarts.
So to feed four or five people I would purchase a 7-quart. Or possibly an 8-quart Dutch oven as these sizes would feed 5-7 people.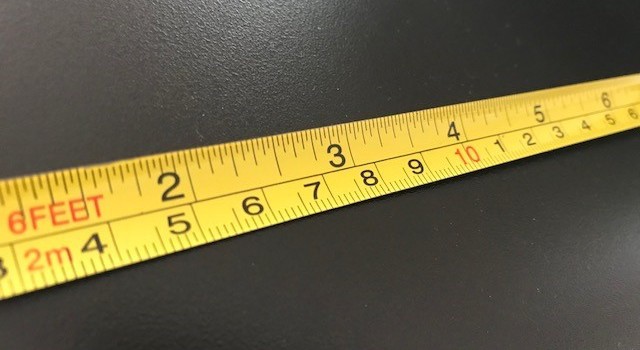 Dutch Oven (Diameter)
This is also very important if you are preparing for example very large cuts of meat.
The diameter is measured in inches. So there are many sizes available including oval Dutch ovens which are particularly great for preparing those large cuts of meat.
The oval Dutch ovens can be used for all other recipes such as stews etcetera in just the same way you would use any round Dutch oven.
Work Out Your Dutch Oven Diameter
Using a ruler or tape measure simply measure from one side of the Dutch oven to the other and this is your Dutch oven diameter.
Dutch Oven (Depth)
Depth must be considered especially if you are intent on roasting meat as the lid must be securely fitted whilst cooking.
So the deeper Dutch ovens are more suitable for preparing cuts of meat. The shape of the meat can also be taken into account. If it is long legs of meat on the bone oval Dutch ovens are a perfect choice as the leg will lie along the length of the oven and the lid will fit securely.
Work Out Your Dutch Oven Depth
As easy as measuring your Dutch oven diameter! Just measure from the top rim of the oven to the bottom and there you have it…
Dutch Oven Size Guide – Enameled Cast Iron Dutch Ovens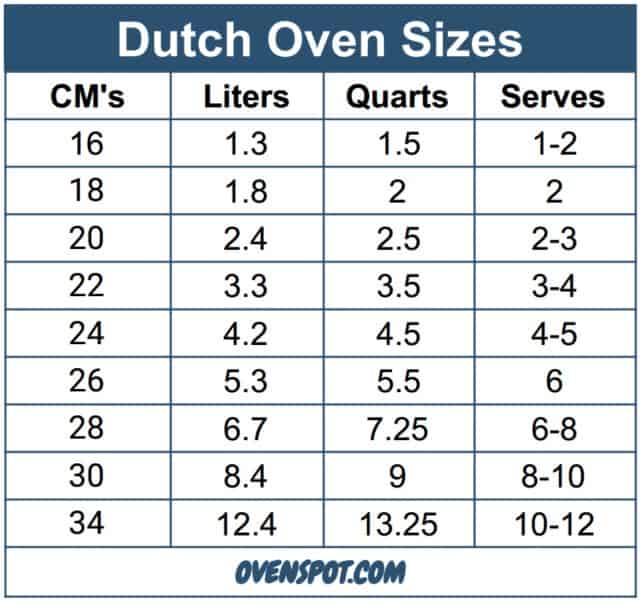 Camp – Dutch Oven Size Comparison and Guide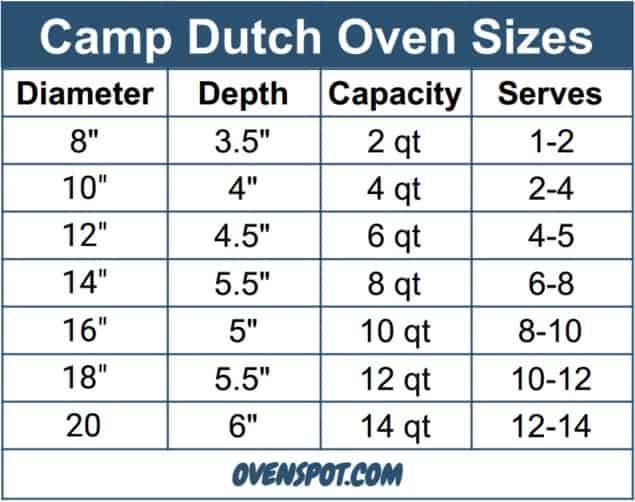 What Is the Best Size Cast Iron Dutch Oven?
The best size enamel or seasoned cast-iron Dutch oven is a 6-quart. It is not too heavy to handle or store away. This size will suit a couple or a family. It will prepare any type of dish including casserole as well as cuts of meat or meat on the bone. If you to want feed more people or have leftovers a 7-quart will do the job.
Can a Dutch Oven Be Too Big?
Yes, a Dutch oven can be too big. The standard size Dutch oven is around 6-Quarts and will feed four people with leftovers.
A 9-quart Dutch oven is a cooking pot for the entertainer. It has the ability to feed one of your awesome casseroles or stews to a number of guests or a large family.
Frequently Asked Questions
Lodge Dutch Oven Size Chart
If the Lodge brand of the Dutch oven is the one you are after the calculations for the size you need are the same as for any other brand.
Work out the calculations based on the information provided then find the right Lodge Dutch oven that suits your needs.
Alternatively, you can head over to my in-depth article Lodge Dutch Oven Sizes. The article outlines the whole Lodge range as well as their sizes. Just click here.
Best Dutch Oven Size for a Family of 4?
A midsize Dutch oven with around 7 quarts is the short answer. If you want to see a lot more on this subject guess what I have an article click here.
What Size Dutch Oven for a Whole Chicken?
For a large size chicken, I would go for a 7-quart or 8-quart size if you intend to add vegetables to the oven at the same time. Maybe a little smaller if you are cooking a chicken only.
If you will be preparing chicken and vegetables at the same time the oval Dutch oven could be the one for you.
This popular oval Dutch oven could be the one for you to check out my in-depth review by clicking here.
Most Popular Dutch Oven Size?
The 7-quart Dutch oven wins as with this size you can prepare almost any dish required for between 4 to 6 people.
What Is the Standard Size for a Dutch Oven?
A standard size Dutch oven is usually one that can feed a family and that would be a 7-quart Dutch oven.
Large Dutch Oven Size
A 9-quart Dutch oven is considered a large Dutch oven size.
This oven will feed 8-10 people depending upon the serving sizes required.
What Size Dutch Oven Should I Buy for Camping?
The most popular size is a 12-inch oven with 4.5-inch high walls holds 6 quarts and will feed up to 6 people.
If you have not yet purchased or are looking for a new cast iron Dutch oven for camping you need to see my in-depth article about the best oven for camping.
I've also included in that article my top 3 picks. See that article here.
Need more information to help you decide what size Dutch oven your need to buy – check this article out…
Final Thoughts – Dutch Oven Size Chart
If you will be predominately baking or stewing in your Dutch oven a round Dutch oven would be the one I would choose.
If you are feeding five hungry mouths I would go for either a 6-quart to a 7-quart size.
Before purchasing a new oven you should check out this Tramontina enameled cast iron Dutch oven it is 6.5-quart in size. It is the perfect size for up to six people and the price is perfect for this quality product. Click here to see my full review.
If you are roasting large cuts of meat an Oval Dutch oven that is quite deep would be the one to go for.
If you are new to Dutch oven cooking there are so many variations to consider before moving forward with a purchase. So go and check out some of the other articles I have highlighted here you are bound to pick up a heap of information so you too can get the best out of the Dutch oven way of cooking.
Recommended Reading
If you would like more information about Dutch oven sizes why not take a look at my article on Le Creuset Dutch oven sizes.
Click here and you will be through to see my Le Creuset Dutch Oven Size Chart.
If you would like more information about Le Creuset Dutch Oven Sizes by Letter and Vintage Le Creuset Dutch Ovens my article of the same name gives you a heap of information. Just click here to be taken over the article.
If you would like to check out an extremely large variety of Dutch ovens and accessories to complement them CLICK HERE to see them at Amazon.
If after all the above information you still want more!! Click here to see my choice of the Top 10 Dutch Ovens…
One-Pot Cooking Rocks