Le Creuset Dutch Oven Sizes: What Size Do You Need?
"What size is my Le Creuset cookware?" is a common question. Le Creuset products are available in many types of cookware shapes and different sizes, including their signature enameled cast iron Dutch oven, along with interchangeable lids. Combining this with almost 100 years of design, manufacturing, and the changes that come with it, the confusion is real.
How are Le Creuset sizes calculated? Each pot is embedded with a number on its underside, which equals the diameter in centimeters or its size! Each pot also has a letter next to the number that corresponds with a matching lid.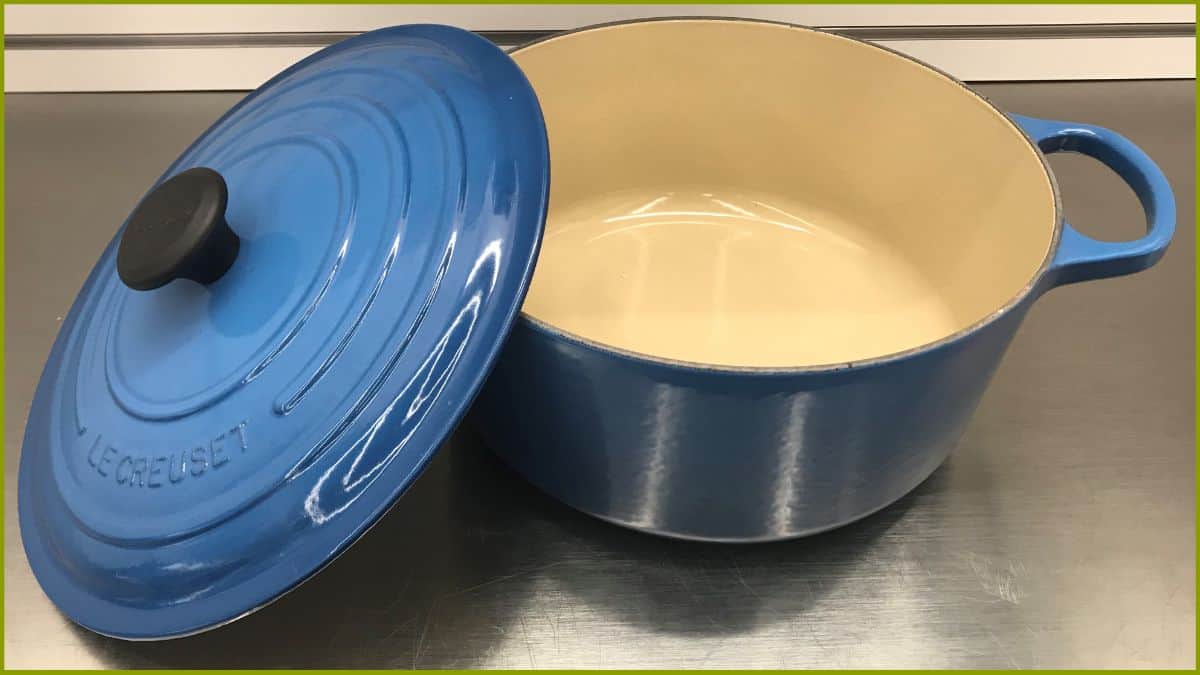 Le Creuset has all the popular sizes, including 10 Signature round Dutch oven sizes ranging from the 1-quart suitable for a single-serve up to 13.25-quart Dutch oven that can feed 10 people comfortably. 9 Le Creuset Signature Oval Dutch oven sizes range from 1-quart up to the large Dutch oven that is 15.5-quarts and will feed 12-14 people.
Le Creuset 3.5 quart Dutch oven will feed 1-2 people singles or a couple. A 5.5 qt is suitable if you are feeding 3-4 people or a small family. A 6-quart Dutch oven would feed 4 with leftovers. A 7.25 qt oven would do the job better as there is a bit more room to work with and would suit a family of 4 to 6.
This article will find an easy-to-read Le Creuset Sizing Guide that includes cast iron Dutch ovens, also known as French ovens, pots, pans, skillets, and brasiers. The guide will help you find the right size and best value Dutch oven and possibly free shipping your needs.
Le Creuset Sizes by Letter
Le Creuset sizes by letter what does this mean?
Along with the size number, the letter embedded on the bottom of the pan is there to match the correct sized lid to the right cooking pot, pan, braiser, skillet, or Dutch oven. Le Creuset size charts by letter and number are outlined below.
It should be noted that during the production of Le Creuset pieces, the way sizes and their matching-sized lid changed. Sometimes the batch number, especially vintage pieces, will not align even though the lids will fit the cast-iron pot.
Check out this in-depth article that dives deep into Le Creuset Sizes by Letter and Number
Disclaimer: I earn from qualifying purchases on my website as an Amazon Associate. If you purchase through links from this website, I may get a small share of the sale from Amazon and other similar affiliate programs.
What is Le Creuset?
Le Creuset is an iconic French cookware company that was founded by Armand Desaegher and Octave Aubecq in 1925. This is when Le Creuset's first cocotte Dutch oven in its signature color Flame, similar to the glow of molten cast iron, also known as Volcano was released.
Le Creuset cookware is one of the most expensive types of cookware on the market. But, why? What makes it different from any other type of pot or pan that you might buy at your local kitchen store?
Le Creuset uses high-quality materials. Their cookware is designed for performance, durability, and reliability, withstand high heat, and safety with large handles and knobs for easy use. Le Creuset's almost 100 years of experience honing its proven innovative designs and manufacturing skills are backed by offering lifetime warranties.
Related read "Why is Le Creuset so expensive and is Le Creuset worth the investment?"
Le Creuset Dutch Oven Sizes
Le Creuset Dutch ovens are not the only cookware produced so I have also included Le Creuset saucepan sizes, Le Creuset skillet, and grill pan sizes, Le Creuset brasier/shallow oven sizes, and the Le Creuset saucier pan sizes.
You can use this Dutch oven size chart to assist you in selecting a Dutch oven size that will suit your needs. This guide will also come in handy if you have been given a pre-loved Dutch oven without packaging.
Or if you have picked one up for a bargain at a flea market or thrift shop. As sometimes it can be difficult to identify the Le Creuset Dutch oven sizes. Especially if it has Vintage Le Creuset markings. It can be as easy as identifying Le Creuset sizes by letter!!!
By the way, if you did get a Le Creuset Dutch oven for a bargain – WELL DONE!!!
If you already know what size Dutch oven you are wanting to buy click here. You will find a huge range of Le Creuset Dutch ovens and other cookware in various shapes and sizes. One of the largest array of enamel cookware colors around as well as prices to suit all budgets.
Related read Le Creuset Color Guide
If you have bought a Dutch oven that is in a bad state of repair you can check out the following article about how to clean a Dutch oven after cooking. You can also refer to my article Le Creuset Cleaning and Care Guide to help you keep your investment/cookware in top shape.
This will help you to get the interior enamel and exterior enamel finish of your Le Creuset cookware back to its former glory.
Round vs Oval Dutch Oven – 5 or 7 Quart Dutch Oven
Round ovens are popular choices great for slow-cooking stews, casseroles, sourdough bread, a round boule loaf, deep-frying, and side dishes. Oval shape ovens are well suited to meat on the bone and roasts. Baking bread in an oval Dutch oven is also a breeze.
For those of you who have not yet purchased a new Dutch oven why not head over and look at my article that gives you the information about what kind of Dutch oven you should buy?
The article will assist you with the choice between round or oval ovens as well as choosing a 5 or 7-quart Dutch oven.
What Size is my Le Creuset Dutch Oven
The words Dutch oven Le Creuset go hand in hand. One of the reasons this French Le Creuset brand of cookware is the Rolls Royce of cookware is the attention to detail.
This wonderful company has actually embedded the size of the cookware on the bottom of its various pans. The number on the bottom of the different types of Le Creuset cookware refers to the inside diameter of the oven/pan.
So flip your piece of cookware over and check out the size of your Dutch oven. Then all you have to do is compare it to the Dutch oven size chart below and you will have your answer.
Le Creuset Dutch oven dimensions – don't forget that the NUMBER embedded on the pot's underside equals DIAMETER or Le Creuset size…
LE CREUSET DUTCH OVEN SIZE CHARTS
Le Creuset Round Dutch Oven Sizes by Letter, Number, Capacity, Weight & Servings
The round Dutch oven is Le Creuset's classic signature cast-iron cooking pot and one of their most popular.
The round shape fits snugly on any cooktop and fits into a conventional oven easily.
You will note by the large variety of sizes is only outnumbered by the even larger array of colors available.
Depending upon the size you select it will fit almost any dish you want to prepare. Check out the Le Creuset sizes chart to choose the best size for your needs.
Le Creuset Oval Dutch Oven Sizes by Letter, Number, Capacity, Weight & Servings
Oval Dutch ovens are perfect for large cuts of meat, chicken even turkey if the size allows.
It fits perfectly inside a conventional oven and will deliver tender meat or any other recipe thrown at it.
The oval Dutch ovens by Le Creuset are also available in a larger array of sizes and colors.
What Size Is My Le Creuset Cast Iron Cookware?
Le Creuset's cast-iron cookware range extends beyond Dutch ovens. Their range also consists of small casseroles, saucepans, skillets, grills, brasiers, and sauciers.
Le Creuset Cast Iron Casserole
These mini casseroles are perfect for one or two. When entertaining each guest can have their own pot. Alternatively, make a few different dishes to be served straight from the cooker – beautiful…
Le Creuset Saucepan Sizes
All the benefits of cast-iron cooking are what you will get when you use one of the Le Creuset Saucepans. A tight-fitting lid, generous handle, and heat retention – an awesome twist on the traditional saucepan.
With the oven-safe knob on the lid, the whole sauce can be utilized just like a Dutch oven. Use on the stovetop then pop into the conventional oven if your recipe requires this option.
A large array of sizes and color options are also available.
Le Creuset Skillet and Grill Pan Sizes
As with the saucepan, the benefits of using a skillet or grill that is made from cast iron are brilliant.
Hot, hot, hot is what these pans become – so versatile for any dish you want to prepare. Saute your steak and pop it into the conventional oven to finish it off – perfect.
Once again there are many sizes and colors available to suit any home decor.
Le Creuset Brasier/Shallow Oven Sizes
Dutch oven vs braiser – they both have their place in any kitchen. Brasiers still operate low and slow – just without the high sides.
What can be cooked in a braiser? There are many dishes including these ribs, risotto, pasta, fries, burgers, pressed sandwiches, stir-fries, and the list goes on.
Le Creuset Saucier Sizes
If you prepare or would love to prepare your own sauces one of these sauciers is a must for your kitchen.
They say that every chef in the world wants a Le Creuset cooking pan, I would bet that the top of that list includes a Le Creuset cast-iron saucier.
Le Creuset Dutch Oven Size Comparison Chart
In this Le Creuset Dutch oven size comparison chart, you can visually see the actual Dutch oven sizes from the smallest to the largest as well as the quarts, and the approximate servings the ovens provide.
You will notice that the serving sizes on this chart slightly differ from my size chart above. The serving size relates directly to what meal you are preparing. The serving sizes below would be based on a small serving out of the Dutch oven with added accompaniments such as vegetables, pasta, or rice.
From my experience, my serving sizes are based on a generous serving for each person straight from the Dutch oven, with no other accompaniments required. More in keeping with one-pot meals and slow-cooked dishes.
Le Creuset Cookware Size Chart – Download
What Size Le Creuset Dutch Oven Should I Get?
Le Creuset – Quick Serving Size Guide
Here are a couple of tips that will assist you when choosing and purchasing the best size Le Creuset Dutch oven or other Le Creuset cookware to suit your needs.
Dutch Oven (Capacity)
The capacity of a Le Creuset Dutch oven you need is based on the number of mouths you will be feeding is first and foremost the number one factor when choosing your new oven.
The size of a Dutch oven range from teeny tiny Dutch ovens, a 4.5-quart size Dutch oven that is still considered on the small side, then the standard size, which is 5 to 7-quart all the way up to the biggest sizes.
The size of a large Dutch oven in the Le Creuset range is a 15-quart oval Dutch oven and is the best option to feed 15-plus people, but it has a high price tag. So it is a good idea to choose a smaller size if you do not require a large oven.
Work Out Your Dutch Oven Capacity
The general rule of thumb is that 1 serving of food generally equals 1-quart. So the Dutch oven size for a family of 4 people would need a 4-quart Dutch oven.
But because everyone eats different amounts of food, you would, in this case, add a couple of extra quarts.
So, to feed four or five people, I would purchase a 7-quart. Or possibly an 8-quart Dutch oven, as these sizes would feed 5-7 people.
Learn why there are letters on Le Creuset cookware: Le Creuset Sizes by Letter
Dutch Oven (Diameter)
The diameter comes into play when you consider what you will be preparing in the oven. For example, very large cuts of meat and vegetables would be well suited to a large oval Dutch oven.
Work out Your Dutch Oven Diameter – Centimeters
Using a ruler or tape measure, simply measure from one side of the Dutch oven to the centimeters, and this is your Dutch oven diameter.
Dutch Oven (Depth)
Depth must be considered especially if you are intent on roasting meat as the lid must be securely fitted whilst cooking.
Work out Your Dutch Oven Depth
It is as easy as measuring your Dutch oven diameter! Just measure from the top rim of the oven to the bottom, and there you have it…
I have a complete article with a heap of more information about the capacity, diameter, depth, and sizes of Dutch ovens. Check out Dutch Oven Size Chart.
What Is the Best Size Dutch Oven for You?
A Le Creuset 3.5 quart Dutch oven is designed to feed 3-4 people. So for a couple or small family, this is the size that you would require.
A Le Creuset Dutch oven 5.5 quart is suitable if you are feeding 5-6 people at the most.
If you are considering the Le Creuset Signature Enameled 5 1/2-Quart Round Dutch Oven you should absolutely read my in-depth article which reviews this very special Dutch oven.
The Le Creuset 6-quart Dutch oven only just browns a pound of stewing meat or braises six chicken thighs. The Le Creuset Dutch oven 7.25 quart would do the job better as there is more room to work with.
Lastly, a Le Creuset oval Dutch oven with 9.5 quarts will hold four or more large lamb shanks or a 5-6 pound pot roast and vegetables.
Learn how to choose a Dutch oven: What is the best size Dutch oven to buy?
The Best Dutch Oven Size for a Family of 4?
The most versatile size for a family of 4 is the 7.5-quart round Dutch oven. The 7.5-quart size would cover almost anything you may want to prepare for 4 to 6 hungry mouths.
If you want to feed any more than 6 people, you should go for something a little larger. Bearing in mind, you need to be able to carry the Dutch oven once the meat, produce, and liquids are inside the Dutch oven.
What Size Dutch Oven for a Whole Chicken?
The Le Creuset #31 oval Dutch oven, which is 6.75 Quarts, would fit a whole chicken. The weight of the chicken that would fit in this Dutch oven would generally be between 5 to 6 pounds.
You can see my extensive review of this Dutch oven here Le Creuset Signature Enameled Cast-Iron 6.75 Quart Oval French Dutch Oven.
Alternatively, you could use the Le Creuset #28 round Dutch oven 7.25 Quarts as this size fits in a whole chicken as well as vegetables around it.
Learn what the best size Dutch oven is for a whole chicken.
Most Popular Dutch Oven Size?
Round or Oval Dutch Oven? – 5 or 7-Quart Dutch Oven?
What is the most popular size round Le Creuset Dutch oven? Well, after much research, it appears that the most popular Dutch oven size goes to the Le Creuset Dutch oven 7.25 qt. It is practical for most people as it is large enough to prepare meals for 4 to 6 people.
The round Dutch oven fits snugly on most cooktops which allows for lovely, even, and consistent heat. The Dutch oven is also not too heavy for most people to carry when full of food.
So, from the cooktop to the oven and the oven to the table for serving, the 7.25-quart size seems to be the most popular Dutch oven.
If you want to check out a huge variety of Dutch ovens and accessories, see the range at Amazon.
What is the Best Le Creuset Size?
As far as wish lists go for chefs and home cooks alike, Le Creuset kitchenware is at the top of that list for most.
Le Creuset supplies an abundance of cooking appliances, from Dutch ovens to beautiful decor pieces that enhance any kitchen and table setting.
Because this cookware is in the higher price range, choosing the correct piece to suit your needs is very important.
My recommendation would be to get what I consider to be the average size, which is around 5.5 or 6 quarts. With this size piece of cookware, you will be able to prepare any dish – it will cater to a couple and up to 5-6 people, depending upon the dish prepared and the accompaniments.
What is the best size Le Creuset to buy?
When measuring the size of the Le Creuset Dutch oven, you need to buy and use this formula.
Dutch Oven Serving size Per Person – 1 person = 1 quart
You also need to consider the type of food you would be preparing. If it is stews and casseroles, a round Dutch oven will work perfectly. But if you like to prepare large cuts of meat or meat on the bone, you should consider an oval Dutch oven.
Then consider whether you will be using your Dutch oven in an oven or a cooktop – the most. Round Dutch ovens fit perfectly on a stovetop, but oval Dutch ovens do not and perform better inside a conventional oven.
Consider these few things, and you will have the perfect Dutch oven for you…
Related read this Le Creuset Buyers Guide is a must if you consider investing in this heirloom-quality cookware.
Le Creuset FAQs
What is the largest Le Creuset Dutch oven?
The largest round Le Creuset Dutch Oven is 13.25 quarts, 12.4 liters with a diameter of 34 centimeters, and serves 10-12 people. The largest oval Le Creuset Dutch Oven is 15.5 quarts, 14.1 liters with a diameter of 40 centimeters, and serves 12-14 people.
What size is Le Creuset 24?
Le Creuset number 24 is the number (diameter in centimeters) for the 4.5 quarts, 4.2 liters, which serves 4-5 people. In this Dutch oven, you can prepare baked bread, cakes, and rolls and your normal evening meals.
What size is a large Dutch oven?
Those who know and love Dutch oven cooking would say that an oven around 9 quarts is a large Dutch oven. This size is great for cobblers and pies as well as your main dishes. When fully laden and very hot, this size "with care" is still able to be transported safely.
Can a Le Creuset Dutch oven go on the stovetop?
Yes, these enameled cast iron Dutch ovens have been designed for the kitchen as opposed to the traditional exposed cast iron Dutch oven you would use over open flames or hot coals. Use these beautiful pieces of Le Creuset with care, and you will not damage your Dutch oven or cooktop.
Can Le Creuset enameled cast iron go in the oven?
Le Creuset enameled cast iron cookware with integral cast iron handles and a stainless steel knob can be used at high temperatures in a conventional oven. If the piece has a phenolic knob on its lid the maximum temperature is 480 degrees. Must read – how to use cast iron in a conventional oven.
What are the most useful Le Creuset pieces?
The Le Creuset Signature Enameled 5 1/2-Quart Round Dutch Oven tops the list of the most useful Le Creuset pieces, followed closely by the 4-quart rectangular casserole complete with a lid.
What is the most popular Le Creuset color?
Flame (Volcano) is Le Creuset's most popular color worldwide since its release, with Cerise (Red) a close second then Marseille (Blue).
Le Creuset Dutch oven 5.5 vs 7.25
The main difference between the 5.5-quart and the 7.25-quart Le Creuset round Dutch ovens is the size and weight. The 5.5-quart weighs 12.7 lbs and feeds 4 to 6, while the 7.25-quart weighs 15.2 lbs and feeds 6 to 8.
Learn about using cast iron cookware on a glass-top stove
Wrapping Up: Which Le Creuset Dutch Oven Should You Buy
Upon my everyday use in my kitchen, I recommend the round Le Creuset 5.5 quart round Dutch oven. It is the right size for a couple or small family. It is suitable for everyday recipes, small roasts, and baking. It fits easily onto stovetops, cooktops, and in the oven.
Choosing the correct Le Creuset pot sizes is important. Because with your care, you will be using this cookware for a lifetime. You will also be handing this cookware on to a loved one or friend.
It is my hope that you have gained some further knowledge about Le Creuset Dutch oven sizes by using the Le Creuset size comparison charts above.
Click the image below to see it for yourself at Amazon in the beautiful "Marseille" color which is pictured below…
Le Creuset Signature 5 1/2 Quart Round Dutch Oven
See where to get Le Creuset for the best prices all year round in-store, at outlets, and online.
One-Pot Cooking Rocks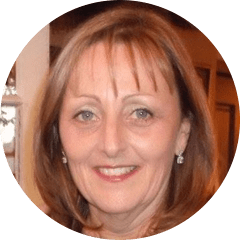 Michelle
Hi, I'm Michelle, the founder, owner, author, and editor of OvenSpot. My passion for one-pot cooking commenced when I was working to prepare cafeteria lunches for school students. I am now on a mission to assist you in choosing the cooking pot or appliance you will use daily. As well as in-depth information to assist you in using and caring for your cookware and appliances.
Questions? Reach out to Michelle at [email protected]