Le Creuset Buyers Guide (How to Buy Le Creuset)
A French cookware manufacturer founded in 1925, Le Creuset is best known for its colorful enameled cast iron cookware known as "Cocottes." Many people say their Dutch ovens are the best in the industry, which explains why people pay over $200 for Le Creuset Dutch ovens. You can use Le Creuset on all heat sources, and you can buy their products in over 100 colors.
In this buyer's guide of Le Creuset products, you will soon see that you are not limited to enameled cast-iron cookware which of course is where Le Creuset's journey started. You will discover stoneware, stainless, nonstick cookware along with the many other products that enhance Le Creuset's range.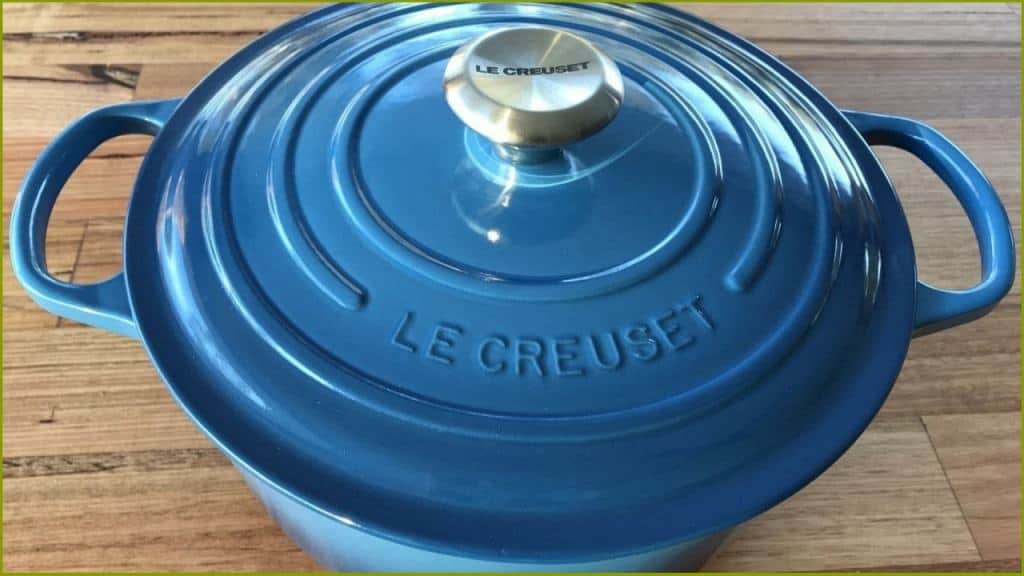 Disclaimer: As an Amazon Associate I earn from qualifying purchases made on my website. If you make a purchase through links from this website, I may get a small share of the sale from Amazon and other similar affiliate programs.
Click on each image to check out the products as well as other styles, colors, prices, and what others have to say…
Where to Begin?
We need to start with the most used and most popular enameled cast iron pieces of cookware – THE DUTCH OVEN also known as Cocettes and French ovens. Keeping reading to learn how to by Le Creuset.
Le Creuset Dutch Ovens (French Ovens)
Let's begin with this 7.25-qt oven in a bold shade. It is Le Creuset's Signature round Dutch oven (also known as a French Cocotte or casserole dish) and has smooth enamel coating its sand molded cast iron core.
Stunning colors have come to characterize the Le Creuset brand. Le Creuset designed this pan to perfectly cook roasts, stews, and soups. You might look at this as a one-stop dish because of its versatility.
In fact, this is the perfect size Dutch oven for a family of 4 – with leftovers.
Check out the huge size range for both round and oval Dutch ovens.
Le Creuset Round Dutch Oven Sizes by Letter and Number
Le Creuset Oval Dutch Ovens by Letter and Number
Links are at the bottom of the page to great articles that go into a lot more details about Le Creuset Dutch ovens, cookware, and accessories.
Le Creuset's Cookware Range
Dutch ovens are only the beginning of Le Creuset's cookware range you can also expect to see braisers, skillets, saucepans, roasters, sauciers, grill pans, casseroles, balti dishes, rice cookers, Moroccan Tagines, stainless steel cookware, bakeware, nonstick cookware and enamel on steel products.
Click on each image to check out the products as well as other styles, colors, prices, and what others have to say…
Le Creuset Enameled Cast-Iron Cookware Range
Le Creuset's enamel cast-iron cookware has been produced for decades and is their premium cookware range. These pieces are still produced in France and every piece is inspected before it leaves the factory. Made from the finest cast iron and coated in the smoothest blemish-free surface you will ever encounter. Can be used on all your kitchen heat sources it will prepare all your favorite recipes and some you haven't thought of yet. Roasting, slow-cooking, braising, bread baking, and the list goes on.
Le Creuset Stoneware Range
Le Creuset's enamel covered stoneware maintains even temperatures. It resists thermal shock. It can be used in the conventional oven, microwave oven broiler and is freezer and dishwasher safe. DO NOT use on direct heat.
Le Creuset Stainless Steel Cookware
This cookware is constructed of a full aluminum core with a magnetic exterior that will work on induction cooktops. They are finished with professional grade stainless steel that resists oxidiation and discoloration. Generous handles and knobs for easy of transport and safety. Oven safe to 500 degrees Fairenheiht – once again a lifetime warranty accompanies this cookware.
Le Creuset Enamel Coated Steel Cookware
Carbon steel is lightweight and durable, making it perfect for everyday use. It speeds up the cooking process and retains heat to keep food warm for hours! The porcelain enamel coating makes it resistant to stains and flavors, so you can cook virtually anything without worrying about your pots or pans getting ruined.
Le Creuset Toughened Non-Stick Cookware
This cookware is made from hard-anodized aluminum with a stainless steel base. Providing consistent heat and a POA free never flake surface. Cooktop, including induction, to table with larger helper handles and that stay cool. It is dishwasher safe and comes with a Le Creuset lifetime warranty.
Le Creuset Toughened Non-Stick Bakeware
With a lifetime guarantee, this Le Creuset non-stick bakeware is made from heavy gauge carbon steel. It is PFOA-free, heats evenly, and is nonstick to assist with keeping your baked goods from adhering to the pan.
Le Creuset's Tableware
The luxury does not have to finish once your meal is prepared and cooked. Le Creuset has an extensive range of tableware for you and your guests to enjoy.
Stoneware
Dinnerware
Serveware
Coffee & Tea
Trivets & Coasters
Glassware
Themed Products – Disney & Star Wars
See Le Creuset's Tableware Range Here
Le Creuset's Accessories
As well as décor pieces in their range Le Creuset has an awesome range of accessories to assist with cooking, safety and cleaning these include:
Enameled Cast Iron Deluxe Round Trivet
Silicone French Trivet
Revolution Scraping Spoon, Wood
Stoneware Spoon Rest
Silicone Handle Grips
Silicone Handle Sleeve
Felt Pan Protectors
Nylon Brush
Cookware Cleaner
Wine Stoppers
Cork Removers
See Le Creuset's Accessories Range Here
Le Creuset's Most Popular Colors
As said before, Le Creuset has built a reputation on its colorful cast iron pans with over 100 available choices.
Le Creuset has core colors that are always available but other colors will come and go. It should also be noted that colors can vary from country to country.
These are just a few Le Creuset colors:
Did you know that color has hidden importance? Armand Desaegher, the casting specialist for Le Creuset, settled on a bright orange as their first color.
The name Flame took its inspiration from the color of molten cast iron. If you visited Fresnoy-le-Grand, France, which is where you'd find Le Creuset's factory, you'd see it painted in an orange hue that's a classic.
Le Creuset – New Color Releases – Agave Hue and Artichaut
I am totally in love with this new blue/green color in Agave Hue – it will match other pieces in my collection Marseille Blue and Palm cookware, stoneware, tableware, and accessories.
Never Pre-Heat Cast-Iron Pans on High
After you have bought a Le Creuset pan, never pre-heat the cast-iron on high heat because cast iron holds the heat in better than other pans. You will burn your food. The only time to use high temperatures with cast iron is when you want to boil water.
If you want to do dry cooking, Le Creuset may not work as well for it. Except for its grill pans, the enamel surfaces from Le Creuset doesn't lend itself to this style of cooking. Oil, liquid, fat or butter should cover the whole pan before heating it.
Never preheat a Le Creuset pan without liquid because this can damage the enamel. When you pay upwards of $200 for a pan, you don't want to damage it.
Cooking Tips – Cast Iron Cookware

Why does food stick to cast iron?

How to prevent food from sticking to enamel cast iron!

Stop bread sticking to cast iron during baking…
Cleaning Le Creuset Pots and Pans
I highlight this aspect with Le Creuset because as much as possible, you don't want to damage the pots and pans.
Firstly, never plunge a hot pan into cold water. The thermal shock from hot to cold can warp the pan and crack it. If you have food caked onto the pan, soak it in warm water. Let it sit for 15 to 20 minutes before you wash it.
Secondly, you might use a brush to clean the pan, but never use scourers or an abrasive cleaner because this could damage the enamel.
Using Le Creuset cleaner and/or conditioner from time to time will help the pan to retain its new appearance.
Expert Tip: – Although manufacturers of seasoned cast-iron and enameled cast-iron say that their pieces are dishwasher safe – I recommend washing by hand and drying thoroughly.

Carrying out this task will save you heartache and time. The heartache from having dull and/or cracked enameled cookware and time from restoring seasoned cast -iron.
Induction Cooking: Le Creuset
Le Creuset works fine on an induction hob. The brand designed its products to heat evenly throughout the pan. You can do this even on low heat.
Induction cooking uses magnets to heat the food, and hidden within the Le Creuset pan is a layer of cast iron. Cast iron heats incredibly well on induction stovetops.
Biggest Benefit of Le Creuset Pans
Unlike bare cast-iron pans, you don't have to season Le Creuset pans because the enamel layer serves as a hygienic seal. It protects the pan even from the most ardent scraping. The pans stay heated for a long time, and they don't chip. Le Creuset pans have a reputation for their beauty.
Is Le Creuset Worth the Money?
Considering how you will pay over $200 for Le Creuset pans, you have to wonder, "Is it worth it?" That answer depends on who you are. If you will use them a lot in the kitchen and you have money to spend, Le Creuset will be worth the extra cost of the pan. That said, most Le Creuset pans don't last as long as seasoned cast-iron pans, which can last anywhere from 75 to 100 years if well taken care of.
Le Creuset pans will last five years, 10 years, or even more, depending on the type of pan that you bought and the way you use and maintain it. Not everyone will find that worth the money. If you won't use your Le Creuset cookware at least once a week, you may come to despise how much money you spent on it.
Le Creuset only uses the best materials in their products, which accounts for the higher cost. Someone who doesn't have the money to spend nor the passion for cooking could probably pass on this brand.
Is Le Creuset really that expensive? Check out this article as to why some cast iron cookware can cost more than others.
Consider the Purpose When Buying the Pan
Oven cooking requires metal handles because you can't place wooden handles in the oven. The type of pan that you buy should reflect the cooking style that you plan to use the most. Beware of buying a pan that won't work with what you want to do. After you have bought the pan, remove all the packaging and labels on it and wash it in soapy water.
Dedication to Quality Craftsmanship
Le Creuset puts its products under arduous conditions to guarantee quality. Before the product reaches its endpoint, 15 people have inspected it for quality. The company rejects 30 per cent of its products coming up the assembly line because of imperfections.
This means that they have to melt down the metal a second time to recast it to perfection. An arduous process for quality, this explains why the brand costs more than the competition.
Le Creuset ranks at the top of the culinary tree, and most chefs call it the most coveted of cookware. Not everyone needs Le Creuset, but people who love to cook will appreciate pans like this and get their use from them.
The brand outperforms the competition in key areas, such as:
Product range
Materials (cast iron, stainless steel, toughened non-stick, enamel on steel & Stoneware)
Performance
Heritage
Range of colors
Warranty
Build quality
What Can You Cook in Your Le Creuset Cookware?
Known for its versatility in the cooking world, Le Creuset Dutch ovens can cook almost anything. They can roast meats and vegetables, cook stews and soups, bake bread, and make casseroles.
Many cooks prefer electric fryers, but you can use a Dutch oven to do a surprisingly good job. The oven heats the oil in the pan and fries it with great results.
Before you buy a Le Creuset pan, check the capacity to ensure that it meets your needs. You want the pan to hold enough for meals with other people.
Check out this ariticle that tells you where and when to get the best prices for Le Creuset
To Finish – Le Creuset Cookware
Le Creuset has delivered the finest quality since 1925. As you can see from their arduous quality-testing process, they pinpoint lower quality and recast it for top-notch quality.
Still, today in 2021 each Le Creuset piece of cookware gets handcrafted using the finest materials. With that said, if budget is of utmost importance, you may want to look at a different brand.
Le Creuset features the best quality, but the cost reflects it too, and because this isn't the type of product that lasts forever, not everyone will find it worth the higher cost. You have to look at it if you know you will get the use out of it.
One-Pot Cooking Rocks
Recommended Reading
Clean and caring for enamel cookware – here
Cocotte and Dutch ovens – the difference – here
---
Source: Le Creuset
Thanks for the video music – Ben Sound