Staub vs Le Creuset: Comparison of Two Top Brands
There are many people on the internet who have strong opinions about which of these two brands is better. If you are looking for high-quality enameled cast iron cookware, it can be difficult to decide between Staub and Le Creuset. Both companies offer excellent products that will last for years with proper care, but which one should you choose Staub or Le Creuset?
Staub cookware is heavier, dark interior, self-basting lid, steel knob, and fewer color options. Le Creuset has lighter interior enamel better for monitoring cooking and cleaning. Also, larger handles for thick mitts are a must for cast-iron cooking. Both are luxury brands with different features for individual choice.
This article will help you decide by examining the outstanding features of each brand so that you can make a more informed decision for yourself. Although each brand manufactures various cookware products, in this article you will predominately see me refer to Staub Dutch ovens vs Le Creuset Dutch ovens. This is because this is the one piece of cookware each brand manufactures where they rival each other the most.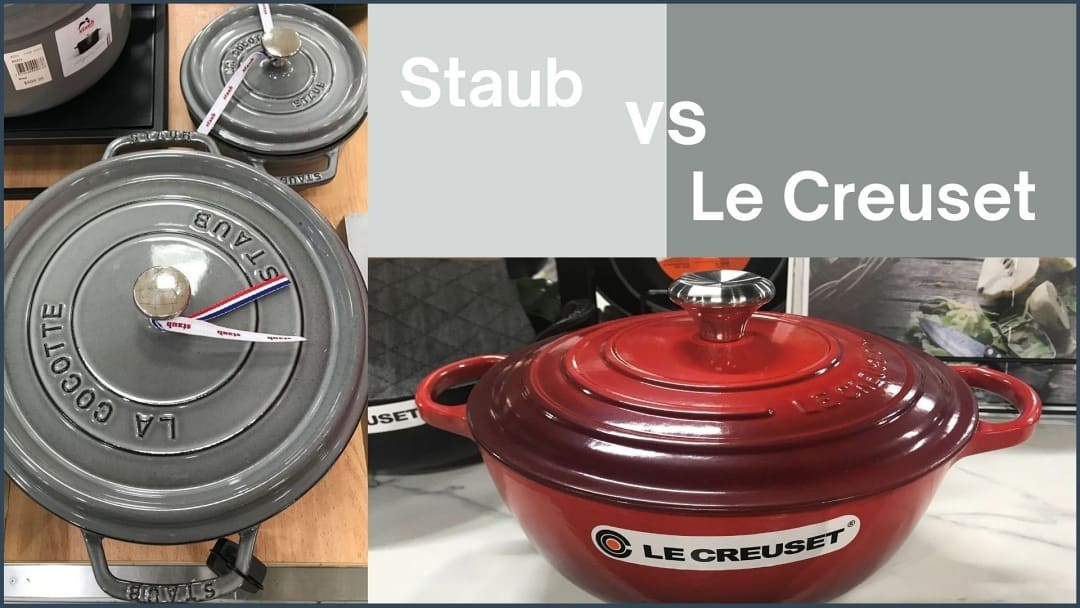 Disclaimer: As an Amazon Associate I earn from qualifying purchases made on my website. If you make a purchase through links from this website, I may get a small share of the sale from Amazon and other similar affiliate programs.
Staub vs Le Creuset: The Facts
Both brands and their products are so fantastic the choice really comes down to what design and features suit the individual. I own pieces from both brands and use them regularly. For me, the most important factor when choosing a brand comes down to the weight and the ease of movement to safely transport a fully laden 'extremely hot' piece of cookware around my kitchen. Le Creuset offers large handles, is marginally lighter, and has many decor colors to choose from. Further, the price difference is minimal when you are considering buying cookware in this price range.
Where Are Staub and Le Creuset Made?
Staub cast iron cookware is manufactured in Merville, France. Other Staub products are made in China including their ceramics.
While Le Creuset still manufactures their enameled cast iron cookware in Fresnoy-le-Grand France, other Le Creuset products are manufactured all over the world, including the United States, Portugal, and China.
What Are Staub and Le Creuset Cast Iron Made From?
Staub uses thick cast iron for its initial cookware construction. Then covers this with multiple layers of the enamel coating, resulting in a tough, sturdy chip-resistant piece of cookware.
Le Creuset high-quality iron for enameled cast iron, with layers of porcelain enamel coating that produces a non-reactive surface as well as resists chipping and staining.
Le Creuset's other products are coated in the same enameled enamel finish include the stoneware and enamel on steel ranges. I should also mention here that Le Creuset also has a range of nonstick bakeware, toughened non-stick pro as well as utensils, accessories, and serving and tableware.
Design and Style
Staub cookware has a distinctive matte black interior enamel coating. Durable and long-lasting because it does not discolor, rust, or scratch easily. Its thick iron retains heat longer to keep food warm until served. The base will retain its original shape without distortion. The pieces have a sturdy, rugged get the job done look.
Le Creuset cookware in comparison has the smooth polished look of luxury designer pieces. Along with a similar size, Dutch oven (capacity) range as Staub. Le Creuset Dutch ovens are available in many more shapes and sizes. For example, higher or lower sides with wider bases, heart or flower shapes, not to mention the designer ranges like Disney, Star Wars, or the latest NBL range.
Handles and Weight
Staub handles are not as generous as Le Creuset's considering the weight in this brand of product larger handles would be beneficial.
Le Creuset are larger and most definitely easier to safely move around with mitted handles, this product's lighter weight helps with transportation also.
I would be reluctant to transport a Staub size 28, at 7 kilos or 15 1/2 pounds from my conventional oven to a stovetop or countertop.
Lids
Staub, the spikes under the lid ensure that your dish will be continuously basted. The elevations on the lid also assist with this basting process, as they distribute the droplets of condensation evenly into the dish and not just down the sides of the cooking pot. The heavy lid ensures that moisture is locked in and intensifies flavor for a more delicious meal every time!
Le Creuset lids fit snugly to retain the all-important moisture within your cooking pot but are light and easy to manage with the generous knobs provided. Some (The Constances) but not all Le Creuset lids have spikes, the lids are interchangeable with other cast iron pots, pans, and brasiers. If the worst happens to a lid you can also purchase a matching lid (glass) separately.
Knobs
Staub's knobs are made from brass or nickel-plated stainless steel, making them heat resistant up to 500°F. These knobs are standard, rather than heat-resistant plastic, Staub knobs are easy to clean and durable. These sturdy handles can come in animal shapes that kids love!
Le Creuset a range of signature interchangeable knobs is available they suit various pot lids as well as various heat sources. Including ceramic, electric, gas, halogen, and induction. Made from various materials including Pholholic (heat resistant up to 390°F), stainless steel, stainless steel cover in gold, and copper (heat resistant up to 500°F) enhance the elegant look of the cookware.
When purchasing Le Creuset cookware make sure you choose the product with the type of knob you require as you can purchase with pieces with both Pholholic and stainless steel knobs.
Utensils
What are the best utensils and tools to use on enameled cookware? It is recommended by both brands that wood, plastic, or silicone utensils be used to avoid chipping and scratches on the enamel's interior surface. In fact, Le Creuset has its own range of safe-to-use cookware utensils.
Recommended read: Best Utensils to use on cast iron cookware
Pot Sizes
Although there are many product sizes, shapes, and weights for both brands. Listed below are the comparative sizes in both brands of round Staub Cocotte and Le Creuset round Dutch ovens.
Staub Round Dutch Oven (Cocotte) Sizes
Size
Quarts
Liters
Height
Weight
Servings
Mini
–
0.25 ltr
7 cm
2.75 inches
0.85 kg
1.8 lbs
1
16 cms
6.3 inches
1 qt
1.2 ltr
12.6 cm
4.9 inches
2.34 kg
5.15 lbs
1 – 2
20 cms
7.8 inches
1.9 qt
2.2 ltr
14.5 cm
5.8 inches
3.6 kg
7.9 lbs
2
22 cms
8.7 inches
2.75 qt
2.8 ltr
15 cm
5.9 inches
3.98 kg
8.8 lbs
2 – 3
24 cms
9.5 inches
3.3 qt
3.8 ltr
15.3 cm
6 inches
4.6 kg
10.1 lbs
3 – 4
26 cms
10.2 inches
4.5 qt
5.2 ltr
17 cm
6.7 inches
5.7 kg
12.5 lbs
4 – 5
28 cms
11 inches
6.25 qt
6.7 ltr
18.2 cm
7.2 inches
7 kg
15.4 lbs
5 – 6
30 cms
11.8 inches
9 qt
8.5 ltr
29 cm
11.8 inches
8 kg
17.7 lbs
9 +
Le Creuset Dutch Oven Sizes by Letter & Number
| Number | Letter | Quarts | Liters | Weight | Servings |
| --- | --- | --- | --- | --- | --- |
| 14 | – | 1 qt | 0.09 | 3.8 lbs | 1 |
| 16 | A | 1.5 qt | 1.3 ltr | 6 lbs | 1-2 |
| 18 | B | 2 qt | 1.8 ltr | 7.25 lbs | 2-2 |
| 20 | C | 2.5 qt | 2.4 ltr | 7.8 lbs | 2-3 |
| 22 | D | 3.5 qt | 3.3 ltr | 8.75 lbs | 3-4 |
| 24 | E | 4.5 qt | 4.2 ltr | 9.5 lbs | 3-4 |
| 26 | F | 5.5 qt | 5.3 ltr | 10.5 lbs | 5-6 |
| 28 | G | 7.25 qt | 6.7 ltr | 11 lbs | 7-8 |
| 30 | H | 9 qt | 8.5 ltr | 12.25 lbs | 9 plus |
| 34 | I | 13.25 qt | 12.5 ltr | 16.5 lbs | 9 plus |
Recommended reading: Le Crueset Dutch oven sizes and Le Creuset cookware sizes
Colors
Staub offers approximately 10 colors, that are more conservative than the bright colors Le Creuset offers – keep up to date with STAUB'S COLORS
Le Creuset has approximately 20 core colors, in every shade under the rainbow, they also offer different colors in countries around the world. With limited editions, arriving and disappearing all the time – keep up to date with LE CREUSET'S COLORS
Care and Maintenance
Staub's darker enamel hides particles and staining that could be happening over time so this makes cleaning a little more difficult. Spiked lids also need extra cleaning. Staub pots and pans are dishwasher safe but most advise that always washing by hand as soon as possible after cooking is best practice.
Le Creuset's lighter inner pot enamel allows you to see food particles and any staining on its interior. This in turn probably makes you what to get that cleaned up as soon as possible. Its high-quality smooth interior makes cleaning with soap and soft scourers easy. Although Le Creuset products are dishwasher safe which is great for some I wash mine by hand. Dishwasher detergent is harsh for a reason you will notice most items cleaned in a dishwasher deteriorate over time. Le Creuset offers its own range of cleaning and maintenance products to assist with keeping your cookware looking new.
TIP: With both Staub and Le Creuset cookware it is best practice to remove the cooked food as soon as possible, clean, dry, and store it immediately. Check out this article about cleaning luxury cookware.
Storage
Cast iron products are never easy to store, they are heavy and cumbersome, enameled cast iron needs to be stored like glass to avoid chipping and cracking, especially products in this price range. I also believe psychologically once you get that thing put away safely you are less likely to want to pull it out to cook with it. SOLUTION: Keep your beautiful cookware on display and use it, or at the very least store it safely on a rack inside your oven.
Recommended read: How to store cast iron: storage solutions!
Guarantees and Warranties
Staub offers a 30-year guarantee on its cast-iron products see in-depth guarantee or warranty conditions on their website here you will also see guarantee information for other products.
Le Creuset offers a limited lifetime warranty on their cookware products. See an extensive list of warranty information as well as a Le Creuset warranty application form at their website here.
Where to Buy Staub & Le Creuset
Staub is available online and in-store you can check out their range here. Le Creuset has stores all around the world, as well as being readily available through other outlets, of course, their extensive range is available online, see that range here.
Staub Versus Le Creuset Comparison Table
Product Feature

Staub

Le Creuset

Made In
Handmade in Merville France
Handmade in Fresnoy-le-Grand France
Materials
High-quality cast iron coated with layered enamel
High-quality cast iron coated with layered enamel

Interior


Enamel Finish
The black matte finish makes it harder to monitor the browning process
The light smooth polished interior allows the cook to see the browning process

Heat Resistance

Enameled cast iron & integrated Handles – up to 500°F
Knobs – 500°F
Enameled cast iron & integrated Handles – 500°F
Knobs – Pholholic – 390°F
Knobs – Stainless – 500°F

Time to Heat

Heats up to browning temperature at medium heat within 12 minutes
Heats up to browning temperature at medium heat within 12 minutes

Handles

Not as large generous as Le Creuset (extra care needed during transport)
No brand compares to Le Creuset's generous handles. Signature Le Creuset handles 45% larger than the Classic Le Creuset
Lids
Spikes under some lids for even basting. Spikes increase cleaning time, heavy to keep moisture in.
Tight-fitting, smooth interior design, and craftsmanship keep moisture in, ribs on the external surface

Knobs

Oven safe up to 500°F, Steel with nickel/brass coated knobs
Classic Pholholic (black knob) oven-safe up to 390°F. Signature stainless steel Knob oven-safe up to 500°F (also gold & copper over stainless steel available)

Weight

Heavier than Le Creuset (extra care needed during transport)
Pots and lids are lighter than Staub's

Colors

Approximately 10 colors
Approximately 20 core colors, with limited editions, arrive and disappear all the time
Interior
Matt finish harder to see any adhered particles on the surface of the pot
Light finish to see what needs to be cleaned and a smooth finish allowing easier particle release and cleaning

Cleaning

Dishwasher safe, but handwashing recommended
Dishwasher safe, but handwashing recommended

Price

Marginally Cheaper
Slightly More Expensive
Quart Sizes Round Dutch Oven
.5, .75, 1.25, 2.75, 4, 5.5, 7, 9, 13.25
2, 3.5, 4.5, 5.5, 7.25

Quart Sizes of Oval Dutch Ovens

1, 4, 7, 8.5
1, 2.75, 3.5, 5, 6.75

Warranty

30-year guarantee
Limited Lifetime

Availability

Access store locator online to find an outlet to purchase Staub
It is estimated that there are over 500 Le Creuset stores across the world that sell this cookware. Not to mention the online representation
F.A.Q's about Staub and Le Creuset
I have compiled a few of these brands' most frequently asked questions for your convenience.
Do Chefs Prefer Le Creuset or Staub?
Depending upon the chef you talk to some choose Staub over Le Creuset, because of Staub's heavy self-basting lid and heavier cast-iron pot. Others prefer Le Creuset's ease of use: generous handles, light-colored smooth inside enamel allowing them to see their dish is progressing, also easier clean up regardless of price.
Is Staub Made in China?
Staubs website tells us that their cast-iron products are manufactured in MERVILLE, FRANCE. Staubs ceramics are made in China.
Why Is Staub Expensive?
The simple reality is that producing products in Western countries, like France and the US, is more difficult because of higher labor costs. In order to stay competitive with other manufacturers who produce their goods outside of these regions, such as China or India for example, Staub has to cover their costs.
Does Staub Last Forever?
Staub has always been a staple in the culinary community for its design, quality materials durability, and long-lasting nature. Staub sells with impressive guarantees that ensure your investment will be worth it in years to come and, with care, your investment will last long after other brands start flaking away!
Is Staub Owned by Zwilling?
Zwilling J. A. Henckels acquired Staub in June 2008, but they still operate as an independent brand to this day!
How Do You Pronounce Le Creuset?
Want to know the correct way to pronounce Le Creuset check it out…
Staub vs Le Creuset: Which is Better?
There are many people on the internet who have strong opinions about which of these two brands is better. So how do you choose? The truth is the answer depends on your needs, including your budget, both are great and you won't be disappointed with either brand.
What brand do I use? Well, I actually have and use both a small Staub cocotte and seven Le Creuset cookware pieces, including Dutch ovens, skillets, and brasiers. What can I say I just love my Le Creuset!
CHECK OUT MY FAVORITE STAUB COCOETTE (GRENADINE RED)
MY FAVORITE LE CREUSET DUTCH OVEN (INDIGO)
STAUB VS LE CREUSET: VIDEO
Do you have additional questions about Staub products? Go to the Staub website… Do you have more questions about Le Creuset products? Go to the Le Creuset webiste…
One-Pot Cooking Rocks
Thanks for the video music – Ben Sound