How to Slow Cook Without a Slow Cooker: EASY
Slow cooking is a great way to create tender and flavorful dishes. Slow cookers make it easy for anyone to enjoy this technique with just the press of a button. But what do you do if you don't have a slow cooker? Slow cooking can still be done without one!
Substitute a slow cooker with a Dutch oven, casserole dish, or other cooking pot with a lid. Then using heat from the stovetop or an oven convert the slow cooker recipe time to suit the heat source. Enjoy your slow cooker meal prepared without a slow cooker.
Disclaimer: I earn from qualifying purchases on my website as an Amazon Associate. If you purchase through links from this website, I may get a small share of the sale from Amazon and other similar affiliate programs.
If you are on the fence about needing a slow cooker and want to see an awesome range of slow cookers this page…
What Can You Use if You Don't Have a Slow Cooker?
You may be wondering what types of cooking utensils are good alternatives to the slow cooker or crockpot. The Dutch oven, stockpot, or saucepan should all work well in place of this kitchen appliance.
A Dutch oven is perfect for stews, soups, and sauces because it has high sides and a heavy fitting lid so the liquid doesn't evaporate as quickly while simmering; whereas pans like a stockpot would also do wonders when making large batches without worrying about overflow accidents.
Before planning your slow-cooked meal you must consider the type of pot and the different heat sources required to use them successfully as a slow cooker.
Cast Iron Dutch Oven
A cast-iron pot with thick iron walls, a base, and a tight-fitting lid is the original slow cooker it will work well with any slow cooker recipe. Although when using the cast-iron method you will require some knowledge about how to convert the heat settings. More on that below…
Although you can use a cast-iron pot on a stovetop this cookware thrives in a conventional oven as the pot gets blasted from the heat on all sides. These great heat conductors then self-baste due to their heavy lids.
You will not be disappointed if you substitute a slow cooker with a Dutch oven you will have authentic flavors and no leftovers…
If you want to see an awesome range of stovetop and oven-safe slow cooking pots in a variety of materials, sizes, shapes, weights, and most importantly colors check out this page…
Saucepan or Stock Pot
A heavy bottom, or even light aluminum, pot, or pan with a lid can also function as a slow cooker and is useful for recipes like soups and casseroles that use a lot of liquid to avoid scorching on the bottom. This method is perfect for the stovetop method because it's easy to adjust and regulate the heat up or down without worrying about your food burning at high temperatures.
If you want to see an awesome range of stovetop cooking pots "with lids" in a variety of materials, sizes, shapes, weights, and most importantly colors check out this page…
Lidless Cooking Pots or Dishes
With care, you can also use a deep cooking pot or even a casserole dish that does not have a lid. Then use aluminum foil securely fitted over the top as a lid. Although it can be done I would not advise using this method, purely for safety reasons. Check out my article below for more inspiration or check this awesome affordable cooking pot available in 2-qt, 4qt & 5qt sizes here.
Related read What can I use instead of a slow cooker
How to Slow Cook Without a Slow Cooker
Slow cooking is a great way to cook any type of dish but the best results come from using tough cuts of meat and legumes, and/or hearty vegetables like potatoes and carrots. Besides having the correct cooking pot on hand there are two main heat sources you can use. The stovetop that heats the pot from below needs to be watched closely and stirred during cooking. Also, an oven where the heat hits all sides makes the heat distribution more even.
Slow Cooking on a Stovetop
Slow cooking on a stovetop may seem like an easy way to cook dinner, but it can also be time-consuming. Using the right pot is key for successfully creating your dish. The pot should be large enough to hold plenty of liquid that is required. Also, so the food doesn't get burnt on the bottom while you're waiting for it to cook through in other places.
A stockpot (a large pot with two handles and a lid) is ideal because of its ability to provide direct heat without transferring excess moisture. These pans are typically made out of stainless steel or aluminum which does not react negatively when mixed with acidic ingredients such as tomatoes and wine that you might use while slow-cooking meaty dishes. This non-reaction helps prevent burning and sticking on the sides or bottom of the pot.
Once everything has been cut up into equal-sized pieces, brown any meats before adding the liquid – most recipes call for either water or broth – along with seasonings and vegetables at different times throughout the process so they remain fresh-tasting after hours spent boiling.
Then bring this mixture slowly up past boiling point before reducing heat down again until it barely simmers. Cook time will vary depending upon the recipe you have chosen. (Usually, around 45-60 minutes) Ensure you stir once or twice during the cooking time to check that ingredients are not sticking to the bottom of the pot.
TIP: Do this quickly and get that lid back on otherwise your cooking time will increase.
Slow Cooking in an Oven
Although you will use a heavy-lidded cast iron pot to slow cook in the oven you can actually use this cookware to sear and brown on a cooktop before adding the other ingredients.
This can be done by placing the Dutch oven on a stove burner for 10 minutes to bring it up to cooking temperature before adding the ingredients such as meat onions, garlic, and other herbs and spices brown while stirring for approximately 5 minutes.
After browning/sautéing you can then add other ingredients place the pot inside the oven and cook for the required time according to your recipe.
No need to stir during the cooking time as this pot will be self-basting and there is no direct heat on the bottom of the pot to cause burning.
Related read Converting Slow Cooker Times
Slow Cooker Temperature Conversions: the key to success!
How can you make sure that your recipe turns out perfectly every time? It's all about understanding and following these Slow Cooker Conversion Temperatures.
Slow Cooker to Stovetop Conversion
Low slow cooker setting 6/8 hours = high slow cooker setting 3/4 hours = 35-45 minutes on the stovetop
Low slow cooker setting 10 hours = high slow cooker setting 4/6 hours = 50 minutes on the stovetop
Slow Cooker to Oven Conversion
Low slow cooker setting 6/8 hours = high slow cooker setting 3/4 hours = 35-45 minutes in the oven
Low slow cooker setting 10 hours = high slow cooker setting 4/6 hours = 50 minutes in the oven
Related read Slow Cooking Temperatures
Final Thoughts – Slow Cooking Without a Slow Cooker
Sure, it's possible. All you need is a pot with a lid and a stovetop or oven! Not to mention the correct cooking time for your slow cooker recipes. It takes some extra time to set up the process but will save you both money and space in your cabinets for other kitchen gadgets. I hope you found this article helpful for your slow-cooking needs. If not, check out more slow cooking tips here on my website!
One-Pot Cooking Rocks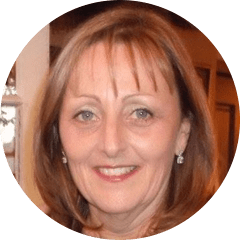 Michelle
Hi, I'm Michelle, the founder, owner, author, and editor of OvenSpot. My passion for one-pot cooking commenced when I was working to prepare cafeteria lunches for school students. I am now on a mission to assist you in choosing the cooking pot or appliance you will use daily. As well as in-depth information to assist you in using and caring for your cookware and appliances.
Questions? Reach out to Michelle at [email protected]