10 Best Utensils for Cast Iron Skillets and Cookware
Seasoned cast-Iron is one of the most versatile pieces of cookware that you can use in your kitchen or over a campfire. It can be used for cooking a wide variety of foods, ranging from fried eggs to deep-fried fries. After hundreds of years of using cast-iron people are looking for an answer to this question – What are the best utensils for cast iron?
The best spatulas and utensils for cast iron skillets, pots, and pans are made from heavy-duty stainless steel. Beveled edges assist with easy turning and prevent food from sticking and breaking up. Wide flat edges help the utensil glide over the surface preventing damage, and sturdy long handles protect the users from burns.
Disclaimer: As an Amazon Associate I earn from qualifying purchases on my website. If you make a purchase through links from this website, I may get a small share of the sale from Amazon and other similar affiliate programs.
Choosing the Best Utensils for Cast-Iron Cookware?
A cast iron skillet is one of the most used kitchen utensils among professional chefs and home cooks alike. Cast-iron pans are so popular because they can be used on high heat, unlike many other cookware types.
Seasoned cast-iron cookware has a non-stick surface that is accomplished by keeping the surface area seasoned. This seasoning not only keeps the cooking area non-stick but also protects the cast iron skillet itself from rust and corrosion.
This means that selecting the correct utensils not only protects the cooking surface but prevents your food from sticking and burning on its surface over a longer period of time.
Consider these 4 things when choosing utensils to use on any cast-iron surface;
1. Stainless Steel vs Hardened Stainless Steel
You should always choose hardened stainless steel over stainless steel when using cast iron cookware this is why. Cast iron is not regular cookware it is harder than stainless steel. Stainless steel is too soft to be used as an everyday tool because it will damage the surface of your iron pots and pans. The surface could lose its nonstick properties as well as be open to rust and corrosion. Not to mention the damage the utensil will sustain.
2. Utensil Design
To avoid food sticking and a utensil damaging the surface of the iron a beveled flat scraping edge will give you the best chance of lifting your food cleanly every time. The utensil's flat edge will also keep your cookware's surface smooth and level, thus helping you retain a non-stick undamaged cooking surface.
3. Ease of Use
You want a utensil that is not too flexible so you can cleanly manage your food is a must. You should also have a utensil that can be rested against the side of the hot pan if required. One made from hardened stainless steel with a quality wooden handle will achieve this for you.
4. Safety
Safety is important when choosing your utensil. Cast iron gets hot, so depending upon the cooking pots' size, shape, and depth, you may require long-handled utensils. A sturdy well-made utensil that can carry the weight of the food items being turned or stirred as well as a wooden handle to stop you from getting burnt is a must.
Best Utensils to Use on Cast-Iron (Seasoned)
Know you know what to look for here are my top choices for the best utensils for cast iron skillets and cookware.
Best Spatula for Cast-Iron
Mercer Culinary's Rosewood Handle Heavy Duty Turner is made of the highest quality Japanese stainless steel. Precision ground for the perfect combination of flexibility and stiffness, this turner will not break under pressure.
The handle is secured with brass compression rivets to prevent separation and provides a comfortable, natural grip. This rosewood-handled spatula protects your hands from excessive heat and has a limited lifetime warranty.
Clean with dish soap, scrub brush, and hot water to maintain the gorgeous rosewood handle of this utensil.
This range is not limited to this heavy-duty spatula check out the large range of utensils by visiting the exclusive Mercer Culinary Store.
Best Heavy-Duty Spatula for Cast-Iron
The Mannkitchen spatula is heavy-gauge steel designed to withstand the toughest cooking tasks. The straight edge allows for even cast-iron skillet surface leveling, while the precision beveled edge releases food with ease! It can be used to flip pancakes, eggs, or burgers without breaking them apart!
It is perfectly balanced and weighted for smooth scraping and easy maneuvering, so it won't flex when you need to scrape the bottom of a heavy cast-iron skillet or grill. Continuing the ease of use the handle is made from heat-resistant hardwood.
After years of use, cast iron skillets can develop uneven cooking surfaces that make it difficult to get an even sear on your meat or vegetables. This heavy-duty stainless steel spatula is designed with a wide surface area and perfectly flat edge to level out these cooking surfaces so you can achieve restaurant-quality sears every time!
Best Tongs for Cast-Iron
Universal US Grill-A-Tongs Stainless Steel BBQ Tongs are perfect for grilling, roasting, and serving. The tongs feature unique laser-cut designs including USMC Globe & Anchor, US Army, Police, Sherriff Department, Firefighter, and Camo Buck.
The heavy-duty high-quality stainless steel is accentuated with hard maple handles and durable brass rivets. Your hands are safe from excessive heat with the unique fully enclosed maple handles.
Included is a built-in bottle opener. The tongs are dishwasher safe and will not rust or peel, even after years of use.
Utensil Sets for Cast-Iron
The Anmarko Stainless Steel Spatula Set is a must-have for every kitchen. Whether you are a professional chef or a cooking amateur, this spatula set will become your favorite cooking utensil. They are made from sturdy stainless steel – it is non-reactive, hygienic, and durable. The spatula's stainless steel blade thickness is 1/25 inch.
The Anmarko set includes a Teppanyaki spatula, hamburger turner, flat pancake flipper, fish turner, and griddle scraper are great BBQ Grills as well as flat-top cast iron griddles.
The sleek stainless steel blades glide easily through the food while an ergonomic and comfortable hardwood handle provides a comfortable grip and balance. The flat spatulas and stainless steel turners are very well balanced. This metal spatula set is handwash only.
These durable long-lasting utensils will make it easy to flip any pancake or grill anything and are perfect for cast iron cooking surfaces.
Wooden Utensils for Cast-Iron
Wooden spoons or spatulas – These won't hurt the surface of your iron and provided they are sturdy enough you will be able to use them to cook with as well as scrape the surface of your pan and in the groves of your cast-iron skillet.
That being said the Earlywood 10-inch handmade multi-purpose wood scraper/turner glides easily over the toughest brands of cookware like Griswald and Wagner cast iron cookware. The smooth finish of the four types of sustainable wood that are harvested responsibly right here in the USA will have even eggs sliding off it.
This wooden cooking utensil is perfect for all your cooking requirements from cast iron griddles, and skillets, to Dutch ovens as the design is easy to handle. Feel safe, before purchasing, in the knowledge that this Montana company offers a lifetime warranty on their wooden utensil.
Vintage Cast Iron Utensils
These are the traditional hand-made spatula and ladles made from iron. Moderate length and weight, size:16.5"/0.5lb for the spatula and 16.5"/0.54lb for the ladle. The manageable size of both the spatula and ladle make turning and flipping easy.
The iron is made with a combination of nitrogen and metal that produces a dense nitride layer, which is rust-proof and wear-resistant and does not produce toxic substances at high temperatures.
It comes with a rosewood handle that is fixed at the end of the hollow iron handle by copper nails. It prevents liquid from entering the hollow iron handle for easier cleaning and better protection against rust.
Must read before purchasing accessories you do not require – Ultimate Guide to Cast-Iron Accessories.
Can You Use Metal Utensils With Enameled Cast Iron?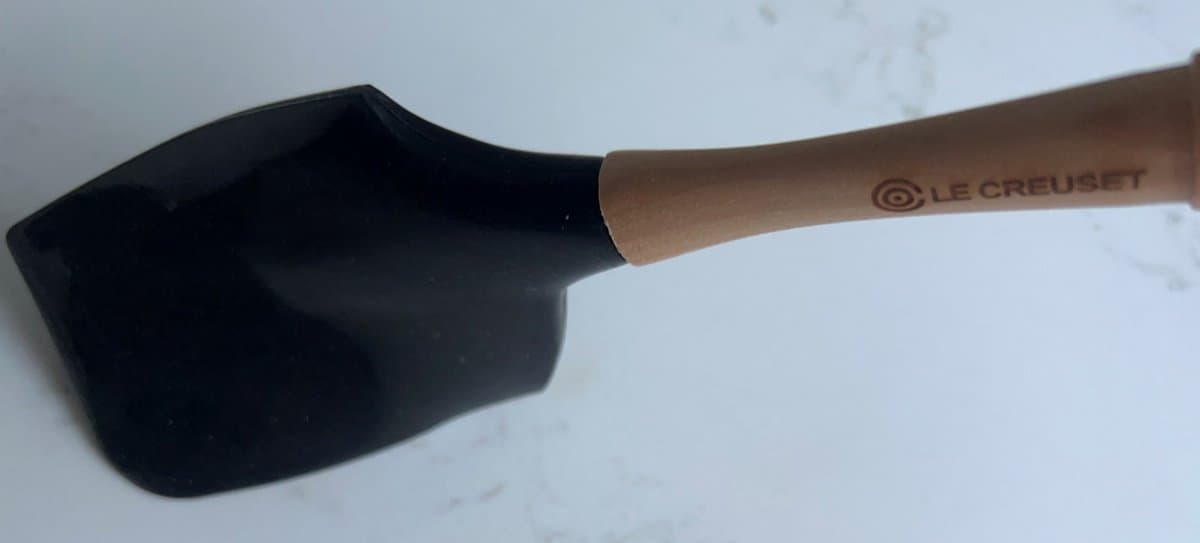 You can use metal utensils with enameled cast iron. In doing so you will scratch or chip the surface of the enamel making it less nonstick. Potentially the surface could leach metal into food or a cookware surface that corrodes and rusts.
Avoid using stainless steel utensils such as steel whisks, and sharp knives even a metal spoon can easily damage your pan's surface compromising the protective enamel layer.
Wooden spoons and silicone spatulas are gentle on the enamel surface of the cookware and will keep your cookware surface nonstick for a long time.
In the image above I am applying a great deal of pressure to my large Le Creuset Silicone spatula and it bearly bends. These kitchen utensils are top quality and will stand up to any cast iron pan.
Best Utensils for Enameled Cast Iron Cookware
Premium enameled cast iron cookware brands like Le Creuset and Staub provide a range of utensils that are specifically designed for their cookware. These tools are made from materials that won't cause any damage to the interior enamel layer and will last you for years.
Le Creuset Wooden Spoon
Le Creuset Silicone Spatula
Staub Olivewood Spatula
Staub Silicone Spatula
Tip: Beware plastic spatulas may be described as "heatproof or heat resistant', it is doubtful that they can withstand the high temperature of a cast iron frying pan.
FAQs
Common questions about the best utensils to use on cast iron cookware.
What kind of spatula should you use on cast iron?
Stainless steel spatulas glide easily across seasoned cast iron. They are lightweight and durable and a good quality wooden handle protects hands from heat.
Can I use a steel spatula on cast iron?
One of the most common questions I get above all others is whether can I use a steel spatula on my cast-iron pan. According to Lodge Cast Iron, which is among the top manufacturers of cast-iron products in the world, you can use metal utensils, among others on cast-iron cookware.
Can you use a metal scraper on cast iron?
We are told that cast iron is durable and tough! So can you use steel wool or a metal scrubber to clean your cast iron pan?
No, do not! It is recommended that we use a pan scraper, scrub brush, or chainmail scrubber (Lodge Chainmail Scrubber) to remove any stuck-on residue.
Steel wool and other abrasive materials will compromise the non-stick surface of the iron and should only be used on "unseasoned" pans which need rust removed before re-seasoning.
Cast-iron and RUST removal – learn more about it in this OvenSpot article.
Can you use plastic utensils on cast iron?
Avoid using plastic utensils on cast iron because even cast-iron heated at a very low temperature will melt the plastic. Apart from the potential dangers, you will ruin the non-stick properties of the cookware.
Cast iron is a porous material so the plastic will melt into the pores and potentially partially or fully dry; hence a massive cleanup job and a full pre-season. These cooking utensils should be avoided when using cast iron.
Can I use rubber or silicone utensils for cast-iron cooking?
I would say that you should not use rubber, silicone, or any other mix of similar materials on cast iron. Seasoned cast iron cookware can reach temperatures of 700° Fahrenheit.
The closest rubber or silicone/rubber blend utensil that I have found that can withstand temperatures anywhere near 700° Fahrenheit is this 600 F heat-resistant rubber silicone spatula (Amazon).
The best utensils are wooden utensils or stainless utensils.
What is the best oil to season cast iron?
A good question! Many types of cooking oils and fats can be used for seasoning, the best one is one that has a very high smoke point. Two oils that offer the best smoking point are both vegetable oil Grapeseed Oil and Flaxseed oil. These oils can be expensive so you should always consider the affordability, availability, the effectiveness of the fat or cooking oil you choose.
MUST-READ – my article with a complete breakdown of the best oils for seasoning cast iron. Another great read is this article about "What should not be cooked in cast iron". Practicing the tips in this article saves the "Patina" or non-stick surface of your cast iron.
Wrapping Up – What Utensils Can Be Used on Cast-Iron?
As we've learned, there are many utensils that can be used on cast iron and enamel cast iron surfaces. From wooden spatulas to metal tongs and rubber scrapers, you have a variety of options for cooking your food.
The best option is not to use anything abrasive or sharp when it comes in contact with the surface of your cookware because this will scratch the finish and may also damage its nonstick coating over time. Remember these pointers next time you're preparing dinner!
One-Pot Cooking Rocks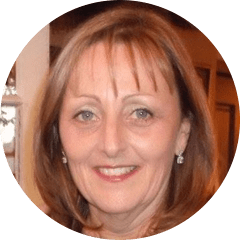 Michelle – Author
Hi, I'm Michelle the founder, owner, author, and editor of OvenSpot. My passion for one-pot cooking commenced when I was working to prepare cafeteria lunches for school students. I am now on a mission to assist you in choosing the cooking pot or appliance you will use every day. As well as in-depth information to assist you in using and caring for your cookware and appliances.
Questions? Reach out to Michelle at [email protected]