Does Cast Iron Rust? (Remove Rust from Cast Iron Skillet)
Cast iron, a versatile and popular material for cookware, has its advantages and drawbacks. One concern you might have is whether cast iron rusts or not.
Yes, cast iron can rust. It happens due to the presence of iron in the alloy, which reacts with oxygen and moisture to form rust. To prevent rust seasoning needs to be maintained to keep your cast iron cookware rust-free.
Understanding the properties of cast iron and taking good care of your cookware will help you enjoy its benefits without the headache of rust.
There are effective ways to prevent and remove rust from your cast iron items. So, let's explore how to maintain your cast iron items and keep rust at bay.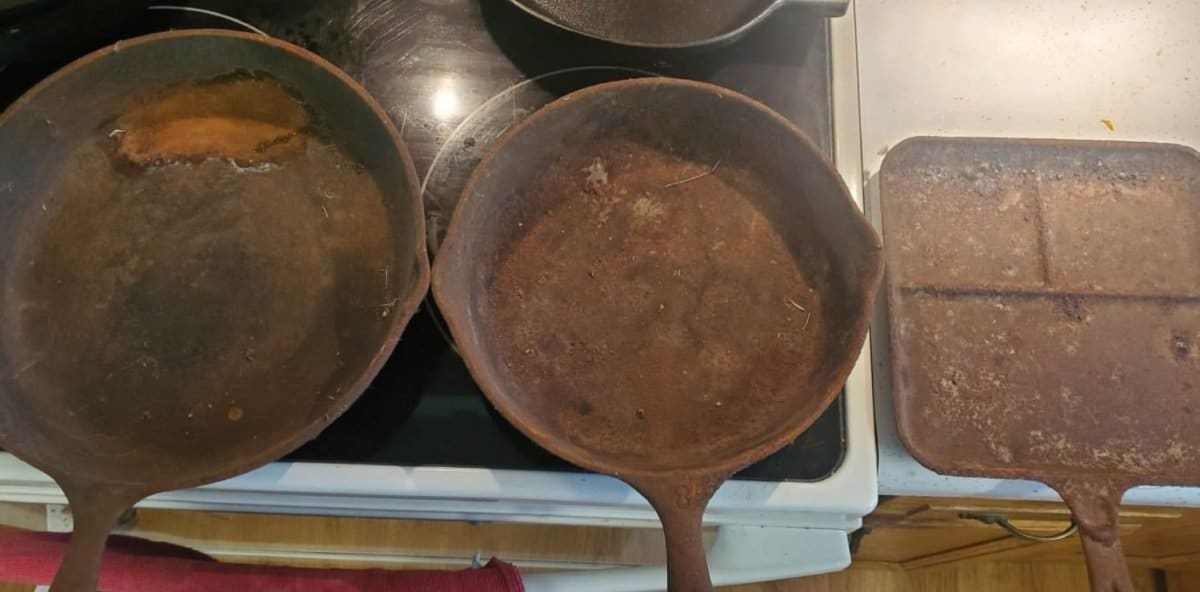 Identifying a Rusty Cast Iron Skillet or Pan
Rust occurs when iron reacts with oxygen and moisture, and your cast iron cookware is no exception. If you notice any discoloration or spots on your cast iron skillet, it may be a sign of rust.
But don't worry! You can deal with it and get your skillet back in shape. Here's how you can identify rust on your cast iron cookware.
Look for any orange or brownish spots on your cookware. These spots are the most obvious signs of rust. The appearance of rust can vary, from small spots to larger patches. Keep in mind that the rust spots can appear more noticeable on a rusted cast iron skillet with a darker or well-seasoned surface.
Feel the surface of your cast iron. Rust often creates a rough texture, so if you run your fingers over the affected area and it doesn't feel as smooth as the rest of the pan, it's likely to rust. Don't confuse this rough texture with the natural texture of some cast iron surfaces, which can be slightly rough due to manufacturing processes.
Pay attention to any changes in your food's taste or appearance. If your meals cooked in a rusty cast iron skillet have a metallic taste or show signs of discoloration, it may be due to rust on the cooking surface. This is especially crucial if you notice these changes soon after purchasing a new cast iron or restoring an old one.
It's important to address rust as soon as you spot it. If left untreated, it can continue to grow and weaken your cast iron, eventually causing irreversible damage.
Removing Rust from a Rusty Cast Iron Skillet
If you find your cast iron skillet has developed some rust, don't worry! It's not the end of your favorite pan. You can easily remove rust from a cast iron skillet with some simple tools and a bit of elbow grease.
When dealing with rust, the first step is to clean your cast iron and scrub the affected areas with steel wool, chainmail scrubber, or a similar abrasive pad. You can also try using a copper pad or non-metal abrasive products, like Brillo or SOS, to remove rust. If the rust is particularly stubborn, feel free to add a little water and some mild dishwashing soap while you scrub away the rust.
If you prefer a more natural alternative, using coarse salt as your scrubber can also help remove rust and other debris from the skillet. Simply mix the coarse salt with a bit of water or oil to form a paste, and then scrub the pan with a sponge or stiff brush.
Once you've removed all the rust, it's important to wash your cast-iron skillet with warm, soapy water to get rid of any remnants. Make sure to dry your skillet completely with a paper towel or lint-free cloth, as leftover moisture can cause more rust to form.
To protect and maintain your cast iron skillet from rusting again, it's crucial to re-season it. Simply coat the pan with a very thin layer of seasoning, and then bake it in an oven at 350°F for about an hour. When done, let the pan cool and store it in a dry spot.
Cleaning and Drying Your Pan
Taking care of your cast iron pan is essential for maintaining its longevity and preventing rust. Here's a friendly guide to help you clean and dry your pan effectively.
Wash your pan with warm, soapy water using a soft sponge or brush. Avoid using harsh scrubbers or steel wool, as they can damage the pan's seasoning. For stubborn food residue, use a plastic scraper or a non-abrasive scrub pad.
You only need a small amount of dish soap, as too much may remove the pan's seasoning. If your pan is particularly dirty, try soaking it in warm, soapy water for a few minutes before scrubbing.
Once your pan is clean, it's crucial to dry it thoroughly. Make sure to wipe it down with a lint-free cloth or paper towel, paying attention to every nook and cranny. This step is essential to prevent rust, as the moisture left on the pan can encourage rust formation.
It's a good idea to heat the pan on a low-heat burner on your stovetop for a few minutes. The heat will evaporate any remaining moisture and help maintain the seasoning.
Reseason Your Cast Iron Cookware
Maintaining your cast iron skillet involves seasoning, cleaning, and reseasoning when necessary.
1. You'll need to clean your pan thoroughly. Contrary to popular belief, it is acceptable to use a little soap in this case since you're preparing to reseason the pan.
2. Scrub the entire pan as well in warm, soapy water, and use a nylon scrub brush or fine steel wool scrubber to remove any rust or buildup.
3. After cleaning, make sure to completely dry your cast iron skillet. Disregard any lint or paper towel residue, as this could affect the seasoning process. Preheat your oven to 350°F (175°C) while you proceed with the next step.
4. Apply a thin layer of oil to the entire skillet, including the handle and the bottom. You can use any type of vegetable oil or shortening, but flaxseed oil and grapeseed oil are popular choices for their high smoke points. Don't worry about using too little oil; a thin coat is all that's needed.
5. Place the skillet upside down on the middle oven rack and let it bake for one hour. Be sure to put some aluminum foil or a baking sheet on the lower rack to catch any dripping oil.
6. Bake for an hour, and allow it to cool in the oven for about 30 minutes to an hour. then carefully remove your skillet from the oven (using oven mitts!). Once your skillet is cool enough to handle, carefully take it out of the oven.
Your newly reseasoned cast iron cookware is now ready for use! Remember to repeat this process whenever your pan shows signs of rust or its seasoning begins to wear off.
Restoring Severely Rusted Cast Iron
Don't worry if you've found your beloved cast-iron cookware covered in rust. With a little effort and care, you can easily restore it to its former glory. In this process, we'll be using household items like vinegar and steel wool to remove stubborn rust.
Prepare a vinegar solution by mixing equal parts of white vinegar and water. This mixture will help break down and dissolve the rust. Place your rusted cast iron in the solution, making sure it's fully submerged.
If the rust is localized to a specific area, you can also apply the vinegar solution only to the affected parts.
Allow your cast iron to soak in the vinegar solution for at least an hour, or until the rust has visibly loosened. Be careful not to leave it soaking for too long, as excessive soaking can cause damage to the iron.
Once the rust has loosened, gently scrub the affected areas with a stiff brush or steel wool. This will remove any remaining rust.
After scrubbing, rinse the cast iron thoroughly with clean water and pat it dry with a towel. Make sure it's completely dry before proceeding to the next step, as any residual moisture can cause further rust.
Now it's time to re-season your cast iron. Preheat your oven to 350°F (180°C). Apply a thin layer of vegetable oil or another suitable seasoning oil to the entire surface of the cast iron, inside and out.
Place the cookware and pan upside side-down on the middle rack of your oven, placing a piece of aluminum foil or a baking sheet on the rack below to catch any drips.
Bake the cast iron for about an hour. Once it's done, carefully remove it from the oven, making sure to use oven mitts or a thick towel, as the cast iron will still be hot. Let it cool on a heat-resistant surface.
Congratulations! Your trusty cast-iron cookware is now free from rust and ready for use once again. Remember to maintain your cast iron by cleaning and seasoning it regularly to prevent rust from re-forming in the future.
Additional Tips for Maintaining Cast Iron
Caring for your cast iron skillets and other cookware is crucial to keep them in great shape and rust-free. Here are some friendly tips to help you maintain your cast iron pieces.
1. Regularly season with oil: After washing your cast iron skillet, dry it thoroughly and apply a thin layer of vegetable oil or cooking oil. This helps create a more protective layer and barrier against rust. Remember to remove excess oil with a paper towel or cloth.
2. Avoid high-moisture storage areas: Storing your cast iron cookware in damp areas can lead to rust formation. Instead, find a dry place, like the bottom rack of your cupboard, to store your skillets and Dutch ovens.
3. Use low heat to dry: After washing your skillet, place it on low heat for a few minutes to ensure it's completely dry. This prevents moisture from staying on the pan's surface, which could cause rust over time.
4. Regularly inspect for rust: Keep an eye on your cast iron pieces and look for any signs of rust. If you spot rust, scour the affected area with steel wool or a wire brush first, then rinse it clean and re-season it with oil.
5. Avoid soaking the cookware: It's best not to leave your cast iron cookware soaking in water, as prolonged exposure to moisture can cause rust. Instead, wash it promptly after use, and remember to dry and oil it properly.
By following these tips, you'll keep your cast iron skillets and Dutch ovens in perfect condition and enjoy their culinary benefits for many years to come.
Foods to Avoid Cooking in Cast Iron
Cast iron cookware is a versatile and reliable choice for various types of cooking. There are certain foods that you can avoid preparing in your cast iron skillet to maintain its longevity and prevent rusting.
Avoid cooking acidic foods in your cast iron cookware. Acidic ingredients such as tomatoes, lemon juice, or wine can damage the seasoning and cause the cast iron's nonstick surface to leach into your food, which can affect the taste as well as potentially harm the pan's surface. Instead, use nonreactive cookware like stainless steel or enameled pots for preparing acidic dishes.
Avoid cooking delicate or sticky dishes. The cast iron's surface may not be nonstick enough to handle foods like eggs, fish, or certain types of pasta. It's better to use a nonstick pan for these dishes to ensure easy release and preservation of your cast iron seasoning.
By being mindful of the foods you cook and following proper care techniques, you can enjoy the many benefits of cast iron cookware while protecting it from rust and preserving its quality for years to come.
FAQs
Is rust on cast iron harmful?
While rust on cast iron cookware is not directly harmful to your health, it can affect the taste and quality of your food. Light surface rust can generally be removed and the pan restored to its original condition. Heavily rusted pans with deep pits may be beyond repair and should be replaced.
How can I prevent rust on cast iron?
To prevent rust on your cast iron cookware, always keep it well-seasoned, avoid soaking it in water or putting it in the dishwasher, and dry it thoroughly after each use. Store your cookware in a dry area and avoid moisture-prone environments. You can also place a paper towel between stacked pans to absorb any excess moisture.
What is the best method for rust removal on cast iron?
The best method for removing rust from cast iron is by using a mix of vinegar and water. For minor surface rust, you can simply scour it off with a scrubber or sponge. For more persistent rust, soak the cookware in a 50/50 solution of vinegar and water for an hour before scrubbing. Be sure not to leave the cast iron in the vinegar solution for too long, as it can further damage the cookware.
How quickly does cast iron rust form?
Cast iron rust can form quite quickly if the cookware is not properly cared for. Factors influencing the speed at which rust forms include the level of humidity, how well the pan is seasoned, and how it's stored. Rust can begin to form in as little as a few hours if the cast iron is left exposed to water or moisture.
Can rust be removed with salt on cast iron?
Yes, rust can be removed from cast iron using coarse salt and a brush or sponge for light surface rust. Simply scrub the cookware with salt and a little water to remove the rust. For more severe rust issues, the vinegar and warm water-only method mentioned earlier would be more effective.
Will cast iron rust if left submerged in water?
Absolutely. Cast iron is highly susceptible to rust when it comes into contact with water. Submerging your cast iron cookware in water or leaving it to soak can accelerate rust formation. To minimize this risk, avoid soaking your cookware and always dry it thoroughly after washing.
Wrapping Up: Does Cast Iron Rust?
When it comes to cast iron, it's important to be aware that it can indeed rust. This occurs due to a chemical reaction called oxidation when iron is exposed to moisture or oxygen, resulting in the formation of iron oxide which has a reddish, flaky appearance that worsens over time.
To keep future rust and keep your cast iron items in top condition, always clean and dry your cast iron pieces thoroughly after using them. Moisture left on the surface can accelerate the rusting process. If rust appears restore and preseason before cooking with the pan.
By being proactive in your approach towards caring for your cast iron and understanding the factors that contribute to rust formation, you can enjoy your cast iron pans for many years to come.
One-Pot Cooking Rocks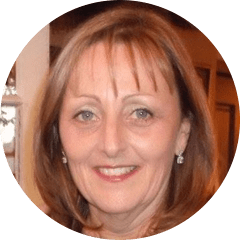 Michelle – Author
Hi, I'm Michelle the founder, owner, author, and editor of OvenSpot. My passion for one-pot cooking commenced when I was working to prepare cafeteria lunches for school students. I am now on a mission to assist you in choosing the cooking pot or appliance you will use every day. As well as in-depth information to assist you in using and caring for your cookware and appliances.
Questions? Reach out to Michelle at [email protected]