Is Vintage Cast Iron Better Than New? (Comparison)
Cast iron cookware has been a staple in kitchens for centuries, and for good reason – it's versatile, durable, and when cared for properly, can last for generations. But is vintage cast iron better than new?
Vintage cast iron collectors and kitchen aficionados often praise the quality and craftsmanship of older pieces, which tend to have smoother and more even cooking surfaces compared to their modern counterparts.
This is due to the different manufacturing processes used in the past, which often resulted in a finer finish. Many people believe that these older pieces offer better heat distribution and a more reliable non-stick surface than newer pans, thanks in part to the established seasoning that builds up over time.
That being said, new cast iron cookware, from brands like Lodge and Camp Chef, still provides excellent performance and durability. While the cooking surface may not be as smooth as a well-seasoned vintage piece, with proper care and seasoning, new pans can become just as dependable.
As you explore the world of cast iron, you might find yourself considering whether to invest in a vintage piece or opt for something brand new off the shelf. You need to weigh the pros and cons of both vintage and new cast iron to determine what works best for you and your cooking needs.
Disclaimer: As an Amazon Associate I earn from qualifying purchases on my website. If you make a purchase through links from this website, I may get a small share of the sale from Amazon and other similar affiliate programs.
Vintage vs New Cast Iron Cookware
Here is a table listing some of the notable vintage and modern cast iron manufacturers. The availability of products from these manufacturers can vary depending on your location.
| | Vintage Cast Iron Manufacturers | Modern Cast Iron Manufacturers |
| --- | --- | --- |
| United States | Griswold, Wagner, Lodge (still in operation), Erie, Wapak | Lodge, Field Company, Butter Pat Industries, Smithey Ironware Co., Stargazer |
| Europe | Cousances, Le Creuset (still in operation), Skeppshult (still in operation) | Le Creuset, Skeppshult, de Buyer, Staub, Petromax |
| Asia | Iwachu (Japan, still in operation), Nambu Tekki (Japan) | Iwachu (Japan), Vermicular (Japan), Oigen (Japan) |
History of Cast Iron
Cast iron has been a popular cooking material for centuries, but there's been a debate surrounding vintage cast iron cookware versus new cast iron cookware. Here's a look at the history of cast iron to help you understand the differences and determine which may be best suited for your cooking needs.
In the late 19th to mid-20th century, vintage cast iron cookware was made with exceptional quality and craftsmanship.
These pieces were generally hand-crafted, resulting in smoother and lighter cooking surfaces compared to mass-produced options available today. Vintage or antique cast iron cookware, or the "old cast iron," typically refers to anything produced before 1957.
New cast iron cookware, manufactured mainly through automated processes, can be a cost-effective alternative for those who want to experience the benefits of cooking with cast iron without breaking the bank.
Some users claim old cast iron skillets are better than new ones, but there are certain aspects in which new cast iron pans might be more suitable for beginners or those on a budget. For instance, modern cast iron cookware often comes pre-seasoned, making it easier for first-time users to start cooking right away.
When comparing vintage and new cast iron cookware, there are a few key factors to consider.
Vintage cast iron usually has a smoother cooking surface, allowing for better heat distribution and more consistent results.
It's also often lighter in weight, making it easier to handle while cooking, and vintage pieces can be more expensive and harder to find.
On the other hand, new cast iron cookware is more affordable and widely available, but the cooking surface might be rougher and heavier than its vintage counterparts.
Vintage Cast Iron vs New Cast Iron Cookware: Comparison Table
Use this quick comparison chart when considering vintage or new cookware. Remember that quality can vary significantly between different manufacturers, and individual pieces of cookware may not fit the points below.
| | Vintage Cast Iron Cookware | Modern Cast Iron Cookware |
| --- | --- | --- |
| Weight | Typically lighter due to thinner walls and base. | Generally heavier because of thicker walls and base. |
| Smoothness | Tend to have a very smooth cooking surface, as they were often polished after casting. | Most have a rougher surface because they typically aren't polished after casting. |
| Heat Retention | Excellent heat retention, but slightly less than modern ones due to their thinner structure. | Excellent heat retention, arguably better than vintage ones due to their thicker structure. |
| Heat Distribution | Good heat distribution, but can have hot spots due to thinner walls. | Generally, good heat distribution and thicker walls might help to reduce hot spots. |
| Craftsmanship | Often considered to have superior craftsmanship with attention to details. | Often considered to have superior craftsmanship with attention to detail. |
| Availability | Limited availability, primarily found in antique stores, online marketplaces, or inherited. | Widely available, can be purchased new in many stores and online. |
| Price | Can be more expensive due to their rarity and demand among collectors. | Usually less expensive, but high-quality modern cast iron can also be pricey. |
| Maintenance | Requires regular seasoning and careful cleaning to maintain the cooking surface. | Requires regular seasoning and careful cleaning, but some come pre-seasoned. |
Manufacturing Differences
Mold and Production Methods
When comparing vintage and modern cast iron, one of the key differences lies in their manufacturing processes.
Vintage cast iron, like those from Griswold, Wagner, and Wapak, was made using sand-based molds, which typically produced smoother surfaces. This is one reason why vintage cookware is often sought-after among cast iron enthusiasts.
In the early 1900s, many foundries employed a polishing step that contributed to the smooth finish of vintage cast iron. As a result, these pans had thinner walls and lighter weights than their modern counterparts.
Over time, manufacturers began using mass production methods, making it harder to control the quality of each piece.
On the other hand, modern cast iron often uses automated production methods. While this allows for greater efficiency, the resulting modern cookware tends to have a rougher surface compared to vintage pieces made with sand-based molds. This is due to the omission of the polishing step during current production processes.
You can still find modern cast iron cookware with some of the qualities vintage pieces are prized for. Brands like Lodge offer pre-seasoned pans with a slightly rough surface, which might not compare to the smoothness of vintage items but can still provide a great cooking experience.
One notable advantage of modern cast iron is the increased awareness of potentially harmful materials like Teflon. Manufacturers today prioritize creating cookware that is free of these chemicals, ensuring a safer and healthier cooking experience for you and your family.
Design and Weight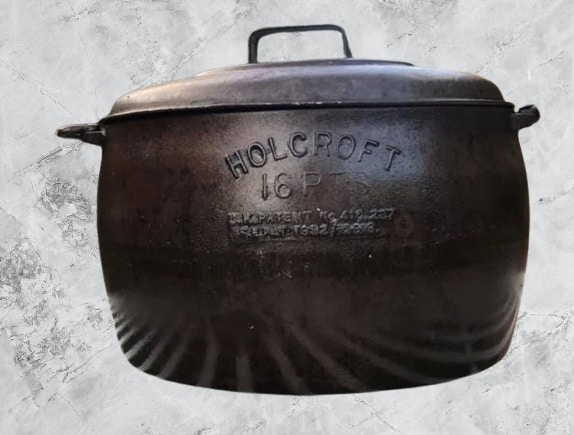 When comparing vintage pans and modern cast iron cookware, one of the key differences lies in the design and weight.
Vintage cast iron pans, such as old cast iron skillets have a reputation for being better than their modern counterparts.
Vintage cast iron pans are often lighter in weight and have thinner walls, making them easier for you to handle during cooking.
This also helps with heat distribution and responsiveness, ensuring that your food cooks evenly.
The cooking surface of vintage cast iron pans is also smoother, as they were typically finished by hand. This means that foods are less likely to stick to the surface, making your cooking experience more enjoyable.
Most modern cast iron cookware, such as Lodge, is made with thicker walls and is generally heavier. While this can be beneficial for heat retention, it can also make the pan more prone to warping and cracks.
Modern cast iron pans are not usually finished by hand, resulting in a rougher cooking surface that may need more seasoning before use. Companies like Lodge and other manufacturers are still known to produce high-quality cast iron cookware, providing great performance and durability.
You should consider your cooking preferences and needs when choosing between a vintage and a new cast iron pan. If you prefer lighter cookware with a smoother surface, a vintage cast iron pan may be a better fit for you.
If you're looking for cookware with higher heat retention and don't mind the extra weight, a modern cast iron pan made by a reputable brand like Lodge could be your ideal choice.
Cooking Performance
When it comes to cooking with a cast iron skillet, there are two main factors that contribute to its performance – the cooking surface and the non-stick properties.
Cooking Surface
The cooking surface of a cast iron skillet is crucial for getting the desired results. Vintage cast iron skillets, especially those from the late 1800s to early 1900s can have a smooth cooking surface that gives you better heat distribution and even cooking. This smooth finish is often preferred by experienced cast iron users because it's better for frying and searing.
On the other hand, a new pan, such as a Lodge, might have a pebbly surface. This is due to the modern manufacturing process, which doesn't provide the same smooth finish as the old ones. A pebbly surface might take a little longer to heat up and may not offer the same even cooking results, but it is still very functional for most applications.
Non-Stick
One of the major advantages of cast iron cooking is its non-stick properties. A well-seasoned cast iron skillet should be able to cook with minimal oil or sticking. This depends on how the skillet is seasoned and maintained.
Antique cast iron might come pre-seasoned or have a seasoning built up in an antique pan over years of use that can't be replicated by simply purchasing a new pan. These pans can offer a very non-stick surface due to the layering of seasoning.
New cast iron skillets, on the other hand, might need more initial seasoning, and re-seasoning over time to achieve optimal non-stick results. Nevertheless, modern cast iron retains seasoning just as well as vintage if you season and maintain it properly.
Regardless of whether you choose a vintage or modern cast iron skillet, it's important to take care of it by using the right amount of oil in the pan, cleaning it properly, and continuing to season it as needed.
Pro Tip: You should avoid purchasing and using warped pans as they are more likely to heat unevenly on the stovetop.
Seasoning and Maintenance
When it comes to vintage and new cast iron cookware, the seasoning process and maintenance are crucial factors that affect their performance and durability. In this section, we will discuss the seasoning process, cleaning, and care for both kinds of cast iron.
Seasoning Process
The seasoning process for vintage and modern cast iron can differ slightly. For vintage cast iron, it's essential to remove any old seasoning and rust before re-seasoning the pan.
This can be done using various methods like oven cleaner, lye, vinegar, or even electrolysis. Once the pan is clean and dry, you can begin the re-seasoning process with your choice of oil or fat.
Modern cast iron skillets often come pre-seasoned, but you might want to season them further to enhance their non-stick properties.
The key to proper seasoning is to apply a thin layer of oil or fat to the entire surface of the skillet and then heat it until it reaches the oil's smoke point.
This process polymerizes the oil, creating a durable, non-stick coating on the cast iron surface. It is recommended to repeat this process multiple times to build up a resilient layer.
Cleaning and Care
Proper cleaning and care are essential for both vintage and new cast iron cookware to maintain their functionality and prevent damage. Always avoid using harsh chemicals and abrasive scrubbers, as these can remove the seasoning and damage the surface of your skillet.
Instead, use a flat spatula or a soft cloth to remove food particles from the pan. If you encounter stubborn residue, you can use a small amount of coarse salt or baking soda as a mild abrasive. Rinse the skillet with warm water and thoroughly dry it before storing it away.
Avoid soaking your cast iron cookware in water for extended periods, as this can lead to rust. If rust does form, gently remove it using steel wool or a similar abrasive and then re-season your cookware as needed.
By taking the time to care for your cookware, you can ensure that it stays in optimal condition and retains its non-stick properties.
What Cookware is Manufactured in the USA?
Want to support local manufacturers by purchasing cookware and kitchen products that are made in the USA? These articles I have written, and keep up to date, will help you find the brands and products that are made in America.
FAQs: Cast Iron Pans
Why are vintage cast iron skillets smoother?
Vintage cast iron skillets are smoother because of their manufacturing process. In the past, manufacturers polished the skillets' surfaces after casting, resulting in a smooth, non-stick surface. This polishing process is less common nowadays, making old cast iron skillets more desirable due to their smooth surface.
How does cast iron cookware improve with age?
Cast iron cookware improves with age because of the seasoning process. As you cook with your pan, it develops a natural non-stick coating known as seasoning. This coating builds up over time, providing enhanced non-stick properties and better heat retention. This makes old cast iron pans more desirable, as they have already developed a well-established seasoning from years of use.
What makes vintage cast iron valuable?
Vintage cast iron is valuable because of its smooth cooking surface, craftsmanship, and rich history behind each piece. The smoother surface allows for better non-stick properties, and the overall build quality of vintage pieces is often higher than that of newer counterparts. Collectors and enthusiasts appreciate the history and artistry that come with this vintage cookware.
Are there any disadvantages to using cast iron cookware?
While cast iron offers many benefits, there are some drawbacks. The pans are heavy and can be cumbersome to handle. They also require careful maintenance, such as regular seasoning, and avoid soaking in water to prevent rust. Despite these drawbacks, many home cooks still appreciate the unique cooking qualities of cookware.
How does cast iron compare to non-stick cookware?
Cast iron pans have excellent heat retention, providing evenly distributed heat for cooking. They can be used at high temperatures, making them ideal for searing and baking. Non-stick cookware offers easy food release and cleanup but doesn't retain heat as well as cast iron. Cast iron is more durable and long-lasting compared to non-stick options.
What are some popular cast iron skillet brands?
There are many popular cast iron skillet brands, both vintage and modern. Some well-known vintage brands include Griswold, Wagner, and Wapak Hollow Ware. More recent manufacturers, such as Lodge, Le Creuset, and newer cast iron enthusiasts like Field Company and Smithey Ironware, offer high-quality skillets as well.
Wrapping Up: Is Vintage Cast Iron Better Than New?
When it comes to choosing between vintage and new cast iron, there are some factors you may want to consider.
Vintage cast iron often carries the advantage of being passed down through generations, meaning it has gained a better seasoning through years of use.
This gives it a superior non-stick surface, making cooking a breeze. On the other hand, a new cast iron frying pan might require more time and effort to build up a good seasoning.
Another point to consider is the quality and craftsmanship of older cast iron. Vintage pieces are often admired for their lighter weight and smoother cooking surface compared to modern counterparts.
If you're new to iron cookware, it might be more practical to start with a newer pan. It allows you to learn the basics, such as seasoning and maintenance, before jumping into the world of vintage cookware.
Remember it's not just about the age, but how well it has been taken care of. Ultimately, it boils down to your personal preferences and what you feel most comfortable with in your kitchen.
So, go ahead and choose the piece that best suits your needs and enjoy the fantastic cooking experience they offer.
One-Pot Cooking Rocks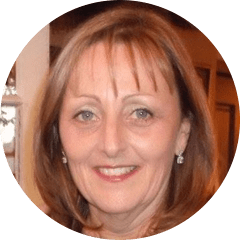 Michelle – Author
Hi, I'm Michelle the founder, owner, author, and editor of OvenSpot. My passion for one-pot cooking commenced when I was working to prepare cafeteria lunches for school students. I am now on a mission to assist you in choosing the cooking pot or appliance you will use every day. As well as in-depth information to assist you in using and caring for your cookware and appliances.
Questions? Reach out to Michelle at [email protected]