Is Cast Iron Good for Frying?
Is cast iron good for frying? Great question! Cast iron is excellent for frying due to its heat retention, even heat distribution, versatility, and ability to develop and maintain a non-stick surface. Making it perfect for achieving crispy results.
Cast iron cookware has been used for centuries and is known for its durability and versatility. It is made by pouring molten iron into a mold, creating a thick, heavy cooking surface that retains heat well. Cast iron skillets are often passed down from generation to generation and can last a lifetime if properly cared for.
Is cast iron good for all types of frying?
When cast iron skillets are well-seasoned, they create a natural nonstick coating that makes flipping foods like scrambled eggs or frittatas easy. Some people even use their cast iron skillets to fry foods directly in the oven!
In this article, we'll explore the benefits and drawbacks of using cast iron cookware to fry different foods in various cooking fats.
Benefits of Cast Iron for Frying
Versatility
This cookware has versatility like no other cookware – it can be used on almost any heat source including stovetop burners, ovens, and grills.

This makes it an excellent choice for cooking outdoors or in other unconventional spaces where you might not have access to a traditional stove. The pan's ability to retain heat makes it ideal for searing meat over high flames or smoking food low and slow.
Uses
Cast iron cookware can be used for various cooking techniques and purposes. Here's a list of common uses for cast iron:
Frying: Cast iron is excellent for frying foods like chicken, French fries, and vegetables. Its heat retention and even heat distribution make it ideal for achieving crispy and evenly cooked results.
Searing: Cast iron pans are great for searing meats, such as steaks or pork chops. The high heat retention helps create a flavorful crust on the meat while sealing in the juices.
Baking: Cast iron skillets and Dutch ovens are perfect for baking dishes like bread, cornbread, cobblers, and even deep-dish pizzas. The even heat distribution ensures consistent baking throughout.
Roasting: You can use cast iron pans for roasting vegetables, chicken, or other meats in the oven. The pan's ability to retain heat helps achieve a nice caramelization and browning effect.
Braising: Cast iron Dutch ovens are excellent for braising meats, such as pot roasts or stews. The heavy lid and tight seal help trap moisture and flavors, resulting in tender and flavorful dishes.
Stir-frying: Cast iron woks are popular for stir-frying due to their high heat retention and spacious cooking surface. They distribute heat evenly and allow for quick cooking of vegetables, meats, and sauces.
Grilling: Cast iron griddles or grill pans can be used on stovetops or over a grill to achieve grill marks and impart a smoky flavor to foods like burgers, steaks, and vegetables.
Shallow frying: Cooking eggs in a cast iron is easy on a smooth seasoned surface.
Deep frying: The heat retention and stability of cast iron make it suitable for deep-frying. Its high sides and ability to maintain a consistent temperature help in achieving crispy fried foods.
Serving: Cast iron cookware, such as skillets or griddles, can be used for serving dishes directly from the stovetop or oven to the table, providing a rustic and charming presentation.
These are just a few examples of the many uses for cast iron cookware. Its versatility and durability make it a popular choice in kitchens around the world.
Heat Retention
One of the biggest advantages of cast iron cookware is its ability to retain heat. Once heated, the pan's thick walls and bottom retain that heat for an extended period, allowing food to cook consistently and evenly. This means that you can achieve a perfect sear on a steak or chicken breast without worrying about hot spots in your pan.
Cast iron is also great for frying foods like vegetables or savory foods because it heats up quickly and maintains its temperature. Foods cooked in cast iron have an incredibly satisfying sizzle that really brings out their natural flavors.
Heat Distribution
Cast iron distributes heat evenly across its surface, reducing the likelihood of hot spots. This ensures that your food cooks uniformly, preventing some areas from being overcooked while others remain undercooked.
Naturally Non-stick
When seasoned properly with flaxseed oil or other vegetable oil, cast iron develops a naturally nonstick surface that rivals any Teflon-coated pan.
The magic behind this feature lies in the way that oil is used to season cast iron: as the oil heats up beyond its smoke point in contact with the metal surface of the pan. It forms a polymerized layer that acts as a barrier between food and metal.
This prevents food from sticking to the bottom of the pan while also adding flavor and seasoning to every dish you cook.
Re-season, if your food starts to stick to the iron surface re-seasoning, is an easy process and provides not only a long life for your pan but the perfect nonstick surface to cook in a cast iron pot or pan.
Durability
Cast iron is known for its exceptional durability. When properly cared for, cast iron pans can last for generations, making them a worthwhile investment for frying and other cooking needs.
Healthy
Cooking with cast iron has an added health benefit, as it can add small amounts of dietary iron to your food. Iron is essential for the body to produce red blood cells that carry oxygen throughout the body.
For people with iron deficiencies or anemia, using cast iron cookware can be a great way to supplement their diet.
It's worth noting that acidic foods like tomatoes or citrus fruits cooked in cast iron may absorb more of the metal than neutral foods like fried eggs or vegetables.
This is only a concern for people who consume large quantities of acidic food from cast iron cooking and is not something most people need to worry about.
Tips for Frying with Cast Iron
Preheat the Pan
One of the most essential tips for frying with cast iron skillets is to preheat the pan before adding oil and food. Place the cast iron pan on a burner and let it preheat for a few minutes.
This step ensures that your food will cook evenly, and it also helps to create a perfect golden crust on your fried foods. If you add food to a cold pan, there's a good chance that your food will stick to the surface.
Oil to Cook
Cast iron skillets are great for frying because they retain heat well and distribute it evenly. However, they also require enough oil to fry properly.
To ensure that your fried foods don't stick or burn, use enough oil to cover the bottom of the pan. It's important not to drown your food in oil because this can cause uneven cooking or make them soggy.
Avoid Overcrowding
Another tip is not to overcrowd the cast iron pan when frying foods; doing so can cause uneven cooking, and prevent proper browning or crisping up of food items like fried chicken wings or eggplant slices.
To avoid this problem, cook smaller batches of food at one time rather than trying to fry everything at once.
Use A Metal Spatula
When using a cast iron skillet for frying, it's crucial not to damage its nonstick coating by using abrasive utensils such as metal forks or knives that can scratch its surface.
The best practice is to use stainless steel spatulas that won't damage their nonstick coating while allowing you to flip or move your food around in an effortless way.
With these tips in mind, you'll be able to fry your favorite foods in a well-seasoned cast iron pan without damaging the surface or ruining the taste of your food.
Common Mistakes When Frying with Cast Iron
Seasoning
Seasoning is the process of creating a non-stick coating on the surface of your cast iron pan. If you don't season your cast iron properly, food will stick and cleaning will be difficult.
New cast iron skillets often come with a thin layer of protective wax or oil coating that needs to be removed before first use.
To season your skillet, preheat your oven to 350°F, coat the entire skillet with vegetable oil, and bake it in the oven for about an hour. After this initial seasoning, you can continue to add layers by cooking fatty foods like bacon or by simply rubbing oil on after each use.
High Heat
One common mistake when frying with cast iron is using too high of heat. While cast iron tends to hold heat well, using high heat can cause food to stick or burn.
It's best to start with low-medium heat and make sure the pan is heated evenly before adding oil and food. If you're unsure if the pan is hot enough, sprinkle some water on it if it sizzles immediately then it's ready for cooking.
Cold Food
Another common mistake is adding cold food directly into a hot cast iron skillet. This can cause uneven cooking and potentially damage your skillet over time due to thermal shock.
Instead, let any meats sit out at room temperature for about 30 minutes prior to cooking so they are not too cold when added to the heated skillet. This applies especially when you're sautéing meats.
Instead of deep frying them which requires more temperature control than just adding them directly into hot oil in a deep fryer.
An iron skillet or Dutch oven is unique in how they cook and develop over time, so with some patience and practice, you'll be able to create delicious meals that will make your taste buds sing.
Cleaning and Maintenance of a Cast Iron Pan
Avoid Excessive Soap
Cleaning cast iron can be tricky because it's important to avoid using acidic soap and water. The reason for this is that cast iron cookware is porous, and soap can seep into the pores, leading to an unpleasant soapy flavor in your food.
If you do need to use soap, try not to use too much and rinse thoroughly with water. Instead, the best way to clean cast iron is by using kosher salt or baking soda.
Salt or Baking Soda
Sprinkle a tablespoon of kosher salt onto a well-seasoned cast iron skillet while it's still warm and scrub it with a paper towel or cloth until all the debris has been removed. This will create a nonstick surface on your skillet, which helps prevent food from sticking in the future.
If there's some stubborn debris stuck on your skillet that won't come off with just salt, try adding some warm water along with the kosher salt or baking soda.
This should help loosen any remaining food bits without requiring too much elbow grease or scrubbing.
When cleaning your cast iron cookware, always remember not to soak it in water for too long as this could cause rusting.
Instead, make sure you dry your skillet thoroughly immediately after cleaning it. Use a clean towel or paper towel to pat dry before storing away.
Drying
To prevent rusting of your cast iron cookware after cleaning, make sure you dry it completely before storing it away or using it again. An easy way to do this is by placing the skillet on low heat for a few minutes until all moisture has evaporated from its surface.
Storing
Choose a storage area that is cool, dry, and well-ventilated to maintain the integrity of the cookware. Avoid storing cast iron in damp or humid environments, as this can promote rust.
If stacking multiple pieces of cast iron, it's recommended to place a paper towel or cloth between them to prevent scratching or damage to the seasoning.
Final Thoughts: Is Cast Iron Good for Frying
Cast iron cookware is an excellent choice for frying, offering numerous benefits and delivering delicious results.
When using cast iron, remember that its non-stick surface comes from proper seasoning, which involves bonding oil to the metal. Once seasoned, cast iron provides a naturally non-stick cooking surface that makes frying easy.
Preheat the skillet before adding oil and food, and control the oil temperature to avoid sticking or burning. Cast iron distributes heat evenly on various heat sources, ensuring even frying without hot spots.
It produces crispy fried foods and requires less oil for healthier meals. With proper care, including avoiding soap, using salt or baking soda for cleaning, and thorough drying, cast iron skillets can be enjoyed for a long time, providing versatile and rewarding frying experiences.
One-Pot Cooking Rocks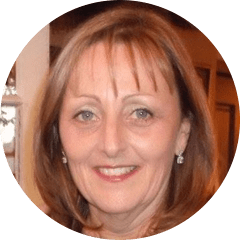 Michelle – Author
Hi, I'm Michelle the founder, owner, author, and editor of OvenSpot. My passion for one-pot cooking commenced when I was working to prepare cafeteria lunches for school students. I am now on a mission to assist you in choosing the cooking pot or appliance you will use every day. As well as in-depth information to assist you in using and caring for your cookware and appliances.
Questions? Reach out to Michelle at [email protected]