Can You Make Bread in a Cast Iron Dutch Oven? 3 Great Tips
Making homemade bread is a time-honored tradition, as is preparing food in the versatile cooking pot known as a "Cast Iron Dutch Oven". When these two traditions are combined, magic happens. Can you make bread in a cast-iron Dutch oven?
Yes, you can bake bread in a Dutch oven. The heavy cast iron lid keeps the steam in, and when fully baked, you have a perfect loaf of bread that is light and fluffy inside while crispy on the outside. Bread prepared in a Dutch oven will be crisp like the artisan loaves of bread prepared by a professional baker.
I have discovered three ways to help you succeed when baking bread in your cast iron Dutch oven. A loaf of bread that is just as good as you would find in any artisan bakery.
Disclaimer: I earn from qualifying purchases on my website as an Amazon Associate. If you purchase through links from this website, I may get a small share of the sale from Amazon and other similar affiliate programs.
Why Is a Cast Iron Dutch Oven Good for Baking Bread?
Baking bread in a cast-iron Dutch oven is best because of the high temperatures iron can reach. Thus allowing the heat and moist dough to produce steam that rises the loaf, again before cooking it perfectly.
What Type of Dutch Oven Will You Be Using?
Before I reveal my 3 tips for using a Dutch oven to bake your favorite bread, we must ascertain what type of Dutch oven you will be using.
This is because the preparation of the Dutch oven before baking commences will differ. Some can be preheated, others cannot.
You should make sure your Dutch oven is, in fact, cast iron and can withstand very high temperatures.
Traditional Cast Iron Dutch Oven
A traditional cast-iron Dutch oven is a heavy-lidded cooking pot that has been around for centuries. The iron is seasoned for the protection of the pot as well as to stop the food being prepared from sticking to the surface of the pot.
Learn How to make bread in a cast iron Dutch oven using three simple steps.
Enamel Cast Iron Dutch Dutch Oven
An enamel cast-iron Dutch oven is coated with porcelain enamel, which covers the inside and outside of the oven as well as the top and bottom of the lid. These ovens do not need to be maintained with regular seasoning as a traditional Dutch oven.
When preparing food, a light covering of oil is generally used to prevent food particles from sticking to its surface because cast iron gets hot.
Tips to stop your bread from sticking to your Dutch oven.
What Is the Best Size Dutch Oven for Baking Bread?
A Dutch oven between 5 and 7 quarts will allow you to bake the loaves you require. As well as being the right size oven for preparing meals for a family of 4 or more.
If the Dutch oven is too small, there will not be sufficient room for the steam to circulate or the loaf to rise.
Why Use A Cast Iron Dutch Oven To Bake Bread
You would search for a meal you could not prepare in a Dutch oven. Dutch ovens can saute, fry, roast, bake, boil, slow cook, etc.
When cooking in a Dutch oven, it is all to control the heat to prepare whatever dish you are making.
For example, to slow cook, you want the food to heat up and then reduce the heat so the dish can simmer and produce a tender, hearty meal.
When baking we want that pot hot hot hot…
Even-Heat
Cast iron is known for its heat retention. Great even heat comes about when using a Dutch oven inside a conventional oven. It can also be achieved, with care, when used traditionally over coal, with the correct coal placement under and on top of the Dutch oven lid.
This ability to retain and distribute even heat is why your bread will cook evenly, present with a great colored crust, and be crispy.
Baking bread in a Dutch oven with charcoal requires an article.
Steam
A covered cast iron pot traps steam and allows the bread to spring up (oven spring) or rise further while cooking.
When a loaf is baking in an uncovered oven, spring will only happen until the heat forms the outside of the bread and stops it from rising to its full potential.
The Dutch oven is imitating what happens inside the professional steam-injected oven. These are the ovens that bakers use.
How to Make No-Knead Bread in a Cast-Iron Dutch Oven
My 3 Tips – For Using A Cast Iron Dutch Oven To Bake Bread
Follow my three tips below, and you will have a fantastic loaf of bread every time from your little workhorse, the "cast-iron Dutch oven."
1. Temperature
A high temperature is required when baking a loaf of bread so that it will rise quickly. The difference when using a Dutch oven instead of baking on an open tray is that the heat and steam inside the covered oven rise the loaf.
This rising is known as "the spring."
When a loaf is baked in the open, the crust can harden, dry out, and become too dark brown and will not have risen to its full capacity as it would have with the steam.
Depending upon the recipe and time in the covered oven, your loaf may not have the color crust you want.
You can control the coloring of your bread by baking it with the lid on the Dutch oven for 20 minutes and then without the lid for 10 to 15 minutes (or more).
I have a great article about how hot Dutch ovens can get must-read before using cast iron.
Traditional Cast Iron Dutch Oven
Heat the Dutch oven before placing the dough inside. Doing this allows the surface of the Dutch oven to retain heat. In turn, your loaf will draw on the surface heat and get an oven spring.
To do this, take the lid off the Dutch oven. Place it in the oven along with the pot itself, which should be inverted (face down) on the oven rack, then set your oven to preheat.
Depending upon the size of the conventional oven and the temperature required, it could take up to 30 minutes to reach this high temperature.
You can use a thermometer to help you reach your required temperature.
For cooking bread in a Dutch oven, it could be around 450 degrees Fahrenheit.
If you do not have an oven thermometer, you can see the one I use here at Amazon. I like the large numbers, and it can sit or hang inside the oven. Nothing fancy just does the job.
Is your Dutch oven bread sticking? Learn the three tips to avoid it.
Enamel Cast Iron Dutch Oven
If you are using an enamel oven, you will need to check your manufacturer's guidelines. Read the section about heating up the pot before placing anything in the Dutch oven.
Just think of a cold surface that you add something hot to it could crack. The same goes for a hot surface, adding something cold to it.
Want to know more about conventional oven cooking with your Dutch oven? I cover it in my article. Check it out.
2. Dutch Oven Placement
I have discovered that with the correct placement of your Dutch oven inside your conventional oven, you can expect even heat, good rise, and a loaf of bread that is not burnt on the bottom.
To achieve this outcome, follow these steps:
Do not use the fan-forced heat control on your conventional oven. Instead, opt for the baking mode. Your Dutch oven has a better chance of maintaining even if hot air is not being forced around it.
Use parchment paper on the inside of your Dutch oven before placing the dough inside. This will stop the crust from sticking to the bottom of the oven and ultimately stop it from getting too brown or burning.
For more "oven spring" you can place a baking stone on the shelf under your Dutch oven. This heat will rise up and help your Dutch oven get hot quickly and stay hot for baking.
I have been asked if you can bake bread in a Dutch oven without using parchment paper. The good news is yes, you can just oil your Dutch oven well, and to prevent further sticking, sprinkle the bottom with cornmeal.
3. Score Your Loaf Before Cooking
I see many loaves of bread that are not scored. Scoring is what is required, so you are presented with a fully risen loaf as well as what is known as the ear of the bread. The image below shows the ear of the bread.
The tool you use for scoring needs to be sharp. A razor-type tool or a Lame is best for this. Unfortunately, the sharpest knife in your kitchen will still not be sharp enough.
You can see the scoring tool I use, which does the job every time at Amazon. It is also interchangeable, meaning it comes with a straight blade and a curved one.
Quick Dutch Oven Bread Recipies
You will find suitable recipes on the internet, but I have sourced a couple that I use below. You could also check out this Dutch Oven Bread Baking Book by Mark Hansen.
More recipe books can be found in my ultimate Dutch Oven Cookbook list.
Dutch Oven Bread No-Knead
I have a recipe for a quick, no-knead Dutch oven bread. Check it out.
You can also see some great no-knead Dutch oven bread variations here.
Try this delicious sweet bread How to create the perfect raisin bread in a Dutch oven.
Dutch Oven Bread Le Creuset Style
You can see Le Creuset's awesome Dutch oven bread recipe here...
Dutch Oven Sourdough Bread
Check out this recipe over at The Perfect Loaf I have used it many many times with success.
I often get asked, "What size Dutch oven for sourdough bread"?
This size depends upon the shape of your loaf. If you are an avid bread maker, buy the largest Dutch oven you can safely handle, and you can make any size and shape of loaf you want.
If you just want to make a traditional-size loaf, a 5 – 7 quart round Dutch oven will do the job every time.
Pro Tip for sourdough bread baking – I love this bread-proofing kit it helps me make my loaf easier to handle and look awesome – almost every time…
Best Dutch Oven for Baking Bread – My 3 Top Choices
Le Creuset Dutch oven for baking bread
My favorite seasoned cast iron Dutch oven for baking bread
My Affordable favorite
Can You Make Bread in a Cast Iron Dutch Oven? 3 Great Tips
Remember, when your bread has finished baking, allow it to cool. About 30 to 40 minutes on a wire cooling rack should do it.
Now, if it was your aim to produce a perfect crust on the loaf and your environment is still and quiet, you should actually be able to hear your loaf singing/crackling as it is cooling.
Best of luck…
One-Pot Cooking Rocks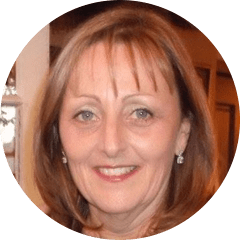 Michelle
Hi, I'm Michelle, the founder, owner, author, and editor of OvenSpot. My passion for one-pot cooking commenced when I was working to prepare cafeteria lunches for school students. I am now on a mission to assist you in choosing the cooking pot or appliance you will use daily. As well as in-depth information to assist you in using and caring for your cookware and appliances.
Questions? Reach out to Michelle at [email protected]