How Often Should Cast Iron Be Seasoned?
When investing in an item that could last for generations, it is essential to know how to take care of it. This holds when it comes to cast-iron cookware. Understanding the correct care and maintenance of your cast-iron skillet will mean that your skillet could be put to good use for many generations to come. So, how often should cast iron be seasoned?
To maintain a smooth, non-stick surface on your skillet, re-season it twice to three times a year. Using your cast-iron skillet often and correctly avoids seasoning it often. A cast-iron skillet may need re-seasoning more frequently if damaged by chemicals or abrasion.
Knowing the correct way to use and care for your cast iron skillet can save you time and worry. Arm yourself with the knowledge upfront to avoid the pitfalls of incorrect cast-iron skillet use, and you will be using it confidently in no time.
Do You Need To Season a New Cast Iron Skillet?
Raw or bare cast-iron skillets have a rough texture and a matte appearance. Foods cooked in this type of skillet will tend to stick to the skillet.
A seasoned skillet has undergone a process whereby a thin oil coating has been bonded to the skillet by very high heat. This process is known as polymerization. Through this process, the oil's characteristic changes from a wet and fluid state to a hardened solid state that bonds with the cast iron.
The same characteristic that makes unseasoned cast iron challenging to cook allows the oil particles to bond to the uneven surface. Seasoning cast iron gives it a smooth texture and darkens the color.
Without seasoning, cast-iron skillets rust and cause food to stick. They also do not distribute heat as evenly.
The good news is that today, most manufacturers of cast iron cookware season it for you, so you have the choice to use your skillet right away. Think of it like getting your skillet handed down from your grandmother. Preloved and pre-seasoned.
Learn the tips and tricks I use for How to season a brand-new cast pan.
Why Would You Need to Re-Season a Cast Iron Skillet?
Over time, if your cast-iron skillet is exposed to certain chemicals or treatments, it could damage the layer of polymers. Using harsh chemicals to clean your skillet can gradually break down the protective layer and cause rust spots to appear.
Using coarse steel wool scourers can also damage your seasoning over time. This is especially true if you are also soaking your skillet in water to remove charred food and using strong detergents or cleaning your skillet in a dishwasher.
Cooking acidic foods in a skillet with this type of damage causes iron particles to leach into your food and taints the flavor of your food. You may even notice small black flakes or particles in your food.
Although cast iron is tough the surface can be scratched and gouged from the utensils you use for cooking. Even if they do not damage the cookware, at the very least, utensils can break down the non-stick surface.
Preventing rust: cast iron is prone to rusting when exposed to moisture. Applying a thin layer of oil to the surface creates a protective barrier that helps keep moisture at bay. This not only prolongs the life of your cookware but also ensures that it remains safe to use.
With most cookware, this damage would require replacement, but not with your cast-iron skillet. It simply needs to be re-seasoned, and you need to change a few cleaning habits.
Using the Best utensils for cast iron saves the nonstick surface of your cast iron and a mountain of time re-seasoning your cookware.
Should You Oil Cast Iron Cookware After Every Use
No, you don't need to oil your cast iron cookware after every use. Once it has been seasoned initially, it really only needs to be seasoned again a few times per year.
Typically, a cast iron pan with a strong base layer of seasoning will continue to improve with use over time. However, there are certain situations in which you may need to re-season your cookware:
If you notice the surface has become dull or has lost its non-stick properties
If you detect any rust forming on the surface
If you accidentally burn or overheat it, it leads to a damaged seasoning layer
How Do You Care For a Cast-Iron Skillet?
There are many varying ideas about caring for your cast-iron skillet. Many may sound complicated or like too much trouble, but it does not need to be complicated. You need to follow a few guidelines, and your cast-iron skillet will turn out many delicious dishes as a reward.
Preheat your pan with a bit of canola oil before you start cooking. It allows the oil to draw into the pan and seals it slightly with each use while heat distributes evenly before cooking.
Clean your skillet after cooking by removing excess fat and food residue with a paper towel.
Rinse it under warm running water, but do not leave it to soak. Only use soap if needed.
Remove scorched food using salt or bicarb with some oil and a lint-free cloth to rub away stubbornly stuck food. Bicarb will also help remove strong smells from your pan. (Smelly Cast Iron)
For burnt-on food, add a bit of water to your cast-iron skillet. Heat it in your cooker. Then, try scrubbing it with a brush. Only resort to scourers in extreme cases.
Dry your cast-iron skillet right away.
Apply a thin coating of oil. There should not be liquid running off the skillet, only a smooth and even layer. Return it to your stovetop and gently heat it to ensure it is thoroughly dry.
If you store your skillet in a stack, consider adding layers of paper or cardboard to absorb moisture and increase airflow.
Use your skillet often. With more use, layers of seasoning build up and less maintenance or repair are needed.
Learn What the best oil for seasoning cast iron is so you are fully informed before you commence maintaining your iron.
How Do You Know When to Season a Cast-Iron Skillet?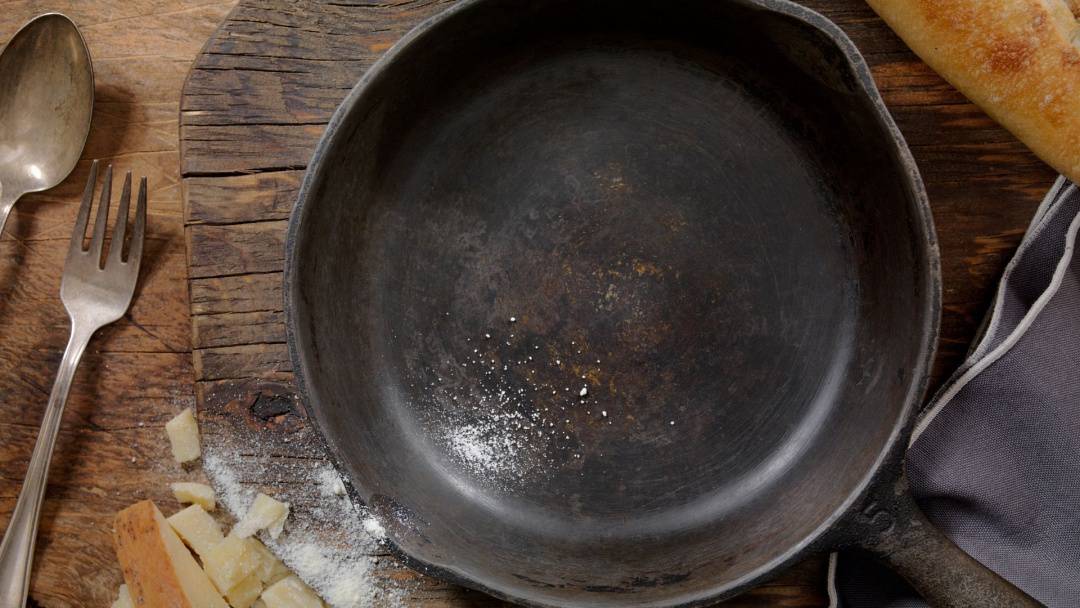 Despite doing everything correctly, there may come a time when your cast-iron skillet will need some maintenance. Indicators that you need to re-season your skillet could include:
Food sticking to your cast-iron skillet when cooking
Dull patches appear on your cast-iron skillet
Black flakes are breaking free from your cast-iron skillet during cooking or cleaning
There are rusty patches on your cast-iron skillet
Any of these are a sign that a level of seasoning is required.
Need to know how to clean rust off cast iron? The steps are easy, and the result is perfect every time.
How Do You Season a Cast-Iron Skillet?
How you season your cast-iron skillet will depend on the amount of damage. It may range from a quick seasoning on your stovetop for a dull skillet to stripping all seasoning and re-seasoning in the oven when a complete restoration is needed.
Stovetop Seasoning
To do minor repairs to your cast-iron skillet, clean your skillet thoroughly and apply a thin layer of oil evenly. Make sure to remove any excess oil. Now, heat your skillet over medium heat. Allow your cast-iron skillet to cool. You may need to repeat the stovetop seasoning until you achieve the level of seasoning you desire.
Oven Seasoning
Though seasoning in your oven is needed when there is more damage to repair, you do not need to wait till there is damage. Seasoning your cast-iron skillet is so easy; you can do so as regularly as you want to.
Use a paper towel to spread vegetable oil with a high smoke point or melt shortening evenly over your whole pot, inside and out. Remove as much residue as possible, leaving only a very thin layer of oil.
Heat the oven to 400 degrees and place your skillet face down on a wire rack. Bake for a minimum of 1 hour. Turn off the heat, but leave your skillet in the oven and allow it to cool completely.
If you have stripped all previous seasoning off to do a major restoration, repeat this process of oiling and baking in the oven 3 -4 times before using your cast-iron skillet.
How Do I Know if My Cast Iron is Seasoned?
A well-seasoned surface will have a black, shiny finish. You will not see any dull or dry-looking spots or any rust. When you touch it, the surface will not feel sticky or tacky but cool and smooth.
Suppose you are still unsure and want to test if you have successfully seasoned your cast-iron skillet. Warm a little oil in your skillet for a few minutes. Now fry an egg and find out if your skillet is smooth and non-stick.
An egg that comes away from the pan easily means you have seasoned your skillet well. If it is still sticking, repeat the oven seasoning process a few more times. It is that easy.
Learn what cast iron conditioner is and if you should be using it.
FAQ's
Quick answers to some of the most frequently asked questions around seasoning cast iron pans.
Do you have to season a cast iron skillet after every use?
Yes and no! Yes, if you do not use your cast iron very often, you should ensure the surface is non-stick before use. No, if you are using your cast iron regularly and using plenty of oil while cooking.
What happens if you don't season a cast-iron skillet?
When cast iron is not seasoned, food will stick to its porous surface. In turn, the iron is difficult to clean up. Unseasoned cast iron is prone to staining, rust, and corrosion.
What is the best oil to season cast iron?
The best oil for seasoning cast iron is one that has a high smoking point, so the polymerization process gives the iron a non-stick surface. Two very popular oils are Grapeseed Oil and Flaxseed Oil. Lodge Manufacturing has its own seasoning available for its cast iron.
Cast iron seasoning involves applying a layer of oil and heating it until it polymerizes, forming a non-stick surface. Here are some of the most popular oils used for this purpose:
Flaxseed Oil: Often considered the best oil for seasoning due to its high smoke point and ability to polymerize into a hard, durable layer.
Grapeseed Oil: Another oil with a high smoke point, it's often used due to its affordability and availability.
Canola Oil: This widely available oil is also a common choice. It has a relatively high smoke point and is cost-effective.
Sunflower Oil: Known for its high smoke point, this oil is another suitable option for seasoning cast iron cookware.
Peanut Oil: This oil is also commonly used due to its high smoke point.
Vegetable Shortening: Brands like Crisco are often used to season cast iron. They're solid at room temperature, which can make the application process less messy.
How Often Should Cast-Iron Pans Be Seasoned?
A cast-iron skillet is a great investment for anyone who loves to cook. It can be used on the stovetop, in the oven, under your grill, and on a campfire. With proper care and maintenance, this kitchen cookware will last you many years.
Cast iron skillets are known as one of the most durable types of pans out there, but they still need some attention from time to time. If you have noticed food sticking or dull patches appearing on it, then chances are that seasoning needs to be reapplied.
Or all previous seasoning was stripped off entirely before re-seasoning again in either an oven or over a stovetop burner. Once properly cared for, these pieces should last forever!
One-Pot Cooking Rocks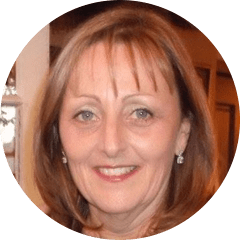 Michelle
Hi, I'm Michelle, the founder, owner, author, and editor of OvenSpot. My passion for one-pot cooking commenced when I was working to prepare cafeteria lunches for school students. I am now on a mission to assist you in choosing the cooking pot or appliance you will use daily. As well as in-depth information to assist you in using and caring for your cookware and appliances.
Questions? Reach out to Michelle at [email protected]