Cast Iron vs Carbon Steel Pans (What's the Difference)
Before the 1960s, when Teflon and other coated cookware were developed, cast iron pots, iron pans, and skillets were the most commonly found in American homes. With the advent of carbon steel cookware, casting iron or carbon has become a bit more complicated.
Cast iron is clearly and noticeably heavier, while carbon steel is considerably lighter. Still, aside from the differences in weight, there are some metallurgical differences between these pans. These will give home cooks a few aspects to consider when choosing one or the other, and it's not what you might think!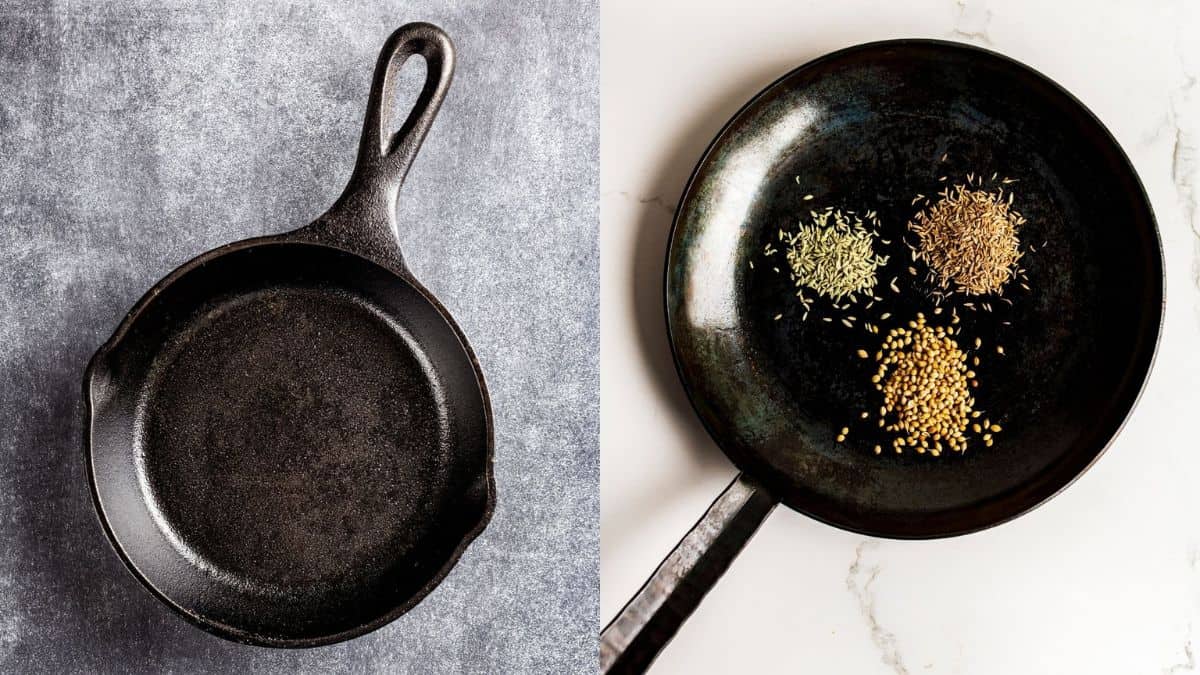 Disclaimer: I earn from qualifying purchases on my website as an Amazon Associate. If you purchase through links from this website, I may get a small share of the sale from Amazon and other similar affiliate programs.
As cast iron and carbon steel cookware gain popularity, both have great cooking applications, but each has distinct differences and disadvantages.
Cast Iron vs Carbon Steel – Comparison Table
This quick reference chart compares the differences between carbon steel and cast iron cookware.
Cast Iron vs Carbon Steel
The following are the major differences between cast iron and carbon steel:
Weight and Composition
The main difference, metallurgical, between cast iron and carbon steel is the amount of carbon contained in each. While you might think that cast iron is only iron, it is actually an alloy of iron and carbon, much like steel is.
Cast iron has an iron content of between 2% and 3.5%, while steel is limited to a carbon content of 2%. As a reference, stainless steel only has 1.2 percent carbon.
The high carbon content of cast iron makes it brittle, and if it were thinner, it would break – hence its thickness. Carbon steel is much stronger and less brittle, so they are thinner and lighter. Cast iron is about twice as heavy as carbon steel.
In the weight division, cast iron is the heavyweight, and carbon is the middleweight, but there is more than just heavier or lighter to consider when it comes to cookware.
The following chart breaks down the weight and dimensions of a 12-inch skillet of some of the leading cast iron and carbon steel cookware brands.
Heating and Cooling When Cooking
Any good chef will tell you that the key to great cooking is excellent cookware with good quality heat capacity. As a side-by-side comparison, cast iron and carbon steel have quite a bit in common, but it's the small things that make a difference.
Cast iron heats up and cools down far slower than carbon steel, but its heat retention is far better, and it distributes heat more evenly than carbon steel. One of the tests here is that cast iron can easily cope with high temperatures to sear a steak properly.
Now, carbon is no temperature pansy either and can also get hot enough to sear steak just as well as cast iron, so the honors are even there.
One of the pros of cast iron is that it retains heat for much longer and keeps food warm. Plus, it can easily go from stovetop to oven, while carbon steel may not be very happy baking at 400°F.
Carbon steel does have an advantage over its heavier cousin in that it responds faster to heat controls. So, carbon steel will be far more responsive if you are cooking on gas and need to heat and cool food while cooking!
Take an in-depth look at how hot cast iron can get.
Surface Performace
The cooking surface is known as reactive on both cast iron and carbon steel cookware as it is made from a metal alloy, pure iron. It will react to acidic food like tomato sauce or citrus juice.
The outcome will be a rougher cooking surface as the seasoning will be stripped away. If left unprotected over a long time, surfaces might begin to rust, leading to a tough cleaning and seasoning regime.
Read more about identifying the differences between a frying pan that is reactive and non-reactive.
Seasoning and Longevity
There are countless tales of cast iron skillets being passed down through multiple generations, and this is due to their incredible durability. If you go digging through your Grandma's old cooking items, you'll probably find a century-old skillet there, good to go for another 100 years!
Or, ask your mother or father about cast iron cooking, and you'll get regaled with tales of pans, pots, and skillets from their childhood. I am not sure how many stories of century-old carbon steel cookware you may come across, but then, relative to cast iron, it's the new kid on the block.
Cast iron cookware survives this long because it is seasoned before its first use and after every cooking session. Maintaining this treatment, combined with its thickness, has ensured cast iron will survive countless years of cooking and dropping with little or no injury.
Seasoning means putting a light layer of oil over the surface after it's been cleaned and dried. This protects the cast iron from rust and gives a deeper flavor to the food cooked in it.
The good news is that the same applies to carbon, and a light layer of oil will also keep the surface non-stick for years to come; plus, the more robust, more lightweight steel is also quite durable and less brittle than iron, so when it comes to impact it is less likely to break when dropped!
In this category, both come out pretty much even. Given reasonable care, carbon steel cookware may well find itself being talked about four generations from now and achieve the same legendary status that cast iron has! Time will tell on that one.
What is the best oil for seasoning cast iron cookware? My go-to is flaxseed or grapeseed, although there are many choices available.
Cooking
One of the standouts between the two is when it comes to the type of foods best suited to each and the impact of nutrition and cleaning on the finishes.
Cast iron heats up slower than carbon but retains heat better, so for cooking eggs, omelets, and sauteeing other dishes that don't require intense heat and more heat control, carbon steel is better.
Not to say that you can't or shouldn't cook those dishes on cast iron because you most certainly can, but it may be better to stick with baking, braising, and searing.
Similarly, don't expect your carbon steel to handle oven-baking temperatures very well. Ironically ( no pun intended), both have issues simmering acidic foods, stripping off the coating, and giving your food an acidic taste.
Get your free cast iron temperature guide, including briquette placement.
Cleaning Processes
Both are similar in cleaning, requiring a good wash with soap and water, drying thoroughly before applying a thin coat of oil, and storing away from humidity.
In this round, cast iron holds a slight edge as it would probably survive exposure to acidic food or submersion underwater, while a good scrubbing and soaping would strip the oil straight off the carbon surface.
There are some very definite DON'Ts with cast iron that you can do with carbon steel.
Cast iron should never be fully submerged or put in the dishwasher. Both should be washed with warm water and a little bit of soap. Cast iron only really needs warm water and a good wipe.
Seasoning
These materials are durable and can last many years if properly cared for. One of the most important things you can do to extend the life of your cast iron or carbon steel cookware is to season it correctly.
The layers of seasoning also assist in correcting any uneven surface and help repel toxic chemicals. You will also have a smoother surface, meaning better non-stick properties and less oil for healthier meal preparation.
For the seasoning oil, don't use olive oil as it has a low smoke point. Grapeseed, flaxseed oil, coconut oil, and even lard are acceptable for this on both surfaces to maintain a nonstick surface.
Price
This is the only factor where cast iron will win out over carbon. It is cheaper and much cheaper than that. For a decent cast iron pan, you might shell out about $20, but for the same in carbon steel, that could be as much as $60!
Now obviously, you can shop around, but the consistency here will be evident. For the price, for three cast iron pieces, you can get the equivalent of a single carbon steel piece.
Not only that, but look in antique and second-hand stores; you could easily pick up a vintage cast iron skillet, and with a good clean and a seasoning session, give it another 50 years of cooking!
Enameled Cast Iron Cookware
Another cast-iron cookware option exists in the form of enameled cast-iron cookware. This cookware benefits from all the features that seasoned cast iron offers, but it is covered with layers of enamel coating.
This coating protects cast iron from rust and corrosion, but it is not non-stick. All this means is that you will have to use more oil when cooking. Heat the pan up at medium heat and increase as required.
Unfortunately, this cookware is not for use on campfires but can be used on most kitchen heat sources; check any fittings like handles and knobs are oven safe before use. Although less clean-up and maintenance are required with cast iron cookware that is coated with enamel, it should be treated with care to avoid chipping and cracking.
Learn about some of the best-enameled cast iron cookware on the market today: Staub vs Le Creuset
FAQs
Answers to the most commonly asked questions about cast iron and carbon steel cookware.
Why do chefs use carbon steel pans?
Cast iron and carbon steel pans can produce the same browned, seared, or fried dishes. But carbon steel is quicker than cast iron. It is also lighter and easier to manage in a fast-paced professional kitchen.
Learn more about what cookware professional chefs use.
Is carbon steel safe to use every day?
Carbon steel is non-toxic cookware. It is made of iron and carbon. Neither are toxic metals. Carbon steel is oven-safe up to 1200 degrees F. It is naturally non-stick from seasoning the pans and ongoing use of oils used when cooking. This cookware is less porous than cast iron without the weight, and it can be restored like cast iron for an infinite lifetime of use.
Is carbon steel really better than cast iron?
Both types of cookware can withstand the high heat required for searing and frying. The difference is that carbon steel is easier to manage by being lighter. It also has the benefit of heating up and cooling down quicker than cast iron.
Learn more about what purchasers of the top-selling cast iron and carbon steel cookware at Amazon have experienced by reading their real reviews.
Is carbon steel really better than cast iron?
Both types of cookware can withstand the high heat required for searing and frying. The difference is that carbon steel is easier to manage by being lighter. It also has the benefit of heating up and cooling down quicker than cast iron.
Carbon steel pans are available in many shapes and sizes. These articles, Wok vs frying pan and Sauté Pan vs Wok deep dive into the differences between these popular cooking pans.
Wrapping it up – Cast Iron vs Carbon Steel
It seems after all of this that these two are more like brothers than cousins, with both having a lot more in common than you might have thought. Let's recap the differences between both types of materials.
Cast iron is much heavier but a lot cheaper than carbon steel
Each has good durability and versatility in cooking
Cast iron heats and cools slower than carbon steel, but it holds heat longer and can withstand high oven and stove temperatures without any problem
Cast iron cookware retains heat and is better for slow-cooking stews and braising
You can sear meat in both cast iron and carbon steel
Carbon steel is smooth on its surface. While raw cast iron has a rough surface, enameled cast iron offers a smooth surface option
Cast iron is more brittle than carbon steel and could break or shatter if it is dropped on concrete, while thinner carbon steel pans can bend
They can both be seasoned and have similar weaknesses with acidic foods left for long in the pan or pot
Provided they are well looked after, both will last beyond your lifetime and into the next few generations!
Although cast iron is more readily known, iconic brands like Lodge Manufacturing are now making carbon steel cookware
So, which one should you buy, cast iron or carbon steel cookware? Really, it depends on your cooking needs and what you are looking for in pots and pans. If you are looking for an all-purpose pan that can do it all, then carbon steel is the way to go.
However, if you are looking for something better for slow cooking and braising, cast iron is a great option.
My recommendation for cast iron is seasoned or enamel cast iron cookware from the iconic American cast iron manufacturer Lodge. Check out a vast selection.
Well-known brands like Made-In offer carbon steel cookware that is made in France.
If you want to keep your spending local, I would also check out the range of made-in-the-USA lightweight carbon steel cookware from Lodge.
One-Pot Cooking Rocks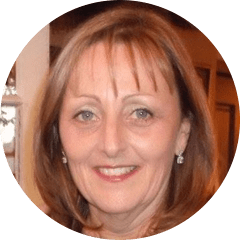 Michelle
Hi, I'm Michelle, the founder, owner, author, and editor of OvenSpot. My passion for one-pot cooking commenced when I was working to prepare cafeteria lunches for school students. I am now on a mission to assist you in choosing the cooking pot or appliance you will use daily. As well as in-depth information to assist you in using and caring for your cookware and appliances.
Questions? Reach out to Michelle at [email protected]