Lightweight Cast Iron vs Cast Iron 'Which Is Right for You'
Cast iron has long been a go-to material used for cookware. Recently, lightweight cast iron has grown in popularity as an alternative to traditional cast iron. This article will discuss each type of cast iron, its use, weight, pros, and cons.
Two differences are that a lightweight cast can be up to 50% lighter than traditional cast iron allowing it to heat up and cool down quicker. Heavy cast iron takes longer to heat up but retains heat for a longer period of time.
If you're wondering which type of cast iron is best for you, you're in the right place. After reading our lightweight cast iron vs cast iron breakdown, don't forget to check out the FAQs at the end.
Disclaimer: As an Amazon Associate I earn from qualifying purchases on my website. If you make a purchase through links from this website, I may get a small share of the sale from Amazon and other similar affiliate programs.
Lightweight Cast Iron
Yes, there is such a thing as lightweight cast iron. For all the lovers out there that want to take their cast iron camping or to any event that requires them to be mobile.
Construction
Lightweight cast iron is created in a metal mold, allowing for an overall thinner frame. These molds are also milled, thinning them even more. Handles are then attached with rivets as opposed to being molded from the beginning.
Lightweight cast iron is much lighter than traditional cast iron, making it a great alternative for older folks or those with arthritis or weaker wrists/arms.
Uses
This type of cast iron cookware can be used on all heat sources, from open flame to electric stovetops. It can be used to make woks, skillets, frying pans, griddles, and Dutch ovens. It most commonly comes in a small size, averaging 10 inches.
Lightweight case iron cookware heats up and cools down much faster than traditional cast iron due to its thinner base. You could preheat your lightweight cast iron skillet as fast as a couple of minutes. Since it can be used on so many heat sources, a lightweight cast skillet is an excellent choice of cookware for a large variety of meals.
Weight
Lightweight cast iron's biggest plus is found in its name – it truly is lightweight. A 10.25-inch lightweight cast iron skillet can weigh as little as 2.5 pounds, about half the weight of a traditional cast-iron skillet of the same size!
For many daily cooks and chefs, maneuvering around the kitchen with ease is of the essence. Lightweight cast iron cookware allows just that.
Lightweight Cast Iron Pros & Cons
Pros
Lightweight cast iron is a strong alternative for cast iron or even nonstick skillets in the kitchen. It:
Weighs half as much as traditional cast iron
Preheats and cools down quickly
Is more comfortable to maneuver in the kitchen than its traditional counterpart
Is easy to clean
Is more affordable than traditional cast iron cookware
Can be used on all heat sources
It has handles on woks and skillets that cool down much faster than traditional cast iron, lowering the risk of burns on the hands and wrists
Cons
While lightweight cast iron may be a decent substitute for traditional cast iron, its light frame also comes with some downfalls.
Less durable than traditional cast iron, being prone to cracks and splits
Can lose heat too quickly and cook unevenly
Shorter lifespan than traditional cast iron cookware
Want to support local manufacturers? You must read Cookware Made in the USA.
Lightweight Cast Iron Variations
Not all lightweight cast iron is created equal. With variations like Vermicular and enameled lightweight cast iron, cooks have a few options to choose from.
Vermicular Lightweight Cast Iron
A new type of lightweight cast iron cookware to hit the market is Vermicular cast iron. This Japanese alternative is even lighter than "lightweight", with some people calling it "featherweight" cast iron. It is mainly sold as a pan from a few vendors with different depth options.
Vermicular cast iron has an enameled finish that offers excellent searing capability, easy clean-up, and no seasoning requirement. Its wooden handle stays cool for steaming, braising, and making stews.
Enameled Cast Iron Cookware
Enameled cast iron, usually sold as lightweight cookware, is cast iron covered with an enamel glaze. This glaze fuses with cast iron to prevent rusting and facilitate cleaning.
Enameled cast iron can be found in Dutch ovens, braising dishes, pans, woks, and baking dishes. It is great for slow cooking, drawing out intense flavors from foods.
The cons of enameled cast iron include being prone to chipping. Enameled lightweight cast iron is also more expensive than the basic lightweight alternative. While it acts somewhat as a seasoning, it is not as non-stick as a well-seasoned cast-iron item.
Related read Best Enamel Cast Iron Cookware
Traditional Cast Iron
Traditional cast iron cookware has been used for cooking for centuries. As one of the most durable cookware materials, it's no wonder it's still highly used in kitchens across the world today.
Related read Lodge Cast Iron Review
Construction
Traditional cast iron is made by reducing iron ore in a blast furnace. Once liquid, the iron is cast, poured, and hardened into blocks. These blocks, called pigs, are then remelted, combined with steel, and recast into molds.
Molds for traditional cast iron are usually made of clay, water, and sand, unlike the mold for lightweight cast iron which is made of metal. This combination mold gives cast iron its unique thickness.
Uses
Cast iron can be used to make pipes, machines, auto parts, anchors, and – what we'll focus on here – cookware. It offers excellent heat distribution, making it ideal for searing or for providing a hot enough surface to crisp certain dishes.
Traditional cast iron cookware is great for sautéing, pan-frying, searing, baking, braising, broiling, and roasting. From cornbread to steaks, traditional cast iron is available to help you make a great meal.
Weight
Cast iron's benefits come at the cost of its weight. A 10-inch cast-iron skillet weighs in at over 5 pounds – double the weight of its lightweight cast iron alternative.
While this makes it more difficult to maneuver in the kitchen, the taste and heat distribution are second to none. You can purchase cast-iron griddles, skillets, grill pans, cake pans, Dutch ovens, woks, loaf pans, and more.
Traditional Cast Iron Pros & Cons
| Pros | Cons |
| --- | --- |
| Durable and long-lasting | Reacts poorly to acidic foods |
| Non-stick if properly seasoned | Is very heavy |
| An even distributor of heat/retains heat well | Has a longer cleaning process |
| Able to impart iron to foods | Takes longer to preheat than other materials |
| Said to improve with age | |
Related read Cast Iron Cookware Made in the USA
Cleaning Cast Iron
You can clean lightweight cast iron the same way you would traditional cast iron. Note that cast iron is not dishwasher safe.
Both types of cast iron cookware must be seasoned. Seasoning in this context refers to baking oil onto cast iron in a process called polymerization. This helps prevent rusting and ensures an easy-release cooking surface.
Related read What is the Best Oil for Seasoning Cast Iron
It is not recommended to use detergents when cleaning lightweight or traditional cast iron because they can ruin the seasoning and dry out your cooking surface. You can use mild soap if you plan to season the cookware afterward.
To properly clean cast iron, scrub off the leftover food with a spatula and rinse the cookware with hot water. Dry the cast iron immediately and put it on a hot stovetop to complete the drying process.
Drizzle a coat of vegetable oil onto the cookware before putting it into storage.
Related read Learn how to Store Cast Iron Cookware
Seasoning Cast Iron
Both types of cast iron cookware need to be seasoned unless specified otherwise. You should season your cast iron every few months. Enameled cast iron does not require seasoning.
To keep your cast iron looking like new and prevent sticking, use a paper towel to rub oil over the entire surface of your cookware.
Then, put the cookware on the stovetop (medium heat) or in the oven (400℉) for 60 minutes. Once cooled down, wipe the surface with paper towels and store.
Should I Use Lightweight or Traditional Cast Iron?
Choosing between lightweight or traditional cast iron is a personal choice that depends on your situation.
After reading the pros and cons of each above, you'll need to consider:
Your price range
If you prefer efficiency (lightweight) or quality (traditional)
The types of dishes you plan to make
Your physical strength and the weight of the cookware
FAQs
Quick answers to frequently asked questions about cast iron cookware.
Do I have to season lightweight cast iron cookware?
Yes, both lightweight and traditional cast iron cookware should be seasoned at least 2-3 times per year, unless otherwise specified. Enameled cast iron cookware has an enameled surface that does not require seasoning.
Learn how to season new cast iron cookware before its first use.
What are the differences between cast iron and lightweight cast iron?
Lightweight cast iron is lighter, slightly easier to clean, and a bit more affordable. Traditional cast iron has better heat retention, is more durable, said to improve with age.
What does it mean to "season" cast iron?
Seasoning cast iron is the process of oiling and cooking the cookware over or at a high temperature to create a glossy coat on the cast iron. This coat flavors your food, prevents sticking, and prevents your cast iron from rusting, thereby extending its lifespan.
How do I clean cast iron?
When it comes to cleaning both lightweight and traditional cast iron, scrape off food remnants with a spatula and run the cast iron under hot water. Dry it immediately, then put it on a hot stovetop to complete the drying process. Oil the surface lightly before storing.
Never use harsh detergents or your dishwasher. Mild soaps may be acceptable if you plan to season your cast iron afterward.
Use this easy tutorial to learn How to Clean Cast Iron After Cooking.
Which is better, traditional or lightweight cast iron?
Choosing between a lightweight or traditional cast-iron item depends on personal preference. If you're looking for efficiency and maneuverability, you may lean towards lightweight cast iron. If you prefer well-established cooking techniques and even heat distribution for your meals, traditional cast iron is for you.
Learn the key differences between cast iron and enameled cast iron cookware
One-Pot Cooking Rocks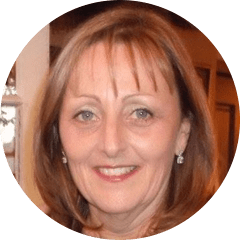 Michelle – Author
Hi, I'm Michelle the founder, owner, author, and editor of OvenSpot. My passion for one-pot cooking commenced when I was working to prepare cafeteria lunches for school students. I am now on a mission to assist you in choosing the cooking pot or appliance you will use every day. As well as in-depth information to assist you in using and caring for your cookware and appliances.
Questions? Reach out to Michelle at michelle@ovenspot.com