How to Know if Cast Iron is Seasoned: Cast Iron Pan Care
Determining if cast iron cookware is seasoned can be confusing, especially for those new to cast iron cooking. So how to know if cast iron is seasoned?
A seasoned cast iron pan has a shiny, dark, semi-glossy surface that's smooth to the touch. It will not be sticky, dry, or show signs of rust. While cooking food will release easily from its natural non-stick surface.
In this article, I share some practical tips and signs to look for in determining if cast iron cookware is properly seasoned.
Pre-Seasoned Cast Iron
Before diving into the details, it's worth mentioning that most cast iron cookware comes pre-seasoned from the manufacturer.
This base seasoning is useful and prevents rust, but it is generally recommended to add additional layers of oil at home for optimal performance.
In my own experience, creating and maintaining a good seasoning on my cast iron cookware not only enhances the cooking experience but also adds a personal touch to the cherished piece of cookware.
Indicators that Cast Iron is Seasoned
Here are some signs that your cast iron is properly seasoned. If your cast iron does any of these you might need to re-season it.
Non-Stick Surface
An essential attribute of well-seasoned cast iron cookware is the non-stick surface. A good test for this is to simply fry an egg in the pan.
If your pan is seasoned correctly, you should not experience any major sticking issues. Seasoned cast iron forms a cooking surface that releases food easily, avoiding any sticking issues during cooking.
Even Cooking Surfaces
Another key indicator of properly seasoned cast iron is an even cooking surface. When my pan has an even seasoning, it promotes uniform heat distribution, which leads to well-cooked and delicious meals. This is especially crucial when I am making dishes that require consistent heat, such as when I'm frying or searing.
Smooth Surface
A well-seasoned cast iron pan should have a smooth and non-sticky surface. If your pan is rough or has any sticky spots, it needs re-seasoning.
Shiny, Black Appearance
When my cast iron is well-seasoned, it will have a shiny, black appearance. This jet-black color comes from the layer of polymerized oil that forms on the surface, created by the seasoning process.
A seasoned pan should have a smooth and even finish, without appearing greasy to the touch. This non-stick surface and shiny black appearance ensure the longevity of the pan and prevent rust.
Metallic Taste
If your food tastes metallic after being cooked in the pan, it needs re-seasoning.
How to Season Cast Iron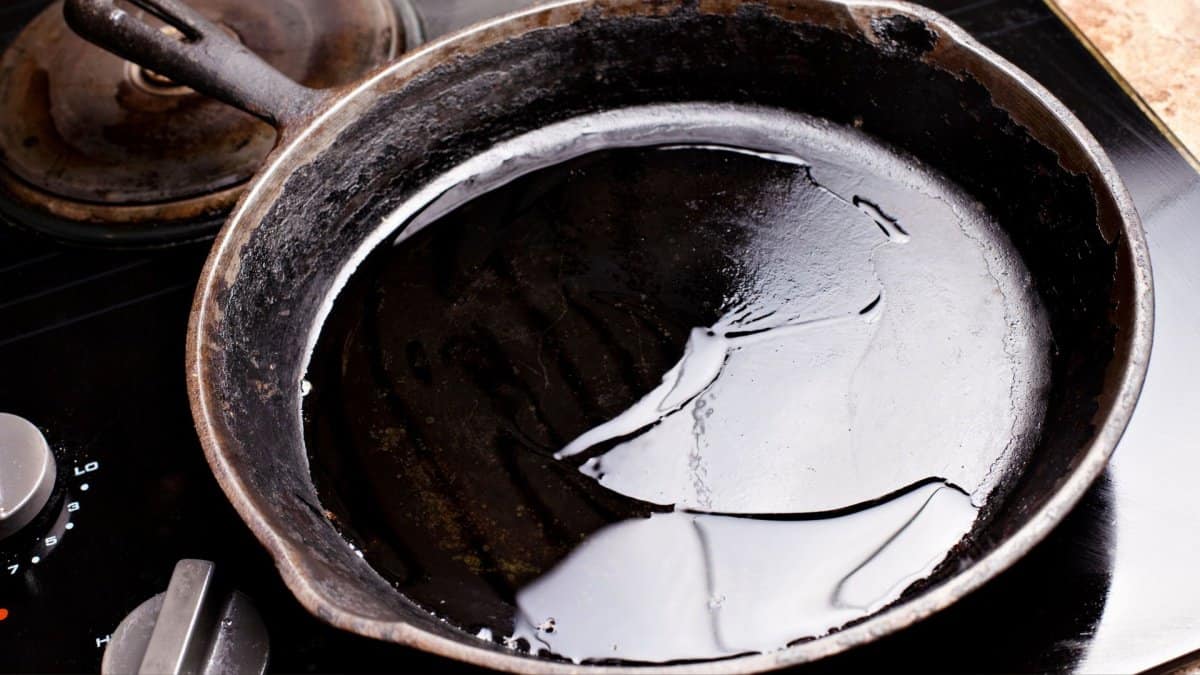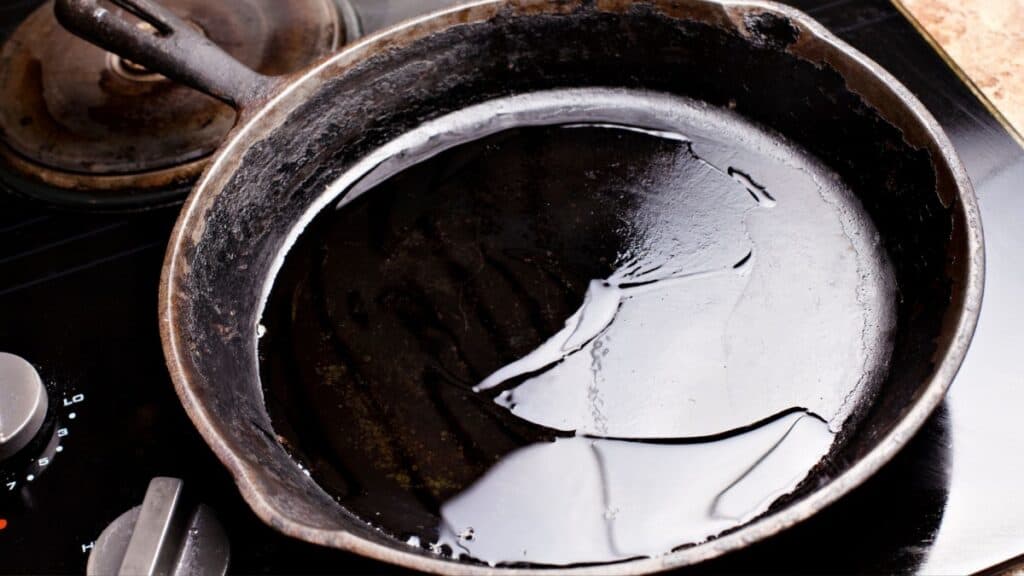 Season a Pre-Seasoned New Cast Iron Pan
When I first get a new cast iron pan or skillet, whether it's pre-seasoned or not, I like to give it an initial seasoning.
Wash the pan well with hot, soapy water and dry it.
Next, spread a thin layer of vegetable oil or shortening in the skillet, wiping out any excess.
Preheat my oven to 400°F and arrange my oven racks so there are two racks about equal distance apart, placing a sheet of aluminum foil over the bottom rack to catch oil drips.
Place the oiled cast iron pan on the top rack and let it bake for about an hour, then let the pan cool down completely before removing it from the oven.
This process helps to create a good cooking surface that releases food and doesn't rust.
Maintaining Seasoning Through Regular Usage
To keep my cast iron skillet in the best condition, I make sure to maintain its seasoning through regular usage.
This involves cooking with it often, as well as cleaning it properly after each use. When washing my cast iron, I avoid using harsh chemicals or scouring pads that could damage the seasoning.
Instead, I use a soft cloth or sponge and warm water. If there are stubborn bits of food stuck to the pan, I use a paste made from kosher salt and hot water, to gently scrub it away.
Once it's clean, I dry the pan immediately to prevent rust. I then lightly coat the pan's surface with a thin layer of neutral oil before storing it to help maintain its seasoning.
Re-Seasoning Your Cast Iron
Over time, even with use and proper care, cast iron pan might lose some of its seasoning or develop uneven spots. When this happens, follow the same process of pre-seasoning it as when I initially seasoned the pan.
Clean it thoroughly using warm soapy water, dry it completely, and apply a thin layer of vegetable oil or shortening.
Then bake the pan upside down in a 400°F oven for about an hour, allowing it to cool down before removing it. This helps to restore the seasoning and maintains the non-stick surface of my cast iron skillet.
Selecting and Applying Oil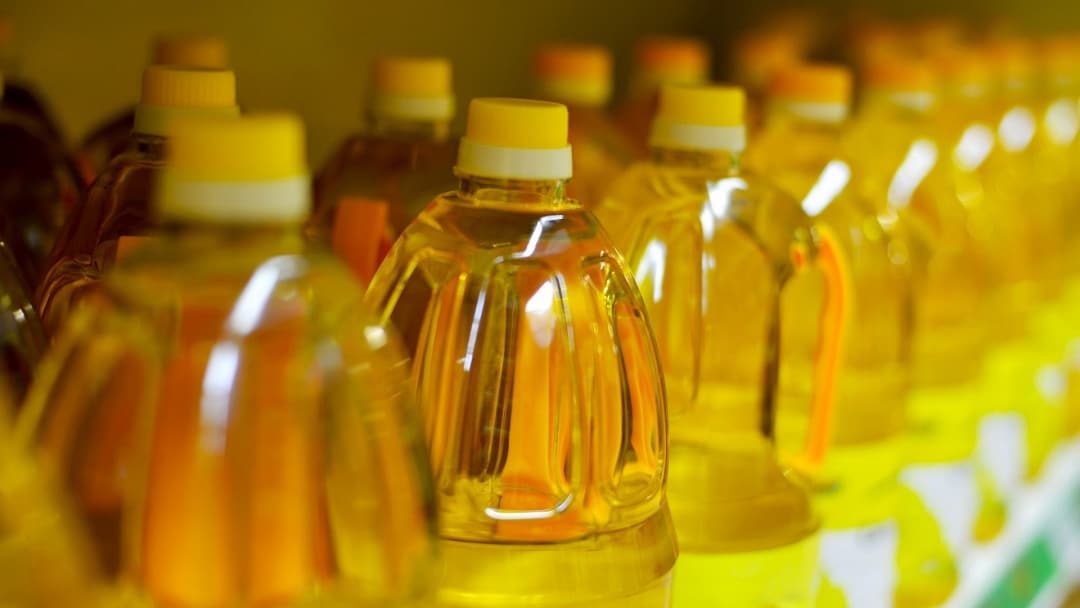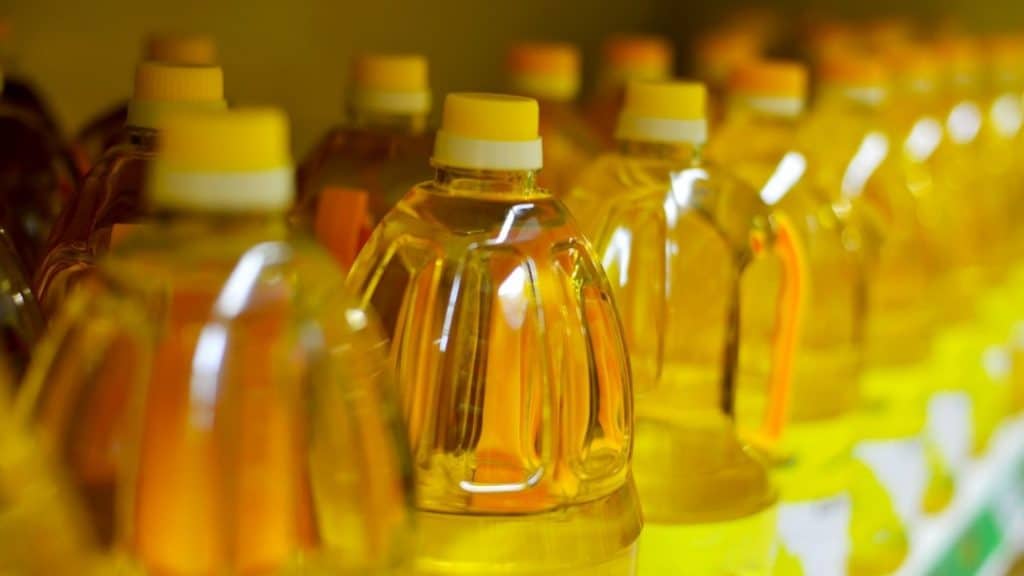 Choosing the Right Oil
When it comes to cooking oils seasoning cast iron cookware, I choose the right oil based on its smoke point and ability to polymerize. Oils with a high smoke point and good polymerization properties are ideal for creating a durable non-stick surface.
I usually avoid using vegetable oils with a low smoke point, such as olive oil, as they can produce a patchy seasoning layer.
Some of the best oils I use for seasoning cast iron cookware include vegetable oil, canola oil, grapeseed, and avocado oil. These oils have high smoke points and are suitable for polymerization.
I've heard that some people swear by flaxseed oil, which is a bit more expensive but yields a hard and durable seasoning.
Applying Oil to the Cast Iron
To season cast iron, I start by coating the entire pan with my chosen cooking oil, using a paper towel, and covering all the pores of the cast iron. It's important to ensure that the handle and bottom of the pan are coated as well.
Next, I wipe away any excess oil, making sure there is no pooling or visible greasy spots. It is essential to have a thin layer of oil for proper polymerization.
Once my cast iron is coated with oil, I place it upside down in an oven set to 500° and bake for 1 hour. The oil won't pool when you turn it upside down and eliminates drips that can dry into sticky spots.
As the oil is heated, it will start to polymerize, creating a non-stick surface that makes cooking a breeze.
Using the right oil and applying it correctly ensures that my cast iron skillet will be well-seasoned and ready for use.
This process may need to be repeated a few times to build up the seasoning layer until the surface has a smooth, shiny, and non-stick finish.
Cleaning and Caring for Cast Iron
Basic Cleaning
After cooking with my cast iron cookware, I follow a simple cleaning routine. I make sure to remove all the excess oil and food particles from the cooking surface using a stiff brush or plastic scraper.
Next, I wash the cast iron skillet with warm, soapy water and then rinse it thoroughly. It's essential to dry the skillet immediately after rinsing to prevent rust formation.
Finally, I apply a thin layer of cooking oil to the skillet's surface and heat it briefly. This helps maintain and protect the skillet's own seasoning well.
Removing Rust
If I notice some rusty areas in my cast-iron skillet, I can bring it back to life by following these steps:
Prepare supplies: steel wool, mild dish soap, and an old rag or sponge.

Scrub the rust: scrub the rusty spots with steel wool in a circular motion until the rust is removed.

Clean the skillet: wash the skillet with warm, soapy water using an old rag or sponge.

Dry: dry the skillet thoroughly with a clean cloth or paper towel.

Re-season: reapply a light coat of oil and heat the skillet to restore the protective layer of seasoning and prevent future rust.
Dealing with Chipping or Flaking Seasoning
Sometimes, the seasoning layer of my cast iron cookware may chip or flake. To fix this issue, do the following:
Clean: clean the skillet as described in the basic cleaning section.

Remove chipped or flaking seasoning: scrub the affected area using a steel wool pad or rough sponge.

Re-season: apply a thin layer of oil to the entire skillet and cook it upside down at high heat for an hour to rebuild the seasoning layer. Avoid cooking acidic foods in newly seasoned cast iron until the seasoning has matured with a few more uses.
By following these simple cleaning and care steps, I can maintain my cast iron cookware and ensure a durable, non-stick cooking surface.
Avoiding Common Mistakes
When it comes to seasoning my cast iron, I've learned that avoiding some common mistakes can help ensure a well-seasoned pan.
Using the Wrong Type of Oil
When I first seasoned my cast iron, I didn't realize that using the wrong type of oil could affect the quality of the seasoning. Some oils, tend to create a sticky or flaking surface, which isn't suitable for cast iron.
Now I prefer to use oils with high smoke points, such as canola or vegetable oil, which produce a better seasoning layer that bonds to the metal surface.
Deep dive with me into the best oils for seasoning cast iron.
Not Drying the Cast Iron Properly
Before starting the seasoning process, it's essential to make sure my cast iron is clean and dry.
I usually place it over low heat for a few minutes to evaporate any remaining moisture.
This step prevents rust from forming and allows the oil to coat the pan evenly when applied.
Using Harsh Cleaning Methods
As someone who uses cast iron pans regularly, I discovered that harsh cleaning could damage the seasoning on my pan.
Instead of using abrasive tools or strong cleaning agents, I prefer to scrub with a dish brush or soft sponge and mild soap.
After rinsing, always make sure to dry it well and apply a thin layer of oil to protect the surface.
Signs Your Cast Iron Needs Re-Seasoning
Uneven or Sticking Cooking Surface
One of the main indicators that your cast iron needs re-seasoning is an uneven or sticking cooking surface. Over time and with regular usage, the seasoning on a cast iron pan can wear down and food will begin to stick to the surface.
This is a clear sign that your pan needs a fresh application of oil and properly baked to build up the natural nonstick surface again.
Rust Formation
Rust formation is a sign that the protective layer of seasoning has weakened, exposing the cast iron to moisture and air.
If you spot rust on your pan, don't worry. I recommend following some simple cleaning and re-seasoning steps to eliminate the rust and restore the pan's quality and performance.
Fading or Discoloration
Well-seasoned cast iron cookware should have a smooth, dark, and shiny appearance. If your cast iron looks faded, discolored, or has areas where the residual seasoning appears to be patchy, it's time to re-season it.
To ensure your cast iron is seasoned properly, make sure to clean it thoroughly, apply a generous amount of oil, and follow the correct baking process.
Cooking Tips for Cast Iron Cookware
When using a cast iron skillet, I make sure to use it for the right recipes. These typically include dishes that require high heat and even heat distribution, such as searing meats and frying.
Foods like bacon and steaks are perfect for cooking in cast iron pans, as they require even heat distribution and the high temperatures cast iron is known for.
Incorporating Regular Use
Easy seasoning when I use my pan regularly in my cooking routine to ensure it remains well-seasoned. After each use, it is cleaned thoroughly, and it is completely dry before storing it away.
To season a cast iron I perform a round of seasoning by heating the pan over medium heat, then add a small amount (about a teaspoon) of neutral oil, such as canola or vegetable oil, to the pan.
Using a paper towel or a soft cloth, to rub the oil evenly over the entire pan, wiping away excess oil as needed. This helps prevent oil from pooling and keeps the pan in good shape.
Once I've evenly spread the oil, I place the pan in a preheated oven at 350°F for about an hour to let the oil bond with the bare iron.
After the hour has passed, I carefully remove the hot pan from the oven and let it cool completely before storing it away.
Wrapping Up: How to Know if Cast Iron is Seasoned
Today you have learned how to identify a seasoned cast-iron pan.
Also what seasoning do most cast iron pans manufacturers season your pan with before you purchase it?
Importantly when seasoning becomes sticky, food sticks, and will need to be reseasoned.
Why using your cookware regularly assists in maintaining the coat of seasoning.
Lastly how to season your new pan as well as your much loved cast iron.
So, whether you're a seasoned professional or a newbie to the world of cast iron cooking, these tips will help you keep your cast iron cookware in the best shape possible.
One-Pot Cooking Rocks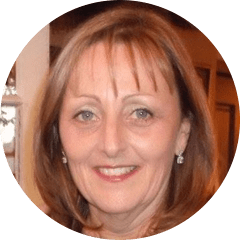 Michelle – Author
Hi, I'm Michelle the founder, owner, author, and editor of OvenSpot. My passion for one-pot cooking commenced when I was working to prepare cafeteria lunches for school students. I am now on a mission to assist you in choosing the cooking pot or appliance you will use every day. As well as in-depth information to assist you in using and caring for your cookware and appliances.
Questions? Reach out to Michelle at [email protected]