How to Know When to Replace Your Cast Iron Pan
Cast iron is a great material for cooking because it heats up evenly and retains heat well. But, as with any metal, over time the coating or seasoning can wear off and your food will stick to the pan. There are also other signs that your cast iron needs replacing.
You should consider disposing of cast-iron cookware if it is cracked, warped, has holes appearing on the surface, or has passed the rusting stage and is corroding. Unfortunately, worn-out cast iron can be attributed to incorrect heat exposure, lack of care and maintenance also its age.
What Can Damage Cast Iron Cookware?
Heat
Cast iron is durable, but it can result in defects if you overheat too quickly without adding ingredients.
The iron heats up very quickly so if you plan to cook with a cast iron pan, make sure you start at medium temperature instead of high as that could lead to metal warping or even cracking issues.
Thermal shock is real – just imagine an icy cold glass being plunged into hot dishwashing water – will it crack – probably. The same can happen with cast iron no matter its tough reputation.
Care and Maintenance
Long-term cooking can result in defects, such as pesky stains from food and rust spots when added with mishandling. Usually, this happens when the cast iron pan is used at very high heat and has a compromised naturally seasoned surface.
Seasoned surfaces can be damaged by acidic food, incorrect use of cooking utensils as well as incorrect cleaning, seasoning, and storage.

Age of Cast Iron
Unfortunately, the age of your cast-iron cookware could be why you need to replace it. This could be because of the quality of the original material, below standard. If you combine that with lack of care and maintenance your poor piece of cast iron didn't stand a chance of lasting indefinitely.
When Should You Throw Away Your Cast-Iron Pan
So how do you know when the time has come? Well typically scratches will appear on the surface of the pan first; however, more drastic signs like chips and cracks may appear. Following this, you will notice rust and corrosion.
Factors like how often you use it, how long you've had it, what type of foods you're cooking in it (high-acid foods will cause more corrosion), as well as whether or not food sticks to the surface. Also, if your pan has been sitting around collecting dust or if there are visible scratches on the surface then chances are good that your cast iron needs a major restoration or replacing.
Cooking in a cast-iron pan can be dangerous if it is not maintained properly. In order to keep your food from being contaminated, you should know when to throw away the pan and get a new one.
When you cook food in damaged cast iron, the iron will mix in your food, making it harmful to you. Your health and safety should always be your first priority, so if your cast iron is not able to perform to its highest standard it is time to replace it.
Let's take a closer look at why you should throw away a cast iron pan.
1. When Cast-Iron Is Chipped
Cooking with cast iron can be both fun and dangerous. Cooking food at high heat for long periods of time will cause the food to burn, and scraping to remove stuck particles may result in chipping the pan. If this is repeated over a long period of time, it can actually damage your pan irreparably. Unwanted iron traces in food can create serious hazards for your health if you continually use a damaged pan. So throw away your damaged cast iron so that you don't get sick.
2. When Cast-Iron Has Holes
Cast Iron pans are lifetime pans and they generally do not get damaged with age. In rare cases though, holes can form in the iron because of harsh washing techniques or through long term use after many years of improper care as well as incorrect usage like using metal utensils with them among other things which might lead to a hole forming at the bottom of your cast iron pan!
If you have holes in your cast iron no amount of trying to repair it would be beneficial or healthy. You will end up with chips as well as iron leaching into any food you prepare.
TIP – turn this piece of iron around your home as a showpiece or decoration in the kitchen, garden or shed. What about putting a plant in it or filling it with scented candle wax for your back patio. You will then have a talking piece and stories that can be shared about your much-loved piece of cast iron cookware…
3. When Cast-Iron Pan Cracks
Cracked cast iron is unhealthy cast iron and is not safe to use. Cracks in cast-iron cookware of any kind can lead to the spread of bacteria into your food, which could make you sick. The cracks will also eventually lead to chips of iron in your dishes. So it's time for a new one when your pan starts to show signs of this kind of wear and tear.
4. When Cast-Iron Sits Unevenly
Have you ever noticed that the more you use your cast-iron pot, pan, skillet, or Dutch oven the more it warps and becomes wobbly?
It's a common misconception that this is due to improper care. In reality, when we use our pans often enough they will warp or become wobbly because of heat expansion.
Cast-iron cookware has been used for centuries because of its durability and ability to withstand high temperatures without becoming warped or cracked.
If your pot or pan is wobbly enough that it is unsafe to use on your heat source it is time to replace it for your physical safety. You can prevent your cast-iron pan from warping by:
Not excessively heating the pan at high temperatures without placing any food in it
All cast iron should be heated up with slow/medium and heat increased as required
The same in reverse do not try to cool your cast iron down quickly
Clean thoroughly and store in a place away from humidity
5. When Cast-Iron Corrodes
Why does cast iron cookware corrode? Over time, you may notice the metal can start to rust or corrode. This happens when moisture seeps into the pores of the pan and reacts with the metal. The result is that your favorite pan, pot, skillet, or Dutch oven starts to turn black in spots and may even flake off in chunks.
You don't have to give up on your cast-iron pans just yet! There are ways you can prevent corrosion from happening again so you'll never have to worry about it again.
Clean the cookware with a wire brush
Apply a thin coat of cooking oil to the surface
Place in an oven heated to 350 degrees Fahrenheit for 2 hours or until it is dry and blackened with a non-stick surface.
Keep repeating processed until you have a lovely smooth non-stick patina.
Click this link for more information on how you can keep your cast iron cookware looking new!
Keep Your Cast-Iron in Top Shape
Follow these simple steps so you won't have to throw your cast-iron cookware away.
Don't use your cast-iron pan to cook tomato sauce or anything acidic. This will help preserve your natural non-stick coating.
Don't put your cast-iron pots or pans in the dishwasher. Wash by hand and always dry thoroughly. Keeping cast-iron moisture-free helps prevent rusting and corrosion whilst pots are being stored.
Don't heat your iron up over high heat or let it get too hot and never leave it unattended without adding ingredients or it will warp and wobble.
Never put cold water into a hot cast-iron pan or vice versa – this one step avoids a thermal shock reaction. In turn cracking and warping.
Season your cast-iron pans with oil regularly to maintain that non-stick surface and avoid rust and corrosion.
Check out this article that goes deep about how you can ruin your cast iron cookware.
Final Thoughts – When to Replace Your Cast Iron Pan
A good quality piece of cast-iron cookware that is well cared for can last for decades. Some say that cast-iron pans, pots, skillets, and Dutch ovens never wear out. Many factors contribute to cast-iron longevity including the quality of the iron, heat, use, care, and maintenance.
There are in fact times when a cast-iron pan should no longer be used. If you cook in damaged pans, then you will lower the hygienic quality of your food. Damaged pans will upset also the nutritional value of the food.
So now you know when it's time to throw away your cast iron cookware.
Disclaimer: As an Amazon Associate I earn from qualifying purchases on my website. If you make a purchase through links from this website, I may get a small share of the sale from Amazon and other similar affiliate programs.
Check out some of my favorite pieces of cast-iron cookware here.
One-Pot Cooking Rocks
Source: Cast Iron Cookware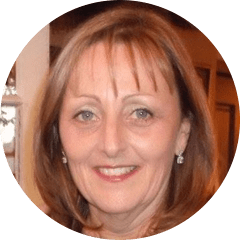 Michelle – Author
Hi, I'm Michelle the founder, owner, author, and editor of OvenSpot. My passion for one-pot cooking commenced when I was working to prepare cafeteria lunches for school students. I am now on a mission to assist you in choosing the cooking pot or appliance you will use every day. As well as in-depth information to assist you in using and caring for your cookware and appliances.
Questions? Reach out to Michelle at [email protected]