Staub Braiser vs Staub Perfect Pan: Which is Best for You
Whether you pride yourself as one of the best home cooks around or you simply want to make sure you get your money's worth in cookware, you will want to know which Staub product is right for you. The question is, which would come out on top in a matchup of the Staub Braiser vs Staub Perfect Pan?
The Staub Perfect Pan and Staub Braiser are similar products. However, the Staub Braiser can be used for larger amounts of food such as meats that need to be browned or roasted, while the Staub Perfect Pan is better for smaller amounts of food that need to be kept warm and flavorful.
In this article, we will cover the pros and cons of both the Staub Braiser and the Staub Perfect Pan so you can decide which is the best pan for you!
What Is Staub?
Disclaimer: As an Amazon Associate I earn from qualifying purchases on my website. If you make a purchase through links from this website, I may get a small share of the sale from Amazon and other similar affiliate programs.
Staub is the name of the company and brand that created French enameled bakeware and cookware that is created out of high-quality cast iron. Staub has been making beautiful cast iron pots and pans since 1974 and has since expanded to making excellent products like the Perfect Pan and Braiser.
I am constantly answering the question 'where is Staub cookware made? Staubs enamel cast iron is made in France while its other products are made in China. Learn more in an in-depth guide into where Staubs products are manufactured.
Some characteristics of Staub products that make them unique.
Double Glazed Enamel
This fine glass enamel coating is not only attractive but keeps food and products from damage. Bare cast iron can leach dangerous chemicals into food, which is prevented by the enamel glaze. Their enameled cast iron makes them a fierce competitor for other products on the market, such as the Le Creuset cast iron Dutch ovens.
Nubbed Lids
Staub cookware has small nubs manufactured on the underside of each lid so that condensation can baste foods naturally during the cooking process, creating an even coating of flavor.
Learn more about why a cast iron lid has spikes on the underside.
Staub Colors
Staubs colored enamel is known internationally as "rich and earthy" and complements their enamel matt black interior. Making them real workhorses in any kitchen even when using colorful ingredients that would leave light interiors discolored. They look good for many many years with little maintenance.
Pros and Cons of the Staub Braiser
The Staub cast iron braiser is an excellent product, but even the best cookware products have their flaws. In order to understand how it matches up against the Staub Perfect Pan, or even get an accurate comparison of the two items, check out the list of pros and cons below!
Pros of the Staub Braiser
Browning and Simmering
Braisers are made for this very function, and the Staub Braiser does not disappoint! The shallow walls don't allow the flavor to escape, but they also do not allow moisture to accumulate.
For moisture unless you need to make use of the cast iron lid. This leads to tastily browned meats and easily-achieved simmers. Learn what you can cook in a braiser.
Large Size
Wanting to brown or roast a piece of meat for a large group? The Staub Braiser can help you get it done all at once thanks to its large surface area!
This not only accommodates large amounts of food but leaves plenty of room for moisture to spread out instead of ruining any attempts to brown meat such as chickens or short ribs.
Learn about the best size braiser to buy.
Oven Safe
The cast iron material that most Staub Braisers are made out of makes it more reliable in the oven, though the Staub company does recommend that it not be left in the oven in temperatures that exceed 500 degrees Fahrenheit.
Cons of the Staub Braiser
Heavier Construction
Although this may not be a problem for those in able-bodied condition, and it is an indicator of a quality cast iron piece, the Staub Braiser is a bit heavier than the Staub Perfect Pan. This is thanks to its quality cast iron construction, but it may make cooking more difficult depending on the chef's physical condition.
Long Cooking Time
When you are cooking anything other than light meats (like fish) or veggies, braising does take time. Large amounts of meat or chunkier foods need time to brown and cook thoroughly in the thick interior of a Staub Braiser. While this is fine for intentional slow cooking, it can be irritating in any other case.
Pros and Cons of the Staub Perfect Pan
When you notice the word "perfect" right in this product's name, it can be tempting to believe that it automatically trumps another product like the Staub Braiser. However, is the name accurate? Let's find out by going over the pros and cons of the Staub Perfect Pan!
Pros of the Staub Perfect Pan
Glass Lid
One of the most overlooked, but useful advantages of the Staub Perfect Pan is the glass lid that each model comes with! This not only seals in the flavor and moisture effectively, but does so without compromising the cook's ability to see how things are going inside. You won't need a timed pressure cooker to keep watch over your food.
Wire Rack Included
Another element of control that the Staub Perfect Pan features is the handy wire rack that the product includes. This gives you the opportunity to drain foods that need to be dried and even allows you to keep food warm without burning the bottom of your meal over the stovetop!
High Flavor Content
You don't need a slow cooker to extract the best flavor out of your meals! The Perfect Pan is designed to contain flavor using its wall construction and tightly fitting glass lid.
Diverse Uses
It's not called "Perfect Pan" for no reason! This piece of cookware is meant to be helpful no matter what you are trying to cook. Its shape can accommodate liquid dishes like casseroles and pasta without compromising its ability to brown or fry meats. It can also, to a limited extent, be used in the oven!
Cons of the Staub Perfect Pan
Limited Oven Function
Although the Staub company advertises that both the Staub Braiser and Staub Perfect Pan can survive 500-degree temperatures in the oven. Some customers have reported damage to their Perfect Pan before the oven ever gets that hot. Simply put, the Braiser is designed for oven use, while the Perfect Pan is not.
Small Pan Bottom
One of the advantages that the Braiser has over the Perfect Pan is the larger surface area on the bottom of the pan. The higher walls and slope of the Perfect Pan can prevent you from being able to cook things in as great a capacity as the Braiser if you wind up trying to cook similar dishes, like whole chickens.
FAQs
When you decide to work with Staub products, no matter which suits your needs, you are bound to have more questions! Check out this list of frequently asked questions for some great answers.
What do you use Staub Braiser for?
Braisers are unique among cookware in that they are used for a variety of stovetop and oven functions, including searing, roasting, and simmering. A braiser is a pan that features a big surface area with walls high enough to contain juices, but low enough to prevent steaming.
Without steamrolling back and moistening the food you are cooking, browning is achieved much more easily! Therefore, you can cook pork chops, whole chicken, and even brisket in addition to an array of veggies in a Staub braiser.
What is the difference between a Dutch Oven and a Braiser?
The main difference between Dutch ovens and braisers is that the Dutch Oven is commonly used to make whole dishes, while the Braiser is best used for roasting, browning, tenderizing, and shallow-frying.
The main reason for this helpful difference is found in each pan's size walls. A Dutch Oven uses tall pan walls, turning it into the perfect piece of cookware for casseroles, some deep-frying, and even soups!
On the other hand, a Braiser like the Staub braiser features short walls for types of food that do not feature large amounts of liquid. Learn more in the article Dutch Oven vs Cast Iron Braiser: Do I Really Need Both?
What is a braiser for cast iron?
A braiser is usually made with cast iron that has been covered in an enamel seal. Typically these cast iron pans are round, carefully using the aforementioned short sides with a slight slope to them. These allow only small amounts of liquid to accumulate in the pan, making it perfect for shallow frying and browning.
If you do need to use a braiser to take advantage of moisture, never fear! Most cast iron braisers come with lids that fit tightly and keep liquids contained and rich in flavor.
Can a Staub Perfect Pan go in the oven?
The Staub Perfect Pan is commonly used on a cooktop stove for one specific reason: its glass lid and enamel coating can only withstand so much heat. While you can place a Staub Perfect Pan in the oven, make sure not to increase the temperature beyond 500 degrees Fahrenheit for maximum safety!
What is so special about Staub?
Staub products can be expensive and they accumulate a lot of hype from the home cooking community, so it is no surprise that you might wonder what makes this brand of cookware so special. Staub features many helpful benefits in their products.
Possibly the best thing about Staub's craftsmanship, which sets their cookware apart and makes it special when compared to other brands, are their enamel coatings.
The enamel covering Staub products not only protects food from metal leaching but keeps the product itself from getting scratched or damaged as easily during use.
Related Topics
Wrapping Up!
To sum up, everything we've gone over up, the Staub company's fine list of safe, quality, and attractive products does include two similar contenders: the Staub Braiser and the Staub Perfect Pan.
Each pan is a useful contribution to any collection of cast iron cookware, but in a question of Staub Perfect Pan vs Staub Braiser, we recommend the Staub Braiser.
While the Perfect Pan is capable of drying foods thanks to its handy wire rack and providing a view through its glass lid, it is not as oven-safe as the braiser. In addition, its surface area is not as wide as the Staub Braiser, allowing for less space to effectively brown large meals like meat.
Altogether, though both pans are quality tools in the kitchen, the Staub Braiser manages to come out on top when the two are compared!
One-Pot Cooking Rocks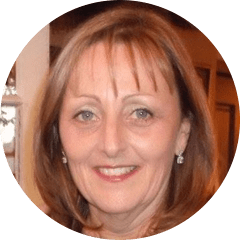 Michelle – Author
Hi, I'm Michelle the founder, owner, author, and editor of OvenSpot. My passion for one-pot cooking commenced when I was working to prepare cafeteria lunches for school students. I am now on a mission to assist you in choosing the cooking pot or appliance you will use every day. As well as in-depth information to assist you in using and caring for your cookware and appliances.
Questions? Reach out to Michelle at [email protected]