Staub Cocotte Sizes: Charts and Choice Guide
Staub cocotte sizes are varied and make the perfect kitchen companion for any home chef who wants to hone their cast iron cooking skills. Staub has been making beautiful cast iron pots and pans since 1974. They are famous for their pot shapes that are made to create a variety of dishes year after year.
One of the most popular uses for a cocotte is making Coq au vin and delicate desserts like custards or creme brulee, but there are so many more uses! It can be used as a slow cooker, casserole dish, bread baker, or even an ice cream maker! The possibilities really are endless with these beautiful pieces of cookware.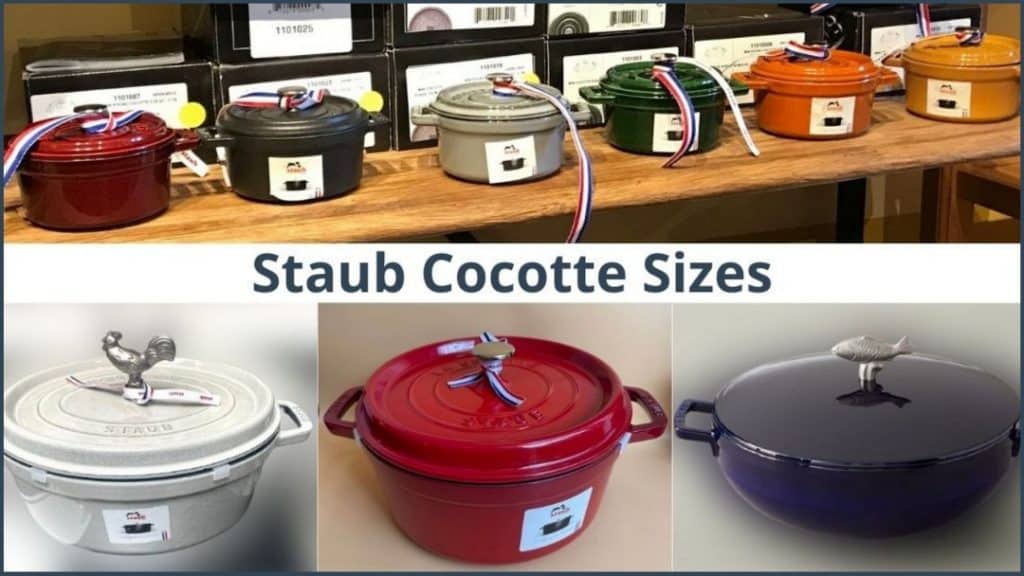 If you have tried to decipher the sizes and capacities of Staub products you will understand the confusion around sizing. The problem arises due to Staub's use of the metric system to record their measurements, whereas in the United States, we use the Imperial system.
In this article, I give you tables with both the Metric and Imperial Measurements of Staub Cocottes. As well as how versatile these Cocotte/Dutch ovens are, and what they're best suited for so you can choose the right size Staub Cocotte for you!
Disclaimer: As an Amazon Associate I earn from qualifying purchases on my website. If you make a purchase through links from this website, I may get a small share of the sale from Amazon and other similar affiliate programs.
What Is a Staub Cocotte: Why It's So Versatile and Popular
A cocotte, from the French word 'Cocotier' meaning palm tree, is a pot and can be found in various sizes and shapes. With high sides and typically two handles on either side of the top. The cocotte design allows for long, slow cooking by trapping moisture inside and keeping the food warm for a long period of time.
Cocottes were designed to be used with wood or gas fireplaces when cooking, they can also be used on the kitchen stovetop. They are most often used for dishes like cassoulet and coq au vin, but you can make anything in them! They are a very versatile piece of cookware.
What Is the Difference Between a Dutch Oven and a Cocotte?
Cocottes (French ovens) and Dutch ovens are both cast-iron enamel-coated cooking pots. Cast with thick walls, bases, and a heavy tight-fitting lid. Dutch ovens usually have spikes or (nipples) on the inside of the lid. … Whereas some cocotte, such as the Staub brand cocotte, has a flat lid with spikes.
Confused about what Dutch Ovens and Cocotte's are? I explain the key differences check out the article.
What Size Staub Cocotte Do I Need?
The amount of food you want to bake or the number of people you're cooking for will help determine what size cocotte is best for your needs. To figure out what size you need, add one quart of food per person and round up if necessary. The size you'll need to start also depends heavily on the types of recipes you will be cooking, but there are some general guidelines.
Staub Cocotte Mini, the Staub cocotte mini is perfect for single-servings, you are not limited to what you cook in a mini-cocotte. They are especially good for those recipes that need a little help to keep their form after cooking. Such as egg dishes, soufflés, puddings, pot pies. You can also use this for your most delicate dishes such as egg custard or crème Brule it even keeps the heat! If you love entertaining this mini-cocotte makes it a breeze.
A Cocotte like the 23 cm (2 quarts), can be used for many recipes that serve two people and have been adapted from larger recipes using a larger pot like a Le Creuset Dutch Oven, just with less liquid and smaller amounts of ingredients in order to fit in the Cocotte.
The Staub Cocotte 24 cm (3.3 quarts), this 9.5-inch cocotte is the ideal size for a couple or small families to prepare everyday meals like casseroles, pasta, soups, and stews. This is because the size is functional and not too large for everyday use and easy cleanup. It also works for small roasted meals.
Staub Cocotte 26 cm (4.5 quarts), perfect size for cooking dishes that serve 4 to 5 people. This size cocotte is renowned to be the most used size of all the Cocottes, it is wider than some of the others making the working area inside the pot a little easier than those with less width and higher sides. You will enjoy making your favorite dishes including roasting in the oven, no-knead bread, sauteing, braising, frying, and ribs.
A Cocotte like the 29 cm (4.8 quarts), is a perfect size to feed 2 – 3 people requiring roasts smaller cuts of meat, a rack of ribs, or a pork loin. The size is also great for food singles, couples, food preppers, or small families.
A medium-sized Cocotte, like the 33 cm (6.7 quarts), if you're looking for something big enough to feed a family, a 6-quart cocotte will make classics perfectly every time. When you use larger ovens, it's okay to cook dishes that are normally made in a pot or casserole dish like French onion soup, Foradillas, and lasagna. It will still taste just as good when served family-style from the Cocotte! 6.7 quarts will also cater to roasts with vegetables included. 5.5-quart to 6.75-quart Dutch ovens are the most popular size Dutch ovens (recommended read)
The largest Staub Cocottes, like the 41 cm oval (10.25 quart) is suited for when you want to feed an army (10 or more) – like my husband's family! These larger Cocottes are perfect for stews, soups, roasts, spaghetti sauce, lasagna, and anything else that requires a lot of liquid to cook in order not to dry out while it cooks. The oval-shaped 8 quart is also great for people who like to cook very large items, such as meat on the bone, ribs, whole chickens, and turkeys.
Resource: Best Size Dutch Oven for a Family of 4
Staub Cocotte Size Guide: Enameled Cast Iron
How are Staub Cocottes measured? Staub uses the Metric system in its measurements. The cm's that Staub Cookware is identified by is the measurement of the circumference across the top of the cooking pot.
Example: Cocotte size 23 cm = 9.5 inches, 3.3-quart, 3.8 liters, 15.3 CMS or 6 inches height 4.6 kg or 10.1 pounds in weight and is suitable to feed 3 to 4 people comfortably.
Below you will find size guides in Metric and Imperial for Staub's cast iron Cocottes also known as French ovens and Dutch ovens, round and oval as well as Staub's cast-iron braisers and fish dishes.
Staub Round Cocotte (Dutch Oven) Sizes
Size
Quarts
Liters
Height
Weight
Servings
Mini
–
0.25 ltr
7 cm
2.75 inches
0.85 kg
1.8 lbs
1
16 cms
6.3 inches
1 qt
1.2 ltr
12.6 cm
4.9 inches
2.34 kg
5.15 lbs
1 – 2
20 cms
7.8 inches
1.9 qt
2.2 ltr
14.5 cm
5.8 inches
3.6 kg
7.9 lbs
2
22 cms
8.7 inches
2.75 qt
2.8 ltr
15 cm
5.9 inches
3.98 kg
8.8 lbs
2 – 3
24 cms
9.5 inches
3.3 qt
3.8 ltr
15.3 cm
6 inches
4.6 kg
10.1 lbs
3 – 4
26 cms
10.2 inches
4.5 qt
5.2 ltr
17 cm
6.7 inches
5.7 kg
12.5 lbs
4 – 5
28 cms
11 inches
6.25 qt
6.7 ltr
18.2 cm
7.2 inches
7 kg
15.4 lbs
5 – 6
30 cms
11.8 inches
9 qt
8.5 ltr
29 cm
11.8 inches
8 kg
17.7 lbs
9 +
Staub Round Cocotte Sizes
Staub Oval Cocotte (Dutch Oven) Sizes
Size &
Price
Quarts
Liters
Height
Weight
Servings
15 cms
5.9 inches
0.5 qt
0.6 ltr
9.2 cm
3.6 inches
1.32 kg
2.9 lbs
1
17 cms
6.7 inches
0.87 qt
1 ltr
11.6 cm
4.5 inches
2.33 kg
5.1 lbs
1 – 2
23 cms
9 inches
2 qt
2.35 ltr
14 cm
5.5 inches
3.36 kg
7.4 lbs
2 – 3
27 cms
10.6 inches
2.8 qt
3.2 ltr
14.5 cm
5.7 inches
4.5 kg
9.9 lbs
3 – 4
29 cms
11.4 inches
3.7 qt
4.2 ltr
15.8 cm
6.3 inches
5.6 kg
12.35 lbs
4 – 5
31 cms
12.2 inches
4.8 qt
5.5 ltr
16.7 cm
6.6 inches
6 kg
13.25 lbs
6
33 cms
13 inches
5.9 qt
6.7 ltr
17.5 cm
6.9 inches
7 kg
15.5 lbs
6 – 8
37 cms
14.6 inches
7 qt
8 ltr
18 cm
7 inches
8.5 kg
18.7 lbs
7 – 8
41 cm
16.1 inches
10.5 qt
12 ltr
19.6 cm
7.7 inches
11.6 kg
25.5 lbs
10
Staub Oval Cocotte Sizes
Staub Speciality Cocotte Shapes and Sizes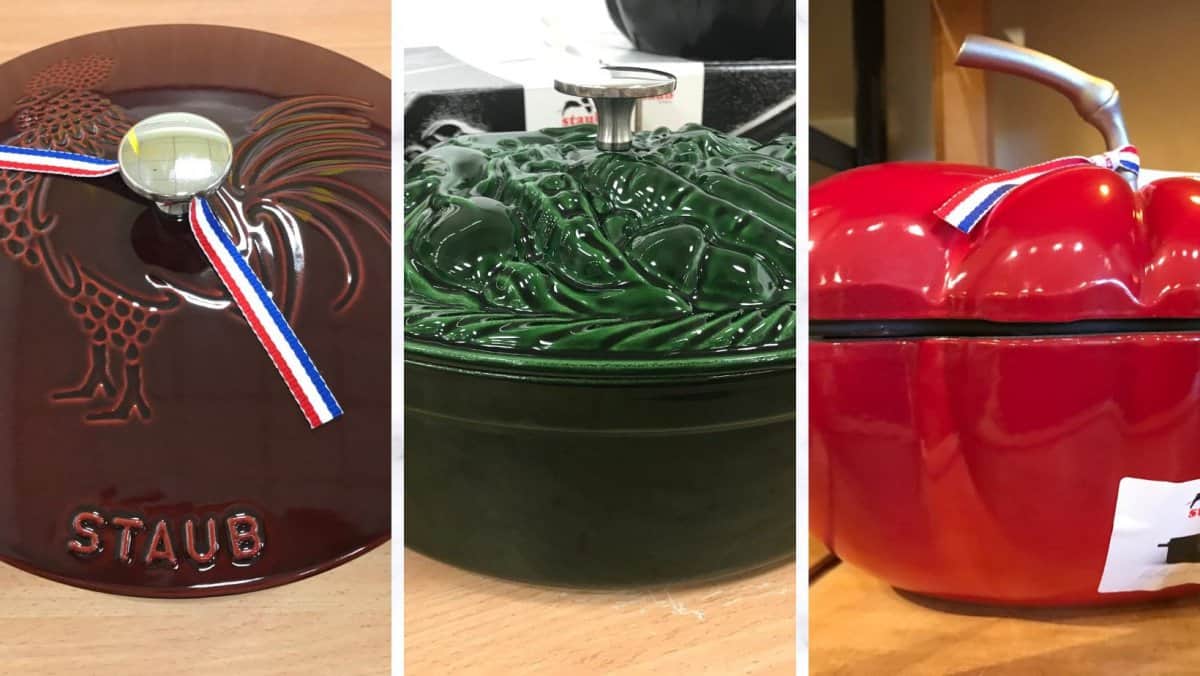 Staub is known for its glorious shaped cocotte known as the "specialty range" there literally is a specialty shape for every occasion. Shapes will vary from time to time but you can expect to find the following shapes. They are available in both enamel cast iron and ceramic coated in enamel once again in various colors and sizes. All sizes, shapes, and colors can be found on Staub's website.
Shape & Price
Quarts
Liters
Size
(Length)
Height
Weight
Servings
Artichoke
2.8 qt
0.9 ltr
22 cms
8.6 inches
19.6 cm
7.7 inches
4.3 kg
9.4 lbs
2 – 3
Heart
1.8 qt
2.8 ltr
21.8 cms
8.6 inches
14 cm
5.5 inches
2.96 kg
6.53 lbs
1 – 2
Pig
1 qt
0.9 ltr
22.4 cms
8.82 inches
24.5 cm
5.12 inches
2.81 kg
5.72 lbs
1
Pumpkin
3.75 qt
3.5 ltr
28.5 cms
11.3 inches
14.5 cm
6 inches
4.8 kg
10.78 lbs
3 – 4
Tomato
3 qt
2.8 ltr
32.5 cms
12.8 inches
21 cm
8.26 inches
4.6 kg
10.1 lbs
2 – 3
French Oven Lilly
3.8 qt
3.6 ltr
30 cms
12.13 inches
13 cm
5.12 inches
4.7 kg
10.3 lbs
3 – 4
French Oven Rooster
3.75 qt
3.5 ltr
30.8 cms
12.13 inches
13.2 cm
5.2 inches
4.5 kg
9.97 lbs
3 – 4
Mussel Pot
2.1 qt
2 ltr
10.9 inches
6.65 inches
7.3 lbs
2
Staub Specialty Cocotte Sizes
Staub Cast Iron Braiser Sizes
Size
Quarts
Liters
Height
Weight
Servings
Latest
Price
24 cms
9.4 inches
2.1 qt
2.4 ltr
11.6 cm
4.5 inches
4.2 kg
9.25 lbs
2 – 3
PRICE
28 cms
11 inches
3.25 qt
3.7 ltr
12.6 cm
4.9 inches
5.4 kg
11.9 lbs
3 – 4
PRICE
Staub Braiser Sizes
What Are Staub Cocottes Made Of?
In addition to the size of your Cocotte, you'll also need to consider the material it is made of. An enameled cast iron Cocotte, like the jumbo 15-quart, are most similar to your traditional Dutch ovens and can go from stovetop to oven. These are ideal for slow-roasted beef or pork shoulder or braised chicken breasts.
Want to know where Staubs cookware, ceramics, stoneware, bakeware, and accessories are made? I've got all the information in my at Where is Staub Made?
Staub Colors
Staubs enameled cast iron and ceramic cookware also come in different colors so you can match them with the décor of your kitchen and home! Staubs cookware colors include Basil, Black Matte, Cherry, Burnt Orange, Dark Blue, Graphite Grey, Grenadine, Turquoise, White, and Truffle.
Resource: Staub Color Guide
What Is the Number on Staub Lids?
You may find that some Staub lids have a small etched number printed on the bottom. These numbers are called pattern letters, and they represent the type of pot or pan to which the lid belongs. Each letter represents a different size of pot or pan, as well as its accompanying lid.
Some lids will also have a date code engraved on the underside. The date codes indicate when your pan was made.
In addition to the pattern letters and date codes, you may also see a small diamond- or triangle-shaped symbol printed on your Staub lid. This symbol denotes that the lid is oven safe up to 375°F / 190°C.
Checking your lids for these symbols will help you ensure that they are authentic Staub cookware lids, as well as determine which size pot or pan you should use with them!
Staub Oval or Round Which is Best
Round Dutch ovens fit best on stovetops and slow-cook stews, casseroles, and soups perfectly. While oval Dutch ovens fit larger cuts of meat and meat on the bone and suit conventional oven cooking.
Staub Cocotte Prices
This table gives you an approximate price for Staubs cast iron and ceramic cocotte. Prices can vary every day, click through for the latest price.
Staub Cookware
Approximate Price
(Prices vary in sales and from
store to store)
Price
Cast Iron
Mini Oval Cocotte, 0.25-qt
$115
Latest Price
Staub Cast Iron 4-qt Round Cocotte with Glass Lid
$110
Latest Price
Staub Cast Iron Petite French Oven 1.5-qt
$200
Latest Price
Staub Cast Iron Essential French Oven, 3.75-qt
$200
Latest Price
Staub Cast Iron Round Dutch Oven 5 1/2-qt
$270
Latest Price
Staub Cast Iron Round Dutch Oven 7-qt
$430
Latest Price
Staub Piggy Cocotte, 1-qt
$210
Latest Price
Ceramics
Staub Ceramics Mini Round Cocotte Set
$60
Latest Price
Staub Ceramics Petite Tomato Cocotte
$60
Latest Price
Staub Ceramic Mini Pumpkin, 075-qt
$40
Latest Price
Staub Ceramic Petite Artichoke
$35
Latest Price
FAQs
Quick answers to frequently asked Staub cocotte size questions.
What is a Cocotte?
A Cocotte (Dutch oven) is a type of French oven, made from cast iron and enamel, perfect for slow cooking and tenderizing meat. They are designed to be used with electric, glass, induction, and gas stovetops as well as in the oven. It can be found in various sizes, depending on the dish you wish to prepare.
What sizes do Staub Dutch ovens come in?
15 cm, 16cm, 17 cm, 20 cm, 22 cm, 23 cm, 24 cm, 26 cm, 27 cm, 28 cm, 29 cm, 30 cm, 31 cm, 33 cm, 37 cm, 41 cm.
How does Staub make their cast iron cookware?
Staub's cast iron pots and pans are made at the company's factory in France. They use sand molds, molten steel, and coal dust to create durable heavy-gauge cookware that is pretty much indestructible. The only maintenance they require is to be cleaned well after every meal is prepared.
What are the benefits of Staub cooking?
First of all, these are great pieces of cookware that look fantastic in any kitchen. They're stylish and the perfect addition for anyone who loves traditional styles. Secondly, they're very easy to use – you can throw them in a 350-degree oven or on your stovetop without having to worry about damaging them at all. You don't need to have special tools or materials to season them as they are coated in enamel – just some oil and heat!
Are there any downsides to Staub products?
If anything, the only downside is that Staub products aren't always the most affordable option out there! However, if you do decide to purchase one of their cast iron pots or pans I think it will be money well spent, as their quality is second to none.
Find out why Staub cookware is so expensive.
Staub and Le Creuset – which brand do you prefer?
It's really a matter of what you're looking for in cast iron cookware! Staub has more traditional designs whereas Le Creuset does not, so if you're a fan of the retro look then perhaps Staub would be your choice.
I also find that Le Creuset has a slightly thinner cast iron and a smoother enamel finish than Staub, which could make cleaning easier but may result in less heat retention during cooking.
Overall I think both are outstanding brands of cookware so it all comes down to personal preference! I own pieces of both brands.
Find out where Zwilling Products are made (cookware, knives, and accessories)
Finally – Staub Cocotte Sizes
Staub is a high-quality cookware company that has been around for over 150 years. They are known for their beautiful cast iron pots and pans, but did you know they also make different sizes of Cocotte?
Whether you're cooking by stovetop or oven, Staub makes it easy to prepare delicious dishes with ease. We hope that this article helped answer any questions about the history of these products as well as what all the various sizes available from Staub are best suited for!
Learn more about the Staub braiser and the Staub Perfect Pan and which enameled pan might work for You
One-Pot Cooking Rocks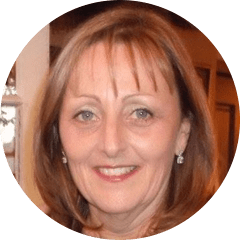 Michelle – Author
Hi, I'm Michelle the founder, owner, author, and editor of OvenSpot. My passion for one-pot cooking commenced when I was working to prepare cafeteria lunches for school students. I am now on a mission to assist you in choosing the cooking pot or appliance you will use every day. As well as in-depth information to assist you in using and caring for your cookware and appliances.
Questions? Reach out to Michelle at michelle@ovenspot.com