Best Dutch Ovens for Making Bread: Complete Guide
Baking bread in a Dutch oven may seem, to some, too difficult to attempt. A Dutch oven, when used correctly, will give you a loaf of bread that looks like you purchased it from an artisan baker. Just like the sourdough bread from the famous Boudin Bakery in San Francisco…
In fact, a Dutch oven is the closest cooking pot that emulates a traditional Bakers Oven. More on that later… What size Dutch oven is best for baking bread?
The best Dutch oven for bread is seasoned or enameled and is sized between 5-1/2-Quarts and 7 Quarts is the perfect size oven to bake a standard size loaf of bread of your choice. A larger size will allow you to double the recipe or prepare bread rolls or bread in shapes other than round.
Disclaimer: As an Amazon Associate I earn from qualifying purchases made on my website. If you make a purchase through links from this website, I may get a small share of the sale from Amazon and other similar affiliate programs.
Baking Bread in a Dutch Oven
To many of us, bread baking conjures up visions of our grandmothers spending a day preparing a loaf of bread pounding, kneading, rising, kneading, rising, kneading, rising, rising… finally baking.
Well, I am here to tell you that making homemade bread has evolved. Yes, bread making is an art form. An art that presents us with the most beautiful looking, exquisite smelling and a feast for the tastebuds loaf of bread we all love to eat.
But with the evolution of bread and the science behind bread-making "NO Knead" has also come into our lives. No-knead is also evolving every day.
Ways are being created and opened up to home chefs to be able to make bread quicker and easier at home every day. So throw away your electric bread maker and learn how to use a Dutch oven for baking bread…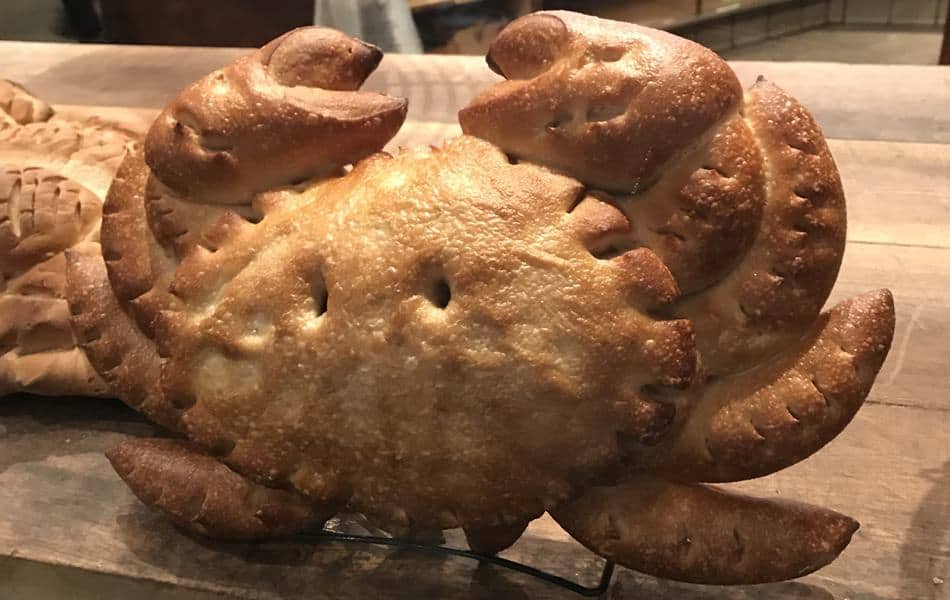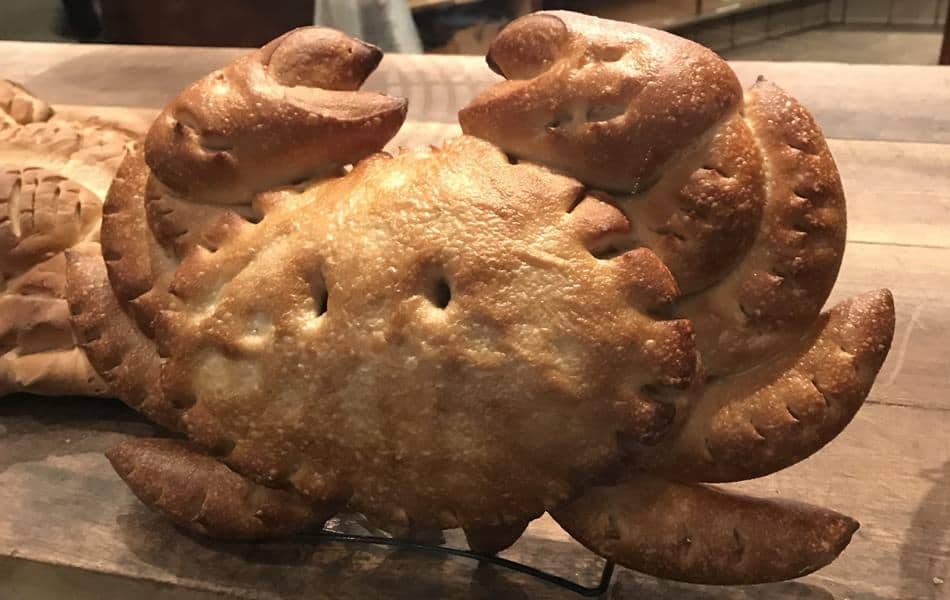 Why Bake Bread in a Dutch Oven?
The benefit of baking bread in a Dutch oven is that the steam remains inside the oven allowing it to rise and cook from the inside out… Here are a couple of other reasons I love bread baking in a Dutch oven.
Bread Oven
Dutch ovens are the closest alternative to a baker's oven you will find. Like a baker's oven, your dough will get a final rise (spring), produce a light but moist texture inside the loaf, and a crunchy crust.
Additives
We all know about additives. Predominately they were added to food to elongate its freshness and shelf life, also to make food taste better. (Argh)
But as time has gone by additives have increased and food is lasting longer.
We all want healthy and fresh ingredients in our food – unfortunately, almost always you will not know exactly what has been added to the pre-prepared food you purchase.
Convenience
Once you have the standard ingredients, including a Dutch oven, for bread making in your home you can prepare a loaf of bread at any time.
Remember you can freeze bread – yes even homemade bread.
Toast and butter smell and tastes just as good as fresh bread…
Versatility
You are not limited to baking bread in a Dutch oven as you are an electric bread maker. The uses for Dutch oven cooking are only limited by your imagination. Man, you can even use this cooking pot while on vacation as well as in the kitchen.
Recommended read Dutch Oven Uses
Pure Enjoyment
Deriving enjoyment from a piece of freshly baked and butter bread that you made.
We all deserve the time to enjoy this simple pleasure! Regularly…
Read more about making bread in a Dutch Oven in my article here – also get great tips you may not have thought of…
So is a cast-iron Dutch oven any good for baking bread? Yes, cast iron Dutch ovens have thick bases, walls, and integrated handles it gets very hot and holds its heat. Their heavy lids allow the steam to give the bread its final rise, cook the outside of the loaf, finish cooking the inside of the bread, and lastly by removing the lid to achieve a crunchy finish.
Best Dutch Ovens for Baking Bread
My recommendation for Dutch ovens for making the best Dutch oven bread is based upon the Dutch ovens I use personally or would consider using in the future. Various sizes of cast-iron ovens in seasoned and enamel finish something for everyone outdoors and in the kitchen.
For my Dutch oven bread a Le Creuset Signature 5.5-quart Dutch oven, a Lodge double Dutch oven, a small Staub Cocotte, and a large Camp Chef Camp Dutch oven with legs.
1. Le Creuset 5 1/2-Quart Enameled Cast Iron Dutch Oven (Top Pick)
Perfect for baking bread at 5.5-quarts, it falls right into the range for the average loaf of bread. Although the cast iron and layers of enamel are lighter in weight than some other brands make no mistake the lid fits perfectly and is heavy enough to seal the steam in for the "spring".
The handles on the "Signature" are larger than the previous "Classic" model they are integrated into the Dutch oven, so molded with the original casting, for safety.
Most Signature pieces come with stainless steel today. If you need to interchange knobs there are of course a choice of knobs that are readily available Gold, Silver, and Black. For baking bread, you will need the silver knob oven safe to 500°F.
With almost a century of proven performance, this French-made Dutch oven still follows the same manufacturing process as when Le Creuset first began production in 1925.
The piece you buy will be original as the sand castings are broken and recycled once Your Dutch oven is made. Before it leaves for retail sales the pieces are inspected and inspected again. The old adage you get what you pay for applies to Le Creuset you will not be disappointed.
| Pros | Cons |
| --- | --- |
| 45% larger handles than the previous model (Classic) for a safe grip | Price – Most Expensive |
| Second to none heat distribution and retention | Weighs 12.7 pounds |
| This Dutch oven has advanced sand-colored interior enamel that resists wear and chipping | Hand washing is the best practice with all cast iron cookware, even though the label says dishwasher safe |
| Can be used to temperatures up to 500 °F including handles and knob | Limited lifetime warranty |
| The lid is built with lid stabilizers for a snug, non-slip fit | |
| Lightweight enameled cast iron cookware | |
| Easy cleanup, Le Creuset cleaning products available | |
| Made in France | |
| Large range of colors Black, Caribbean, Cherry, Hibiscus, Dune, Flame, Marine, Marseille, Midnight Grey, Oyster, Palm, Truffle, Soliel, and White | |
Le Creuset Signature 5 1/2-Quart Dutch Oven Pros and Cons
See my in-depth review of this 5.5-quart Le Creuset enamel Dutch oven
2. Lodge Enamel Cast Iron Dutch Oven (Runner Up)
The Lodge enameled Dutch oven is sturdy and its rounded base hugs the dough you will turn into bread. The heavy lid definitely keeps the steam inside for the perfect loaf of bread.
6-quart size is right in the range for the best size Dutch oven for bread. Generous integrated handles, ovens safe to 500 °F including the knob, light interiors with many bright colors available for any kitchen.
You absolutely will be utilizing this Dutch oven for more than baking bread.
| Pros | Cons |
| --- | --- |
| Porcelain enamel interior is ideal for cooking, its surface does not impart flavors or absorb odors | Handwash recommended |
| Safe for induction, halogen, glass/ceramic, gas, and electric stove-tops | Weighs 16 pounds |
| Stainless Steel Knob oven safe to 500 °F | Made in China |
| 1.5, 3, 4.5, and 6-quart sizes | |
| 8 décor colors | |
| Limited lifetime warranty | |
Lodge Enameled Cast Iron Dutch Oven Pros and Cons
See my in-depth review of this 6-quart Lodge enamel Dutch oven
3. Tramontina Enameled Cast Iron Dutch Oven (Budget)
This affordable Le Creuset look-alike Dutch oven has a cast iron core that is coated with safe porcelain enamel.
Coming in at 6.5-quarts it is a practical all-around Dutch oven. You will not only be limited to baking bread but you will use it every day with a family. A couple with meal prepping in mind will be able to create dishes for a whole week in advance.
| Pros | Cons |
| --- | --- |
| Solid cast iron body is coated with PFOA and PTFE-free porcelain enamel | Reports of sticking the bottom when on an electric hob |
| Durable stainless steel knob on the heavy lid gives superior heat retention and distribution qualities | Weighs 12 pounds |
| Use on gas, electric, ceramic glass and induction cooktops, oven safe to 450 °F | Handwash only |
| Colors – Cobalt Blue, Ombre Red, Gray | Limited lifetime warranty |
| Perfect for a family of 4 to 6 people | |
| No seasoning required | |
Tramontina 6.5-Quart Dutch Oven Pros and Cons
See my in-depth review of the Tramontina Dutch Oven
3. Lodge Cast Iron Dutch Oven (Versatile)
The Lodge seasoned double Dutch oven is 5-quarts of one of the most versatile pieces of cookware you can own as it is two pieces in one.
Both the lid and oven have integrated handles that match up for easy transport, which you will need because this Dutch oven gets hot.
The oven is deep just right for baking bread but you will notice how deep the lid is also for an even higher "spring" if it is possible.
The Iconic brand Lodge manufacturing still produces their seasoned cast iron cookware sustainably in the USA after decades of perfecting the art of sand casting molten iron.
| Pros | Cons |
| --- | --- |
| 5-quart pre-seasoned oven made of cast-iron material and comes with a skillet cover | Weighs 12.4 pounds |
| It has integrated side handles on the lid and base for easy and secure transport | Needs Seasoning |
| The lid is 1.5 inches in depth | Hand washing |
| Its lid converts to a 10.25-inch Skillet | Limited lifetime warranty |
| Flat bottom so it is oven safe | |
| The Dutch oven and the lid can withstand temperatures of 500 °F | |
Lodge Double Dutch Oven Pros and Cons
See my in-depth review of the Lodge Double Dutch Oven
4. Combekk Enameled Cast Iron Dutch Oven (100% Recycled Materials)
This Dutch oven is made in the Netherlands from recycled railway sleepers.
At 6.3-quarts it falls into the range for the best size Dutch oven for baking bread. It is solidly built and can be used on all cooking surfaces including induction.
Available in 3 sizes and 2 colors, with or without the thermometer. Even heat retention on all stovetops, unfortunately, the layered enamel coating doesn't suit the campfire setting.
The unique built-in thermometer actually works, yes there was skepticism out there regarding this feature.
See one happy customer's successful bread baking attempt in their new Combekk Dutch oven, all that was needed was a little cornmeal sprinkled on the base to stop the bread from sticking.
| Pros | Cons |
| --- | --- |
| Cast Iron is recycled from railway sleepers | Weighs 13.42 pounds |
| Coated with PTFE-free chip-resistant enamel finish | The quality of the 6.3-quart is reflected in the price |
| This Dutch oven has advanced sand-colored interior enamel that resists wear and chipping | Searching for negative reviews and could not find one… |
| Each Dutch oven is stamped reflecting the origin of the metal | |
| 2 sizes – 4.25 quart and 6.3 quart | |
| Fitted thermometers are available to further enhance the use | |
| 40-year guarantee | |
Combekk Railway Dutch Oven Pros and Cons
See my in-depth review of Combekk Enameled Cast Iron Dutch Oven
6. Crock Pot Enameled Cast Iron Dutch Oven (Brand)
Crock-Pot Brand has been around since August 1970 when they introduced us to the Crock-Pot slow cooker. Over time the brand successfully branched out into many other areas of the food industry so the enamel cast iron Crock-Pot was born.
This 5-quart is compact compared to the other brands you see today, but compact is what some of us need. This size Dutch oven will fit a regular size loaf of bread, a 10″ breadbasket will fit inside this oven. Hey, you can adjust a recipe to suit if this is the size you are after.
Good sized handles compared to other brands and a bonus spiked lid for self-basting most brands don't offer this feature.
12 colors to choose from oven and knob are oven safe up to 450 °F. This would make the perfect oven for cooking bread alone or an awesome entry-level cast iron Dutch oven. For a very reasonable price for those just starting out with cast iron cooking, this is perfect.
| Features | Price |
| --- | --- |
| Affordable price for bread making | Handwash only |
| Perfect for Cooking, Serving, and Storing | Reported cracking |
| Large handles make it easy to carry | Made in China |
| Self-Basting Lid | |
| Works on gas, electric, ceramic, and induction cooktops | |
| Oven safe up to 450 °F | |
| 3 sizes – 3, 5, and 7 quart | |
| Colors include Aqua, Blue, Blush, Burgundy Wine, Demin Blue, Gradient Teal, Gradient Red, Gray, Pistachio, Red, Slate Gray, Sunset Orange, Teal, and Teal Ombre | |
Crock-Pot Enamel Cast Iron Dutch Oven Pros and Cons
7. Lodge Cast Iron Camp Dutch Oven (Campfire Cooking)
Although I personally use a Camp Chef Dutch oven with legs, I have chosen a similar Lodge because this cast iron is made in the USA. I do own a Lodge Double Dutch Oven so I can attest to the quality of this cast iron.
Although these Dutch ovens have integral legs for standing amongst coals it also has a wire bail handle. This helps you control the intense heat while camp cooking by hanging it on a tripod.
Baking bread while camping is so convenient because it can be carried out between meals, you have it out to cook meals anyway when not bake as well. This bread baking while camping cookbook teaches us how to get the perfect loaf in the wild.
| Pros | Cons |
| --- | --- |
| Pre-seasoned from the factory and ready to use | Heavy 19 pounds |
| Campfire or fireplace Dutch oven | Needs seasoning |
| Can withstand extreme temperatures | Can be used in an oven, but it is awkward with the legs |
| Lodge Company has been manufacturing cast-iron cookware for decades in the USA | |
| Lifetime warranty | |
Lodge Cast Iron Camp Dutch Oven Pros and Cons
See my in-depth review of Lodge Cast Iron Camp Dutch Oven
How to Choose the Best Dutch Oven for Baking Bread
The first step is choosing what type of Dutch oven suits your needs. Cast iron Dutch ovens are the best for the high temperatures and heat/steam retention required to get the best loaf of bread.
There are two types of Dutch ovens seasoned cast iron that history tells us have been in production for thousands of years and enameled coated Dutch ovens that are coming up to 100 years in production.
Seasoned Dutch Ovens vs Enameled Dutch Ovens
There are many types of Dutch ovens made from different materials. The two types of cast-iron Dutch ovens I refer to in this article are the traditional seasoned Dutch oven and the enamel-coated Dutch oven.
Seasoned Cast-Iron Dutch Ovens
The traditional seasoned cast-iron Dutch oven has been around for hundreds of years. This seasoned type of Dutch oven was used over open flames.
Even today there are versions of the original oven that are used for campfire cooking. The iron is protected and retains a natural non-stick surface if the seasoning does not break down. Regular use or light seasoning will maintain the iron.
use outside and inside
no temperature limit
can be preheated
lifetime
Enamel Coasted Cast-Iron Dutch Ovens
The other is enameled cast iron which is used in a kitchen setting, it retains most of the features of traditional seasoned cast iron with a few limitations.
cannot use outside
temperature limit
no preheating – enamel is like glass
enamel fragile
limited lifetime
Recommended read how hot can a Dutch oven get?
Seasoned Dutch Oven and Enameled Dutch Oven Comparison Table
| Seasoned Cast Iron Dutch Ovens | Enamel Cast Iron Dutch Ovens |
| --- | --- |
| Indoor and Outdoor Use | Indoor Use Only |
| Exposed cast-iron can withstand high temperatures over 500°F | Limited Temperature up to 500°F (manufacturers advice) |
| Integrated cast iron lid loops or knobs are oven safe. As are metal knobs up to 500°F | Metal knobs are oven safe up to 500°F (check manufacturers advice) |
| Integrated cast iron handles are oven safe | Integrated enameled cast iron handles oven safe. If handles are attached externally check manufacturers instructions |
| Can be preheated | Should not be preheated (empty) |
| Non-stick when seasoning is maintained | Can be non-stick (depends upon use) |
| Seasoning required | Enamel does not need seasoning, but the exposed cat iron rim of the oven and lid should be seasoned just like bare cast iron |
| No staining when maintained | Enamel will stain and breakdown over time |
| Life span – infinite | The oven will rust if the enamel is compromised |
| | Life span – limited |
| PRICE – Affordable | PRICE – More expensive |
Differences Between Seasoned and Enamel Cast Iron
Best Shape and Size Dutch Oven for Bread
The size and shape of the Dutch oven are dependent upon the amount of bread you want to prepare in one bake. The standard Dutch oven bread recipe requires an oven either round or oval of about 5 quarts.
Both Round and oval Dutch ovens are suitable for any bread recipe you choose it is just a matter of shaping your loaf or using a proofing basket or banneton. If using a banneton an inch between it and the walls of your Dutch oven is all you need.
The type of bread and volume of the dough also comes into play here. For example, sourdough bread, given enough room, can increase by 4 times its volume. Remember the final rise (spring) happens up not across.
The walls of the oven need to be high. So don't make the mistake of purchasing a 5-quart shallow Dutch oven as your bread will not have the necessary room to rise.
This size leaves plenty of room for "the rise" as well as enough room for circulation that will give your bread the lovely outer shell.
Rule of thumb 2.2 pounds of dough needs a deep 4-quart Dutch oven at the very least.
The best size Dutch oven for baking bread is a Dutch oven between the sizes of 5-quart and 7.5-quart – to accommodate the standard loaf of bread recipe.
5-quart to 7.5-quart provides plenty of room for the loaf to rise, form, and crust.
Under 5-quart the Dutch oven can be used for stews and casseroles and is adequate for up to 4 people – BUT there is no room in a small Dutch oven for bread to be baked without adhering and sticking to the sides of the Dutch oven.
Quality Control
A good quality Dutch oven will give the optimum results with any form of Dutch oven cooking. Baking bread is no exception.
When you unbox your new Dutch oven, whether seasoned or enameled, give it a very thorough inspection. Check the following of both the oven and its lid;
cast-iron is smooth without cracks, ridges, and rust
enamel smooth, no chips or cracks and is shiny
check around handles that they should be integrated (cast in one piece with the oven)
the lid is heavy and fits tightly on the oven
a flat bottom Dutch oven should sit on a surface correctly and not be warped
If you are not completely happy with the oven after your inspection return it before use for a new one or a refund.
You should be aware that the cheaper the Dutch oven the more likely it is that it has been mass-produced. Hence probably a little rough around the edges.
Brands like Le Creuset and others like Staub in a similar price range still handcraft, finish and inspect their products before they enter a box.
So I would fully expect a higher range of Dutch ovens will be finished and presented perfectly without the required return or exchange.
Recommened read Le Creuset vs Staub
Lid
If the Dutch oven has a knob it needs to be oven safe for temperatures up to 500°F.
The lid should not let steam escape when preparing any Dutch oven recipe as the steam and moisture are the foundation of Dutch oven cooking.
The most important feature a Dutch needs to bake bread is a heavy and tight-fitting lid. It is the lid that keeps the steam in and assists the bread to get its "SPRING".
The "spring" is what happens to the loaf when the steam hits the dough and it continues to expand before being fully cooked through.
The loaf rises first, the moisture cooks the bread from the inside first and lastly, the bread outside of the bread is sealed and crusted up.
Removing the lid at the end of cooking and exposing the bread to the oven browns the crust without drying the bread out.
Dutch Oven Accessories
Ensure that the Dutch oven handles, looped lid handle, and any other fittings it may have attached to it are conventional oven safe. You will be heating the Dutch oven to as high a temperature that the manufacturer permits you do not want pieces melting while cooking.
Recommended read the only Dutch Oven Accessories you need…
Dutch Oven Care and Maintenance
If you are a regular visitor to my site you will have run across one of the many articles referring to the cleaning, seasoning, and maintenance of cast-iron Dutch oven. So a quick reminder is in order here as well.
Providing you use oil and/or parchment paper I cannot imagine that you will come across any trouble regarding sticking or burning. But if you do go through the usual regime to keep your Dutch oven in perfect working order.
cool the Dutch oven
hand wash with water and a nylon scourer
no dishwasher
dry thoroughly – immediately – both enamel and seasoned cast-iron
invert inside the oven you used to make your bread and it will be perfectly dry
store your Dutch oven safely
Maintain seasoned cast iron regularly
Recommended read Dutch Oven Bread Sticking
Best Dutch Oven Bread Recipe
This is my absolute favorite quick no-knead Dutch oven bread recipe. This is the recipe I use when I do not want to try something new just want a perfect loaf of Dutch oven bread – without thinking…
| Ingredients | Preparation |
| --- | --- |
| 4 cups all-purpose flour | Mix yeast and water – sit for 5 minutes |
| 1 ½ tablespoons salt (I prefer iodized sea salt) | Combine dry ingredients |
| 1 teaspoon or 1 envelope active dry yeast | Make well in the center |
| 2 cups warm water (temperature 90˚-110˚F or 30˚-40˚C) | Add water and yeast |
| | Mix together, cover, 1 to 2 hours – double the original size |
| | Remove and knead a couple of times |
| | Cover and sit for another hour |
| | Place in the Dutch oven |
| | Cook for 40 minutes |
| | Remove lid cooker for further 15 minutes to brown |
| | Remove cool for 20 minutes before cutting |
| | Enjoy |
You can see the recipe with detailed instructions in my article here…
Frequently Asked Questions
Quick answers to some of the most frequently asked questions regarding bread baking and using a Dutch oven to do it.
Final Thoughts – Best Dutch Ovens for Making Bread
So just like the gorgeous loaves of artisan bread, we can purchase from the famous Boudin Bakery you too can bake bread in your own quality cast-iron Dutch oven.
Given all the information above – I myself have a 7.25-quart (28cm) Le Creuset round Dutch oven. This size allows me to prepare any dish, or bake for up to 8 people.
One-Pot Cooking Rocks
Thanks for the video music – Ben Sound