What Is the Standard Dutch Oven Size?
We all have our own criteria that need to be met when choosing the right Dutch oven. The number of people we feed regularly is at the top of the list.
Most of us will use a recipe when preparing meals in our Dutch ovens. Recipes serve four so it makes sense that we need a Dutch oven large enough to feed four people. So what is considered a standard size Dutch oven?
The standard size oven would be a 5 to 7-quart capacity oven as it feeds 4 people comfortably. Recipes are designed to make 4 serves. A 5 ½ quart Dutch oven is the perfect size for standard recipes. Also perfect for 2 – providing leftovers. Reportedly 5 1/5 quart Dutch ovens are amongst the highest selling today.
Disclaimer: I earn from qualifying purchases on my website as an Amazon Associate. If you purchase through links from this website, I may get a small share of the sale from Amazon and other similar affiliate programs.
How Do I Know What Size Dutch Oven to Buy?
Choosing a Dutch oven size is easy when you follow this checklist. You will be well informed before you start looking for your perfect Dutch oven.
A quick formula for choosing a Dutch oven size is 1-quart = 1 serve
Seasoned or Enameled Cast Iron
The first step is to determine where and what heat source you will be using to cook with your Dutch oven. So you can then choose what type of Dutch oven you need.
Cooking outdoors you will require a seasoned cast-iron Dutch oven as you will be using a campfire, hot coals, or briquettes. Enamel cast-iron is not suitable.
Cooking indoors on various heat sources on a stovetop and/or conventional oven you will be able to use one from the huge range of enameled cast-iron ovens.
What Meals Will You Be Preparing
This step is equally important as there are different shapes and depths of Dutch ovens available to suit different cooking techniques.
For instance, an oval oven will hold large cuts of meat on the bone, whole chickens, and extra-large servings of stews. They also fit well into a conventional oven for low and slow even cooking.
Classic round Dutch ovens also hold smaller cuts of meat and whole chickens. But they are deep and lend themselves to stovetops and cooking stews, casseroles, soups, and frying any number of delicious meals.
Budget
Price plays a big part when purchasing cookware. I have listed here three of the favorites that I have tested by using them myself.
A large price tag does not suit all so check out these Dutch ovens that vary in price.
Affordable Dutch Oven
What can I say Lodge is a tried and tested brand from the United States of America and has been around for decades.
Starting and continuing to produce seasoned cast iron, also producing enameled cast.
The perfect price point for an extra Dutch oven in the household or for those new to Dutch oven cooking.
Mid Range Priced Dutch Oven
Excellent quality enameled black matte inside and out. This oven is modern-looking and can withstand heat over 400 degrees Fahrenheit.
Not only will the black enamel keep this oven clean and fresh looking it is also dishwasher safe.
These are awesome Dutch ovens and once again produced in Europe with attention to detail on every piece.
Premium Priced Dutch Oven
Le Creuset Dutch ovens and their other types of cookware are made in France. They are hand-finished and each piece is inspected before leaving the factory.
If you have used a Dutch oven and are looking for an upgrade – I cannot rave enough about these Dutch ovens. (I have Marseille Blue)
If money is not an option – don't mess around testing others go for a Le Creuset the first time.
Check out Le Creuset Sizes here.
Dutch Oven Size Chart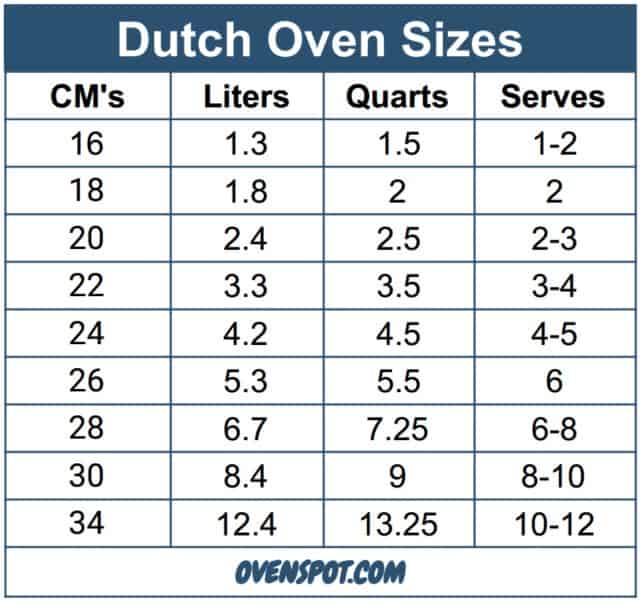 Read more here about Dutch oven sizes…
Do I Really Need A Dutch Oven?
Yes – if you have a good quality Dutch oven it will perform the tasks of almost any other piece of kitchen cookware or any cooking appliance.
If you purchase a flat bottomed seasoned Dutch oven this cooking pot turns into a piece of cookware that you can use on any heat source inside or outdoors.
No – if you use all your other kitchen appliances to carry out the various tasks one Dutch oven can produce.
What Can I Use If I Don't Have a Dutch Oven?
There are many Dutch oven substitutes if you do not own and do not want to purchase a Dutch oven.
Just to name a few instant pots, slow cooker, soup pot, stockpot, pyrex, casserole dish, deep fryer, bread maker
It really depends upon what type of dish you want to prepare. Just from this shortlist you will note how versatile the mighty Dutch oven really is.
Check out my article that gives you some awesome Dutch oven alternatives – I am certain you have a least one of my suggestions in your kitchen. Here…
Frequently Asked Questions
A few F.A.Q.'s for your quick reference.
Best Dutch Oven Size for a Family of 4
A 4-quart oven would suit a family of 4 but it limits your food preparation opportunities.
A safe purchase for optimum usage would be a Dutch oven in the 5 to 7-quart range.
Check this article out to find out all the details about Dutch ovens and the sizes for families of 4.
Best Dutch Oven Size for Bread
For a standard loaf of bread, the perfect Dutch size is a Dutch oven between 5 and 7.5 quarts.
Dutch ovens produce steam from the moisture in the dough so further "rising" takes place before the outside of the bread is sealed. Then goes on to crisp up to become crunchy bread.
This article explains in detail 7 Dutch ovens that make the best homemade bread.
This page will tell you all you need to know about Dutch oven and bread.
What Size Dutch Oven for Whole Chicken
A 4-pound whole chicken will fit into a 4-quart Dutch oven snugly. There will not be much room for anything else.
A 7-quart Dutch oven will allow a whole chicken as well as any liquid and vegetables required for an awesome pot roast.
See this article that will give you chicken and Dutch oven information.
To Finish – What Is the Standard Dutch Oven Size
Now you know the standard Dutch oven size choosing the right cast iron Dutch oven size for you should be easier.
Have a look around my site and use some of the other resources to assist you in a choice of a Dutch oven as well as help you get the most use out of your Dutch oven.
One-Pot Cooking Rocks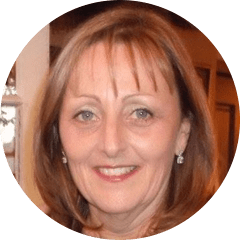 Michelle
Hi, I'm Michelle, the founder, owner, author, and editor of OvenSpot. My passion for one-pot cooking commenced when I was working to prepare cafeteria lunches for school students. I am now on a mission to assist you in choosing the cooking pot or appliance you will use daily. As well as in-depth information to assist you in using and caring for your cookware and appliances.
Questions? Reach out to Michelle at [email protected]