13 Dutch Oven Uses for Your Favorite Recipes
If you have never used a Dutch oven you have probably asked the question "What is a Dutch oven used for?" So if you are new to cooking with Dutch ovens or just need a refresher as to all the wonderful ways a Dutch oven can be used here is the short answer!
Dutch Oven Uses – Dutch ovens are used for baking, simmering, roasting, frying, boiling, steaming, sauteing, braising, serving meals, and storage and you can even use them to keep food and beverages cold. These cooking pots can be used to prepare food on cooktops with various heat sources, in a conventional oven, and also over open flames.
Listed below are various awesome ideas you might not have thought of. So check them out then you can dust off your much-loved workhorse and put it to good use.
Disclaimer: I earn from qualifying purchases on my website as an Amazon Associate. If you purchase through links from this website, I may get a small share of the sale from Amazon and other similar affiliate programs.
What Is a Dutch Oven?
A traditional or bare cast iron Dutch oven, also known as a French oven, is a piece of cookware with thick sides, a base, and a heavy lid to seal in moisture. Seasoned cast iron cookware and cast iron with enamel coating can withstand high heat. They can be used on all kitchen cooktops as well as on open flame and campfire cooking.
The best way to cook one-pot meals like hearty stews and pot roasts is to heat the ovens up slowly this then produces radiant heat and consistent temperature inside the oven which becomes multi-directional allowing your dishes to cook evenly.
The lid of this heavy-duty pot provides a self-basting feature to keep in moisture if required. The lids can also be inverted to become an extra cooking surface above the oven or can be used as a skillet straight on the heat source.
I have an in-depth article if you want to know more about Dutch ovens including the various materials the ovens are available in.
What Can a Dutch Oven Be Used For?
The suggestions for uses below take into consideration various types of Dutch ovens. When using any appliance you should always read the manufacturer's instructions before use.
1. Baking
No need to limit ourselves to baking no-knead bread in our ovens. Which by the way turns out delicious and the smell of freshly cooked homemade bread lingers for hours.
I have a recipe for no-knead Dutch oven bread.
Let your imagination run wild with ways to use your pot there are scones, desserts, layered cakes in one pot, and everyone's favorite giant cookie dough cookies.
Which can be cooled and served straight from the oven topped with marshmallows, cream, ice cream, chocolate anything you, your family, and your friends love.
2. Simmering
Simmering at low temperatures in a Dutch oven can sometimes be confused with slow cooking.
When thinking of simmering in a Dutch oven you should be considering soups, casseroles, risottos, stews, and oats.
These are meals that are cooked in what I call real-time. You prepare your ingredients and go ahead cook them and serve.
3. Roasting
Any roasting can be carried out in a Dutch oven just prepare your dish as if you were using a roasting pan cover it with the lid and place it in the oven.
Removing the lid toward the end of cooking time will allow the roast to brown a little on top without drying out. Learn what the best-size Dutch oven is for a whole chicken.
4. Frying
Heat up the oven slowly as always, and add the oil of choice – for shallow frying a good inch and a half in the bottom – for deep frying halfway up the sides of the Dutch oven.
Use a thermometer – when the temperature reaches 350 degrees Fahrenheit you can insert your food to be fried.
Cook in batches if you are preparing a large quantity. Make sure you leave plenty of room to move the food around while frying.
WARNING:– The oil will be hot and spit in the cooking process.
5. Boiling
Using your favorite broths, oils, herbs, and spices you can create wonderful pasta dishes in a Dutch oven.
It is only your imagination holding you back from creating wonderful new dishes for you, your family, and your friends. Resource: Boiling in Cast Iron
6. Slow Cooking
Due to the cast iron construction, consistent heat, and the ability of the Dutch oven to radiate heat from various directions slow cooking is made easy.
An added bonus is that the moisture-retaining feature and the low heat required you also save on energy costs.
The savings do not stop there because as with other slow-cooking appliances, the Dutch oven certainly allows you to buy those cheaper cuts of meat that after slow cooking in the oven will be falling apart upon touch.
7. Steaming
One of the best ways to use Dutch ovens is for steamed rice. It is quick and easy and will stay hot to warm for quite a while.
You can steam your rice and then turn it into fried rice or any other rice dish it will then stay warm for serving.
Want to learn how to cook rice in a Dutch oven that turns out perfect and fluffy every single time?
8. Sauteing
These appliances are perfect for sauteing because you can get the heat up high.
Just remember that when sauteing you do not want too much moisture. So to carry out the task be organized and quick. As well as keeping safety in mind.
9. Braising
Perfect for braising your meat for a beef stew after sauteing your vegetables. Throw all the ingredients together to bake, simmer, roast, fry, or slow cook and you have prepared a wonderful meal all in one pot.
10. Hot Air Cooking
Popcorn is great prepared in a Dutch oven due to heat retention and the heavy lid. It cooks really fast!
Dutch Oven Popcorn Recipe
You can make it the old-fashioned way using 1 tablespoon of oil of your choice and 1/2 cup of popping kernels. (This will give you 12 cups of popped corn.)
Using a large Dutch oven over medium heat – heat oil, add popcorn, and cover with the lid. Shaking the Dutch oven while the corn is popping. It will take around 5 minutes to pop this large amount.
Alternatively, you can pop yourself some healthy popcorn using air instead of oil.
With the lid on pre-heat, the Dutch oven using medium heat for around 2 minutes. After 2 minutes splash some water at the bottom of the oven.
If it sizzles away and evaporates reduce the heat to low and add the popping corn kernels.
Shake the oven until the kernels have stopped popping remove from the heat and add your favorite condiments – healthy popcorn!
11. Serving Meals
Whether you have an enameled or an exposed roughcast iron pot serving meals directly from them makes sense.
An enameled oven looks great with any table setting and the rough old exposed iron pot keeps the meal hot and ready to be consumed by hungry campers.
The Dutch ovens also keep the leftovers nice and warm for seconds.
12. Keeping Food and Beverages Cold
Salads – Pre-chill the Dutch oven in the refrigerator then put it to work either by serving green salads, potato salads, pasta salads, or any salad you care to make.
Dips – how about a layered Mexican dip chilled in your Dutch oven?
Don't forget those desserts that can be served cold after you have pre-prepared them in your Dutch oven.
Your job when entertaining just became a little easier as your guests can serve themselves straight out of the oven.
13. Cold Drinks
You could prepare a punch for guests or even fill the oven with ice and set the bottled or canned drinks inside so guests can help themselves.
Bottled wine will sit inside just as well with some lovely glasses surrounding the outside of the oven ready for serving.
If you have a traditional cast-iron Dutch oven that is not coated in pretty enamel beers look fantastic and keep really cold when you fill the oven with beers and pour ice over them.
When your Dutch oven is not required for the purpose of preparing hot meals why not bring it out and use it?
Especially if you own a beautiful Le Creuset, Staub, or any other brand of Dutch oven that is an eye-catcher.
3 Dutch Oven Uses You May Not Have Thought Of
A couple of other uses I regularly use my attractive enamel Dutch ovens for are:-
1. Display Bowls
Keep your Dutch oven out and use it as a bowl. Fruit bowl, imitation fruit in a bowl, or imitation flowers in a bowl.
2. Hiding Place
What about placing the lid on the oven and filling it with your favorite candies or chocolates? This may well be your way to display a beautiful enameled Dutch oven.
3. Display
If you usually put your Dutch oven away after use why not try keeping it out in view so you may be tempted to use it in one of the ways suggested above?
What Can Be Cooked in a Dutch Oven?
Roasts, stews, casseroles, baking bread, cake, biscuits, oats as well as luscious desserts.
Like any other cooking appliance, you can convert just about any recipe you want to prepare and make it in a Dutch oven.
You will find some easy-to-prepare one-pot Dutch oven recipes on OvenSpot or check out some of the best Dutch oven cookbooks.
Can You Use a Dutch Oven on the Stove?
Unlike any other cooking appliance (electrical) the Dutch oven (with care in some cases – seasoned cast-iron Dutch ovens) can be used on just about any cooking source.
Cooktops with Various Heat Sources
A Dutch oven can be used on all cooktops including gas, electric, induction, glass, ceramic, and more.
You just have to remember to pick the Dutch oven up and not move or scrape it around the top of the cooktop as you will damage or scratch your cooktop.
Conventional Oven
Whether gas or electric the Dutch oven will perform just as well. This a reminder of how heavy your oven will be when fully laden. You need to be able to safely lift it in and out of your conventional oven.
Open Flames
Unfortunately enameled cast iron will not wear well over campfires, open flames, hot coals, or briquettes. But the traditional exposed cast iron Dutch oven was made for these heat sources.
Campers today, as well as our ancestors, used them daily and usually for every meal.
The ovens sit on the campfire and cook food at high temperatures. The ovens can be hung over the campfire, and be elevated on rocks or trivets which allows for slower cooking outdoors.
How to Use a Dutch Oven While Camping?
If you are new to Dutch ovens and using them while camping this is certainly a question you would want to be covered extensively.
I have an article that covers everything you need to know about Dutch ovens and their uses outdoors. You will find on my site how to use a Dutch oven while camping.
Where to Buy a Dutch Oven
Check out an awesome range (Amazon) you will not be disappointed there is literally something for everyone.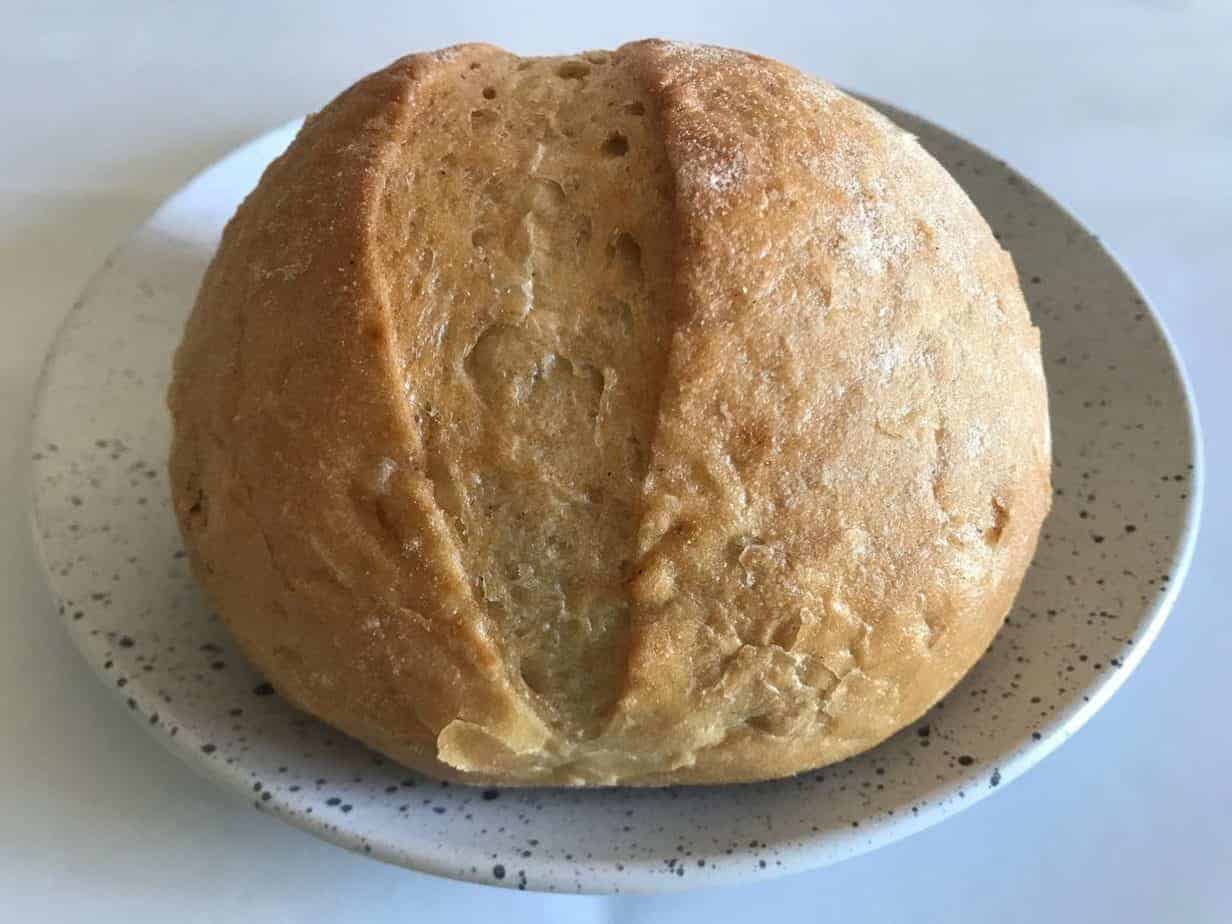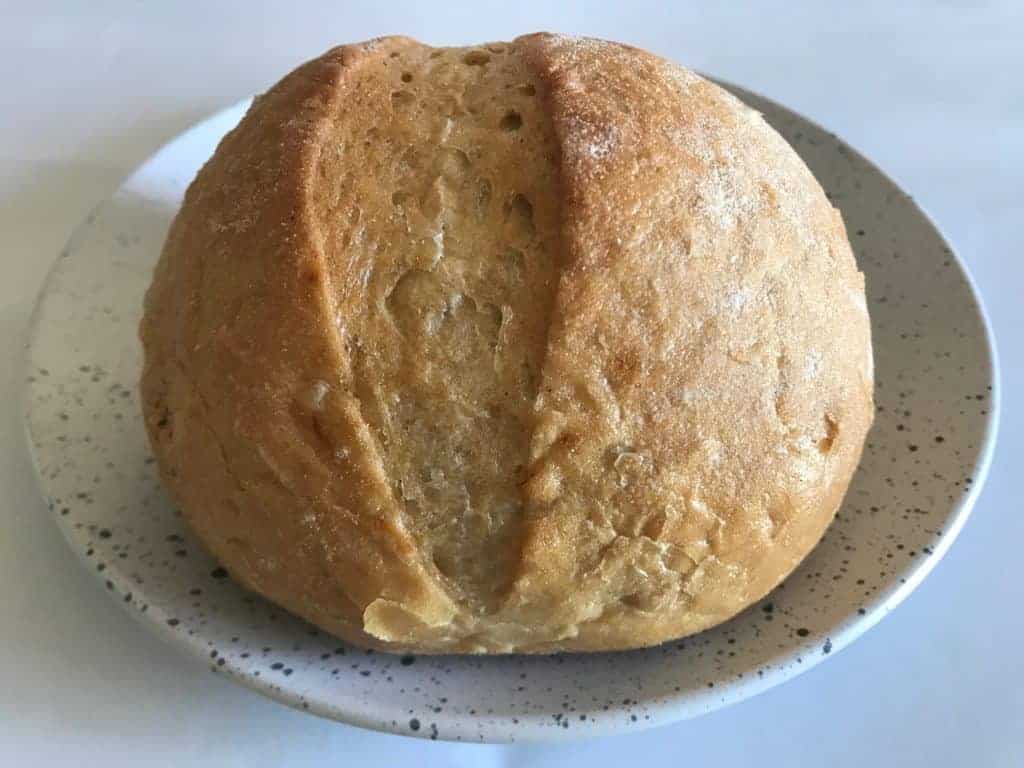 FAQs
Dutch Oven Bread
After you have made bread in a Dutch oven with a crispy crust you will see what all the hype is about. I have helpful articles centered around Dutch oven bread, learning how to stop bread from sticking, and how to make Dutch oven bread including a quick no-knead Dutch oven bread recipe.
Do I Really Need a Dutch Oven?
No, you do not need a Dutch oven. In fact, you probably already own a Dutch oven substitute.
I have come up with a list of over ten cooking appliances or pots that you can use instead of a Dutch oven. All it takes is to adapt recipes and cooking times to suit the appliance or pot.
Pressure Cooker
Casserole Dish
Clay Pot
Metal Pot
Ceramic Pot
Stockpot
Soup Pot
Braiser
Skillet
Frying Pan
Roasting Pan
Pyrex Glass Casserole
I have an article that goes into a lot more detail on each of the substitutes – check out what can I use instead of a Dutch oven.
Why Are Dutch Ovens Expensive?
Dutch ovens can be expensive if they are made of premium materials and are handmade. However, there are Dutch ovens that do not require a premium price and work just as well as an expensive Dutch oven. Resource: Why are Dutch ovens so expensive?
Le Creuset Dutch Oven Uses
A Le Creuset Dutch oven is used the same as any other enameled Dutch oven. Due to the price tag of these Dutch ovens, I believe more care is probably taken when using and caring for them.
Best Dutch Oven
The best Dutch oven is always going to depend upon personal opinion – the best opinion being from someone that actually uses their Dutch ovens. With successful meal outcomes.
Probably no surprise but mine has to be the Le Creuset round enamel Dutch oven see the details, latest price, and customer reviews at Amazon.
Or check out my in-depth article 5.5-quart Le Creuset Dutch Oven.
Final Thoughts – Dutch Oven Uses
Cast iron Dutch oven uses are varied so it is my hope that I have given you some inspirational ideas. So you too can utilize your Dutch oven or Dutch ovens as much as I do.
One-Pot Cooking Rocks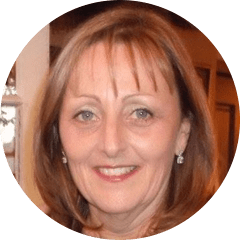 Michelle
Hi, I'm Michelle, the founder, owner, author, and editor of OvenSpot. My passion for one-pot cooking commenced when I was working to prepare cafeteria lunches for school students. I am now on a mission to assist you in choosing the cooking pot or appliance you will use daily. As well as in-depth information to assist you in using and caring for your cookware and appliances.
Questions? Reach out to Michelle at [email protected]