Pumpkin Dutch Oven: Which One Should You Buy in 2023
Experience the art of cooking in a whole new way with a pumpkin Dutch oven also known as pumpkin Cocotte. These charming and highly functional pieces of cookware, crafted from durable cast iron, elevate your kitchen aesthetics while promising a versatile range of dishes.
This buying guide helps you to discover everything from the delicious meals you can prepare to the brands that epitomize quality and style. Prepare to ignite your culinary creativity and enrich your cooking journey with these unique kitchen essentials.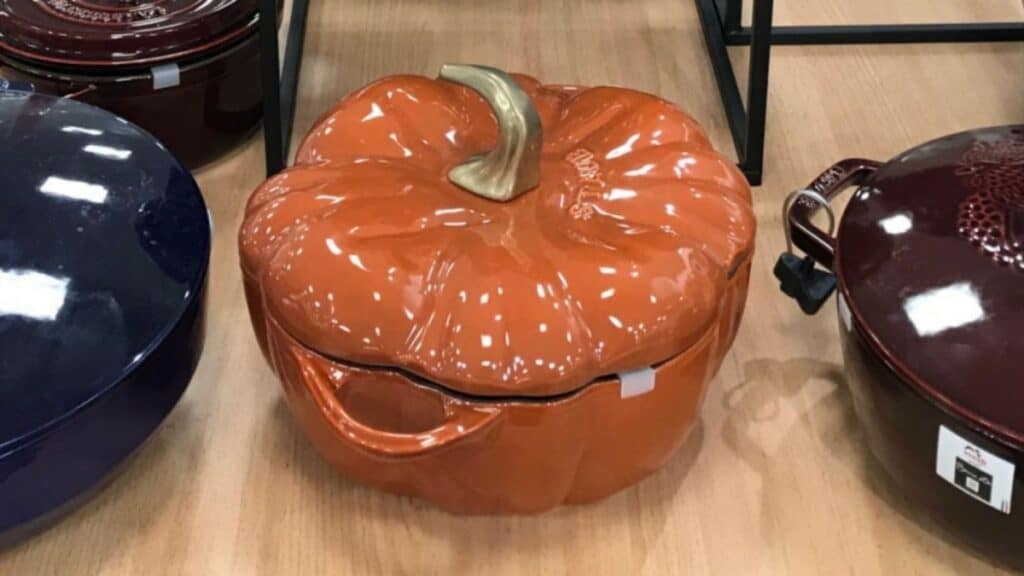 Disclaimer: As an Amazon Associate I earn from qualifying purchases on my website. If you make a purchase through links from this website, I may get a small share of the sale from Amazon and other similar affiliate programs.
What is a Cast Iron Pumpkin Shaped Dutch Oven
When it comes to cookware, cast iron Dutch ovens are a classic and versatile option that can last for generations. But have you heard of a cast iron pumpkin-shaped Dutch oven?
This whimsical kitchen accessory is becoming more and more popular among home chefs, thanks to its unique shape and durability. So, what exactly is a cast iron pumpkin-shaped Dutch oven?
Simply put, it's an enamel-on-cast iron pot that's designed to look like a pumpkin. These pots are typically oval or round in shape with ridges and a stem at the top, giving them the appearance of an actual pumpkin.
They come in various sizes ranging from 2 quarts to 7 quarts, making them perfect for both small and large gatherings. But why choose a pumpkin-shaped Dutch oven over a classic one?
They're undeniably cute and add some fun flair to your kitchen. They're also great for serving seasonal dishes such as soups or stews during autumn months – imagine bringing out a steaming pot of hearty butternut squash soup in a beautiful pumpkin-shaped cooking pot to impress your guests!
Functional, these pots are just as good as their traditional counterparts. They're made from durable materials such as cast iron or ceramic which allows them to retain heat well while distributing it evenly throughout the dish.
The enamel coating adds an additional layer of protection against rust and corrosion while making cleanup easy – simply wash with warm soapy water.
If you're interested in purchasing one for yourself or as a gift, there are several brands that manufacture high-quality cast iron pumpkin Dutch ovens.
Le Creuset is perhaps the most well-known brand that offers this product with their Pumpkin Cocotte design which comes in both orange and black colors.
Other options include the Martha Stewart pumpkin casserole or Pioneer Woman pumpkin Dutch oven.
What Can I Make in a Pumpkin Dutch Oven
When it comes to cooking with a pumpkin-shaped Dutch oven, the possibilities are endless. This versatile cooking pot can be used for everything from soups and stews to casseroles and roasts. Here are just a few ideas to get you started.
One classic dish that's perfect for a pumpkin Dutch oven is pumpkin soup. With its beautiful orange color and creamy texture, this fall favorite is the ultimate comfort food.
Sauté some onions and garlic in the bottom of your pot, then add in some diced pumpkin (or canned puree), chicken or vegetable broth, and your favorite seasonings.
Let everything simmer together until the pumpkin is tender, then remove from heat and puree until smooth. Recipe for Pumpkin Soup cooked in a Dutch oven.
Another great option for your pumpkin Dutch oven is a beef stew. This hearty dish is loaded with tender chunks of beef, carrots, potatoes, and other veggies that simmer together in a rich broth until everything is melt-in-your-mouth delicious.
You can customize your stew however you like by adding different herbs or spices – whether you prefer something spicy or savory. If you're looking for something on the sweeter side of things, why not try making a bread pudding?
This dessert features cubes of bread soaked in a custard mixture made with cream, eggs, sugar, and cinnamon – all baked together in your pumpkin-shaped pot until golden brown on top. You can even add in some raisins or chopped nuts for an extra layer of flavor.
Of course, no fall meal would be complete without roast turkey! Your Cast iron Pumpkin Dutch Oven makes an ideal vessel for roasting up a succulent bird thanks to its even heat distribution.
Whether you're hosting Thanksgiving dinner or just want to make an impressive centerpiece for your table during Halloween mealtime – this collection offers some amazing options that will elevate any decor with their beauty.
But certainly not least my recipe for Dutch Oven Chili: There's nothing quite like curling up with a big bowl of hot chili on a cool fall day.
This classic dish can be made in so many different ways – whether you like it with ground beef, turkey, or even vegetarian style with beans and veggies.
Simply brown your meat (if using) in the bottom of your pot, then add in some diced tomatoes, kidney beans, chili powder, and other spices as desired.
Let everything simmer together until the flavors are melded together into one beautiful dish.
No matter what recipe you choose to make in your pumpkin Dutch oven check for features like interior enamel that ensures easy cleaning and maintenance and don't forget to ship them for the best pumpkin Dutch offers at affordable prices!
Brands that Manufacture Cast Iron Pumpkin Dutch Ovens
When it comes to cast iron pumpkin Dutch ovens, there are a few brands that stand out in terms of quality and design. Here are some of the top brands that manufacture these unique and festive cooking pots.
First up is Staub cookware, a French brand that is known for its high-quality enameled cast iron cookware. Their pumpkin cocotte is available in a variety of sizes and colors, including their classic orange hue.
The lid features an elegant stem handle that makes it easy to remove during cooking or serving. These Dutch ovens are perfect for fall soups, stews, and roasts.
Another popular brand for pumpkin-shaped Dutch ovens is Le Creuset. Their pumpkin cocotte is also made from enameled cast iron and comes in a vibrant orange color with a black stem handle on the lid.
This Dutch oven can hold up to 2.25 quarts of sauce or soup, making it perfect for smaller gatherings or intimate dinners. Martha Stewart Collection also makes a 2-quart pumpkin-shaped casserole dish out of enameled cast iron that's perfect for fall entertaining.
This dish features a rounded shape with two black handles on each side and comes in an eye-catching orange color. In addition to these high-end options, there are also more affordable versions available from brands like Pioneer Woman and Smith & Clark.
Pioneer Woman's 3.5-quart enamel-on-cast iron Dutch oven features a cute pumpkin shape with an orange exterior and black accents on the lid handle and base.
Smith & Clark's version has similar features but includes additional detailing around the dish's rim, adding an extra touch of elegance to your dinner table decor.
Best Pumpkin Dutch Ovens and Pumpkin Cocotte to Buy
When looking for your own cast iron pumpkin Dutch oven, be sure to check out these top brands first! You'll be sure to find one that matches your style while providing excellent performance in the kitchen!
Staub Pumpkin Cocotte
The Staub Pumpkin Cocotte is a beautiful addition to any kitchen, especially in the fall season. This cocotte is a pumpkin-shaped Dutch oven that comes in a stunning orange enamel finish.
The cocotte has a 3.5 qt capacity and is perfect for making stews, soups, and casseroles. One of the best things about the Staub Pumpkin Cocotte is how easy it is to handle.
The cocotte has two handles on either side, which makes it easy to lift and move around the kitchen. The metal knob on top of the lid is also easy to grip, so you can easily check on your food as it cooks.
The Cocotte is made from high-quality enameled cast iron, which means that it heats evenly and retains heat well. Whether you're cooking on a gas stove or an electric one, this cocotte will give you great results every time.
While this Pumpkin Cocotte may be more expensive than other Dutch ovens on the market today, it's definitely worth the price if you're looking for a beautiful piece of cookware that will last for years to come. This cocotte not only functions well but also serves as stunning decor in any kitchen.
If you're looking for other options besides the Staub Pumpkin Cocotte brand-wise, Le Creuset also offers its own version of a pumpkin-shaped cocotte as well.
If you're undecided between these two brands, remember that both are highly reputable and offer high-quality Dutch ovens.
Learn more about where and when to buy Staub products at the best possible price all year round.
This article might help you decide which brand is for you in the showdown between Staub vs Le Creuset.
Le Creuset Pumpkin Dutch Oven
The Le Creuset Pumpkin Cocotte is one of the most iconic pumpkin-shaped cast iron Dutch ovens on the market.
Along with its classic design and durable construction, the Le Creuset brand has been around for almost 100 years. So it's no wonder why so many home cooks and chefs choose this pot to make their favorite fall dishes.
Whether you're looking to bake a pumpkin pie, stew some hearty vegetables, or create a stunning centerpiece for your Halloween party, the Le Creuset Pumpkin Cocotte is the perfect tool for the job.
Made from high-quality enamel-coated cast iron, this 3.5-quart pot is ready for anything you can throw at it. Its smooth interior is sand colored and coated with a glossy enamel finish that ensures even heat distribution and easy cleanup.
It has an induction-ready base, you can use it on any type of cooktop, including induction. One of the best things about the Le Creuset Pumpkin Cocotte is its versatility.
You can use it to make everything from savory stews to sweet desserts. And because it's oven-safe up to 500°F, you can bake in it as well!
Imagine baking a warm pumpkin bread pudding or a spicy pumpkin chili in this beautiful pot – the result would be nothing short of spectacular. If you're looking to add this iconic piece to your collection, there are plenty of places online where you can purchase one.
If you want the best pumpkin Dutch oven around that's both functional and beautiful enough for display on your table then look no further than the Le Creuset Pumpkin Cocotte!
It's perfect for all your fall cooking needs whether making savory stews or sweet desserts like pies or bread puddings with ease and style unmatched by other brands.
Amazon has a wide selection of Le Creuset products, including their pumpkin cocotte. And if you're lucky enough to live near a Le Creuset outlet store or kitchenware shop that carries their collection, be sure to stop by and take a look in person.
Learn more about where and when to buy Le Creuset products at the best possible price all year round.
Martha Stewart Enameled Cast Iron 2 Qt. Pumpkin Casserole
This beautiful piece is designed to mimic the look of a pumpkin, complete with a stem as the handle perfect for any fall gathering or holiday celebration.
This casserole dish can hold up to 2 quarts of your favorite fall dishes, making it perfect for side dishes or smaller servings. The finish on this casserole is absolutely stunning and will add some serious beauty to your serving table.
One thing to note about this pumpkin casserole is that it is safe for use on all standard stovetops, including induction stoves. So, if you have an induction stove and have been searching for the perfect pumpkin-shaped Dutch oven, look no further!
If you're wondering what you can make in this casserole dish, the options are endless. You can make delicious pumpkin soup or chili during those cool fall nights. Or use it to bake your favorite casseroles – think creamy mac and cheese or savory chicken pot pie.
Many rave about its quality and versatility in the kitchen. I do not use the Martha Stewart pumpkin casserole. Many do use the brand and believe it is a great addition to any collection of cast iron cookware.
Let's face it any cast iron cookware is perfect for serving up some warm fall comfort food at your next gathering!
Pioneer Woman 3.5-Quart Enamel-on-Cast Iron Pumpkin Dutch Oven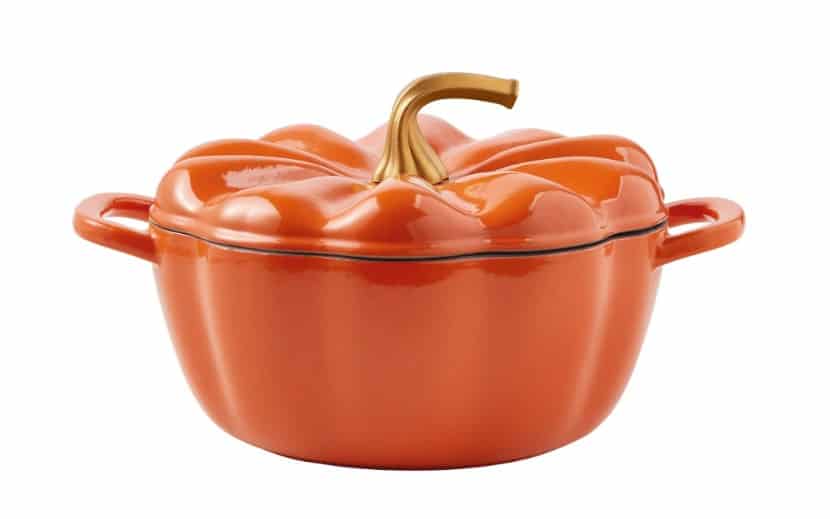 The Pioneer Woman Pumpkin Dutch oven looks different from the other brand pots but still it can be used to make delicious soups, stews, roasts, and other dishes. This cast iron pumpkin-shaped pot has a 3.5 qt capacity and is perfect for fall-themed meals. It comes in a bright orange color with a black interior and has a gold pumpkin stalk shape knob on the lid.
It can be used on various heat sources, including gas, electric, ceramic, and induction cooktops. The cast iron construction allows for even heat distribution and retention, resulting in perfectly cooked meals every time.
The pot is also oven safe up to 500°F, so you can easily transfer it from the stovetop to the oven without any issue. It has an enamel coating that makes it easy to clean and maintain.
You can either hand wash it or use a dishwasher for convenience. The enamel also prevents rusting or staining of the pot.
This pot is available online it's also reasonably priced compared to other branded pumpkin-shaped Dutch ovens.
Despite its affordability, this piece doesn't compromise on quality or durability. When you're ready to use your new oven, make sure to remove any tags or packaging materials first before starting the cooking process.
You'll also want to preheat the pot before adding any ingredients for better results. If you want to add some fall-themed decor to your kitchen while still having a functional cooking piece Pioneer Woman pumpkin Dutch oven would please both of those needs!
Smith and Clark Enamel Pumpkin Dutch Oven
The Smith and Clark pumpkin Dutch oven is the perfect addition to any fall kitchen. The ceramic pumpkin-shaped Dutch oven is not only eye-catching, but it also performs exceptionally well.
This Dutch oven is a standard 3.5-quart size, making it large enough for big batches of your favorite recipes, but not so large that it takes up too much space in your kitchen.
One feature that sets the Smith and Clark pumpkin Dutch oven apart from others is the knob on the lid.
It's designed to look like a stem, which adds a touch of whimsy to an already charming piece of cookware. But beyond just looks, this knob makes it easy to lift the lid even when wearing oven mitts.
Another great feature of this pumpkin Dutch oven is its ability to evenly distribute heat for simmering or slow-cooking stews and soups. The interior enamel coating helps with this process by retaining heat and preventing food from sticking to the bottom or sides.
When I'm looking for a centerpiece for my fall dinner party, I turn to my Smith and Clark pumpkin Dutch oven. It functions as a serving dish for warm dishes like chili or macaroni and cheese and adds an orange pop of color to my table setting.
The price point of this pumpkin Dutch oven is also very reasonable compared to other high-end brands like Le Creuset or Staub. Plus, with proper care, it can last for years – truly a great value!
Wrapping Up: What Pumpkin Dutch Oven Should You Buy?
Whether you're a serious home chef or just enjoy fun and unique kitchen accessories, a cast iron pumpkin-shaped Dutch oven is definitely worth considering.
Not only do they add some seasonal flair to your cooking routine, but they're also durable and functional enough to last for years to come.
The lid of these pots creates an air-tight seal, allowing the food inside to simmer in its own juices while retaining all of its flavors.
The heat retention capabilities of cast iron make it an ideal material for cooking slow-cooking dishes such as stews and casseroles. A pumpkin-shaped Dutch oven is perfect for creating beautiful table settings while keeping the food warm for longer periods.
They can be found online or at kitchen supply stores, and are often eligible for free shipping.
So whether you're looking to add some style to your kitchen or simply looking for an alternative way to cook delicious meals, purchasing a pumpkin Dutch oven may just be worth it.
Why not check them out and see if this product is the best fit for your kitchen needs?
One-Pot Cooking Rocks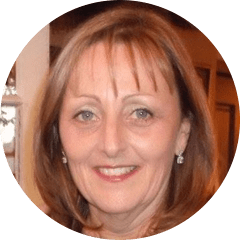 Michelle – Author
Hi, I'm Michelle the founder, owner, author, and editor of OvenSpot. My passion for one-pot cooking commenced when I was working to prepare cafeteria lunches for school students. I am now on a mission to assist you in choosing the cooking pot or appliance you will use every day. As well as in-depth information to assist you in using and caring for your cookware and appliances.
Questions? Reach out to Michelle at [email protected]