Best Le Creuset Prices: Locations, Sales & Clearances
Le Creuset is known for its high-quality cookware and has been manufacturing its products for over 85 years. Le Creuset is a French company that specializes in enameled cast iron cookware their signature piece is a Dutch oven also known as a cocotte or French oven.
The quality of this cookware comes with a hefty price tag. However, as they say, "you get what you pay for." So where can you purchase Le Creuset for the best prices?
The best-priced Le Creuset cookware and accessories can be found at sales and clearances in-store at Le Creuset as well as in other department stores like Macy's and Bloomingdales. Even better bargains can be found at outlet shopping stores like Williams and Sonoma, and also online at Le Creuset, Amazon, and Wayfair.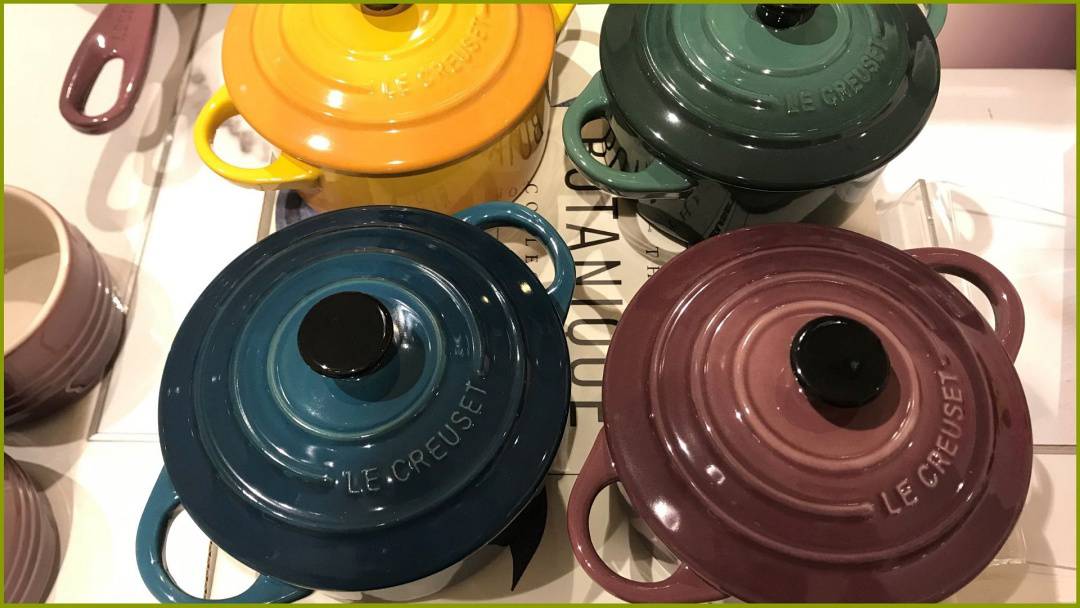 If you are looking to buy Le Creuset pieces but don't want to spend an arm and a leg, in this article I show you where to find the best prices on Le Creuset cookware and other kitchen items. As well as when you can expect to find the absolute best deals.
Let's go…
Disclaimer: As an Amazon Associate I earn from qualifying purchases on my website. If you make a purchase through links from this website, I may get a small share of the sale from Amazon and other similar affiliate programs.
Does Le Creuset Ever Go on Sale?
Le Creuset has retail stores, outlet stores, and a wonderful interactive website that automatically diverts to a Le Creuset store closest to your location in the world. The Le Creuset website "is the" place to find out about all the discounts and sales coming up, so joining their mailing list would be beneficial.
You can find Le Creuset items on sale at all three of these retail locations throughout the year, Le Creuset outlet prices can be up to 70% off, sometimes even more savings for discontinued items. Keep in mind that these discounts are for a limited time, so if you see something on sale that you like, grab it before it disappears or the price goes back up!
Le Creuset's own sales will have a flow-on effect and other retail stores such as Macy's, Bloomingdales, Bed Bath & Beyond, plus many more will offer similar discounts.
So if you're looking for some "old school" shopping experience then head over to your local department store where you will find Le Creuset sales as well as their own overstock instore clearance sales at various times of the year.
You can also order from online retailers like Williams and Sonoma, Amazon, and Sur La Table. In fact, they may be able to provide better prices than brick and mortar stores in your local area due to lower business overheads.
A Le Creuset sale is the perfect opportunity to get your hands on one of these beautiful, high-quality pots and pans. You might be thinking that you don't need another piece of cookware but trust me when I say once you use a Le Creuset piece it changes everything!
Another reason to purchase when Le Creuset is on sale it is that is a guilt-free time to buy, upgrade or replace your favorite cookware, serving dishes, or accessories. Whether it's for a wedding gift or an anniversary present (or even just because), cooking with Le Creuset will completely transform how you think about food.
How to get the best deals on these beautiful pots and pans while they last? Save the link to this article so you will know when and where you can the best possible Le Creuset cookware every day.
Where to Buy Le Creuset Cookware
Le Creuset along with its brick-and-mortar stores has various outlet stores across the United States as well as its hugely successful online store. But where else can we access this gorgeous cookware in all colors, sizes, and shapes at either full price or on sale?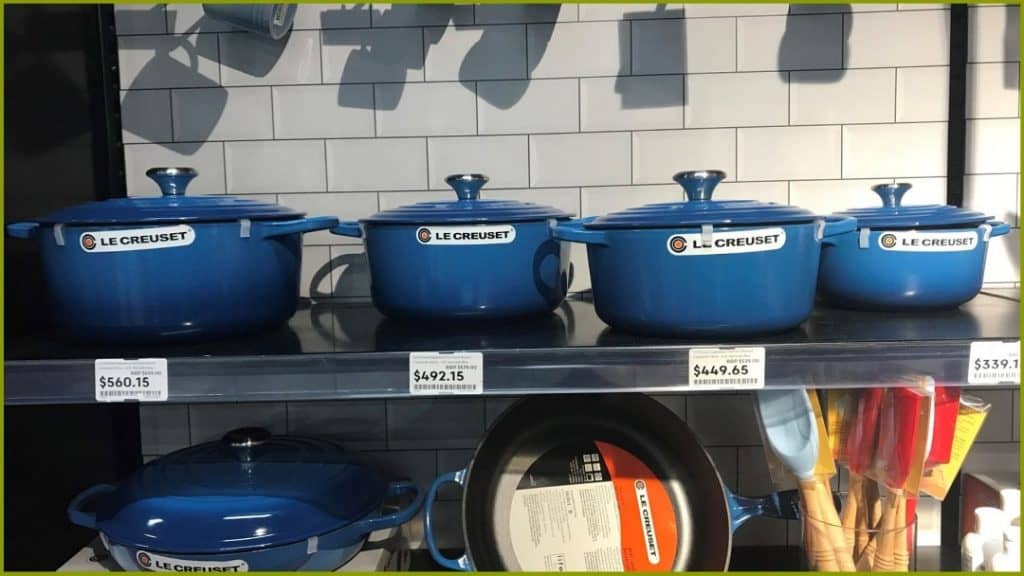 1. In-Store
There are those of us that are still going to want to shop in-store. The joy of looking, feeling, and touching a perspective item we want to purchase never goes away. That being said you can find Le Creuset at department stores like Macy's or Nordstrom as well as specialty kitchen stores like Williams-Sonoma or Sur La Table at everyday prices.
Don't worry you'll get a chance to find those perfect gifts for your loved ones, and they won't break the bank. Why because these stores will have Le Creuset sales as well as clearance items on sale throughout the year that are just what you've been looking for.
Le Creuset Retail Store Locations
2. Le Creuset Outlet Stores
Le Creuset has its own outlet stores where you will find items, like its popular cookware sets and cast iron pans. But they are not the only outlet stores that stock Le Creuset.
First off, there are more than 70 of these outlets across the country so they should not be too difficult to find. First-quality pieces are ones that may have been discontinued because maybe it was out of style during this time last year (maybe even two years ago!). This means that there is no guarantee when exactly something will come back around again. Second-grade merchandise is still pretty good although there will be limited styles and colors.
You should also consider the Le Creuset Warranty – check in-store! (more about Le Creuset's Warranty below)
All in all, there is nothing like the feeling you get when purchasing a cheap Le Creuset piece of cookware or a wanted accessory at a discount Le Creuset outlet.
Is it worth heading out to a Le Creuset outlet store? First-quality and second-goods are good in different ways, but if you're looking to save money or get a deal on some great goods from the past season then outlet stores might be just for you!
Why Purchase at a Le Creuset Sale
So check out a Le Creuset outlet store near you at any time of the year you might just grab something you or someone you love has wanted for a heavily discounted price.
Where are the Le Creuset outlets? Everywhere, the easiest way to locate the nearest Le Creuset outlet near you is to go to this link Le Creuset Outlet Stores. This is where you will find an extensive list of stores to choose from. Not in the United States never fear when on a Le Creuset website check out the store locator to find an outlet near you.
Le Creuset – Outlet Stores and Locations
3. Le Creuset Online
Online shopping is taking over so there are those of us that are more than happy to identify what we want and purchase directly from the internet.
Online stores like Amazon will have different items that will become available offering discount prices as well as being able to apply your Prime membership benefits to any purchase.
Don't forget that all the regulars will be available at the best possible price, also with the added benefit of Amazon's purchaser protection.
Le Creuset Limited Edition MBL Signature Series
Le Creuset Online Comparison Sites
The internet is a handy tool for finding Le Creuset discounts, especially if you don't know where to look. Comparison sites can help you whittle down the many retail choices out there. Here is a couple that I found.
Le Creuset On-Line Coupons
As we know coupons for products and brands come and go every day. Here are the links to a few sites that offer online coupons for Le Creuset items regularly. I have seen coupons for up to 40% off.
Shopping for Le Creuset Internationally
Le Creuset cookware is available all over the world including:-
United States
United Kingdom
France
Canada
Australia & New Zealand
South Africa
The Philippines and Asia
When are Le Creuset Sales or Clearances
When does Le Creuset go on sale? The best way to find out about Le Creuset deals is by checking the website of Le Creuset or the websites of your favorite stores either brick-and-mortar or online. Then check their sites periodically. To really keep apprised would be to sign up for emails from your favorite retailers, so you will be notified as soon as the sale is scheduled.
Although not all Le Creuset sales are scheduled on the same date every year here is a list of the times there is generally a Le Creuset sale.
Bargain Le Creuset Pieces from Thrift or Antique Stores
Keep your eyes open in thrift and antique stores for that hidden little gem – a piece of Le Creuset vintage or not – what a wonderful find it would be. Whether it is a cooking pot or pan, tableware, or an accessory – they can be found.
TIP: If you are after something special such as a discontinued Le Creuset or a piece you have chipped or broken. Ask some local antique shop owners to keep an eye out in their travels for that much-loved piece of Le Creuset you are after. You will be surprised at what store owners can access when looking for a particular piece.
Does Le Creuset Offer a Lifetime Warranty?
With all the information you have gained in this article, there is one very important factor you should consider before buying a piece of Le Creuset cookware from any retailer. That is what the warranty and returns you can expect after you purchase the piece are.
When purchasing a new Le Creuset item thanks to Le Creuset's lifetime warranty applies from the date of purchase.
With the sales/discounts/seconds and the many retail and online stores offering these – it can be a minefield of what you are actually entitled to as the purchaser.
Unfortunately, the responsibility falls directly into your hands. You as the purchaser of a sale or discounted item, or potentially a second item should request of that retailer "what the warranty and returns policy" is on the said item. Request a copy of the retailers/manufacturers' policy before or after the purchase.
That said use your discretion if the piece is heavily discounted – this price could far outway relying on a warranty in the future – that at purchase time does not apply to that particular piece.
Le Creuset Gift Ideas
Need Le Creuset gifts? See my extensive Le Creuset gift guide: Le Creuset Gift Ideas
Le Creuset Cookware at Sale Prices
The Le Creuset items below are just an example of what is on sale year-round, and you don't need to wait for massive sales. With these bargain prices, this is the way to buy what you want – not settle on something just because it's available at sale time.
Le Creuset Enameled Cast Iron Signature 5.5-Quart Round Dutch Oven
The Le Creuset Signature Round Dutch Oven is a formidable cooking tool. At 45% larger than previous models, the wide handles are easy to grip with oven mitts and provide sure handling when transferring pots and pans in/out of your stovetop or oven. The interior enamel has been specially developed for superior heat distribution and retention while also resisting chipping, cracking, and scratching damage as well as wear by abrasive foods like cornmeal mixes that can be used on this durable surface without the risk of being scratched off! Plus it sports a large composite knob that withstands high temperatures up to 500 degrees Fahrenheit – so you know it's going to take care of whatever dishware needs heating up before serving something delicious!
Shopping for Le Creuset Sizes this article has all the current sizes available.
Le Creuset Enameled Cast Iron Signature Iron Handle Skillet, Licorice
Le Creuset Enameled Cast Iron Signature Skillet, Licorice – this skillet requires very little oil and is perfect for cooking low-fat meals. An improved enamel interior resists stains, dulling, or wear and tear better than other cast iron cookware on the market today! A large loop helper handle provides a comfortable grip while wearing oven mitts so you can lift them with ease without any difficulty. The dishwasher-safe design allows easy cleanup after use whenever necessary!
Le Creuset Stoneware Heritage Covered Rectangular Casserole
Le Creuset Stoneware Heritage Covered Rectangular Casserole – this dish is made of high-fired stoneware with a non-porous enamel finish, has traditional scalloped side handles to help ensure a secure grip during transport, and comes with an oven-safe lid that traps in heat and moisture when cooking. It resists odors, stains, chips, or cracks from wear-n-tear as well!
Le Creuset Stoneware Rectangular Dish with Platter Lid
Le Creuset Stoneware Rectangular Dish with Platter Lid is made from quality stoneware that maintains even temperatures and prevents scorching. This dish is also safe for the freezer, microwave, oven, broiler, and dishwasher! The exterior enamel coating resists scratches while being impermeable to stains or moisture absorption. With a nearly-nonstick glazed interior surface, it releases foods easily making cleanup quick as well.
Le Creuset Tri-Ply Stainless Steel Cookware Set
The Le Creuset Tri-Ply Stainless Steel Cookware Set is made of professional-grade stainless steel that resists oxidation and discoloration. The cookware set includes a sidewall and triply construction with an aluminum core in the center for induction stovetop compatibility. There are ergonomically designed handles on each pan that help keep hands cool while cooking at high temperatures of up to 500 degrees Fahrenheit (F).
All pans come with stay-cool knobs secured by rivets that can withstand extreme heat without melting or loosening from their spot. These premium quality pots also have radiant lusters resulting in beautiful kitchen decor when not being used as tools for food preparation! The lifetime limited warranty ensures your investment will last long after it has been paid for.
Le Creuset Toughened Nonstick PRO Cookware Set
The Le Creuset Toughened Nonstick PRO Cookware Set is made to last. Made from sturdy, triple-reinforced PFOA-free steel that has been strengthened 4x over past models and tested for the highest quality. The textured interior promotes browning and searing for exceptional flavor – it even wipes clean with ease!
Stay cool handles make this cookware set easy to move around as you prepare your meals in style on any cooktop or oven up to 500°F (tempered glass lids go up to 425°F). Metal utensils can be used with this cookware and it is safe for the dishwasher.
Le Creuset Stoneware Set of 4 Mini Cocottes with Cookbook
The Le Creuset Stoneware Set of 4 Mini Cocottes with a Cookbook is the perfect way to have your favorite dish at home. With four mini Cocottes made from high-fired stoneware, you can make anything and everything in these little pots! The nonporous enamel finish on each pot resists odors, stains, chipping, or cracking.
They'll last a lifetime and are easy to clean because there's no worry about food sticking onto them while cooking as other ceramic cookware sets may leave behind. These pots also come with loop side handles for safe handling as well as a secure fitting lid. With this set comes a cookbook with 25 original recipes.
Le Creuset Dinner Sets
Le Creuset Stoneware Dinnerware is an excellent choice for the home cook that wants to make a long-lasting investment in their cooking equipment. The vibrant glaze resists chips, scratches, and stains while still being easy enough to remove food from with minimal scrubbing time.
Nonporous stoneware blocks moisture absorption which means your dishes will last longer without getting chipped or scratched due to water exposure as it's dishwasher safe! Le Creuset dinnerware also has superior heat retention so you can serve piping hot dinners at the table rather than waiting until everyone gets up before serving them cold leftovers later on down the line.
Le Creuset Cooking Accessories
The Le Creuset Silicone Craft Series Utensil Set with Stoneware Crock is the perfect gift for any true chef. The set includes five pieces: a stoneware crock, and four silicone utensils that are heat-resistant up to 500 degrees Fahrenheit! With an ergonomic handle on each tool plus flared ends so it's easy to grip them when scraping in pans or pulling out ingredients from pots, this kitchenware set can't be beaten!
Le Creuset Silicone Handle Grips
The Le Creuset Silicone Handle Grips are not only a stylish way to protect your hands while cooking, but they also make it easier for you to clean up afterward! Available in Le Creuset colors and dishwasher safe, these silicone handle covers will help keep your grip on the pan nice and tight.
Le Creuset Nylon Brush
Le Creuset offers a brush that is great for cleaning the ridges of your grill pan. The nylon bristles are dishwasher safe and will not scratch metal surfaces which makes this product perfect to use on non-stick cookware too! Packaged with 0.6 pounds, it's easy to save space when storing as well.
Le Creuset Bread Oven
A Le Creuset Signature Cast Iron Bread Oven is a type of oven specifically designed for baking bread. It is made from cast iron and has an enamel coating that helps to distribute heat evenly, which is ideal for baking bread.
Le Creuset On-Sale FAQs
Le Creuset Colors 2023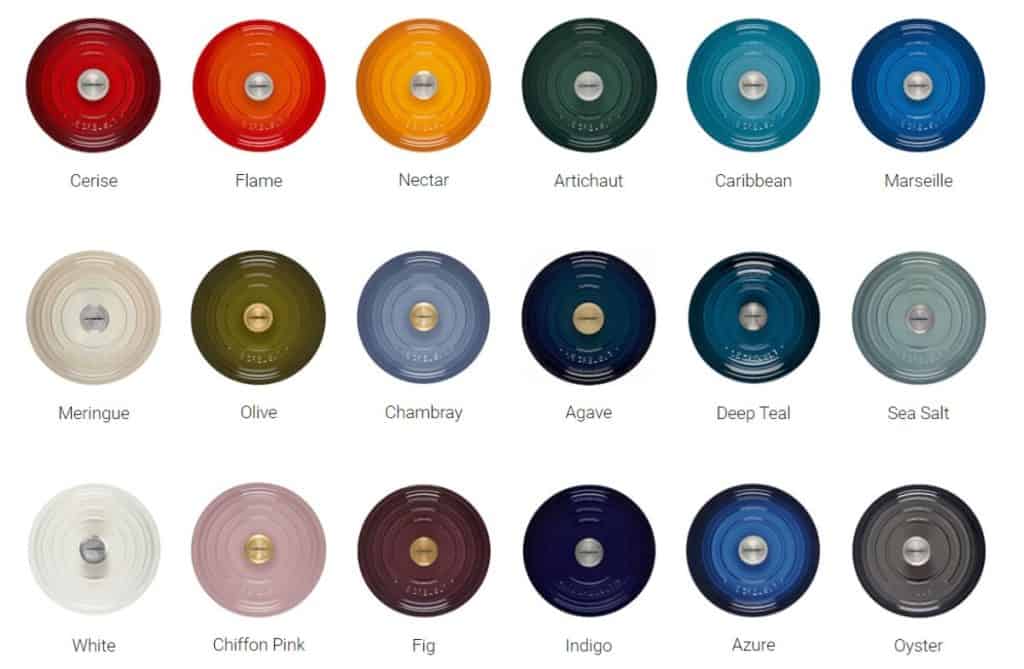 This article has the current Le Creuset Color Guide with access to current colors available around the world in (2023)
How to Pronounce Le Creuset Correctly
Just break it down "luh-CROO-zay".
Want to hear it? Let the famous French chef Ludo Lefebvre teach you how luh-CROO-zay
Wrapping Up – Best Le Creuset Prices
I hope this article has given you the information you required to find the best Le Creuset prices, the places you can purchase with confidence, and the times of year that you will save the most money.
Remember to preplan by checking out their website at lecreuset.com or sign up for their email newsletter! You can also signup for email sales notifications from your local retail and outlet stores as well as online retailers.
Good luck with your shopping adventures…
Want to see some Le Creuset Alternatives my articles show you the top three contenders.
One-Pot Cooking Rocks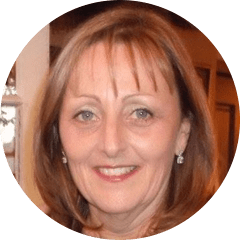 Michelle – Author
Hi, I'm Michelle the founder, owner, author, and editor of OvenSpot. My passion for one-pot cooking commenced when I was working to prepare cafeteria lunches for school students. I am now on a mission to assist you in choosing the cooking pot or appliance you will use every day. As well as in-depth information to assist you in using and caring for your cookware and appliances.
Questions? Reach out to Michelle at michelle@ovenspot.com