Le Creuset Signature Trivet: For Kitchen and Dining
Cooking is an art, and every artist needs the right tools to create their masterpiece. When it comes to cookware, few brands evoke as much trust and admiration as Le Creuset. With a legacy dating back to 1925, Le Creuset has consistently delivered exceptional quality and craftsmanship to kitchens around the world.
The latest from Le Creuset is an Enameled Cast Iron Signature Trivet. The Le Creuset Signature Trivet is a 9-inch round kitchen accessory crafted from enameled cast iron, designed to protect surfaces from heat and condensation. While providing an elegant touch to your kitchen or dining table.
Let's take a closer look at this innovative trivet and how it can elevate your cooking experience.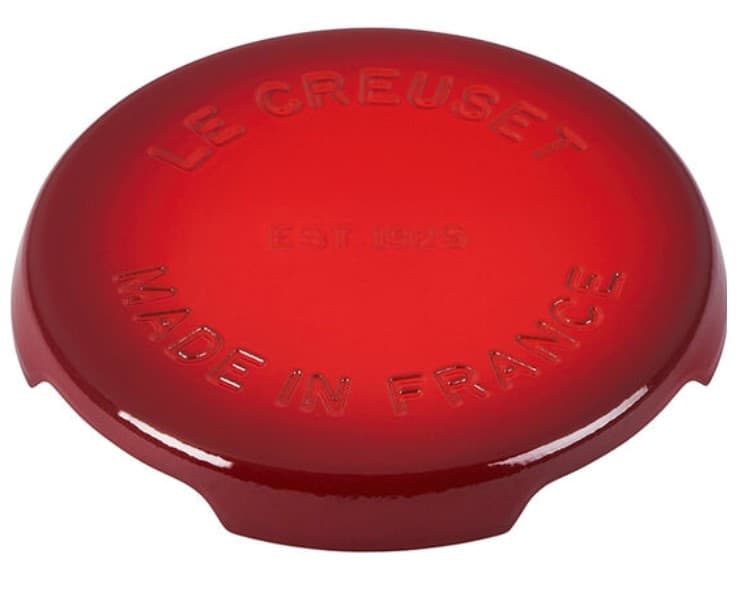 Disclaimer: I earn from qualifying purchases on my website as an Amazon Associate. If you purchase through links from this website, I may get a small share of the sale from Amazon and other similar affiliate programs.
What is a Le Creuset Signature Trivet
Crafted with the same legendary enameled cast iron that has made Le Creuset cookware famous, the 9-inch round Signature Trivet is a kitchen essential. Its vibrant colors and durable enamel finish not only make it a functional tool but also an attractive addition to your kitchen decor.
Key Features
Materials
The Le Creuset Enameled Cast Iron Signature Trivet is expertly crafted from enameled cast iron. This combination of materials ensures exceptional heat retention and distribution while showcasing a vibrant and easy-to-clean enamel finish.
Manufacturing Process
Le Creuset trivets are meticulously crafted using a unique process. Molten iron is poured into sand molds, creating an integrated sturdy base. A meticulous glass enamel coating is applied, fusing to the cast iron. This technique results in a smooth and durable cooking surface, combining both durability and vibrant aesthetics.
Elevated Design
The clever footed design, complete with silicone foot pads, of the trivet serves multiple purposes. It protects your countertops and dining tables from heat and condensation, which is crucial when serving hot dishes, platters, and cookware. Additionally, this design allows for air circulation underneath, preventing any potential damage to surfaces.
Dimensions
The Le Creuset Enameled Cast Iron Signature Trivet boasts a well-thought-out design. With a generous 9-inch diameter and a low profile standing at just 1.1 inches high. Providing ample space to support your cookware while fitting seamlessly into your kitchen setup.
Weight
Despite its sturdy build, it maintains a manageable weight of 3.53 pounds, making it easy to handle and move as needed. Crafted with precision, this trivet is not only functional but also aesthetically pleasing.
I can't do without a cast iron trivet! I used to be quite nervous about handling heavy and very hot pots and pans. Gone are the days of ugly trivets and stained wooden boards! I now use the Le Creuset Signature Trivet in my kitchen and its stability and heat resistance, I comfortably use it on my dining table for serving straight from the pot.
Variety of Colors
Le Creuset offers this trivet in 18 different signature enamel colors, allowing you to choose the one that best complements your kitchen's style.
Le Creuset often introduces new colors and limited-edition releases, so you can select a trivet that not only matches your culinary needs but also aligns with your personal style.
See the latest in colors in my up-to-date Le Creuset Color Guide.
Surface Protection
While the trivet is designed to protect surfaces, it's essential to note that it's not suitable for use on any direct heat source. Some heat transfer is possible, so exercise caution when using it on delicate or heat-sensitive surfaces such as natural wood, polished or lacquered wood, plastic table coverings, or cork-backed table mats.
Check out replacement Le Creuset Trivet rubber feet (Amazon)
Easy-to-Clean Durability
Le Creuset's enamel resists dulling, staining, chipping, and cracking, ensuring that this trivet will remain a staple in your kitchen for years to come. Its quality finishes make maintenance a breeze, allowing you to spend more time enjoying your culinary creations and less time on cleanup.
Dishwasher Safe
Cleaning up after a meal should be hassle-free, I usually hand wipe to clean a trivet. This trivet is dishwasher safe, making cleanup a breeze.
Warranty
Le Creuset stands behind quality design, superior materials, and expert craftsmanship. By offering a lifetime warranty, they ensure that your investment in the Signature Trivet is one that will serve you well for years to come.
Learn more about the expected lifetime of Le Creuset products in the in-depth article.
Price and Availability
The Le Creuset Enameled Cast Iron Signature Trivet offers a blend of quality and craftsmanship that justifies its higher price point. While it may be considered an investment, its durability and timeless design make it a valuable addition to your kitchen.
Le Creuset's Signature Trivet is widely available through various retailers and online stores, ensuring accessibility for customers across the globe.
Explore the best Le Creuset deals, any special promotions, sales, and locations that may be available all year round.
Pros and Cons: Le Creuset Trivet
Pros
Exceptional Heat Resistance: Protects surfaces from hot cookware, allowing for safe serving and food presentation.
Durable Construction: Crafted from enameled cast iron, ensuring long-lasting use.
Stylish Aesthetics: Available in a variety of vibrant colors, adding a touch of elegance to your kitchen.
Easy to Clean: Resists staining and is dishwasher safe, making cleanup a breeze.
Stable Design: Footed design elevates cookware and provides stability.
Versatile Use: Suitable for both serving and protecting surfaces during cooking.
Cons
Weight: Heavier than some other trivet materials, which may make it less portable.
Price: Can be considered an investment due to its premium quality.
Not for Direct Heat: Not suitable for use on direct heat sources, limiting some cooking applications.
Delicate Surface Caution: While designed to protect surfaces, some heat transfer is possible, so caution is needed on delicate or heat-sensitive surfaces.
Limited Size: Available in a standard 9-inch diameter, which may not accommodate very large cookware.
Care Required: Requires careful maintenance to prevent chipping or damage to the enamel coating.
Enamel Cast Iron Trivet vs Wooden Trivet
This quick reference table highlights the differences between cast iron and wooden trivets.
Features
Le Creuset
Enameled Cast Iron Trivet
Le Creuset
Magnetic Wooden Trivet
Material
Enameled Cast Iron
Acacia Wood with Silicone
Heat Resistance
High
High
Durability
Very High
High
Design
Vibrant Colors, 9-inch diameter
Acacia Wood with Silicone Rings
Heat Protection
Protects Surfaces from Heat
Protects Surfaces from Heat
Maintenance
Easy Cleanup
Wipe Clean
Weight
Moderate (3.53 pounds)
Light (1.2 pounds)
Additional Features
– Dishwasher Safe
– Variety of Colors
– Magnetic Base
– Silicone Rings
Warranty
Lifetime
Varied (see manufacturer)
Price
Higher-priced
Lower-priced
About The Brand Le Creuset
Le Creuset is a name synonymous with culinary excellence. Since 1925, French artisans have crafted their cookware from the finest quality materials. Le Creuset has been a trusted favorite for generations, offering classic colors and trend-leading hues that bring beauty to kitchens worldwide.
Trivet Material Comparison Table
Explore the features of various trivet types with our Trivet Comparison Table. Find the perfect kitchen accessory for your needs.
| Trivet Type | Material | Heat Resistance | Durability | Maintenance | Aesthetics | Weight |
| --- | --- | --- | --- | --- | --- | --- |
| Enameled Cast Iron Trivet | Cast Iron & Enamel | High | Very High | Easy Cleanup | Vibrant Colors | Moderate |
| Stainless Steel Trivet | Stainless Steel | High | High | Easy Cleanup | Modern Shine | Moderate |
| Wooden Trivet | Wood | Moderate | Moderate | Regular Oiling | Natural Charm | Light |
| Glass Trivet | Glass | High | Moderate | Easy Cleanup | Sleek Elegance | Light |
| Silicone Trivet/Mat | Silicone | High | High | Dishwasher Safe | Flexible Design | Light |
| Plastic Trivet/Mat | Plastic | Low | Low | Easy Cleanup | Various Styles | Light |
Don't miss these in-depth articles that cover the iconic Le Creuset brand;
Wrapping Up: Le Creuset Signature Trivet
The Le Creuset Enameled Cast Iron Signature Trivet is more than just a kitchen accessory; it's a testament to Le Creuset's commitment to quality and innovation. With its stylish design and practical functionality, it's a must-have for any home cook.
Whether you're protecting your countertops or presenting a beautifully cooked dish, this trivet is up to the task. Choose from a range of stunning colors to match your kitchen's personality and elevate your culinary style with Le Creuset.
Ready to add the Le Creuset Signature Trivet to your kitchen arsenal? Explore the 18 vibrant colors and discover how this trivet can enhance your cooking experience. Don't miss out on the chance to own a piece of culinary history from a brand that's been trusted for nearly a century.
One-Pot Cooking Rocks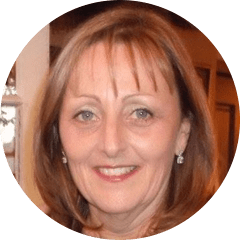 Michelle
Hi, I'm Michelle, the founder, owner, author, and editor of OvenSpot. My passion for one-pot cooking commenced when I was working to prepare cafeteria lunches for school students. I am now on a mission to assist you in choosing the cooking pot or appliance you will use daily. As well as in-depth information to assist you in using and caring for your cookware and appliances.
Questions? Reach out to Michelle at [email protected]