Le Creuset Braiser vs Everyday Pan: Which is Best?
A good cast iron braiser is an indispensable kitchen tool. You can sear and then stew tough and cheap cuts of meat until they're fork-tender and full of flavor. Add a big handful of vegetables, and you have a hearty and healthy meal that can feed a crowd all for less than $30.
To get a good stew, you do need to invest in quality kitchen tools, and the Le Creuset Braiser is one of the best. Now, the brand has released a special series called the Everyday Pan, which is exclusively available at Crate and Barrel. The only difference is size and color, so you can get whichever suits your preferences or cooking style.
This simple guide to Le Creuset Braiser vs Everyday Pan can help you decide which one you should add to your kitchen.
Disclaimer: As an Amazon Associate I earn from qualifying purchases on my website. If you make a purchase through links from this website, I may get a small share of the sale from Amazon and other similar affiliate programs.
Le Creuset Braiser
This is a cast iron pan with an enamel inner and exterior coating. It has a wide base, which prevents overcrowding when you try to sear large pieces of meat. It also allows plenty of air and moisture to escape, so you can reduce the sauce for a more concentrated flavor and thicker consistency.
This is a cast iron pan with an enamel inner and exterior coating. It has a wide base, which prevents overcrowding when you try to sear large pieces of meat. It also allows plenty of air and moisture to escape, so you can reduce the sauce for a more concentrated flavor and thicker consistency.
Unlike a cast iron skillet, the high sides of the braiser walls allow you to add lots of liquid, thick tough cuts of meat, and plenty of chunky vegetables. However, it's not as tall as a Le Creuset dutch oven, so it's easier to flip the meat when you are searing it.
In-depth details in my article What Is a Braiser find out what it's used for and how to choose the right one
Benefits vs Other Types of Braisers
Le Creuset French cookware isn't cheap in fact, you'll find other braisers made of stainless steel or other metals that are half the price. So, why is it worth the money?
Excellent Heat Retention and Distribution
However, cast iron retains heat really well, and distributes it evenly. So, the meat won't burn as quickly, and the liquid continues to boil or simmer even after you lower the heat. This is really important when you're slow-cooking food because the trick to tender meat and rich, deep flavor is to control the temperature over a long time.
Easy Maintenance
The enamel coating is easy to clean and does away with the problem of having to season the cast iron pan before you use it.
Unlike cheaper brands, the enamel won't stain even if you cook tomato sauces, curries, kimchi stew, or other ingredients that are very pigmented.
The pan can be hand-cleaned with a soft sponge and hot soapy water, or be placed in the dishwasher.
Learn how to clean and care for Le Creuset the right way.
Oven Safe
You can use this pan on the stovetop, and then transfer it to the oven. It can withstand temperatures up to 500°F. The enamel will not chip or crack, and the stainless steel knobs will stay safe.
Tight-Fitting Lid
The tight-fitting heavy lid traps moisture and air and allows the circulation of steam. This helps shorten the cooking time and prevents the food and sauce from drying out even if you leave it on the heat source for hours.
Ergonomic Loop Handles
A cast iron pan full of hot stew is a dangerous thing to drop. The ergonomic handles prevent this from happening: it's wide enough for you to get a good, solid grip even if you're using a potholder.
Lightest Weight by Quart
Cast iron will always be heavier than cooking ware made of other materials. However, Le Creuset is lighter compared to other brands with similar size and capacity. It's gentler on the wrists, and easier to clean or carry around.
Beautiful Colors
The pans come in a wide array of colors, so you can actually take them off the stove and serve them directly on the dining table without having to re-plate. When it's not in use, you can leave it on the counter, like functional décor. That's why many people pick a Le Creuset that matches the rest of their kitchen.
In my article, you will see the latest range of Le Creuset Colors you can find at the nearest Le Creuset outlet store.
Le Creuset Everyday Pan
The Everyday Pan is exactly the same as the Le Creuset braiser in function and form. The only difference is that Le Creuset created this line to be exclusive to Crate and Barrel.
The limited edition set comes in just two sizes (3.5 quarts and 5 quarts) and has unique colors like ink, graphite, and cream.
So what was the reason for launching the Everyday Pan? Primarily, it's marketing. Braisers have a reputation for being a "specialty" pan, and some people won't buy them because they think they can only be used for those types of dishes.
However, a braising pan is actually the middle ground between a pan and a pot. So, if you're not too picky about maintaining ideal cooking temperatures, you can use it for almost any kind of cooking method.
Searing
Cast iron can hold high heat, which is ideal for getting the perfect sear.
Frying
Since it has a wide, flat surface and holds heat well, you can use it for shallow frying food whether it's eggs or steak.
Deep frying
While you can't completely submerge the food in oil, as you would with a dedicated deep fryer, the braiser can be used to deep fry small batches of tempura, chicken wings, or French fries.
Steaming
All you need to do is get a steamer basket that fits the size of your Everyday Pan. Fill the pan with water, place the basket, and then cover it with the tight-fitting lid.
Stews and Curries
This is actually the best cooking equipment for this type of food since you can brown the meat before adding the liquid.
Casseroles
The wide, flat base provides a lot of surface area that can hold a lot of meat and vegetables, and you can top it with cheese and then cover it with the lid until the steam melts the cheese. Alternatively, you can pop it in the oven so the cheese forms a golden crust.
Serving
Lift the pot and bring it to the table! The Le Creuset colors look just as beautiful as any other serving ware, and you have one less dish to wash.
How do you clean a Le Creuset everyday pan?
To clean your Le Creuset pan, simply wash it with hot soapy water and rinse thoroughly. Do not use metal or abrasive pads to scrub the surface of this dishwasher-safe piece as it may damage its finish over time!
Using the name "The Everyday Pan" simply allows Le Creuset to highlight the versatility of the braiser as a convenient cookware for people who don't have a lot of kitchen space. It also does away with the trouble of having to explain what braising is to new cooks who aren't familiar with formal culinary terms.
Is it a different product? No. It's the same product repositioned to a different market. By collaborating with Crate and Barrel, Le Creuset also reached out to new or casual home cooks who would not otherwise visit their website or search for them on Amazon. Pretty smart move!
Le Creuset Braiser vs Everyday Pan Specs
Since the two products have the same features, the point of comparison is the available sizes and colors in each line.
Both lines are made of cast iron with enamel coating, are oven-safe up to 500F, and can be cleaned in the dishwasher. Like all other Le Creuset cookware, they also come with a lifetime warranty.
Features
Le Creuset Braiser
Le Creuset
Everyday Pan
Stores
Le Creuset, Amazon, Macy's, Walmart, and many other retailers worldwide
Crate and Barrel
Made In
France
France
Material
Cast iron with enamel coating
Cast iron with enamel coating
Sizes
1.5 quarts, 2.5 quarts, 3.5 quarts, 5 quarts
3.5 quarts, 5 quarts
Colors
Licorice, Stone, Oyster, Cerise, Caribbean, Indigo, Nectar, Persimmon, Fig, Emerald Green, Marine, Sea Salt, Flame, Marseille, Artichaut, White, Meringue, Matte Cotton
Ink, Graphite, Licorice, Flame, Marseille, Provence, Oyster, Fig, Cerise, Caribbean, Cream, White
Heat Resistance
Oven safe up to 500°F
Oven safe up to 500°F
Cleaning
Dishwasher safe, but hand washing recommended
Dishwasher safe, but hand washing recommended
Maintenance
Take care with hot and cold to avoid thermal shock, and use the correct utensils to avoid damaging the enamel surface
Take care with hot and cold to avoid thermal shock, and use the correct utensils to avoid damaging the enamel surface
Seasoning
Not required
Not required
Warranty
Limited Lifetime
Limited Lifetime
Le Creuset Braiser vs Le Creuset Everyday Pan
Which One Should You Get?
Unless you're particularly attached to the Everyday Pan's exclusive colors of ink, graphite, and cream, you may want to check out the Le Creuset Braisers first.
You have more options for colors and sizes. While the Everyday Pan carries the most common sizes of 3.5 quarts and 5 quarts which is enough to make a meal for a family of four you may need a larger pan for bigger cuts of meat like short ribs, or bigger batches of cooking.
Many stews actually taste better over time, so one popular cooking hack is to double the batch of a stew and then freeze half of it for future use. After all, you're already going to spend two or three hours making a dish why not make enough for an extra meal?
On the other end of the spectrum, the Le Creuset Braisers also have smaller pans for single servings. If you live alone in a small apartment with very little cabinet space, it may be more practical to get a 1.5-quart pan.
Where Can I Buy Le Creuset
Le Creuset stores, Amazon, Sur la Table, and Williams Sonoma also go on sale fairly frequently, so you're more likely to get a good deal or even find one second-hand.
Meanwhile, specialty stores like Crate and Barrel will rarely give discounts on limited edition items. So, if you're after value for money, Le Creuset and Amazon are your best bet.
Check out where and when you can find a Le Creuset sale all year round for the best prices! Not just holiday time.
FAQs
Are Le Creuset pans worth the money?
Yes, in this instance a braiser pan or everyday pan can carry out the same cooking tasks as a number of other pieces of cookware. For example, Le Creuset's Dutch ovens or a Le Creuset skillet without the long handle taking up space on the cooktop or inside the oven.
Deep dive with me into why Le Creuset is so expensive!
Yes, you can use Le Creuset for everyday cooking!
If you're looking to invest in a high-quality pot set then I highly recommend this brand. They have awesome designs with rich colors that will match any meal or occasion while still remaining modern in design perfect if your kitchen needs some personality injects too.
Will Le Creuset last a lifetime?
Yes if you care for it correctly and Le Creuset's lifetime warranty assists you with any product defects. See more about Vintage Le Creuset.
The Verdict: Le Creuset Braiser vs Everyday Pan
The question of Le Creuset Braisers vs The Everyday Pan isn't one to lose sleep over. Either way, you get a high-quality cast iron pan that you can use to make the cooking process easier.
As well is undeniably more flavorful dishes like pot roast, lamb shanks, whole chicken, or chicken thighs than any other cookware material. It's just a matter of knowing what color or size you want and buying it from the store at the best price.
How to Pronounce Le Creuset Correctly
Just break it down "luh-CROO-zay".
Want to hear it? Let the famous French chef Ludo Lefebvre teach you how luh-CROO-zay
One-Pot Cooking Rocks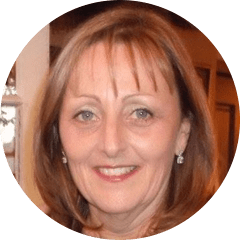 Michelle – Author
Hi, I'm Michelle the founder, owner, author, and editor of OvenSpot. My passion for one-pot cooking commenced when I was working to prepare cafeteria lunches for school students. I am now on a mission to assist you in choosing the cooking pot or appliance you will use every day. As well as in-depth information to assist you in using and caring for your cookware and appliances.
Questions? Reach out to Michelle at [email protected]