Round vs Oval Crock Pots: Comparing Functionality and Design
Slow cookers have become a staple kitchen appliance for many households due to their convenience and ability to produce delicious meals with minimal effort.
When it comes to choosing the perfect slow cooker, one question that frequently arises is whether to opt for a round or an oval crock pot.
Round crock pots save counter space and are great for soups/stews, but may not suit large meat cuts. Oval slow cookers fit various meat cuts and cook evenly but are bulkier. Avid home cooks often prefer oval.
Each design has its advantages and may cater better to specific recipes or kitchen spaces. Ultimately, the ideal choice largely depends on individual needs including the servings required.
If you are looking for a new slow cooker let's look at the differences between these round and oval appliances to find the right slow cooker for you!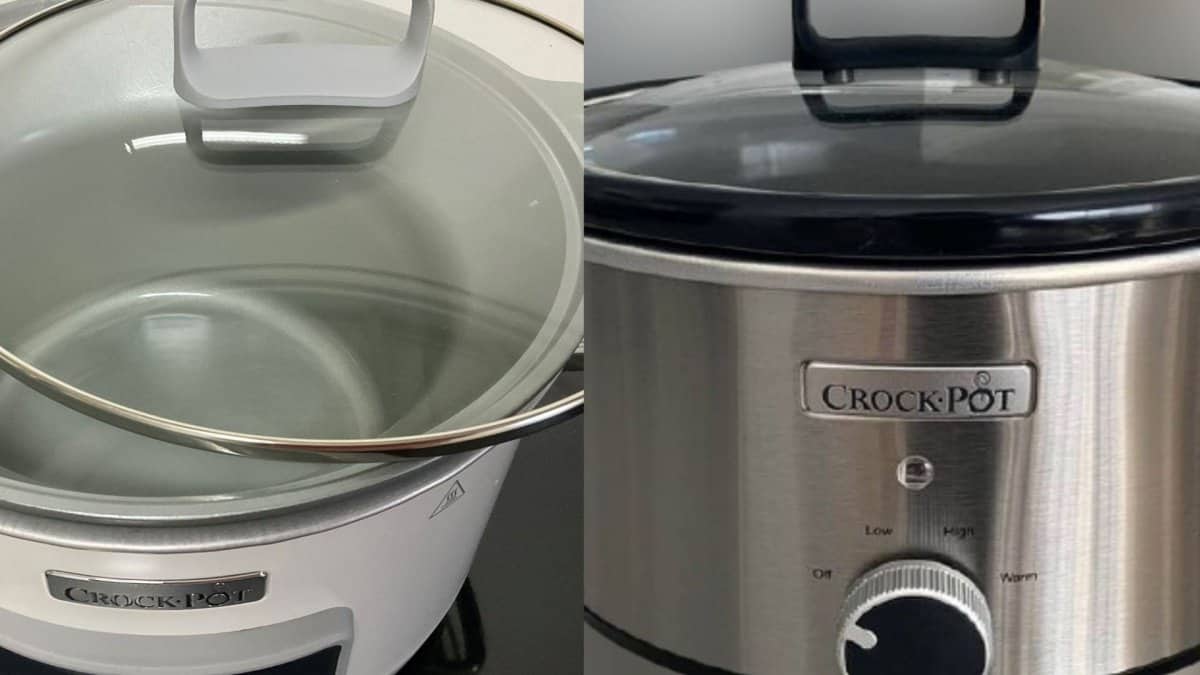 Disclaimer: I earn from qualifying purchases on my website as an Amazon Associate. If you purchase through links from this website, I may get a small share of the sale from Amazon and other similar affiliate programs.
Comparison Chart: Round vs Oval Slow Cookers & Crock Pots
Round and oval crock pots are two common shapes in the world of slow cookers. Here's a quick comparison of these two types of cooking appliances:
| Features | Round Slow Cooker | Oval Slow Cooker |
| --- | --- | --- |
| Shape | Round | Oval |
| Common Sizes | 1-6 quarts | 6-7 quarts |
| Cooking Modes | Manual and programmable timers | Manual and programmable timers |
| Best For | Cooking Soups, stews, and casseroles | Large cuts of meat, pot-in-pot method, and whole chickens |
| Sear Function | Available | Available |
| Price | Typically more affordable (Amazon) | Often more expensive (Amazon) |
Pro Tip: If you are comparing notes because you are looking to slow-cook food in your first slow cooker, bear in mind that most crock pot recipes suit both shapes. The only real difference is if you will be cooking food that involves large cuts of meat, meat on the bone, or for large families.
Round crock pots are the more traditional and common shape in sizes from 1 quart to 6 quarts. They are typically more affordable than their oval counterparts, making them an attractive option for those on a budget.
Round slow cookers are best suited for soups, stews, and casseroles, as their shape allows for even heat distribution around this liquid-based food.
Oval crock pots, on the other hand, are specifically designed to accommodate larger, bulky cuts of meat, such as whole chickens, lamb shanks, and large roasts.
Their elongated shape provides more space for these dishes and works well with the pot-in-pot cooking method. Oval slow cookers are generally found in 6 and 7-quart sizes and are more expensive than round ones.
Their versatility and capacity for large meals make them a popular choice for many cooks.
Round Crock Pots
Benefits of Round Crock Pots
Round Crock Pots are a popular choice due to their affordability and versatility.
These slow cookers come in sizes ranging from 1 to 10 quarts, catering to different family sizes and meal requirements.
The round shape offers even heating of ingredients, making it an excellent choice for soups, stews, and chilies.
Another benefit of the round shape is their compact design, which makes them suitable for small kitchens or limited counter space.
The round shape is easier to clean, as there are fewer corners for food to get stuck in. This means less maintenance and a more efficient cooking process for users.
Drawbacks of Round Crock Pots and Slow Cookers
Despite their benefits, a round crock pot may not be the best choice for everyone.
One major drawback is their restriction on the types of food that can be cooked within them.
Due to its shape, a round crock pot is not ideal for cooking large cuts of meat, such as roasts, or baking desserts like cakes and casseroles.
Some users may find that food tends to stick to the sides of the crock pot, leading to slightly uneven cooking, especially with thicker dishes. The middle of the pot may cook more slowly than the outer edges.
Requiring closer monitoring or stirring during the cooking process to ensure even cooking. This disturbs the set-and-forget benefit that most slow-cooking lovers revel in.
A round shape offers several benefits: affordability, versatility, and compactness. They also come with certain drawbacks, including restrictions on the types of food that can be cooked and potential uneven heating.
Oval Crock Pots
Oval crock pots are a popular alternative to their round counterparts, offering a unique shape that provides certain benefits and drawbacks in cooking.
Benefits of Oval Crock Pots
An oval crock pot is suitable for cooking large and oddly shaped cuts of meat, such as whole chickens and large beef roasts, which might not fit in round pots due to the lack of space available.
Oval slow cookers are known for cooking more evenly, especially when baking desserts. Even heat distribution helps us avoid the mushy middle and burnt sides in round pots.
Another benefit is the pot-in-pot method, easier to execute in larger oval slow cookers, allowing chefs to try new and innovative recipes that require this technique.
Drawbacks of Oval Slow Cookers & Crock Pots
While oval crock pots have several benefits, they also have some drawbacks.
One disadvantage is that they are typically more expensive than round crock pots, making them a less budget-friendly option for some consumers.
Most oval crock pots are available in larger sizes, such as six and seven-quart models, which might not be suitable for smaller households or those with limited kitchen storage.
You should also consider that although the oval shape is excellent for cooking large cuts of meat, it might not be as efficient for some recipes.
Recipes such as soups and stews, where a round pot would retain more surface area for the food to cook in, could potentially lead to better taste.
Comparing Heating Efficiency
Both round and oval crock pots have advantages and drawbacks regarding heating efficiency. The primary factor affecting cooking performance is heat distribution throughout the pot.
Round crock pots, being symmetrical, offer a more even heat distribution along the sides and bottom of the pot.
This can result in more consistent cooking temperatures and reduced hot spots or uneven cooking.
On the other hand, oval crock pots are designed to accommodate larger cuts of meat, such as roasts, which may not fit comfortably in a round pot.
The heat is distributed differently with an oval shape, which might lead to some areas cooking faster than others.
However, this issue can be mitigated by periodically rotating or rearranging the food during the cooking process to ensure even cooking.
Another factor to consider is the lid of the crock pot. A close-fitting lid is essential for retaining heat and moisture during cooking.
Generally, both round and oval-shaped crock pots have lids designed to fit snugly, which helps maintain heat retention and energy efficiency.
However, the fit of the lid may vary depending on the size and brand of your slow cooker, so it is essential to choose a model with a lid that fits properly.
Learn more about these kitchen appliances in this article about the energy efficiency of a slow cooker.
Capacity and Size Considerations
When choosing between a round and oval slow cooker, capacity and size are crucial factors. The size of a slow cooker largely depends on your cooking needs, such as the number of people you typically cook for or the type of dishes you prepare.
Round crock pots are more common and usually more affordable. They come in various sizes, ranging from small 1-2 quart models. Suitable for single individuals, couples, or preparing dips, to larger 3-4 quart models that work well for small families and casseroles.
A key advantage of round crock pots is their even heat distribution, which ensures consistent cooking results.
On the other hand, oval crock pots are designed to accommodate large, bulky items, such as roasts or whole chickens.
They are typically available in 6 to 7-quart sizes. While they are slightly more expensive than their round counterparts, their shape allows for more versatile cooking options.
Here are some typical size ranges for both types of crock pots:
Round Crock Pots:

1-2 quart: Ideal for single servings, couples, or dip, sauces, and condiment recipe

3-4 quart: Great for small families, casseroles, or desserts

Oval Crock Pots:

5-6 quart: Suitable for cooking roasts or whole chickens

8-10 quart: Best for large cuts of meat and feeding a large crowd or preparing big meals
In summary, understanding your cooking needs and the number of individuals you typically cook for is essential when choosing between a round or oval slow cooker size.
Both types have advantages, with round pots being more affordable and providing even heating for liquids, while oval pots offer greater versatility for larger and irregularly shaped dishes.
Ideal Uses for Round and Oval Crock Pots
Round and oval crock pots cater to different types of dishes and ingredients. Knowing their ideal uses will help you choose the best slow cooker shape for your culinary needs.
Round slow cookers excel at preparing soups, stews, and chilis. Their design provides a compact cooking area, enhancing the simmering process and blending of flavors.
In addition, the round shape allows food to cook evenly, especially for recipes that require more liquid.
On the other hand, oval slow cookers have more surface area and can accommodate larger cuts of meat, such as pork chops, whole chicken, and roasts.
The elongated shape enables better heat distribution for bigger and oddly-shaped ingredients. This means that oval slow cookers can cook food much more evenly than their round counterparts.
Oval crock pots are also suitable for stuffed dishes or pot-in-pot cooking methods. They provide the extra space needed for stuffed peppers and other similar recipes.
Here's an overview of the ideal uses for round and oval crock pots:
Round Crock Pots:

Oval Crock Pots:

Large cuts of meat

Stuffed dishes

Pot-in-pot cooking
Understanding the benefits of round and oval crock pots will help you decide when to select the ideal slow cooker for your recipes and cooking needs.
Maintenance and Cleaning Tips
Proper maintenance and cleaning of your slow cooker, whether round or oval, will ensure its longevity and optimal performance. Here are some cleaning tips to help you keep your slow cooker in perfect condition.
For both round and oval slow cookers, a mixture of vinegar and baking soda is an effective way to clean the inside.
Pour a 1:1 ratio of vinegar and baking soda directly into the slow cooker, with the amount depending on its size.
For example, a small 3-quart slow cooker may need 1/2 cup each, while a larger 6-quart slow cooker may require 1 cup each.
After pouring the mixture, allow the bubbles to die and cover the slow cooker. Set it to LOW for 1 hour.
Once the hour is up, use a soft sponge to remove any residue or food particles before washing it in the sink with warm, soapy water. Let it dry completely before storing or next use Crockpot®.
Maintaining the exterior of the slow cooker is equally important. Use a damp cloth or sponge soaked in vinegar or soapy water to wipe the outside of the crock pot base.
It's essential to clean the exterior after each use, once the heating element has cooled down, to remove any drips or spillages.
Incorporating these maintenance and cleaning tips for both round and oval slow cookers will help ensure that your appliance remains in tip-top shape and continues providing delicious meals for years.
Follow my instructions for cleaning and maintaining a slow cooker. I cover regular cleaning and clean burnt food in your crock pot.
Popular Brands and Models
When comparing round and oval Crock Pots, examining the popular brands and models available is essential. This section will look at the best round and oval Crock Pots, focusing on their features and performance.
Best Round Crock Pots
The round Crock Pots are perfect for smaller kitchens and can fit smaller families or simple dishes. Some of the best round Crock Pot models worth mentioning include:
Magic Mill Extra-Large 10-Quart Slow Cooker
This model offers a 7-quart capacity with programmable features. The searing function for browning meats is a function I use. It is the ultimate one-pot cooker, making it a high-quality, budget-friendly option.
Hamilton Beach Set & Forget 6-Quart Programmable Slow Cooker
This Hamilton Beach cooker has a 6-quart capacity and a probe to monitor food temperature, ensuring your dish is perfectly cooked.
A meat probe assists in keeping your dishes out of the danger zone and in the correct temperature range for safe meals.
Crock-Pot 2-Quart Small Slow Cooker With Timer
These small slow cookers are 2-quart round manual slow cookers with a timer feature and are perfect for cooking small meals, side dishes, or dips.
Best Oval Crock Pots
Oval Crock Pots offer more versatility for larger families and bigger dishes. Some popular oval Crock Pots models include:
All-Clad Deluxe Slow Cooker with Cast-Aluminum Insert
This high-end oval large slow cooker has a 7-quart capacity and a cast-aluminum insert that allows you to brown food on the stovetop before slow cooking.
Cuisinart 6.5-Quart Programmable Slow Cooker
The Cuisinart oval model provides a 6.5-quart capacity and a touchscreen control panel for easy programming.
KitchenAid 6-Quart Slow Cooker with Glass Lid
This oval Crock Pot features a 6-quart capacity, a solid glass lid, and 24-hour programmability, making it highly versatile and convenient for various recipes.
Not all slow cookers are equal. Each has unique features and advantages, catering to different cooking needs and preferences. Take the time to evaluate the capacity and features that suit your requirements before deciding.
FAQs
Most popular size slow cooker?
A 6-quart slow cooker is the most popular size. It feeds a large family and makes prep work easy, providing enough food for the single or couple who prepare their weekly food in advance.
Best size slow cooker for a family?
The best-size slow cooker for a small family would be a 4-quart cooker. Ideally, a slow cooker of five and six quarts of capacity will give the whole family a good-sized serving. A 6 quart will provide you with some leftovers perfect for meal prep.
Wrapping Up: The Difference Between Round and Oval Crock Pots
In the debate between round and oval crock pots, it's crucial to consider the type of meals you plan to prepare and the space available on your countertop.
Round crock pots are generally more compact, saving counter space, while oval crock pots offer the advantage of fitting larger, odd-shaped cuts of meat and offering more even cooking for certain dishes.
A round crock pot may be more suitable for individuals who mostly cook soups and don't require a larger cooking area.
On the other hand, those who frequently cook larger roasts or entire birds or bake desserts might find an oval crock pot more efficient and versatile.
Both round and oval crock pots come in various models with different features, such as programmable cooking times (Instant Pot) and high to low cooking temperature settings.
Ultimately, choosing a slow cooker that fits both your cooking needs and preferences is essential. Regardless of the shape, a reliable slow cooker is an essential tool for preparing delicious, stress-free meals.
One-Pot Cooking Rocks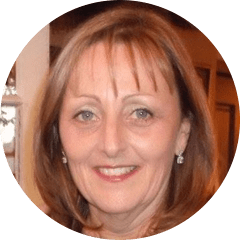 Michelle
Hi, I'm Michelle, the founder, owner, author, and editor of OvenSpot. My passion for one-pot cooking commenced when I was working to prepare cafeteria lunches for school students. I am now on a mission to assist you in choosing the cooking pot or appliance you will use daily. As well as in-depth information to assist you in using and caring for your cookware and appliances.
Questions? Reach out to Michelle at [email protected]