How to Clean a Crock Pot Insert and Base: Tips for Cleaning
Unfortunately like all appliances, a crockpot will eventually need to be cleaned. Learn how to clean a crock pot insert and base using the easy steps below.
Thankfully, this process is quick and easy. In just a few minutes, your Crock Pot will be good as new! So, whether you're using your cooker for the first time or you've had it for years, keep reading to learn how to clean it properly.
What is A Crock Pot?
A Crock Pot is a type of slow cooker that is typically used to cook stews, casseroles, and other dishes that require long periods of cooking. The advantage of using a Crock Pot is that it can be left unattended for several hours without requiring the cook to check on it or stir the food.
This makes it an ideal choice for busy cooks who want to prepare a meal in advance. Additionally, Crock Pots tend to be very affordable, making them a popular choice for budget-minded cooks. When shopping for a new slow cooker, it is important to consider the size and shape of the pot, as well as the desired features.
A few features include a handy removable inner pot that makes cleanup a breeze. Others have digital timers that allow the cook to program the cooking time in advance. With so many options available, there is sure to be a Crock Pot that meets your needs.
Considerations Before You Clean Your Slow Cooker
Before starting to clean a crock pot, the first thing to consider is what kind of crock pot you have. The most common type has the metal part as the base of your crock pot inside this is the slow cooker's heating element and other electrical components.
The inside of the cooker is generally a removable stoneware pot, which is made of glazed ceramic and typically has a removable liner. These crocks are dishwasher-safe, making them very easy to clean.
They can be heavy and fragile, so it is important to handle them with care. Another type of crock pot is the metal crock pot, which is made of either aluminum or stainless steel.
These crocks are very durable but can be more difficult to clean. They are not typically dishwasher-safe, so it is important to read the manufacturer's instructions before cleaning them.
Finally, there are electric crock pots, which come in both ceramic and metal varieties. These crocks are easy to clean but need to be unplugged before cleaning.
Whichever type of crock pot you have, it is important to follow the manufacturer's instructions when cleaning it. This will help ensure that your crock pot lasts for many years.
The second thing to consider is, what type of food was cooked in the crock pot. If it was something like tomato sauce, it may be more difficult to clean and require a stronger cleaning solution.
Third, how long has the crock pot been used and does it have gunk stuck on it? If it is brand new, it may not need as much attention as one that has been used for many years.
A crock pot and a slow cooker are the same types of electrical cooking appliances. Just so happens that one brand of the slow cooker is called a Crock-Pot. Deep dive with me in to the differences and the history of the slow cooker.
Cleaning Gear: Baking Soda? Soapy Water? Elbow Grease?
To get your cooker clean you will need some or all of the following; baking soda, a non-abrasive pot scourer, dish detergent, warm water, white vinegar, or lemon juice, a soft cloth, or a sponge.
Some people I know also suggest using Bar Keepers Cleanser which would be my last resort, I believe it would be too abrasive. I also like to avoid ammonia and the fumes that come with it.
Tips for Cleaning a Crockpot in 6 Steps
Now that you know what to consider before starting to clean the crock, it's time to get started! The following six steps will walk you through the process of cleaning a ceramic, metal slow cooker insert as well as the base.
Step 1
Take the plug right out of the wall socket and remove any removable parts. If you have removable slow cooker liners, take them out and set them aside. If there are any other removable parts, such as a lid or knob, remove them and set them aside.
Step 2
Fill the crock pot with warm water and add mild dish soap. You can also add a 1/2 cup of white vinegar to the water and a cup of baking soda paste for a deep clean.
For food particles, baked on food or stuck on food on the crock insert you can soak it in soapy water and let it sit overnight.
Step 3
Use a sponge, cloth, or scouring pads to scrub the inside of the crock pot, making sure to reach all of the nooks and crannies. If you are cleaning a metal crock pot, be careful not to scratch the surface.
Step 4
Rinse the crock pot with warm water and dry it with a clean towel.
Step 5
Reassemble the crock pot and plug it in to test it. Make sure that all of the parts are securely in place and that the crock pot is working properly.
Step 6
If you are satisfied with the results, put the crock pot away. If not, repeat the cleaning process until the desired results are achieved.
Additional Cleaning Tips (For a Deep Clean)
If your crock pot has stubborn stains, you can try soaking it in a vinegar and water solution for 30 minutes.
If you have a ceramic crock pot, you can use a soft-bristled brush to scrub the surface.
Never use abrasive cleaners or scrubbers on your crock pot, as this can damage the surface.
How Often Should You Clean Slow Cookers?
There is no need to clean your slow cooker after every use. However, it is important to clean it regularly to prevent the build-up of food residue and bacteria. A good rule of thumb is to clean your slow cooker once every three weeks.
If you use your slow cooker frequently, or if you notice any build-up of food residue, you may need to clean it more often. To clean your slow cooker, simply remove the pot and wash it with warm soapy water. Be sure to also wipe down the inside of the body and lid with a damp cloth.
If your slow cooker has a non-stick coating, be careful not to scrub too forcefully, as this can damage the coating. Once everything is clean, simply reassemble the slow cooker and store it until next time. By following these simple tips, you can keep your slow cooker in good condition and prevent the build-up of harmful bacteria.
Tip: Sudden temperature changes can cause the removable pot to incur damage. So it is a good idea not to submerge hot/warm ceramic into cold water. Either let the pot cool down or use hot water.
How to Remove Burnt Stuff from a Crock-Pot?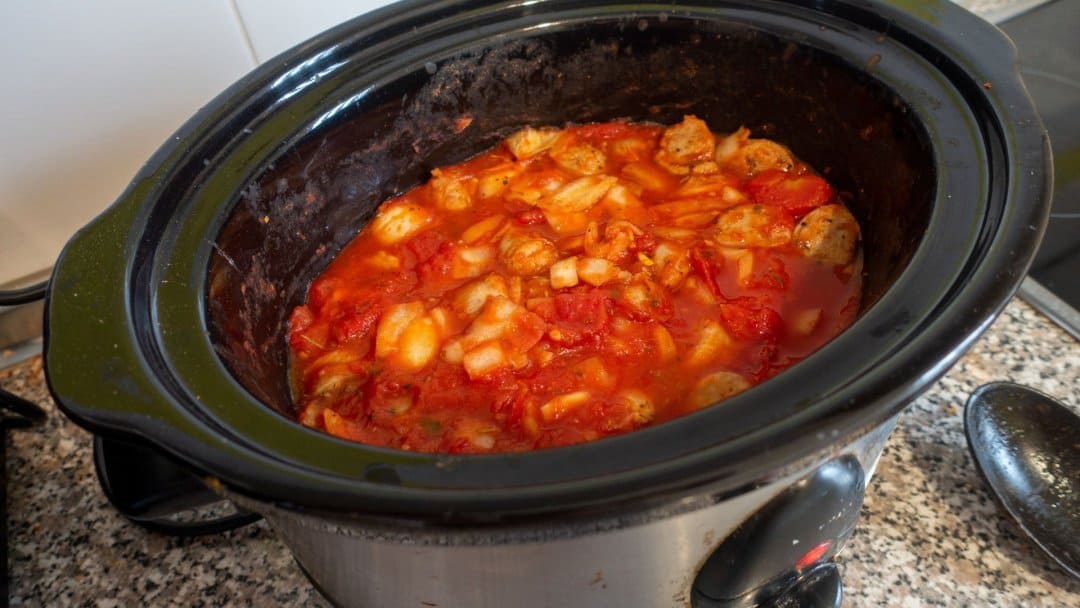 Crock-pots are a cook's best friend. They allow you to set it and forget it, freeing up your time to do other things while your food cooks away. But what happens when you come back to your crock pot and find that the food has burnt?
Burnt food can be very tough to clean out of a crock-pot, but it is not impossible. With a little elbow grease and the following tips, you will have your crock-pot looking like new in no time.
The first step is to remove the burnt food from the crock pot. The best way to do this is to use a wooden spoon or spatula to scrape off as much of the burnt food as possible. Once you have removed as much of the burnt food as you can, it is time to start cleaning.
The easiest way is to fill your sink with hot soapy water and add your slow cooker bowl. Soak for 30 minutes up to a couple of hours if you have tough stains on the ceramic bowl. This will help to loosen any remaining burnt food. After soaking, use a nylon scrubber (not steel wool) or sponge to gently scrub the inside of the crock pot. Rinse well and dry completely before using again.
Tip: Avoid using any harsh cleaner including oven cleaner, or hydrogen peroxide on the inside of your slow cooker. Follow the cleaning instructions in the user manual for your brand of slow cooker to remove stubborn spots.
How Do You Clean a Slow Cooker That Doesn't Come Apart?
Most crock pots have removable stoneware inserts that can be cleaned in the dishwasher or by hand. However, if your crock pot doesn't have a removable insert, don't worry – it's still possible to clean it effectively.
The first step is to fill the crock pot with hot water and add a few drops of dish detergent. Let the mixture soak for 30 minutes, then use a sponge or brush to scrub away any food debris. Once the pot is clean, rinse it well with hot water and dry it thoroughly with a clean cloth.
If your crock pot has a separate heating element, you can clean it by soaking it in a mixture of vinegar and water for 30 minutes. After soaking, scrub the element with a brush or sponge and rinse it well with hot water. Once everything is clean, reassemble your crock-pot and you're good to go!
Tip: An effective way to clean burnt areas is to give the area a squirt of household cleaner, grab a small bowl of the hottest tap water, use kitchen gloves, using a damp microfiber cloth to wipe the cleaner away.
How to Maintain a Crock Pot?
A crock pot is a great way to cook a meal without having to spend a lot of time in the kitchen. However, it is important to note that crock pots require some maintenance to keep them functioning properly. Here are a few tips for maintaining your crock pot:
Make sure to clean the pot after each use. After it cools down wipe all parts of the cooker with water and paper towels. This will prevent food debris from building up and causing problems.
Consider using a stoneware liner on the slow cooker base. It makes life easier when you come to clean the inside of the cooker.
Inspect the pot regularly for cracks or chips. If you notice any damage, replace the pot immediately.
Be sure to follow the manufacturer's instruction manual when using the pot. This will help to ensure that it functions properly and doesn't overheat.
Learn how to clean a burnt slow cooker and whether you should put a slow cooker in the dishwasher!
Wrapping Up: Slow Cooker Cleaning
So you have everything you need to clean your crock pot. It's not hard, but it is important if you want to keep your appliance in good condition and avoid any nasty smells or bacteria growth.
Remember to always unplug your crock pot before cleaning and give it a good clean with non-abrasive cleaners every time you use it. With these tips, your crock pot will stay looking and smelling fresh for years to come!
One-Pot Cooking Rocks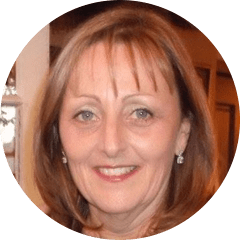 Michelle – Author
Hi, I'm Michelle the founder, owner, author, and editor of OvenSpot. My passion for one-pot cooking commenced when I was working to prepare cafeteria lunches for school students. I am now on a mission to assist you in choosing the cooking pot or appliance you will use every day. As well as in-depth information to assist you in using and caring for your cookware and appliances.
Questions? Reach out to Michelle at [email protected]