Can You Put a Slow Cooker in the Dishwasher?
Although not ideal for all recipes, slow cookers come with tons of benefits that make meal preparation a breeze. These devices are easy to use, clean, and maintain, making them great additions to any kitchen. And while slow cookers can be easily wiped and cleaned by hand, most people often wonder whether they are dishwasher safe.
Parts of slow cookers are dishwasher safe. If your unit's inner cooking pot is removable stoneware, aluminum, or stainless steel, it is safe to put these in a dishwasher. Slow cooker lids are also dishwasher safe, and slow cookers' electronic outer casing is not dishwasher friendly. No electronic cables EVER in a dishwasher.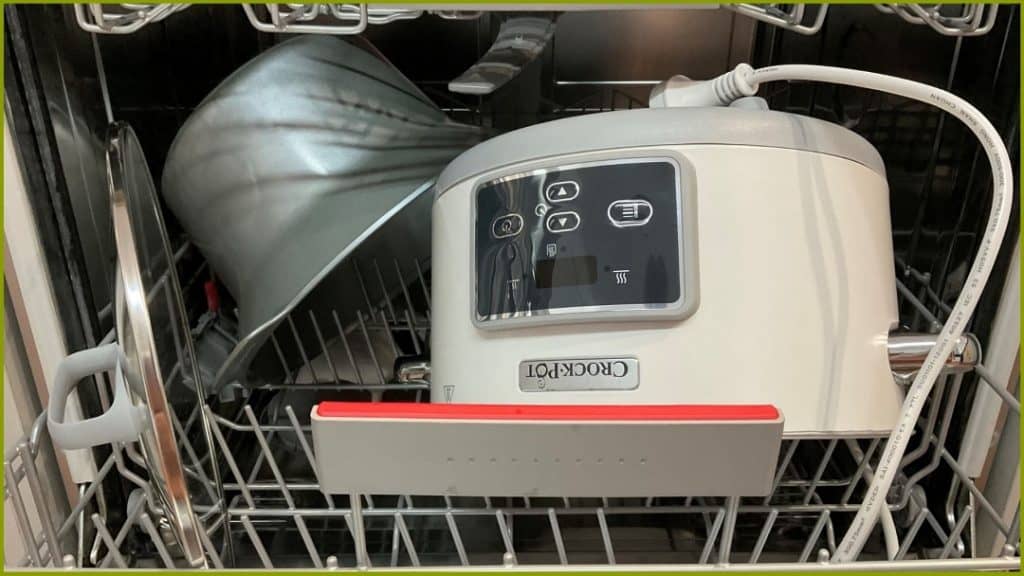 Read on as we discuss whether slow cookers and other cooking devices like pressure cookers, instant pots, rice cookers, and multicookers are dishwasher safe, as well as the best way to clean a slow cooker that is not.
Disclaimer: As an Amazon Associate I earn from qualifying purchases on my website. If you make a purchase through links from this website, I may get a small share of the sale from Amazon and other similar affiliate programs.
What Parts of a Slow Cooker Can Go Into the Dishwasher?
A slow cooker is not dishwasher safe as a complete unit, as the electronic part with the cables (heating base) should never be inserted in a dishwasher. However, other parts like lids and removable stoneware pots or bowls can be machine-washed.
Below are brief descriptions of parts of a dishwasher safe slow cooker:
Lids: You can use a dishwasher to clean your crockpot's lid. However, it is highly advisable to allow the lid enough time to cool before placing it in a dishwasher for cleaning, because changes in temperatures can break the lid. (Thermal Shock)
Removable stoneware pots or bowls: If your cooker comes with removable stoneware pots or bowls, then you can machine-wash them. The stoneware is usually durable and fit to be used in a dishwasher for smooth cleaning. But you will need to consult with your user's manual to determine if the stoneware is dishwasher safe since not all slow cookers can be machine washed.
Accessories: Some slow cookers come with additional accessories like thermometers and stirrers. Check your user manual before placing such items in a dishwasher. However, it is best to clean items like thermometers and stirrers by hand.
Cleaning Slow Cooker Parts That Cannot Go Into a Dishwasher
Cleaning a slow cooker is not rocket science. All you need is to understand parts that are dishwasher safe and those that are not. All you need is cloth, soap, water, and elbow grease.
Avoid using water on or near sensitive areas like the machine's plug and sensors. Using a damp cloth, apply some soap and carefully scrub the inside and outside of the slow cooker. Next, rinse the damp cloth before gently wiping the soap off the crockpot.
When hand cleaning your slow cooker's stoneware, be extra careful not to use abrasive cleaning pads as they might scratch and ruin the enamel. Instead, use soft cloth pieces or cleaning sponges.
Removing Sticky Foods From a Slow Cookers Surface
It might be tempting to use an abrasive sponge or material to remove sticky foods off the surface of the pot. Don't do it! Here are some proven ways to remove stubborn stains and food debris from your slow cooker without ruining it.
Soak the Inner Pot for Several Hours
The easiest way to remove stubborn stains from your slow cooker's inner pot is to soak it in water for several hours. It is ideal to allow the pot to sit overnight, but you can also soak it for around five to six hours.
Most of the food will soften by the time you are cleaning the pot, which eliminates the need to use a specialty brush or abrasive sponges. Even better, you will use little force to clean the surfaces, thus keeping the inner protective coatings in pristine condition.
Fill the Slow Cooker With Water and Allow It to Cook for Several Hours
This alternative can work if you are dealing with excessively stubborn stains or you just do not have the time to wait overnight. Place a considerable amount of water inside the pot and press cook on your slow cooker.
After a couple of hours, the water will be hot enough to soften the food debris, which should allow you to remove the stains with ease.
Add Vinegar and Baking Soda for Extra Tough Stains
Vinegar and baking soda are well-known cleaning agents that can help easily remove stains from your crockpot. By acting as a natural deodorizer and stain remover, baking soda can help break down caked grease, thus leaving your slow cooker's pot as clean as new.
Dishwashers and Other Electrical Appliances
What about other small electrical appliances? Here are answers to some commonly asked questions that you might find useful.
Are Pressure Cookers Dishwasher Safe?
Pressure cookers are not dishwasher safe. Dishwasher detergent or even food particles can collect and easily clog the safety valves and the pressure regulator. You should also steer clear of immersing a pressure cooker's cover in water as it may damage or affect the performance of the safety valves.
Are Instant Pots Dishwasher Safe?
All parts of an instant pot (with the exception of the cooking base) are dishwasher safe. The cooking base should never be exposed to excess water and must be allowed to completely dry in case it gets wet.
The cooking pot—made of stainless steel—lid, steam rack, and sealing ring are all dishwasher safe. However, you should ensure that before any form of cleaning, you unplug the instant cooker and allow it to cool down.
Are Multicookers Dishwasher Safe?
Multicookers are not completely dishwasher safe. Components like the housing should never be cleaned in running or excess water. The bowl, however, is dishwasher safe but can also be washed manually.
The condensation collecting container is dishwasher safe. Components like the steam valve and the lid should be cleaned by hand to reduce the chances of damage or malfunction.
Are Rice Cookers Dishwasher Safe?
Similar to most electrical cooking appliances, rice cookers are dishwasher safe to some extent. The external housing should never be placed in a dishwasher or cleaned under running water. However, the removable inner pot can be placed in a dishwasher for thorough cleaning.
Remember to use non-abrasive materials like sponges and soft clothing to clean the rice cooker's housing. Note that not all rice cooker pots are dishwasher safe, so read the owner's manual to know the right way to clean the appliance.
Related read what is a manual slow cooker
How Often Should You Clean Electric Cooking Appliances?
There is no right number of times you should clean your cooking appliances. The golden rule, however, is to clean every appliance after usage, which means you should not reuse a cooking device without cleaning and removing bacteria first.
Another important point to note when dealing with electric appliances is to always dry them after cleaning. Allowing moisture to seep into the electrical components might damage your device and also expose you to the risk of electrical shock. Remember to ensure your appliance is unplugged before starting the cleaning process.
Final Takeaway – Are Slow Cookers Dishwasher Safe?
Similar to most electric cooking appliances, slow cookers are dishwasher safe to some extent. Dipping the entire housing into a dishwasher is a sure recipe for disaster. However, components like the lid and the inner pot are dishwasher safe despite being fit for handwashing.
When cleaning electric cooking appliances like instant pots, pressure cookers, rice cookers, and multicookers, remember to use soft, non-abrasive materials like sponges and smooth pieces of cloth. Cleaning the housing with a damp cloth will remove stains without damaging the electrical components.
One-Pot Cooking Rocks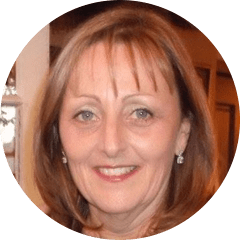 Michelle – Author
Hi, I'm Michelle the founder, owner, author, and editor of OvenSpot. My passion for one-pot cooking commenced when I was working to prepare cafeteria lunches for school students. I am now on a mission to assist you in choosing the cooking pot or appliance you will use every day. As well as in-depth information to assist you in using and caring for your cookware and appliances.
Questions? Reach out to Michelle at michelle@ovenspot.com