How to Clean Burnt Crock Pot or Slow Cooker
Old crock pots and slow cookers along with newer models sometimes can end up with burnt particles on the removable pot (ceramic part of a slow cooker). This popular kitchen appliance may even be holding onto cooking odors and doesn't look as good as it used to be.
So how do you clean a burnt crock pot? The best way to clean the inside of your slow cooker is to wash the crock insert in a sink with warm water, dish detergent, and a scourer. Use a damp cloth, a cup of water, and a squirt of dish soap, to clean the inside of the cooker, the base of your crock pot, and the slow cooker's heating element, paper towel it dry.
A challenge when cleaning a crock pot with burnt food on it is that is hard to remove over time as any part that has not been cleaned properly will become even more difficult to clean off. Burnt food can cause the crock pot to smell and it can be difficult to use as recipes will stick to it.
Another challenge people have is that they don't know how to clean a crock pot without scrubbing. Scrubbing causes damage to the appliance, and it might not get all of the burnt food off.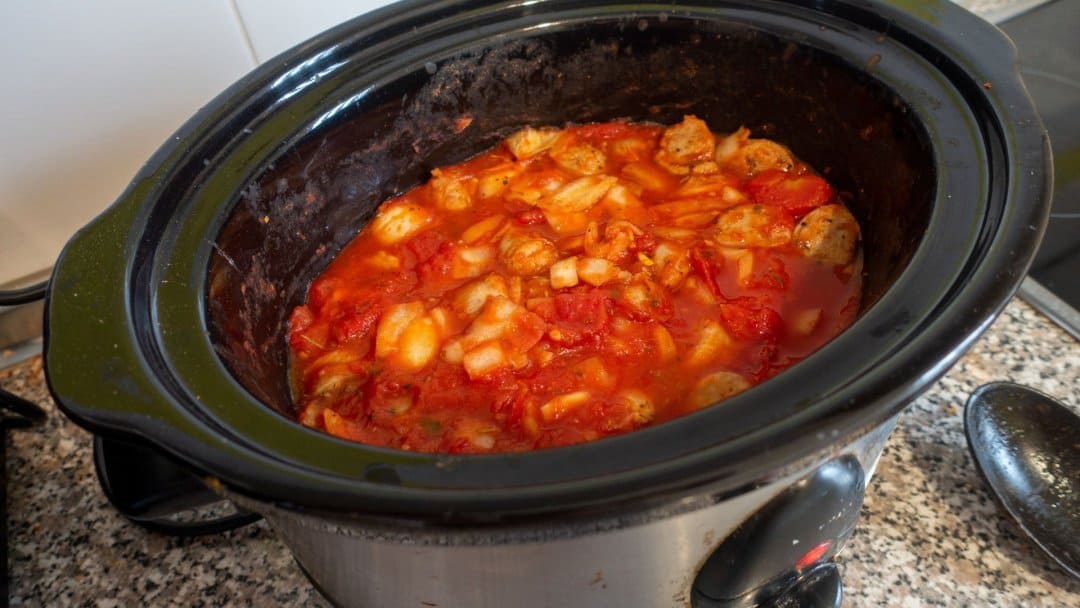 Let's jump into the easiest way you can clean crock pots and slow cooker bowls without using an abrasive cleaner.
How to Clean Burnt Ceramic Crock Pot Insert
Use one or more of the following cleaning methods using the simple steps outlined;
Simmering
Boil a pot of water and pour it over the burnt food. This can help loosen the burnt food so that you can scrape it off. Be careful when using hot water, as it can be dangerous. Make sure that you pour the water slowly so that it doesn't splash and burn you.
Set the crockpot to the high setting and let simmer for 30 to 60 minutes. Empty water clean inside of the crock and wash with soapy water.
Soap and Water
Use warm soapy water and scrub with an appropriate scourer suitable for your crockpot to remove as much burnt food as possible. Non-abrasive scourers are best, no steel wool (see user manual and appliance instructions).
Rinse well with hot water. If there is still some food stuck to the bottom of the pot, add more soap and hot water. Let the pot soak for 20 minutes before scrubbing again.
You can also try to remove the burnt food by using a spatula or wooden spoon to scrape it off. You might not be able to get all of the burnt food off the first time so repeat until the burnt debris is removed and you can cook again.
Use Baking Soda
If the burnt food has been removed but tough stains remain, make a paste out of baking soda and water. Apply the paste to the burnt food and let it sit for 10 minutes. Scrub the pot with a non-abrasive scourer and rinse well.
Use Vinegar
If the baking soda paste doesn't work, try using vinegar. Add enough water to the Crockpot to cover the burnt areas. Add 1/2 cup of vinegar place the lid on and set the timer to low for 60 minutes. Empty and scrub the pot with soapy water and a non-abrasive scourer and rinse well.
Use Lemon Juice
If vinegar doesn't work, try using lemon juice. Apply lemon juice to the burnt food and let it sit for 10 minutes. Scrub the pot with a non-abrasive scourer and be sure to rinse it well so that there is no residue left behind.
Removing Smells From a Crock Pot Insert
Burnt food and preparing aromatic dishes can cause the crock pot to smell, and it might be difficult to get rid of the odors. After all food residue is removed try one of these methods to remove the smell before cooking in your crockpot again.
Fill the crockpot to the maximum fill line and add a squeeze of citrus-based dishwashing soap or lemon juice. Set on low for 60 minutes. Discard the water and wash the pot with hot, soapy water.
Add 1/4 cup baking soda to the crockpot. Fill the rest of the way with water and let it sit overnight. The next day, discard the water and wash it as normal.
Fill the crockpot with white vinegar and let it sit for 30 minutes. Discard the vinegar and wash as normal.
How Do You Clean the Metal Part of a Slow Cooker?
Unplugged, the metal part of the crock pot can be cleaned with soap and water. If there is any food residue on the metal, you can use a non-abrasive scourer to remove it.
Stubborn stains can be removed with a light spray of oven cleaner or a magic eraser.
Whatever method you choose wipe the slow cooker base well so that there is no soap or cleaning residue left behind. It is a good idea to polish the metal pot with a soft microfiber cloth to keep it looking new.
What parts of a slow cooker, if any can go in a dishwasher? Find out in this article Can you put a Crock-Pot or slow cooker in the dishwasher
How to Prevent Food From Burning While Using a Crock Pot
Preventing burnt food is easier than cleaning it up. You need to understand that slow cookers cook food with excess moisture. So there must be enough liquid in the pot to generate steam and not scorch ingredients onto the crock pot insert while cooking.
These tips can help you avoid burning the food in your crock pot.
Make sure that the crock pot is clean before adding food. If there is burnt food from a previous meal, it can cause the new food to burn.
Add enough liquid to the crock pot so that the food doesn't stick to the bottom and burn.
Stir the food occasionally so that it doesn't stick to the sides or bottom of the pot and burn.
If the recipe calls for it, brown the meat before adding it to the crock pot. The sealing of the meat can help prevent it from burning.
Don't overfill the crock pot. If there is too much food, liquid can bubble over and it can cause the food to burn in and around the crock.
Cook on low instead of high if possible. High heat can cause the food to burn.
Don't leave the crock pot unattended for too long. If you have to leave, turn it off so that the food doesn't continue to cook and burn.
When you're done cooking, unplug the crock pot, fill the pot with 3 quarts of water, and let it cool down before cleaning it.
Pro Tip: If you want to prepare a recipe where the cooking process requires a long cooking time why not try some slow cooker liners?
Wrapping Up How to Clean Burnt Crock Pot
Burning the food in your crock pot is inevitable if you use it often enough. But, with a little elbow grease and these tips, you can clean it up and get rid of the burnt smell.
Prevention is the best method, so be sure to follow the tips on how to avoid burning the food in your crock pot. With a little bit of care after every use, you can keep your crock pot or an enamel pot from a slow cooker in good condition and avoid dealing with burnt food.
One-Pot Cooking Rocks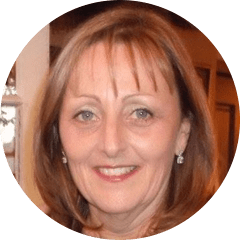 Michelle
Hi, I'm Michelle, the founder, owner, author, and editor of OvenSpot. My passion for one-pot cooking commenced when I was working to prepare cafeteria lunches for school students. I am now on a mission to assist you in choosing the cooking pot or appliance you will use daily. As well as in-depth information to assist you in using and caring for your cookware and appliances.
Questions? Reach out to Michelle at [email protected]