Best Size Slow Cooker for a Family of 4
There are conflicting reports all over the internet about "what is the best size slow cooker for a family of 4".
The best size slow cooker for a family would be a minimum of 4-quarts and a maximum size of 6-quarts. A 4-quart slow cooker would give each family member a reasonable size serving each depending upon how much each person consumes. The 6-quart slow cooker will give all 4 family members a good serving with leftovers.
Disclaimer: As an Amazon Associate I earn from qualifying purchases on my website. If you make a purchase through links from this website, I may get a small share of the sale from Amazon and other similar affiliate programs.
What Is the Best Size Slow Cooker for a Family of 4
There is never going to be a true and correct size of slow cooker per family. Purely because each and every person's serving sizes will be different – so this should be considered.
Also, the shape & weight of ingredients should be considered. Stews, casseroles, and small pieces of ingredients fit well into any shape or size cooking pot. But large cuts of meat, meat on the bone, and poultry usually fit better in an oval or rectangle shape slow cooker.
| Best Slow Cooker for… | Slow Cooker Size |
| --- | --- |
| What Size Slow Cooker for 1? | 1.5-quart to 2-quart |
| What Size Slow Cooker for 2? | 3-quart |
| What Size Slow Cooker for 3? | 4-quart to 5-quart |
| What Size Slow Cooker for a Family of 4? | 5-quart to 6-quart |
| What Size Slow Cooker for a Family of 5? | 6-quart to 7-quart |
| What Size Slow Cooker for a Family of 6? | 7-quart or more |
| What Size Slow Cooker for a Leg of Lamb? | 5lb leg – 6-quart plus (Oval) |
| What Size Slow Cooker for Pulled Pork? | 4-quart, 5-quart or 6-quart |
| What Size Slow Cooker for a Whole Chicken? | 5lb chicken 5-quart to 6-quart |
Working out What Size Slow Cooker You Need
Use the following formula to work out what size slow cooker you will need when feeding that number of people on a regular basis.
The number of people was then add two more quarts.
Example: 4 people + 2 = 6-quart slow cooker
Check out this slow cooker size guide that is a quick reference for what size slow cooker you need – or save the one below.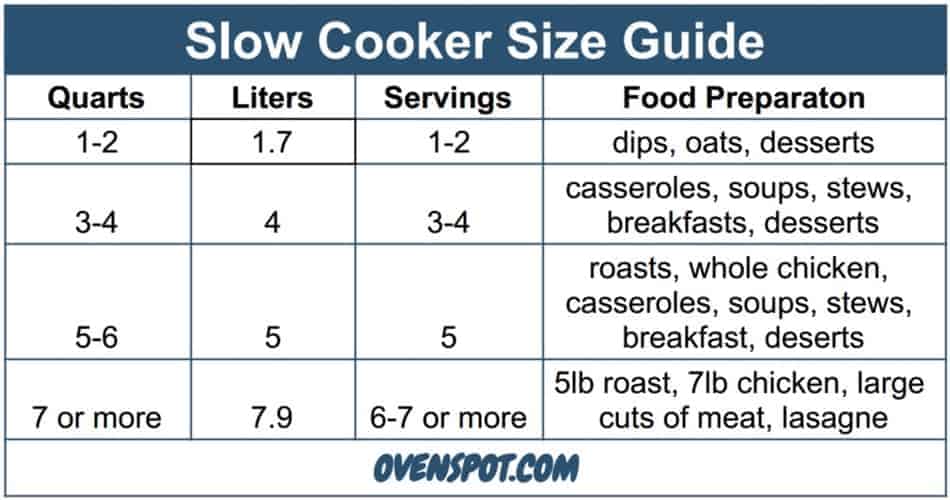 The Best Slow Cooker for a Family
After you find out what the best size slow cooker for a family is you will then be looking for the best slow cooker to feed your family.
The KitchenAid KSC6223SS 6-Qt Slow Cooker has received America's Test Kitchen's highest rating for slow cookers.
Let's go – I can't wait for you to see the style, features, and practicality of this well-known brand's offering of the slow cooker.
Related read how big is a 1.5-quart slow cooker
KitchenAid 6-Quart Slow Cooker
Slow cookers are one of the most useful and time-saving kitchen appliances one can own. So for an appliance, you intend to leave on in your home when you are not there, you need a quality product.
So we will have a look at the features, benefits, and finally, what I think of this highly sought-after slow cooker. Let's see if the KitchenAid slow cooker really does measure up to the rave reviews we have been seeing out there.
If you already know that you wish to purchase this KitchenAid 6-qt slow cooker click here and you will be taken through to Amazon for easy purchase and check out…
Slow Cooker Features – KitchenAid 6-Quart
6-Quart Removable, Oval-Shaped Ceramic Insert
4 Temperature Settings, Low, Medium, High, and Keep Warm
24-Hour Programmability
Large blue LED Digital Display
The ceramic bowl and glass lid are both dishwasher safe
Good Customer Service
1-Year Warranty
About this KitchenAid Slow Cooker
The KitchenAid 6-qt slow cooker is a very nice-looking appliance. In which you will be able to prepare and cook large roasts with vegetables as well as smaller meals if the need arises.
The casing is brushed stainless steel and the cool touch handles on the casing are black. There is a large black oval ceramic cooking insert complete with a glass lid, to hold in the moisture and a matching black and silver lifting handle.
This slow cooker sports a very large LED-illuminated digital easy-to-read control display panel. This is the control panel where you will easily control your low, medium, high, or keep warm temperature settings.
It is also where you will set your cooking times with the programmer which gives you up to 24 hours of programmable time in 30-minute increments.
When cooking time is finished the slow cooker automatically transfers to the automatic "keep warm" setting for up to four hours.
Benefits of this 6-Quart Slow Cooker
A benefit that really stands out for me is that the various temperature controls give you more even heat distribution with no hot spots.
Especially good for cooking dishes like oats or creamy main dishes. When cooking time is complete they come out creamier and smoother. Not dry, lumpy, and sticking to the bowl which is what happens when they boil away at a high temperature.
Some slow cookers that only offer Low or High-temperature settings usually just boil away and do not slow cook even if the low setting gets too hot.
This updated version of the large oval slow cooker is taller and narrower than other slow cookers on the market. This is a real benefit when storing the cooker away. And is even more beneficial when you display this KitchenAid Slow Cooker on your countertop as it takes up a lot less room.
The outer casing of this slow cooker really is stainless steel, not aluminum which is what some other brands offer. The rubber feet on the bottom of the unit are great for not scratching counter surfaces and stabilizing the cooker.
KitchenAid Slow Cooker Problems
Scouring reviews of the KitchenAid 6-qt slow cooker I was pleasantly surprised at the lack of negative reviews.
There we a couple of reports of the lid not fitting properly, which were immediately replaced by the manufacturer at their cost.
Some said that the low-temperature setting was too low and the high-temperature setting also too low, others responded by saying it is a slow cooker for slow cooking.
If you require assistance using your slow cooker you can access the KitchenAid slow cooker manual by clicking here.
What I Think of this 6-quart Slow Cooker
The KitchenAid slow cooker temperatures are the real standout winners for me. No more burnt or stuck food after leaving the cooker on all day. Just food cooked the correct way and ready to serve.
Cooking anything from oats, beans, bone broth, beef stew, pulled pork, meatballs, melting chocolate, and any recipe you want to prepare, this slow cooker doesn't overcook or dry meals out.
This KitchenAid slow cooker with a standard lid or split lid really is a slow cooker. Because the low-temperature setting really does mean you can cook traditional slow-cooked meals. It is everything you would expect in a slow cooker and so much more…
This product comes complete with a one-year warranty. As well as the reported high standard of customer service from KitchenAid. Which gives us peace of mind when purchasing any product.
This is a great-looking kitchen appliance with many practical functions and will be a feature on any kitchen counter. I don't think you would be disappointed if you do go ahead and purchase this slow cooker.
CLICK HERE to see the price, reviews or just to go ahead and purchase the KitchenAid 6-Qt Slow Cooker with an easy serve lid. Here for a standard lid.
Frequently Asked Questions
What Is the best size for a slow cooker?
The best size slow cooker is one that serves the number of people you feed on a regular basis and the serving size they require. Leftovers are a great bonus so choosing a slow cooker that is a little larger than your needs is a good choice.
6-quart slow cooker too big
A 6-quart slow cooker feeds a family of 4 to 5 comfortably. Want to know more about 6-quart slow cookers?
See my article here for a deep dive into 6-quart slow cookers.
To Finish – Best Size Slow Cooker for a Family
Use the formula number of people you are feeding plus 2 and you cannot go wrong with your choice of a slow cooker.
One-Pot Cooking Rocks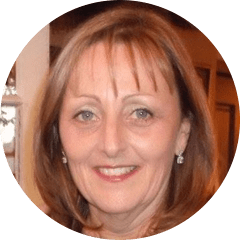 Michelle – Author
Hi, I'm Michelle the founder, owner, author, and editor of OvenSpot. My passion for one-pot cooking commenced when I was working to prepare cafeteria lunches for school students. I am now on a mission to assist you in choosing the cooking pot or appliance you will use every day. As well as in-depth information to assist you in using and caring for your cookware and appliances.
Questions? Reach out to Michelle at [email protected]