Dutch Oven vs Roaster! Do I really need both?
No one wants more pots and pans in the kitchen than they really need. So when I was asked the question about needing a Dutch oven as well as a roaster I felt a deep dive for a definitive answer was required.
So here goes… There are differences between a roasting pan and a Dutch oven that will affect your decision to have one cooking pot or both they are…
Roasters are limited by their low sides and really are only designed for baking, roasting, and other dishes that do not require liquid as their base. Dutch ovens are deep cooking pots that will cook almost any dish. Including soups, stews, slow-cooked dishes, casseroles, beans, desserts, and of course roast meat.
Disclaimer: As an Amazon Associate I earn from qualifying purchases on my website. If you make a purchase through links from this website, I may get a small share of the sale from Amazon and other similar affiliate programs.
Dutch Oven vs Roaster? Do I really need both?
Do you need a Dutch oven and Roaster (roasting pan)? That depends on the following;
If you own a Dutch oven that is oval you absolutely can prepare a roast in it.

Why buy another cooking appliance like a Roaster unless you are going to use it regularly?

If you do not own a Dutch oven and only prepare roasts you do not need both.
Dutch Ovens
Dutch ovens were traditionally used for cooking over a fire or hot coals to keep the moisture in and tenderize the food.
You can prepare almost anything in a Dutch oven. Stews, casseroles, brisket, soups, oats, chili, beans, chowder, pies, bake bread, baking cakes even wonderful desserts.
This is because traditional cast-iron Dutch ovens have thick walls, bottoms, and heavy lids that self-bast and keep the moisture inside the oven.
In today's society, we are spoilt with the range of cooking appliances we can utilize.
We have everything from traditional cast-iron Dutch ovens to enameled cast-iron Dutch ovens such as the limousine of enameled Dutch oven the Le Creuset brand.
These enameled Dutch ovens are not used over coals or open flame but on gas, electric, and induction cooktops in the kitchen. Also for use in traditional conventional ovens.
Some say that you cannot prepare a roast in a Dutch oven due to the fact that you cannot get the skin crispy or brown like a traditional roast.
This is because the sides of the Dutch oven may be too high. Also, air circulation is limited.
However, there are many different sizes and shapes of Dutch ovens on the market today. So it totally depends on what type of Dutch oven you have.
If you do not own a Dutch oven already this could be a consideration before purchasing.
Can You Roast in a Dutch Oven?
You can cook any recipe in a Dutch oven including roasts. All that is required are slight recipes and temperature adjustments.
How to use a Dutch oven for Roasting!
I have great success roasting chickens or other meat in my oval enamel Dutch oven.
It is because I do not put anything else in the Dutch oven that will touch the outside of the meat.
Such as vegetables the skin then becomes crispy. The only time I use a rack to lift the meat higher out of the Dutch oven is when the piece is large.
Smaller roasts that do not touch the sides of the Dutch oven cook and crisp up well.
Totally up to you as to whether you brown your roast on the stovetop before putting the Dutch oven into the conventional oven.
If you do want to brown the roast you will need an oil that can withstand high temperatures such as lard or beef fat (tallow).
I am now experimenting with Avocado oil in my Dutch oven as well, it has a great high smoking point.
Dutch Oven Roasting Rack
Another option is that you can insert a roasting rack into the Dutch oven to raise the meat up which will assist with the circulation. The circulation is what will give you crisp skin right around the outside of the roast.
These roasting racks come in many shapes and sizes. Some fold up and others are fixed.
So if you own a Dutch oven with measurements of 19 inches x 12.8 inches x 9 inches, there is plenty of room to find a suitable roasting rack.
If you want to check out the great range of oval Dutch ovens see the largest range at great prices for all budgets here.
Roasters
What Is A Roasting Pan?
It is a shallow usually rectangular pan with a sturdy handle on either side for safe transportation of its heavy hot contents. A "Roasting Rack" fits inside the pan and a piece of meat fits inside the rack.
Raising the meat off the bottom of the pan allows the circulation to cook the meat evenly – top, sides, and bottom. Giving you lovely crisp skin all the way around the meat.
With the meat lifted off the bottom of the pan, you are then able to cover the bottom of the roast with vegetables that will then cook in the natural juices from the piece of meat.
Why Use A Roasting Pan
A roasting pan will give you crispier skin on your meat and roast vegetables. If you are an avid roaster and especially if you are roasting large pieces of meat a roasting pan is perfect. Also, at holiday time if you are the one preparing the roast I would say a roaster is what you need.
How to Use a Roaster!
Well straight off the bat you should know that you should not brown your meat inside the Roaster. The reason is that you will not be able to get the pan hot enough on the stovetop.
Use a heavy-based frypan, cast iron pan, or even your Dutch oven to heat up the oil on the stovetop. You will need an oil that can withstand high temperatures such as lard or beef fat (tallow).
After you have browned your roast put your roast on the rack and bake it in your conventional oven. You are certain of a crispy roast.
As with the Dutch oven, it is up to you as to whether you brown the piece of meat or not. It is great to seal in moisture, goodness, and flavors. You will get crispy skin on your Roast with this Roasting option.
Other Roasting Pan Options
Another roasting option would be to use disposal aluminum bakeware. These are fantastic if you do not bake roasts all that often.
The cleaning is also minimal after using these which is always a bonus. There are some great ones here.
Before you spend any money on another cooking appliance you may want to check at the back of your cupboards for one or more of these cookers.
Cast iron skillet rimmed baking sheets, Bundt pan a casserole dish cake pans, broiler pan oven grill tray, slow cooker Romertopf, or a paella pan.
If you do not have any of those old pots and pans you could adapt one into a roasting pan. All you have to do is raise that roast off the bottom of the pan and you are good to go.
Go to Amazon and see their great Roasters along with the purchaser reviews.
FAQs
Best Roasting Pan?
Selecting a roasting pan is the same as choosing any other piece of cookware.
Firstly, identify your requirements such as what material you would like the roasting pan to be made of. Secondly, regarding the shape you require, there are many available. Lastly, the size you require are you cooking just for immediate family, or do you need to feed an army?
Go to Amazon where you will find a huge range of roasting pans with great reviews and the best possible price.
Can I use a Roaster instead of a Dutch oven?
You should use a roaster to roast meat, bake vegetables, make gravy, and bake. You can use your Dutch oven to roast meat and vegetables with the lid off as outlined above.
You should not use a roaster as a Dutch oven. Roasters do not have a lid which in most cases allows the food to self-baste. Meals prepared in a Dutch oven are those such as beans, stews, soups, slow-cooked dishes, desserts, oats, popcorn, and baked goods.
Why is cooking in a Dutch oven better?
Dutch ovens, for hundreds of years, have been preparing dishes that a modern-day multi-cooker can now prepare, in one pot. The Dutch oven cooked for many of those years without electricity.
Dutch ovens because of their high heat capabilities can sear, seal and saute' in the one-pot and then go on to finish the meal in one pot.
Because of the built-in self-basting ability of a heavy Dutch oven lid all the nutrients are kept in the pot, and the sauces thicken and produce meals that no electric cooking pot can produce.
To Finish – Dutch oven vs Roaster! Do I really need both?
I use my Dutch oven for roasting and I am always more than happy with the crispiness of the Roast.
Having beautiful moist and tender meat, I believe, is just as important as crispy skin. Being a little ingenious and raising the roast off the bottom of the Dutch oven is not that difficult and will give you crispier skin.
If you have a Dutch oven and do not roast very often buying a dedicated roaster is probably a waste of money, time, and space for storage.
Roasting as with all meal preparation and eating good food is a very personal thing.
Some will not compromise on that crispy skin! So I say get yourself a roaster if you make roasts on a regular basis.
If not why not use the disposable aluminum option you'll enjoy the crispy skin and the easy cleanup!
Don't forget to hunt through the bottom of your kitchen cupboards for any unused pots and pans you can adapt for that once or twice-a-year roast.
If you are happy to have slightly less crispy skin your Dutch oven is the perfect roasting pan substitute. So go ahead and enjoy that beautiful moist piece of meat.
Well, I hope you now understand the difference between a roasting pan and a Dutch oven and are able to decide whether you need both pans for your kitchen.
One-Pot Cooking Rocks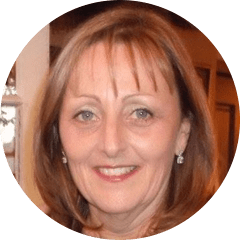 Michelle – Author
Hi, I'm Michelle the founder, owner, author, and editor of OvenSpot. My passion for one-pot cooking commenced when I was working to prepare cafeteria lunches for school students. I am now on a mission to assist you in choosing the cooking pot or appliance you will use every day. As well as in-depth information to assist you in using and caring for your cookware and appliances.
Questions? Reach out to Michelle at [email protected]