Why Is Staub So Expensive: Cast Iron Dutch Ovens & Cookware
Staub cookware is one of the most expensive types of cookware on the market. But, why? What makes it different from any other type of pot or pan that you might buy at your local kitchen store?
Staub uses high-quality materials. Their cookware is designed for performance, durability, reliability, and generous handles and knobs. Almost 50 years of experience casting and honing its manufacturing skills are backed by the brand offering lifetime warranties.
Is Staub worth the high price? In short, yes I use Staub cookware almost every day. Staub cast iron is suitable for use on all types of stovetops, including induction. They distribute heat evenly, helping you to avoid hotspots and burned food. Superior craftsmanship and materials mean that it will continue to look great even after years of heavy use.
Let's find out why Staub is better than other brands and why you should buy Staub cookware. If you are in the market for high-quality pots and pans that will last a lifetime, then this is the place to start.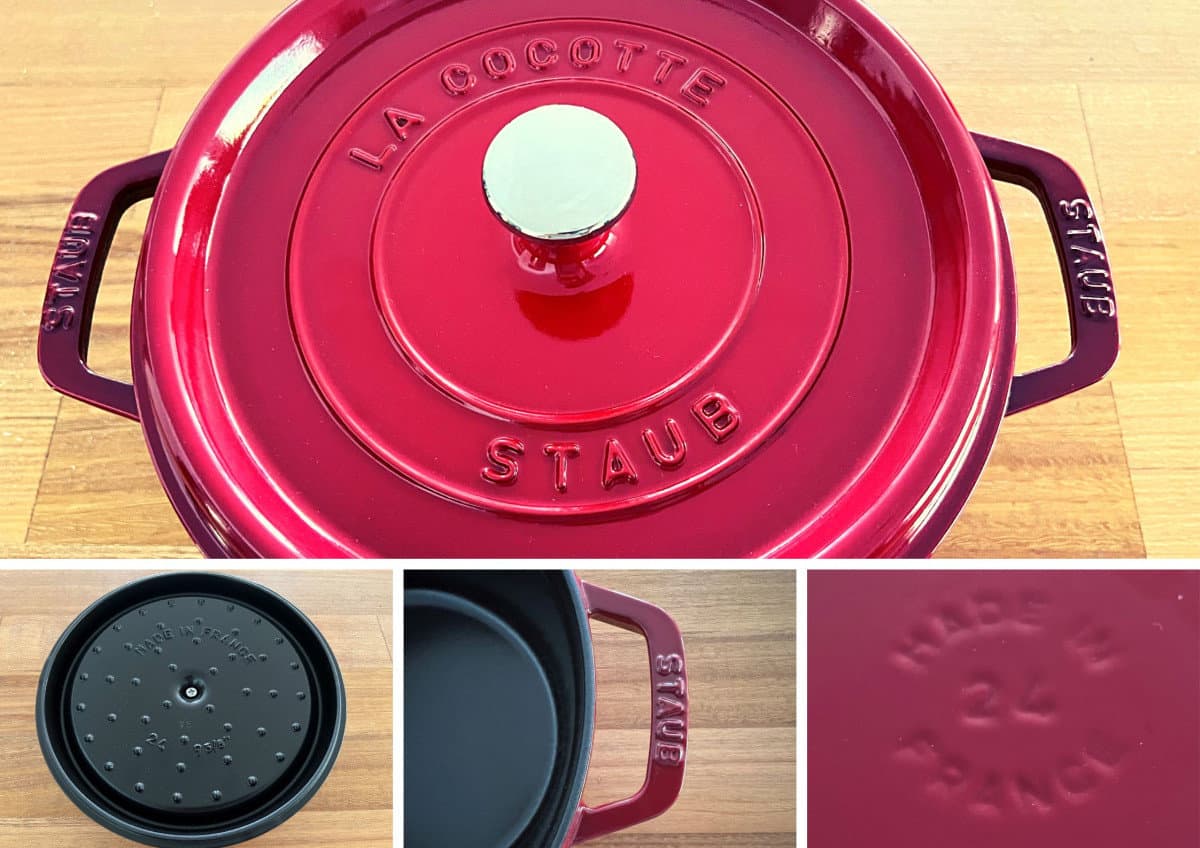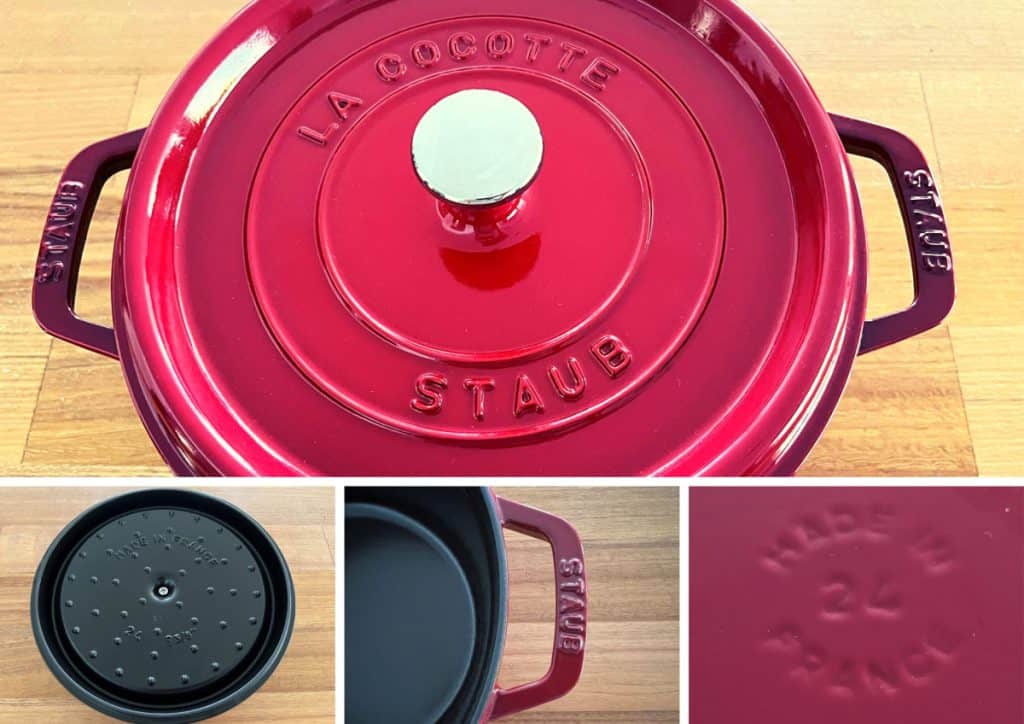 Disclaimer: I earn from qualifying purchases on my website as an Amazon Associate. If you purchase through links from this website, I may get a small share of the sale from Amazon and other similar affiliate programs.
Staub's History
Since 1974 when Francis Staub, from the Alsace region of France, founded the brand Staub has been creating premium cast iron cookware in Merville. A town situated in northern France a country widely recognized for its unique culinary tradition and excellent cuisine.
Staub along with enamel cast iron cookware produces enameled ceramic cookware, bakeware, and other kitchen accessories.
The French company was bought out by Zwilling J. A. Henckels in 2008.
How to Pronounce Staub Correctly
Just break it down "SHTAH-b".
Want to hear it? Let this native French speaker teach you how to pronounce SHTAH-b
Why is Staub Enameled Cast Iron Cookware So Expensive?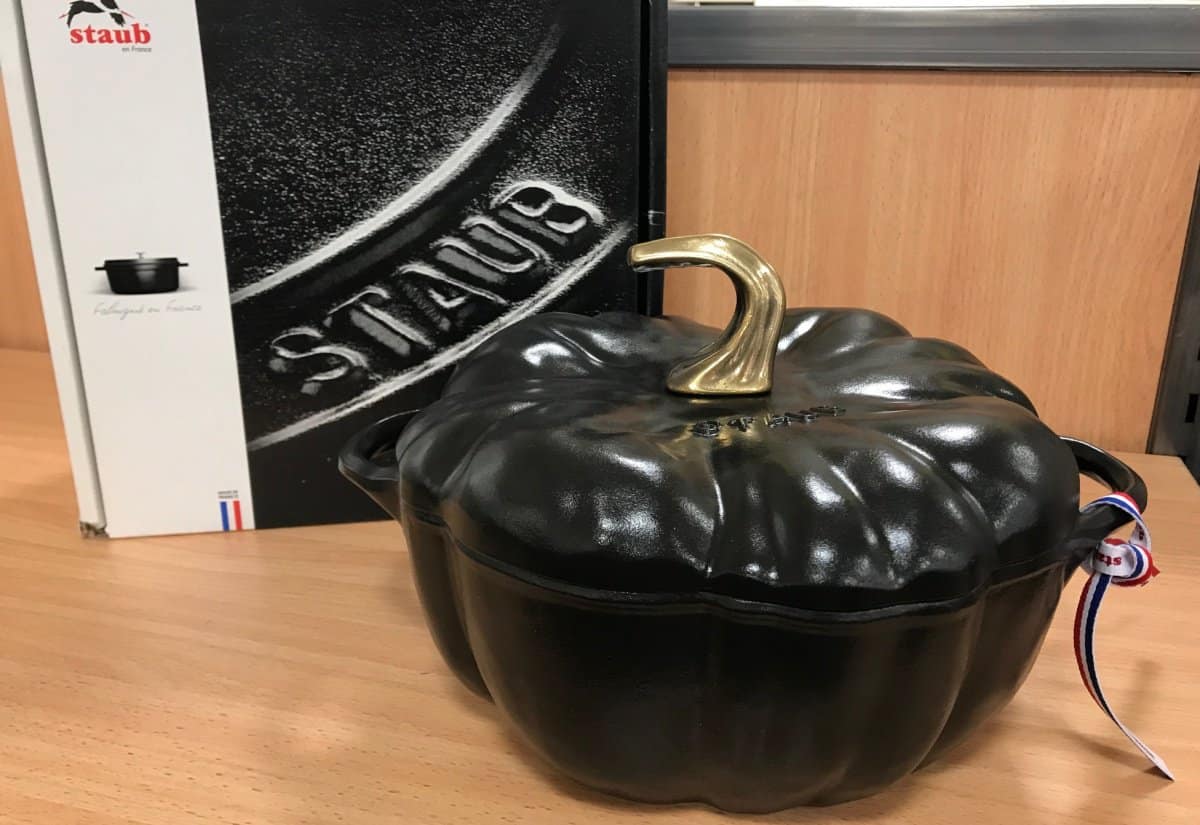 What makes the Staub Dutch oven, French oven, or cocotte as Staub calls it, possibly the best Dutch oven? Listed here are the many reasons consumers and home cooks are willing to pay the high price tag for great quality products.
We will also be looking at Staubs braiser, perfect pan, fry pans, and griddles along with its ceramic pots, pans, bakeware, and its range of accessories and other homewares. market.
1. Brand Reputation
Staub is the market leader over other cookware brands in the enameled cast iron space. The fact that consumers are prepared to pay a premium price for the cookware and remain loyal to the brand is a testament to that.
Honing its design, casting, enameling, and manufacturing since 1974. Staub is the luxury cookware brand Le Creuset's only real rival for producing high-quality cast iron enameled cookware.
2. Where Staub is Made
Let's clear up the confusion about where Staub's products are made:
Staubs Enameled Cast-Iron Cookware – is made in FRANCE
Staubs ceramic cookware, ceramic bakeware, tableware, and accessories are made in CHINA
3. Materials
High-quality raw materials are used for the cookwares core including recycled steel, and pig iron. The gloss finish is achieved by three layers of enamel coating.
4. Manufacturing
The main reason Staub's cookware is so expensive has more to do with what goes into making each piece than anything else!
Casting and enameling are like working with glass. At any stage of the manufacturing process cracks, warping and chipping can occur.
The Merville factory still operates casting each piece in individual molds. After firing each piece is checked for cracks, burrs, and smoothness ground and sanded as required.
Quality control is carried out at every stage of manufacture. Each piece of cookware is inspected and damaged pieces are removed from production and recycled.
When enameling the majolica technique is used to achieve a high gloss, optimum protection, and a deep rich color for the finish.
The first layer of enamel coats the metal to smooth the surface and stop the pieces from rusting. The second coat is for a deep gloss and the third is the rich colored finish and added protection against chipping, cracking, and warping.
5. Design and Style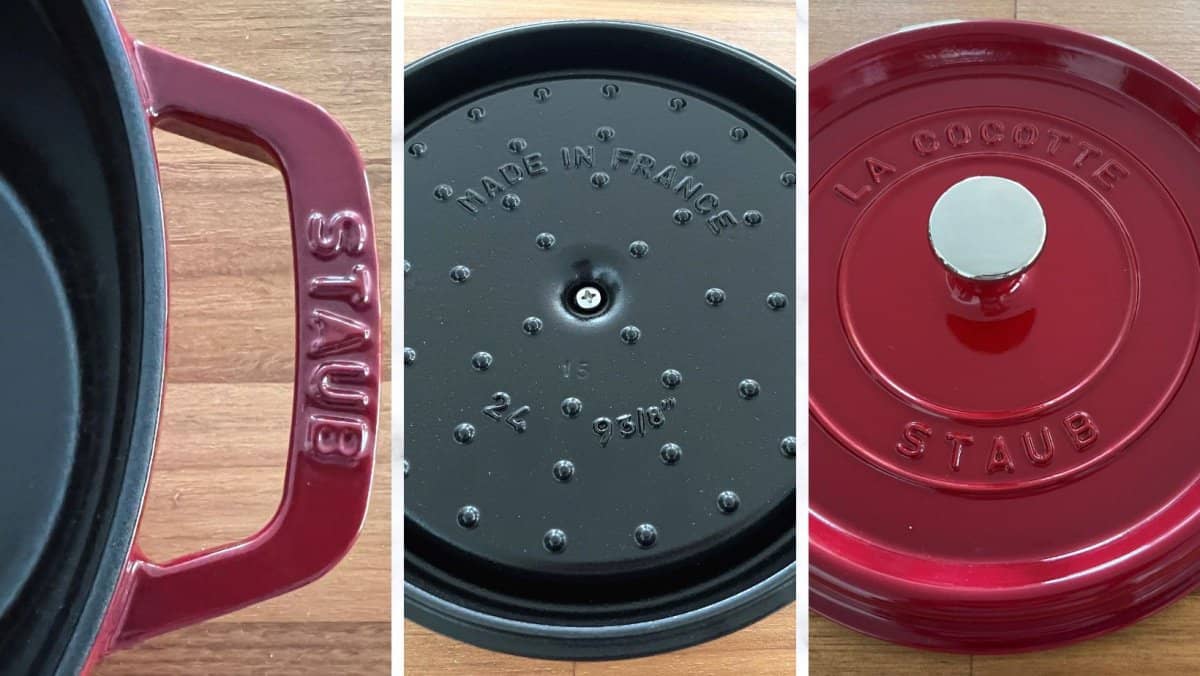 Staub cookware has a distinctive look that is very different from other brands. Staub cast-iron Dutch ovens have a distinctive matte black enamel interior enamel coating. Durable and long-lasting because it does not discolor, rust, or scratch easily.
Its thick iron retains heat longer to keep food warm until served. The base will retain its original shape without distortion.
Thickness
The base, sides, and lids of Staub cast iron cookware are thick. This means that they take a little longer than other cookware types to heat up. But once hot the heat retention and even cooking are amazing.
Handles
Staub's handle design on the cocotte is a long rectangle design and is generous enough for oven mitts. Large enough to fit mitted gloves comfortably while cooking and moving the heavy pot around safely.
Fry pans and daily pans have a handle that is long with a helper handle for support. Braisers and perfect pans have a handle on either side of the pot.
Lid
Lids are self-basting. Staubs's tight-fitting lid has spikes on the underside to ensure that your dish will be continuously basted. The spikes distribute the droplets of condensation evenly into the dish and not just down the sides of the cooking pot.
The ridge around the outside of the lid covers the top of the oven ensuring a tighter fit and keeping moisture locked in and intensifying flavor for a more delicious meal every time!
After years of use, I can guarantee that this design along with the heavy lid means that a Staub has excellent moisture retention and flavors that remain in the dish I cook.
Knob
Staub's standard knobs are made from brass or nickel-plated stainless steel, making them heat resistant up to 500°F.
Staub knobs are easy to clean and durable. These sturdy handles are interchangeable and come in animal shapes, like pigs, that kids love and other festive shapes for all occasions!
Weight
The sturdiness of the design of this cookware unfortunately gives us the downside of being heavy. This should be a factor before purchasing this cookware, make sure you can carry it safely when hot.
The 1-quart cocotte weighs 5.5 pounds and the 10.5-quart oval cocotte weighs 25.5 pounds.
The caveat, all cast iron cookware is heavy.
6. Staubs Enamel Cast Iron Product Range
All Staubs cast iron ranges have the following features.
Staub's cast iron range has a heavy and tight-fitting lid that retains moisture, while its basting spikes on the lid create a rain-forest effect to evenly returning juices back onto food. They are oven-safe up to 900 Fahrenheit with no lid and 500 Fahrenheit with the lid.
Cookware lids have a nickel steel knob, and smooth enamel bottom suitable for all stovetops including gas, electric, glass, ceramic and more, plus a black interior matte texture that gives exceptional browning.
Clean-up is easy when you're done cooking, simply toss it in the dishwasher or handwash it for easy cleaning.
Staubs cast iron range includes;
Staub Cocottes and Dutch ovens, fry pans and skillets, braisers and saute pans, daily pans, woks and perfect pans, grills and grill pans, baking dishes and roasters, specialty items, minis, tea kettles, and fondue pots.
Specialty Cocotte Shapes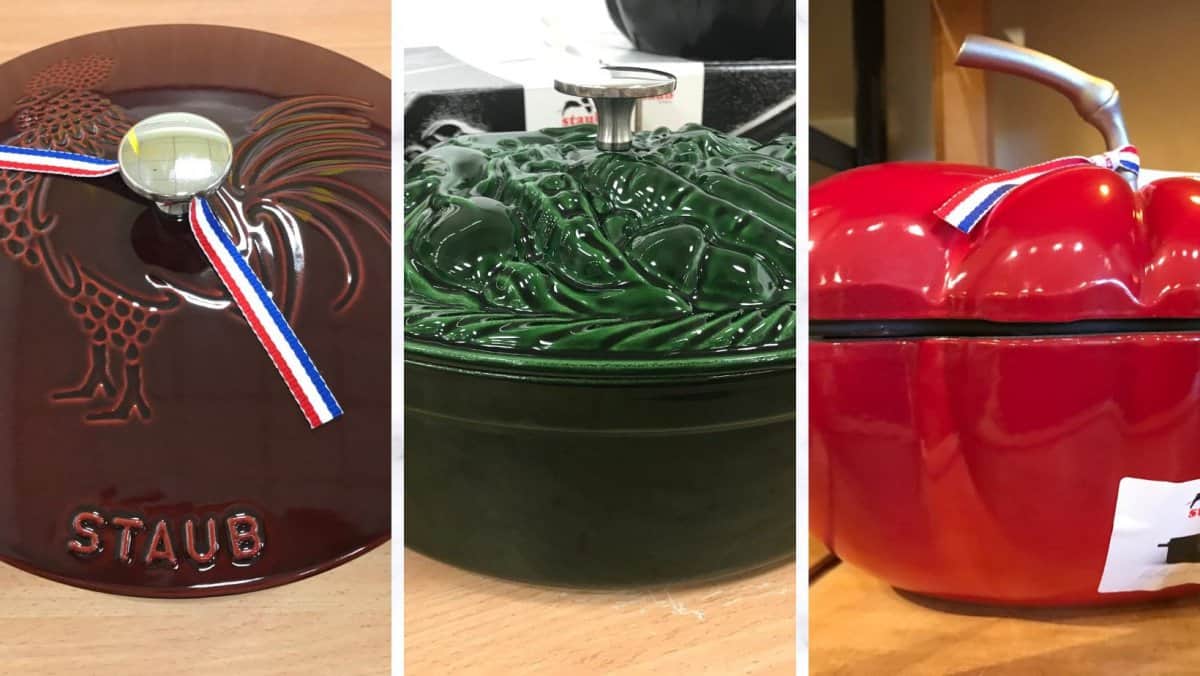 Staub is known for its glorious shaped cocotte there literally is a specialty shape for every occasion. You can expect to find the following shapes made from enamel cast iron and ceramic coated in enamel once again in various colors.
Staub also has various shapes and sizes in the "specialty range" including pumpkins, Tomatoes, Artichokes, Hearts, and Pig Cocotte. You can see more about this ever-changing range here…
Staub Tomato
Staub Artichoke
Staub Pepper Staub Pumpkin
Staub Heart
Staub Pig Cocotte
Staub Paprika Cocotte
Staub Mussel Pot
Staub French Oven Rooster
Staub French Oven Lilly
Read more about the differences between Dutch ovens, French ovens, and Cocotte in my article Cocotte vs Dutch Oven
6. Sizes
Staub makes round and oval-shaped Dutch ovens in various sizes. The size is measured by the number of quarts the cookware holds.
A round cast-iron Dutch oven can whole chickens. Oval Dutch ovens will prepare large cuts of meat at high temperatures that will give you a roast just like bare cast iron.
How are Staub Cocottes measured? Staub uses the Metric system in its measurements. The cm's that Staub Cookware is identified by is the measurement of the circumference across the top of the cooking pot.
Example: Cocotte size 23 cm = 9.5 inches, 3.3-quart, 3.8 liters, 15.3 CMS or 6 inches height 4.6 kg or 10.1 pounds in weight and is suitable to feed 3 to 4 people comfortably.
| Collection | Qt | Qt | Qt | Qt | Qt | Qt | Qt | Qt | Qt |
| --- | --- | --- | --- | --- | --- | --- | --- | --- | --- |
| Staub Round Dutch Ovens | .5 | .75 | 1.25 | 2.75 | 4 | 5.5 | 7 | 9 | 13.25 |
| Staub Oval Dutch Ovens | .5 | .87 | 2 | 2.8 | 3.7 | 4.8 | 5.9 | 7 | 10.5 |
| Staub Braisers | 2.75 | 3.5 | 3.75 | | | | | | |
8. Performance
Staub has the formula of the thickness of its bases, walls, and lids just right. Along with the fact that you can use each piece of enameled cookware on all cooktops including induction as well as in the oven.
Cast iron products are able to withstand high heat, meaning that you can cook at lower temperatures with less energy consumption, resulting in better-tasting food.
The integrated handles are generous and are safe to 500°F providing you use the stainless steel knob on the lid.
Using this type of cooking pot in a conventional oven produces wonderful recipe outcomes by heating the pots from all sides and using the self-basting system for stews, casseroles, and soups.
Roasting, baking, or making artisan bread in Staub cookware also produces delicious meals every time.
9. Durability
Cookware that is built to last!
This is because the cookware surfaces are enameled with multiple vitreous layers of porcelain that are fused to the cast iron, which protects it from cracking and makes it very durable so you'll have less need to replace them over time.
The black matte interior is just as high-quality as the enamel coating on its exterior.
Smooth enough to stop food from sticking to the cookware's surface, along with correct heat application and oil or liquid use.
The enameled coating and oven-safe integrated handles and knob also allow the cookware to go from the stovetop hob directly into the oven and also into a preheated broiler (without any additional preparation).
10. Versatility
The versatility of the Staub! There are many different sizes and colors that will fit any kitchen or cooking style whether you're looking for small pots with lids (called cocotte) or French ovens in all shapes and sizes.
Saucepans are perfect for making sauces/gravy. Dutch Ovens allow you to braise or stew meats without other liquid needed, or a Staub skillet for cooking your eggs and bacon in the morning.
11. Colors
Unparalleled gorgeous colors on the outside in earthy deep tones with black matte interiors! Enamel coating covers all areas of pots, lids, and rims, negating the need for seasoning.
Currently, there are eleven Staub cookware colors in the United States: Basil, Black Matte, Cherry, Burnt Orange, Dark Blue, Graphite Grey, Grenadine, Turquoise, Aubergine, and White Truffle. The United Kingdom and Europe have similar core colors with slightly different names. Limited edition colors are dropped occasionally.
New colors drop when we least expect them! See the current large range of Staub colors
12. Cleaning and Maintaining
The quality of this cookware shines through with ease of care when cleaning these pots and pans need to happen. The caveat is that you should remember that some food may stick to the interior of the enamel surface. Alleviate further sticking by cleaning well after use.
Any enamel cast iron needs to be protected from thermal shock (quick shifts in temperature). So to avoid warping, surface enamel spidering, cracking, and chipping heat up on medium heat with ingredients in the pot. Don't put cold water into a hot pot similarly don't put a cold pot on a hot cooktop or oven.
Protect the enamel from damaging utensils like metal by using wood or silicon.
They're all completely dishwasher-safe! Although they are dishwasher safe, you need to be aware of how abrasive and harsh dishwasher cleaners are. Resulting in colors that may fade over time. I hand wash my Staub cookware every time.
Storing cast iron can be tricky use the stoppers provided between the lid and the pot, and do not pile other cookware on top of your enamel pieces.
Learn how to clean and care for enamel cast iron cookware
13. Warranty
Staub cookware comes with a Lifetime Guarantee! If you feel your product has defects in workmanship and materials there are measures in place all around the world to make sure you receive the product you ordered.
Extensive information regarding Staub warranties can be found here at Staub Customer Service
14. Price
Prices vary according to size, shape, color, and availability. Below are some examples of Staub cast iron and ceramic cookware prices.
Staub Cookware
Approximate Price
(Prices vary in sales and from
store to store)
Latest
Price
Latest Price
Staub Cast Iron 4-qt Round Cocotte with Glass Lid
$110
Staub
Amazon
Staub Cast Iron Petite French Oven 1.5-qt
$200
Staub
Amazon
Staub Cast Iron Essential French Oven, 3.75-qt
$200
Staub
Amazon
Staub Cast Iron Round Dutch Oven 4-qt
$210
Staub
Amazon
Staub Cast Iron Round Dutch Oven 5 1/2-qt
$270
Staub
Amazon
Staub Cast Iron Round Dutch Oven 7-qt
$430
Staub
Amazon
Staub Cast Iron Pumpkin Dutch Oven 3.5-qt
$230
Staub
Amazon
Staub Cast Iron Pumpkin Dutch Oven 3.5-qt
$600
Staub
Amazon
Staub 12″ Fry Pan
$220
Staub
Amazon
Staub Cast Iron Roasting Pan
$240
Staub
Amazon
Staub Cast Iron Plancha Double Burner Griddle
$265
Staub
Amazon
Staub Cast Iron Pan with Glass Lid, 2.9-qt
$150
Staub
Amazon
Staub Braiser with Glass Lid, 3.5-qt
$270
Staub
Amazon
Staub Daily Pan, 2.9-qt
$150
Staub
Amazon
Staub Cast Iron Perfect Pan, 4.5-qt
$350
Staub
Amazon
Staub Ceramics Mini Round Cocotte Set
$60
Staub
Amazon
Staub Ceramics Petite Tomato Cocotte
$60
Staub
Amazon
Staub Ceramics Rectangular Baking Dish Set, 2pc
$50
Staub
Amazon
Staub Ceramics Baking Dish Set, pc
$170
Staub
Amazon
Staub Enamel Cookware Pros and Cons
From the table below, you can see the benefits of Staub cookware far outweigh what some would consider disadvantages of this cookware.
| Staub – PROS | Staub – CONS |
| --- | --- |
| Decades of building durable high-quality cookware | Expensive, less than Le Creuset marginally |
| The Interior black enamel finish is great for high-temperature cooking and also hides staining of the interior surface, use the correct utensils to protect the surface is still required | Casting is thicker and therefore, heavier than most cookware also takes longer to heat up |
| Cookware shapes and sizes for most needs | Handles on the sides of Cocottes are rectangle and could be a little wider for larger hands |
| The Staub lid is heavy, flat for a great seal, and has basting spikes | |
| Approximately 10 core colors | |
| Made in France | |
| Lifetime Warranty | |
Staub Enameled Cookware
Pros and Cons List
Alternatives to Staub
What cookware is better or comparable to Staub?
Le Creuset is the closest alternative to Staub, using quality materials made in France. The workmanship of their products also reflects this standard, along with a lifetime warranty. A Le Creuset 7-qt Dutch Oven is more expensive than a Staub Cocotte by approximately half. For those looking for great quality affordable cookware, Lodge®, Tramontina® Cuisinart®, and Crockpot all are brands with longevity in the industry.
Must read when you want to compare the differences between two luxury brands Staub vs Le Creuset
Alternative Brands to Staub
(Comparative Sizes)
Approximate Prices
(Prices vary in
sales and from
store to store)
PRICE
Le Creuset 7.25-Quart Round Dutch Oven
$400
Latest Price
Staub 7-Quart Round Dutch Oven
$300
Latest Price
Tramontina 7 Quart Oven Dutch Oven
$170
Latest Price
Misen Dutch Oven 7 Quart Round
$165
Latest Price
Cuisinart 7-Quart Round Casserole
$150
Latest Price
Lodge Dutch oven 7-Quart Oval
$110
Latest Price
Crock-Pot 7-Quart Round Dutch Oven
$60
Latest Price
Amazon Basics 7.3-Quart Round Dutch Oven
$65
Latest Price
Alternatives to Le Creuset Brand Price Comparison Chart
In my in-depth article Alternatives to Le Creuset, I deep dive into the 3 best alternatives to Staub.
Staub Ceramics
Staubs ceramics include baking dishes and gratins, pie dishes, dinnerware, bowls, and ramekins, along with Staub specialty items.
Staub Ceramic Cookware is an excellent choice for busy families looking for bakeware, cookware, and tableware. Committed to excellence in all areas of design and construction, Staub designed their quality product with a coating of vitreous glass porcelain enamel that stands out among its competitors.
It can be used in several ways: oven-safe up to 572 degrees F, microwave-safe, broiler-safe, and freezer-safe and the ceramic cookware is also scratch resistant and dishwasher-safe, which makes it even easier to maintain its initial quality.
Staub provides multiple colors for its Ceramic products such as Red, Cherry, Dark Blue, White, Rustic Ivory, and Rustic Turquoise as well as Matte White.
Staub Sale Prices
Staub's high-quality and durable cast iron cookware is the perfect choice for cooking your favorite dishes, but its steep price can be a turnoff for some people. The good news? Staub offers many different products at affordable prices. Depending upon when and where you purchase Staub cookware you never have to pay full price! Shop around…
See my article Best Staub Prices gives you tips on where and when to find Staub products for the best possible price – in-store and online.
Why Is Staub So Expensive: FAQs
Here are some of the most asked questions about Staub for your convenience.
What is so special about Staub?
Staubs high-quality materials and manufacturing practices make it a pleasure to use. The matte black interior allows you to prepare international dishes, and the staining on lighter interiors does not ruin the aesthetic.
Is there a cheaper alternative to Staub?
Staub cookware is considered luxury or high-end cookware. For those looking for affordable enamel cookware for a fraction of the price of other cast iron cookware, you should consider Lodge®, Tramontina® Cuisinart®, and Crockpot, all brands with proven longevity and a good reputation in the industry.
Is Staub made in France or China?
Staubs enamel cast iron is made in France, and all other Staub products are made in China.
Is Staub high-end?
Yes, even though it is cheaper than Le Creuset it is more expensive than other brands.
Is Staub worth buying?
All these factors add up to an expensive brand with the care you will be using for many years or a lifetime. You should consider buying it if you have the budget for it!
Do I need to oil my Staub?
No, you do not need to oil it as with regular cast iron cookware. You will need to use oil when cooking, and you can apply a light coating of oil occasionally after cleaning if the cooking surface is looking dull.
I Staub or Le Creuset more expensive?
Le Creuset Dutch ovens and cookware are generally more expensive than an equivalent Staub product.
Recommended reading my article about the costs and expenses involved in manufacturing cast-iron Dutch ovens and other cast-iron cookware: Why are Dutch ovens so expensive
See what America's Test Kitchen says about Staub
Wrapping it Up! Why is Staub So Expensive?
So there you have it "what makes Staub so pricey?" Let's recap.
Le Creuset is a French company that makes cookware using cast iron
The pieces are also made in France, at their original foundry, which adds to their prestige
Well, there are a few reasons that come to mind: quality, design, beauty, and durability
They make all types of pots, pans, skillets, baking dishes, roasting racks, Dutch ovens (casseroles), and griddles… you get the idea!
Large range of shapes, sizes, and colors
Black interior color and rich exterior colors. Something for every decor and personal taste
Another reason they are so expensive is that their products last for decades, are easy to clean, and with minimal maintenance. They're built to last
Heirloom long-lasting cookware with limited lifetime warranties
The Staub cookware range is not limited to cast iron pieces. They have ceramic bakeware, dinnerware, and accessories
What professional chefs love about Staub! Chefs love the high-quality materials, the versatility, the flat lid with basting spikes to keep the moisture in, the heat retention, and the black matte interior for searing.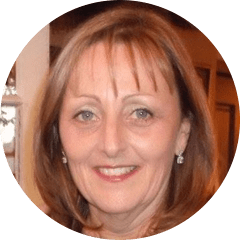 Michelle
Hi, I'm Michelle, the founder, owner, author, and editor of OvenSpot. My passion for one-pot cooking commenced when I was working to prepare cafeteria lunches for school students. I am now on a mission to assist you in choosing the cooking pot or appliance you will use daily. As well as in-depth information to assist you in using and caring for your cookware and appliances.
Questions? Reach out to Michelle at [email protected]