Bruntmor 6.5 Quart Enameled Cast Iron Dutch Oven Review
I know how tough it can be to search through the endless piles of Dutch ovens out there. There are so many choices, that it can become very overwhelming.
In this article, I hope to make the research process a lot simpler. The Bruntmor 6.5 quart enameled cast iron Dutch oven review
will assist you in your decision.
This outstanding product received very high ratings in all categories. So we will be taking a look for ourselves to see how this Dutch oven stacks up against the competition. This review will be an in-depth analysis of all of the main product features as well as the pros and cons of this Dutch oven.
Disclaimer: As an Amazon Associate I earn from qualifying purchases on my website. If you make a purchase through links from this website, I may get a small share of the sale from Amazon and other similar affiliate programs.
Bruntmor Enameled Cast Iron Dutch Oven
If I had to quickly decide if this product was worth your time, then my verdict would be that this Dutch oven is a definite must-buy. Not only is it extremely well made and versatile, but it will also look great in any kitchen. I know you will not be disappointed. Check out the features below.
If you have landed on this page but already know you want to purchase the Bruntmor enameled Dutch oven. CLICK HERE to check it out at Amazon.
Features
• Enameled solid cast-iron offers superior and even heat retention
• This Dutch oven is coated with a PFOA- and PTFE-free porcelain enamel cooking surface
• The self-basting lid will uniformly collect and direct vapors onto food, producing moist and savory dishes
• Beautiful Ruby Red finish will impress all who use this product
If you would still like more information, then just scroll down and see our in-depth review.
Review
This little workhorse is extremely well built. It has a red enameled PFOA and PTFE-free coating placed over a solid cast iron body. The enamel coating offers amazing heat retention, and will not react to acidic foods. The included matching self-basting lid has built-in ridges to hold in moisture, ensuring flavorful meals.
The Bruntmor 6.5 quart enameled cast iron Dutch oven is also very easy to use. Its nonstick coating allows for the creation of almost any meal without fear of it sticking. Food cooks evenly and stays hot longer than with other pieces of cookware.
Cleanup is also a breeze. Simply hand wash in hot water with a bar of mild dish soap and let it air dry. As you can see, this product is very well made. It combines all of the great properties of enamel and cast iron in one great piece.
What I Liked
The price is right
Durability
Lid fits sightly
What I Did Not Like
No size variations – small meal requirements only
No decor color options – red only
While I would highly recommend this oven, you and only you can make up your mind about whether this product is right for you. Now, let's take a look at the customer review section and what overall rating was given.
Customer Rating
This product received 4.8 stars out of 5 from 328 reviews. CLICK HERE to see some of these fantastic reviews for yourself at Amazon.
Customers especially loved the durable and vibrant glossy red finish. The self-basting lid and the high temperature that this Dutch oven can withstand were also popular in the comments. This Dutch oven is oven-safe up to 400 degrees Fahrenheit.
Pros and Cons
| PROS | CONS |
| --- | --- |
| Constructed of high-quality solid cast iron | There have been complaints of chipping damage caused by transport |
| Durable red enamel nonstick coating for ease of use | This item can only be hand washed |
| The product is heat resistant up to 400 degrees Fahrenheit | Manufactured in China |
| This Dutch oven will work on ceramic, gas, and electric cooktops | |
| Moisture locking lid will easily baste food for extreme flavor retention | |
To Finish – Bruntmor 6.5 Quart Enameled Cast Iron Dutch Oven
Overall, this is a great oven. If you are not careful, however, this item can crack or chip if dropped. This is the issue some customers had when their product was mishandled while being shipped.
The other downside is, like other cast iron cookware, this Dutch oven can NOT be washed in the dishwasher. These slight issues aside, it is my opinion that this top-notch product is well worth the money.
Need some help with the size of the Dutch oven you may require. If so hop over and see my article on the Dutch oven size chart by clicking here.
Where to purchase?
Like I said before, this product is a definite must-have item. Its benefits are vast and its issues are few and far between. This Dutch oven would make an amazing gift for friends, family, and even for yourself.
If you are interested in purchasing this product you may do so now for an awesome price at Amazon.
Still not convinced that this Dutch oven is for you why not check out another highly rated enameled cast iron Dutch oven.
Click here to see my article on the Lodge EC6D93 Enameled Cast Iron Dutch Oven.
Frequently Asked Questions
Where is Bruntmor Manufactured?
Bruntmor is surprisingly manufactured in China. Not just Bruntmor, but many other brands too! Lodge and AmazonBasics are also made there as well.
What Is so Special About a Dutch Oven?
Tough question to answer quickly! But Dutch ovens are one of the only pieces of cookware that can be used over most heat sources (depending upon their coating). Most recipes can be adapted and prepared in a Dutch oven.
More about Dutch what a Dutch oven is here and its many uses here.
Recommended Reading
AmazonBasics Dutch Oven Review
Amazonbasics enameled cast iron Dutch oven 6-quart red and blue.
The enamel Amazonbasics Dutch oven is new to the market and I have an in-depth article to have a look at it click here.
Want to check out the latest information about Dutch ovens and their brands? See them here at the best Dutch ovens available in 2023.
One-Pot Cooking Rocks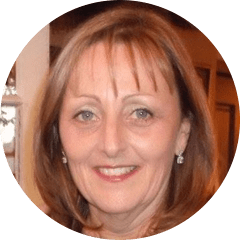 Michelle – Author
Hi, I'm Michelle the founder, owner, author, and editor of OvenSpot. My passion for one-pot cooking commenced when I was working to prepare cafeteria lunches for school students. I am now on a mission to assist you in choosing the cooking pot or appliance you will use every day. As well as in-depth information to assist you in using and caring for your cookware and appliances.
Questions? Reach out to Michelle at [email protected]