Balti Dish vs Wok: What Are the Differences?
Do you love the taste of a rich curry prepared in a Balti Dish? Or perhaps the delicate fresh flavors of a stir-fry made in a wok are more your thing? Whichever cuisine takes your fancy, one thing is for sure – cooking with either of these vessels creates tasty dishes that are quick and easy to prepare.
What is the main difference between a Balti Dish and a Wok? A Balti Dish is thicker and has a flat bottom with curved higher sides, while a wok is thinner and has a rounded bottom. This means that a Balti Dish works better on stovetop heat sources and retains heat better in turn cooks food more slowly, while a wok cooks food more quickly.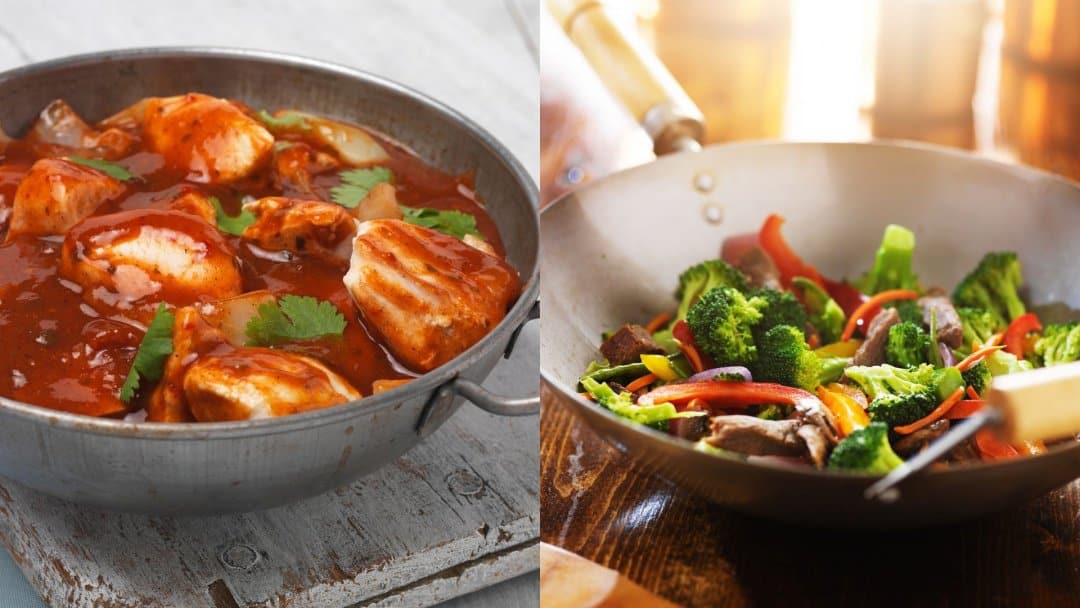 The different shapes of the pan affect the way the food is cooked. A meal prepared in an authentic Balti Dish is typically a thick curry with a tomato-based sauce while stir-frying in wok results in foods that are crispy and slightly charred on the outside.
In this article, we take a look at the pros and cons of each cooking method, so you can decide which is right for you. So, whether you're looking to rustle up an Indian feast or put some Asian flair for your next meal, read on to find out how to make the most of these versatile kitchen tools.
What Is Balti Dish?
Balti is a type of Indian curry that is cooked in a wok-like pan called a Balti dish or Karahi. The word "balti" comes from the Hindi word for "bucket". Balti curries are typically very spicy and often include chicken or lamb as well as vegetables. Balti dishes are usually served with rice or naan bread.
Balti curries originated in the Northern Pakistan city of Mirpur, located in the Kashmir region. Then, Mirpur curry chefs migrated to Birmingham, England, where they began opening Balti restaurants. Balti dishes quickly became popular in Birmingham, and today they are enjoyed by people all over the UK.
Materials and Design
A Balti pan was traditionally made of pressed steel although nowadays they are made out of a range of materials including aluminum and cast iron. It has a flat rounded base with metal handles on either side.
The straighter high sides, make it look like a wok. The pan is designed to be used over high heat, which helps to create the signature smoky flavor of Balti dishes.
While Balti curries are often made with very spicy ingredients, they can also be milder and more fragrant. Whatever the level of spice, Balti curries are always packed full of flavor.
Benefits Of Cooking In Balti Dish
Traditional Balti is made from materials that require that you keep its surface well-seasoned like a cast-iron pan so it remains non-stick and it's easy to clean.
A Le Creuset Balti dish is made of enameled cast iron, which has several benefits for cooking.
This cookware provides even heat distribution and superior heat retention and retains heat well, so food stays hot even after it's been taken off the stove.
This particular cast iron pan has a satin black interior ideal for staying non-stick when the appropriate amounts of olive oil or liquid are used during food preparation.
Balti dishes are also relatively shallow, which means that they cook food quickly and evenly. In addition, the lid of a balti bowl helps to trap heat and moisture, ensuring that food remains moist and flavorful. For these reasons, balti dishes are an ideal choice for quick, healthy meals.
A Balti curry can also be served at the table from one of the beautiful enamel pans that also keep the food hot thanks to the pan's heat retention properties.
Cons Of Cooking In Balti Dish
While they are very popular in Indian restaurants, there are some disadvantages to cooking with a balti pan.
A bare cast iron pan requires regular seasoning to keep the pan non
One of the main problems is that the cooking surface can be difficult to clean. The pots are typically made of cast iron, the food can stick to the bottom of the pot due to higher surface temperatures.
Another downside to balti dishes is that they can be quite heavy, making them difficult to carry or store. Finally, because balti dishes are designed for stove-top and oven cooking, they are not suitable for use in microwaves.
Despite these drawbacks, balti dishes remain a popular option for Indian curries lovers. When used properly, they can produce flavorful and authentic curries that are sure to please any palate.
It should be noted that a Balti pan is not essential to cook a Balti Dish as any thick-based saucepan will do, however, if you have one it will make your cooking experience more authentic.
What Is Wok?
It is one of the most common pieces of kitchen equipment in Chinese cuisine and is also used in other Asian countries such as Vietnam, Thailand, and Korea. The word "wok" actually means "cooking pot" in Cantonese.
Materials and Design
A Chinese wok is a round-bottomed cooking vessel with numerous uses. It can be made from a variety of materials including carbon steel, cast iron wok, aluminum, titanium as well as stainless steel pans.
Woks come in different sizes and usually have a curved bottom but flat-bottom Woks are becoming popular for everyday use to make stir fry on induction hobs.
The long handle is usually complemented by a helper handle on the opposite side for ease of use. Modern Woks might also come with a lid that allows you to cook more than just stir fry.
The most important aspect of a wok is that it has a large surface area which allows food to be cooked quickly over high heat.
Although Woks are commonly used as a stir-fry pan for Asian-inspired wok dishes but can be used for deep-frying, steaming, braising, and even baking.
When used properly, a wok can create meals that are healthy, flavourful, and full of texture. So next time you're in the mood for Asian cuisine, don't forget the Chinese wok!
Wok Sizes
Wok Size Diameter
Wok Sizes
CM
Servings
Use For
9-inch
22.8
1 – 2
Single serves and entertaining, omelets, rice, noodles
10-inch
25.4
3
Stir fry protein and vegetables, small pieces of meat, fried rice, soup
12-inch
30.5
4
Kung Pao chicken or beef chow mein, large pieces of chicken, beef, pork, or seafood as well as stews and soups like chili con carne
14-inch
35.5
5
Lo mein noodles, Mongolian beef, roasts, and braised meats
16-inch
40.6
6+
Large families, soups, and stews
18-inch
45.7
7+
Entertaining (General Tso's Chicken or Pad Thai)
20-24 inch
50.8+
8+
Large servings or commercial use
Learn more about Wok Sizes and how to choose the right one for your cooking needs.
Benefits Of Cooking In Wok
When it comes to cooking, many different methods and techniques can be used to produce delicious results. One of the most popular methods is known as stir-frying, and it typically involves cooking food in a wok.
While this method originated in China, it has since become popular all over the world. There are many reasons why stir-frying in a wok is so beneficial. First, it allows food to be cooked quickly and evenly. Additionally, the high heat helps to seal in flavor and nutrients.
And because less oil is needed, stir-fried dishes tend to be healthier than those that are cooked using other methods. Whether you're a beginner cook or a culinary expert, cooking in a wok is a great way to create healthy, delicious meals.
Cons Of Cooking In Wok
One of the main drawbacks of cooking with a wok is that it can be difficult to control the heat. Because the sides of the pan are so much taller than the bottom, the heat tends to be concentrated near the top. This can make it tough to get evenly cooked food without over or under-cooking some areas.
In addition, woks are typically used over high heat, which can cause oil splatters and burns if you're not careful. If you're new to cooking with a wok, it's best to start with small batches of food until you get a feel for how it works.
Another consideration is that Woks are often made from cast iron or carbon steel, which can be difficult to clean and maintain. If you don't season your wok properly, it can rust or develop sticky patches that are tough to remove.
If you take good care of your Wok, the metal will eventually develop a patina from all the cooking that takes place in it. Some people see this as part of the charm of owning a wok and certainly helps with the higher surface temperature cooking.
If you're thinking about adding a wok to your kitchen arsenal, there are both pros and cons to consider. While a wok can be a great way to cook food quickly and evenly, it's important to be aware of the potential drawbacks before you make your purchase.
Balti Dish Vs Wok: Which One Is Better
Balti dishes and Woks are both great for cooking up a tasty stir-fry. But which one is better? It depends on what you're looking for. If you want a quick and easy meal, then a traditional Balti dish is probably your best bet. They're typically made from lightweight materials like aluminum, so they heat up quickly and evenly.
Plus, the flat base ensures that your food doesn't stick to the bottom. However, if you're looking for a more authentic stir-fry experience, then a wok is the way to go. Woks are traditionally made from cast iron or carbon steel, which means they take longer to heat up but retain heat better.
Considering trying Wok cooking check out my Le Creuset Wok Review before purchasing a new wok, great tips for beginners.
This makes them ideal for searing meat or vegetables at high temperatures. Plus, the sloping sides make it easy to toss ingredients without making a mess. So whether you're in a hurry or looking for an authentic experience, there's a cooking option to suit your needs.
Learn how to season cast iron before its first use.
Note Before First Use: If the pans are bare cast iron or carbon steel for best results from the very first time both cooking pots need to be seasoned with oil and baked. Then after cooking the first thing you should do is wash your pan in soapy water and rinse thoroughly in warm water. Dry and give it a light coating of vegetable oil kitchen towel hot surface until the pan starts to smoke. Allow to cool and store your pans in a dry place away from humidity.
Find out more about the Best Oil for Seasoning Cast Iron Pan
Conclusion: Balti Dish Vs Wok
In the end, it's up to you to decide which of these two cooking methods is best for your needs. Both have their unique benefits and drawbacks, so it ultimately depends on what you're looking for in a meal. If you want something quick, easy, and flavorful, then the Wok may be the right choice for you.
But if you're looking for a heartier dish with more complex flavors, the Balti dish may be a better fit. Whichever route you choose, we hope this article has armed you with enough information to make an informed decision about which cooking method is best for you.
One-Pot Cooking Rocks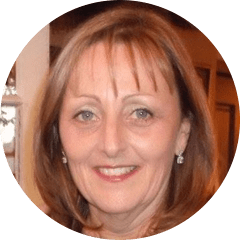 Michelle – Author
Hi, I'm Michelle the founder, owner, author, and editor of OvenSpot. My passion for one-pot cooking commenced when I was working to prepare cafeteria lunches for school students. I am now on a mission to assist you in choosing the cooking pot or appliance you will use every day. As well as in-depth information to assist you in using and caring for your cookware and appliances.
Questions? Reach out to Michelle at michelle@ovenspot.com