Le Creuset Wok Review: 2023
Le Creuset produces an amazing cast iron wok that can be used for all kinds of cooking. This company isn't known for its woks, but they are beautiful, high-quality, and perfect for cooking all kinds of foods. If you need a new wok for your kitchen, you should certainly consider a Le Creuset wok.
Disclaimer: As an Amazon Associate I earn from qualifying purchases on my website. If you make a purchase through links from this website, I may get a small share of the sale from Amazon and other similar affiliate programs.
What Is a Le Creuset Wok?
A Le Creuset wok is not like a traditional wok made from bare metal that can withstand high heat for stir-frying and a single long handle.
A Le Creuset wok comes with a smooth surface and a non-stick coating made with the high-quality standards that this company is famous for. These woks are not cheap, but they are perfect for cooking a whole variety of dishes, such as rich curries, sauces, sauteed vegetables, and crispy stir-fries.
You won't be surprised to learn that these woks are extraordinarily high quality like all Le Creuset products. They are crafted from enameled cast iron, and they come with a glass lid to let you see how the food is doing as it cooks. Easy to wash and with a large capacity, they are a brilliant way to make life in the kitchen easier.
The woks have two handles, one on either side of the pan, so you can lift the pan easily and securely, rather than using one hand. They are generously sized, so you'll get plenty of food in one, and they have a stylish appearance that makes them look great in the kitchen.
Le Creuset is famous for producing wonderful cookware to the best possible standard, and their wok does not disappoint. Whatever you are making, it will be better and easier in one of these pans.
What Are The Advantages of a Le Creuset Wok?
The woks have quite a few significant advantages. The first is quality. This wok just feels good in your hands. It's high quality and very durable, and you should get years of use out of it.
Because it is cast iron, it also conducts the heat well and holds on to heat, so your food should stay hot even once you have turned the stove off, especially if you leave the lid on the pan. The inner surface is enamel, which is inert and will not interact with your food.
This is great if you don't like the idea of Teflon pans that will shed chemicals into your meals. Although it is a non-stick surface, as the iron generates high heat it is not totally a non-stick pan.
The good news is you will need less oil than most pans but oil or liquid will be required. Also, be ready to adjust the heat source to medium heat if the pan becomes too hot. Le Creuset pans utilize the company's own proprietary technology, and they are all free from PFOA and PTFE.
You, therefore, don't need to worry about ingesting any unpleasant chemicals along with your dinner, even if you let the pan get hotter than is ideal.
Additionally, these woks will work on all kinds of hobs, so whether you have a gas hob, an electric hob, or induction hob, you can use one. The handles make it easy to lift the pan, so you can toss the ingredients around inside it without having to take it off the wok ring or grab a spoon.
As with all Le Creuset cookware home cooks enjoy the added benefit of using their cooker as a serving dish. The beautiful design and superior heat retention mean that going from the stovetop to the table has never been so easy.
Furthermore, it's very easy to wipe clean. Le Creuset recommends hand-washing the pan, rather than putting it in the dishwasher, but it's simple to wipe out and since food doesn't stick, you should find it easy to wash it. If you do want to put the pan in the dishwasher, you can – it's only a recommendation that you hand wash it.
A final advantage: the wok has a flat bottom, rather than a round bottom. Some rounded woks don't heat up well, and it takes a lot of time for the heat to spread to the sides. Meaning that the ingredients at the bottom get seared, while the rest don't cook. Having a flat base lets more ingredients sit next to the heat.
What Are The Disadvantages of a Le Creuset Wok?
Of course, no pan is perfect, and there are some downsides to the Le Creuset wok too. The biggest is probably its weight of it. Heaviness is an advantage in some ways because it increases stability, but it can make the pan hard to move around and get in and out of cupboards.
Given that it is cast iron, it's not surprising that it is quite heavy, but because it's also a large pan, some people may find that it's too much for them to lift.
The 14 ¼-inch wok weighs a full 12 pounds even when empty, so it's not a light vessel to cook your dinner in. This can be a downside for people who prefer light cookware, but it does mean that the pan won't slide away from you on the stove.
Another issue is that the pan takes a while to reach a good temperature. Because it is cast iron, it heats up more slowly than, for example, a carbon steel wok. You need to be patient in letting it get hot before you add the ingredients, or you'll find that it doesn't sizzle.
The other major downside is the price. Le Creuset equipment is not cheap, even if you buy it second-hand, we'll look more at the cost later.
How Big Is a Le Creuset Wok?
The Le Creuset woks are a generous 14 ¼ inches, which is sufficient for making big meals. It has curved sides and a gently domed lid, giving you lots of room to work with. The lid fits securely on the pan and will help you steam ingredients and trap moisture in the pan.
It is a little large for storing in the cupboard, but if you regularly cook for several people, you will appreciate the size immensely. It has a capacity of 4.5 liters, which is plenty for big meals.
Can You Put Le Creuset Cast Iron Woks in The Oven?
Sometimes, you want to finish whatever dish you are making in the oven to maximize the flavors and help it all cook together. Instead of having to transfer the food to another vessel, you can put a Le Creuset cast iron wok straight in the oven.
This pan is safe up to 350 degrees F and even the lid can be used in the oven since it has a signature metal knob that will not melt. That means you can bubble dishes away without losing moisture or worrying about the food's surface burning.
Additionally, the two handles make it easy to get the wok in and out of the oven safely, even when you are wearing oven mitts. They are easy to grip and allow you to get a firm hold of the pan, minimizing the risk of you dropping it.
What Colors Are Available?
Although they are beautiful, the color range for Le Creuset woks is pretty limited. All have a black interior with exterior enamel available in matte black, flame, nectar cherry red, or cerise red – which doesn't leave you with a lot of choices, especially since two of the three options are red.
However, the wok does still look amazing. It has sleek, stylish lines that many users associate with Le Creuset, and black enamel finishes on the inside. There is no doubt that this is a stylish pan – one you wouldn't mind keeping on display at all times. Given the weight, that might be a good thing.
How Much Do Le Creuset Woks Cost?
You can purchase a Le Creuset wok from Amazon for approximately $340.00. Surprisingly, these pans are actually cheaper on the Le Creuset website, costing approximately $270.00.
Regardless of where you buy them from, those are high prices for pans, even for Le Creuset. You might want to check out local stores and selling pages to see if you can find any going for cheaper rates.
You will be using all things Le Creuset for a long time. Even so, you still deserve to purchase your cast iron products for the best possible price in this article Best Le Creuset Prices: Locations, Sales & Clearances.
Is a Le Creuset Wok Worth The Price?
You will have to decide for yourself whether the price is justified by the quality that the pan offers, and this depends on many different factors. However, one of the things that help to justify that price is that Le Creuset pans come with a lifetime warranty.
That means that if one of the pans breaks, you can get a replacement free of charge. Although a cast iron pan isn't likely to break in a hurry, it's still nice to have this reassurance, especially when you are paying so much for the equipment. Don't underestimate the value of a lifetime guarantee!
Why Is Le Creuset So Expensive: Is It Worth the Investment? I deep dive into Le Creuset's manufacturing history, materials used, brand awareness, and why people buy Le Creuset cookware.
Le Creuset Wok Pros and Cons Table
Le Creuset Wok
Pros
Cons
Where is Le Creuset Made
Made in France from a brand that has honed its cast-iron pouring and finishing skills for almost 100 years from the highest quality materials
Design
Thick walls, integrated cast iron side handles, flat base, glass lid
Not a non-stick surface, heaps of oil can be used to prevent sticking
Colors
Cerise, Nectar, Cherry, Flame, Cobalt Blue, Matte Black
Limited decor colors
Performance
Le Creuset's enamel is non-reactive when used at high temperatures the enamel exterior provides excellent heat retention
Use of metal utensils should not be used to avoid chipping and cracking of the enamels interior
Heat Source
Hob-to-oven versatility from the grill, electric hob, ceramic glass cooktop, gas hob, and induction hob to the oven. Oven safe up to 500°F
No outdoor use
Lid
The glass lid is oven safe up to 425°F
Handles
Handles are generous enough for easy lifting and oven mitts
Knobs
Interchangeable ergonomic knobs oven safe up to 500°F
Phenolic knob withstands heat up to 350 degrees F
Dimensions
Capacity: 4.75 quarts
Length: 15 inches
Diameter: 14.25 inches
Height: 6.5 inches
Servings: 4 to 5
Weight
Heavy at 12 pounds
Cleaning
Clean up is easy, and dishwasher safe, although hand washing is recommended
Maintenance
No seasoning is required, a patina will build up over time on the matte black interior of the wok
Like all cast iron enamel cookware is prone to thermal shock if faced with extreme heat variations
Storage
If storage space is limited this may not be suitable. This wok should not have items stacked upon it in cupboards as it may become chipped
Warranty
Limited Lifetime
Price
Expensive
Le Creuset Woks Pros and Cons Chart
What Is Signature Le Creuset?
You might notice that you come across both Le Creuset Signature cast iron and Le Creuset Classic cast iron. The main difference between the two was that Signature has a new stronger enamel coating and signature metal knob.
Classic Le Creuset while still, the highest quality came with a phenolic knob. Classic cast iron has been discontinued, and you can no longer purchase them except when second-hand.
Read about the differences between Le Creuset Signature and Classic enamel cast Iron cookware.
Conclusion: Le Creuset Wok Review
Le Creuset Woks are certainly fantastic pans if you want to cook stir-fries, mussels, eggs, soups, steamed or fried vegetables, deep frying, or other wok-friendly foods.
They come with a high price tag, but this is generally justified by the superb quality and the lifetime guarantee, so they are well worth considering if you have a big kitchen budget.
One-Pot Cooking Rocks
Related Reading: Find out the differences between woks, frying pans, and balti's in;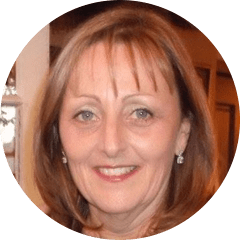 Michelle – Author
Hi, I'm Michelle the founder, owner, author, and editor of OvenSpot. My passion for one-pot cooking commenced when I was working to prepare cafeteria lunches for school students. I am now on a mission to assist you in choosing the cooking pot or appliance you will use every day. As well as in-depth information to assist you in using and caring for your cookware and appliances.
Questions? Reach out to Michelle at michelle@ovenspot.com